If your child loves playing with sensory objects, set up a kinetic sand station to use all winter long.
My son was home with me until he was 3, and even after he started preschool, he was home hours before his siblings. I always looked for creative activities he could do by himself that would keep him busy for more than 5-10 minutes. Since he could play with sand and a Tonka tractor outdoors for hours, I decided to recreate the experience indoors for the winter months. It was a huge success and now, at age 5, he still uses it regularly.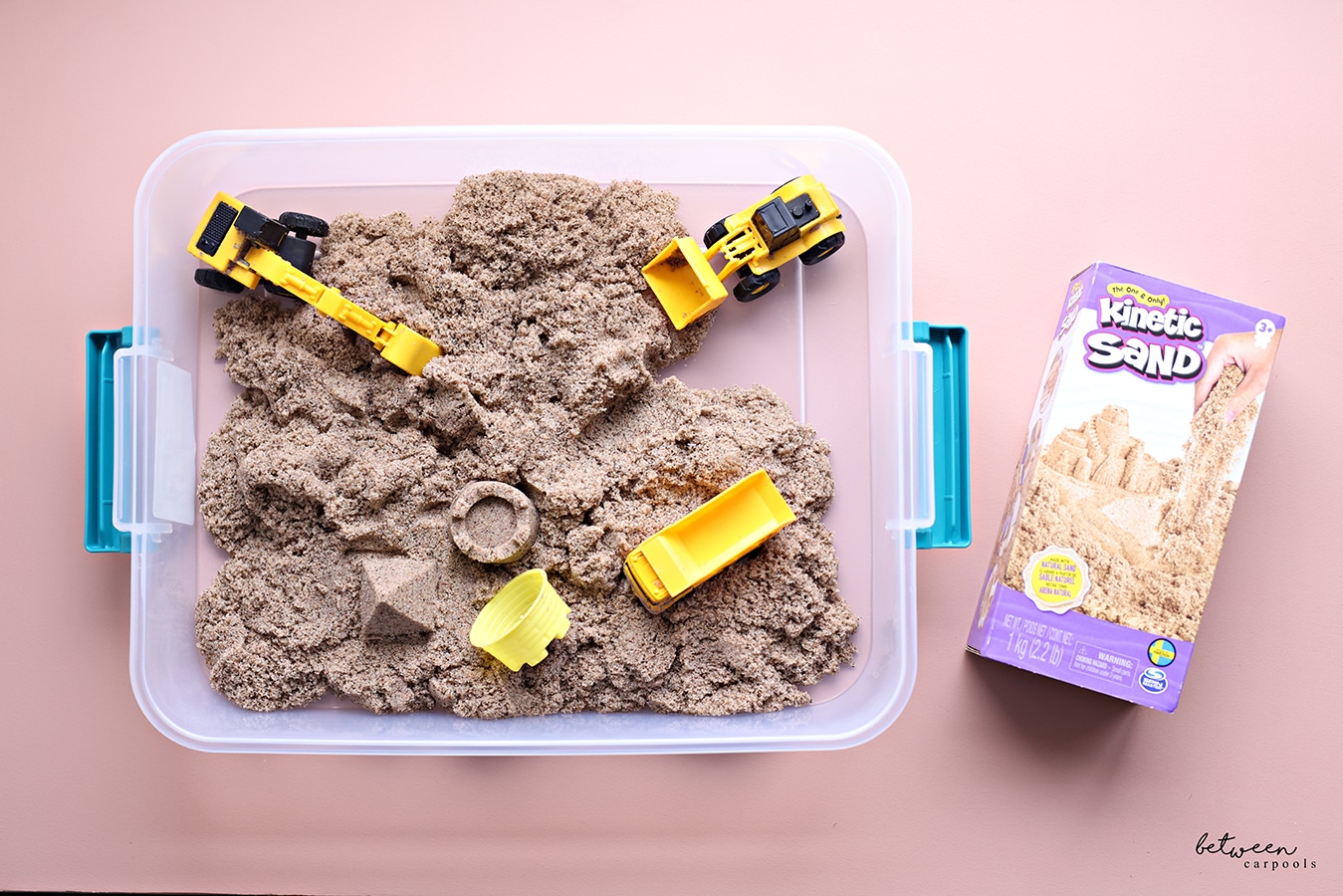 I purchased a sterilite container with a lid. I have plenty of space to store it so I opted for a large one, but you can get any size that you can find a place for in a closet. A larger bin will allow for more children to play at the same time.
This is a great play date activity as well! The key is to get a shallow container so they can comfortably reach in to play with the contents. I filled it with several pounds of kinetic sand. Kinetic sand is more expensive than the regular variety but it's worth the extra cost. You can shape it like sand at the beach, and it cleans up really easily. It also feels really good in the hand and can be a relaxing experience after a busy day. I keep a pack of small containers of sand on hand as a prize and to replenish the small amount that spills during play and gets thrown out.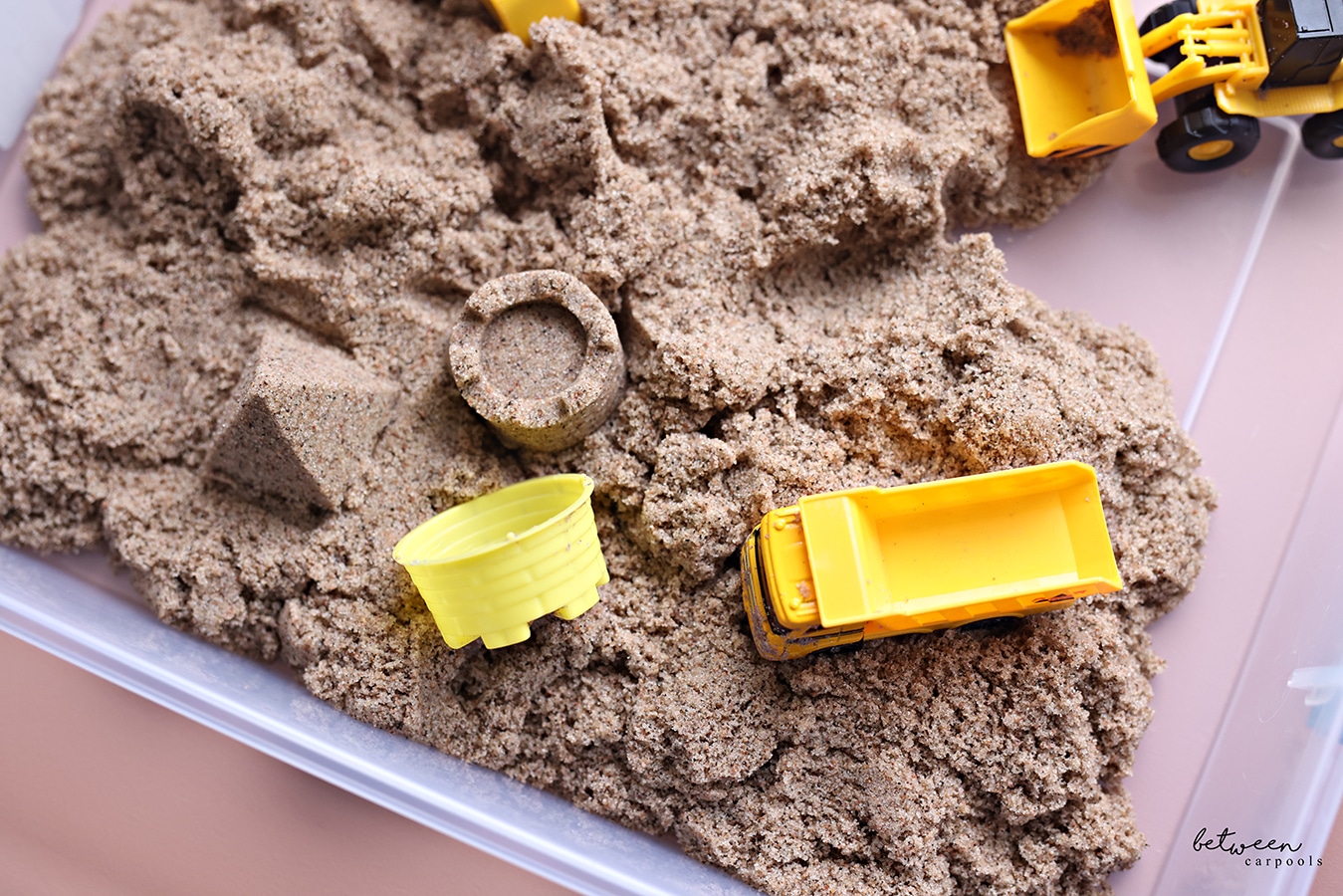 Then comes the fun part. The accessories you keep in the box will be what keeps your child entertained for hours. Depending on your child's interests, some of the items you can include are mini tractors, mini sand toys, crafts sticks, plastic spoons, disposable mini cups and figurines. You can hide gems for digging fun, use cookie cutters or cupcake liners for delicious sand treats, toothpicks can be made into flags to fly atop your castles or try toothpick umbrellas to make a fun beach scene. Googly eyes, pipe cleaners and pompoms can be used to decorate funny faces. Really, the possibilities are endless and can be found from items already in your home.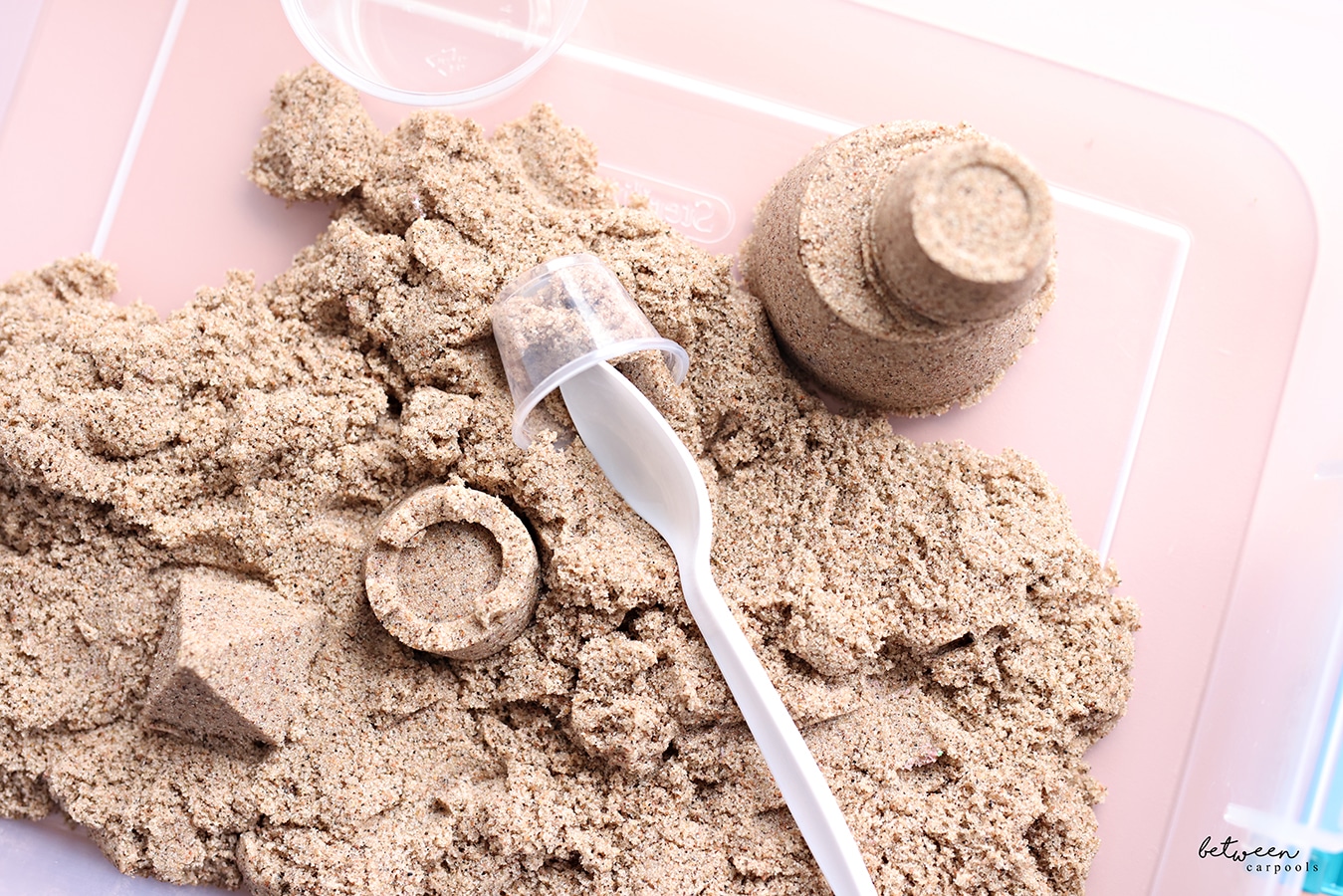 Let your child think of things on their own. You'll be surprised what they come up with! 
Any toys you add to the bin should be reserved exclusively for sand use if you don't want sand to get mixed into your regular toys. You can keep some accessories in a separate bin and rotate to keep things fresh and exciting.
Choose a location that doesn't have carpet or couches nearby. The kitchen table worked best for us, especially while I was cooking nearby. Once your child is finished playing, simply wipe the excess sand from the table and put it back into the sand box. Then sweep the floor, securely close the lid and store the box till the next play session. 
You'll need: