Get all the equipment and ingredients you need to make sourdough onhand–and get that starter going.
[Note from BCP: We've had requests from readers over the years to share some sourdough tips, but honestly, it was never something that was in our repertoires. After all, sourdough seems to be anything but 1-2-3 and BCP. But, the art intrigues enough of you, that it seemed we had to share something–but how could we make sourdough BCPish? Making a shortcut version wasn't going to work. Neither was a 9×13. So, we turned to Naomi Elberg of Naomi TGIS to demystify sourdough and write the ultimate beginner's guide. This way, step by step, anyone who really wants to learn but finds it intimidating can follow along and learn to make sourdough!
This post will deal with getting the equipment you need and creating a starter. We'll move onto baking your bread in the next post.]
What you need to get started:
2 large glass (Mason) wide mouth jars
Long spoon or small silicone spatula

Paper coffee filter/paper towel

2 rubber bands: one to secure the cover to the jar (or use the ring lid from the mason jar) and another band to mark starter levels (this will help you know when you feed it).

Good quality kitchen scale with gram/oz/ lb/kg options. I recommend the

My Weigh

kitchen scale.

Unbleached whole wheat flour

Bottled water for starting your starter (and feedings until the starter is strong).

Fine ground pink Himalayan sea salt

White rice flour

Shaker bottle (for rice flour) or small fine mesh sieve
Banneton (proofing basket and used for dough shaping). I like using the plastic ones or a small plastic bowl as opposed to the bamboo ones that can have the tendency to mold.

Unbleached bread flour/high gluten flour for baking

A mixing bowl

Danish dough whisk
Disposable shower caps

Dutch oven with lid (6 quart)

Razor blade/lame (bread scoring tool)

Oven mitt

Parchment paper. I like using pre-cut round ones.
Cooling rack

Dough mat (optional)
What is a sourdough starter?
I love this quote: "Sourdough is more than just a recipe; it's an understanding."
Sourdough starter is a live culture and natural leavening agent. It's made by mixing unbleached whole grain flour and water together and then letting it sit. The natural yeast and bacteria in the air around us reacts with the flour and water mixture by breaking down the starches (from the flour) into sugar thus beginning the fermentation process. The end result is called a "starter" aka wild yeast which has been used to make bread long before commercial yeast.
Your starter must be kept alive with regular feedings of flour and water to maintain its strength for maximum rising power.
Creating your starter:
* Always begin your starter with unbleached whole wheat flour.
* After this, you will feed your starter with unbleached all-purpose flour.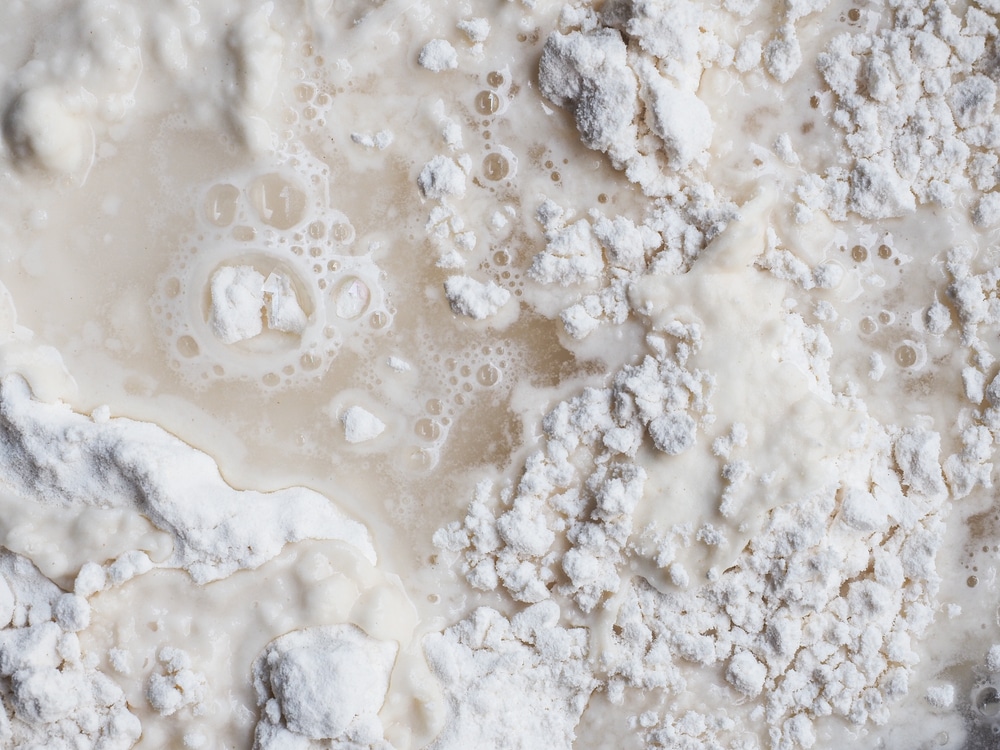 Day 1: Place your jar on the scale, make sure the scale is on grams (g) and "tare" it so it reads 0g.
Add:
¼ cup (60 grams)

unbleached whole wheat flour

½ cup (60 grams) bottled water
Combine flour and water in a glass jar. Mix and make sure there's no dry flour in the jar. Cover the jar with breathable material + rubber band and let the mixture sit at warm room temperature for 24 hours.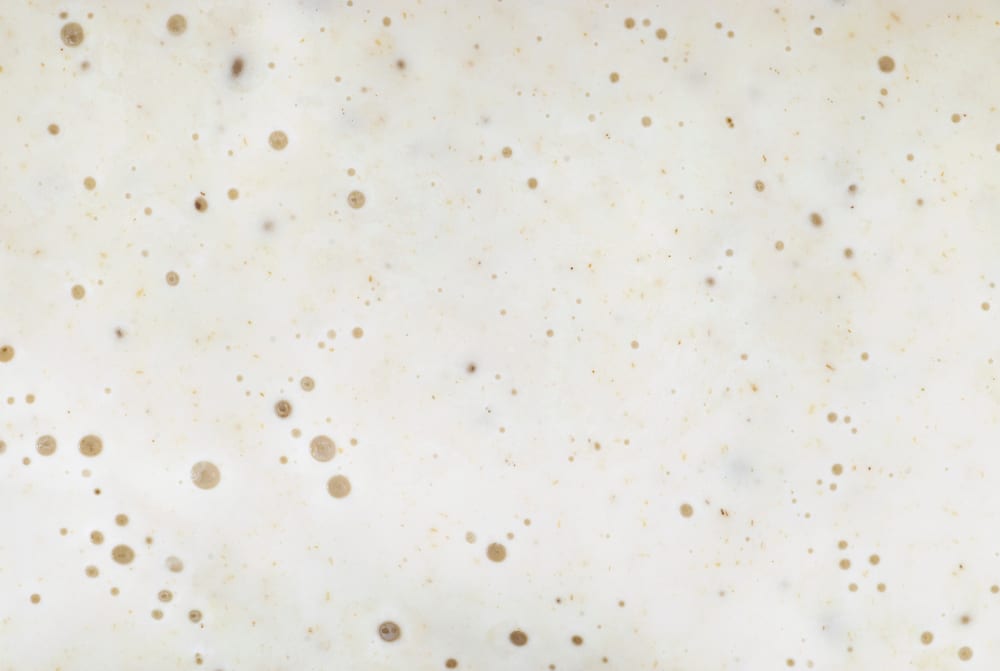 Day 2: Take a look at your starter. It may or may not have developed bubbles and there may or may not be a liquid that begins to appear on the surface. This liquid is called "hooch" and is an indication that your starter needs to be fed. If there's any hooch development just drain it off; re-cover and let it rest another 24 hours until day 3.
Day 3: Drain off any hooch that may have appeared once again. Weigh out the amount of starter you have and discard half (you can do this by transferring it to a bowl, or by placing another jar on the scale, pressing "tare," and replacing the empty jar with the starter jar). If you have 120 grams of starter, remove 60 and keep 60.
Feed:
To your 60 gram starter, add 60 grams water and 60 grams flour
Mix well. Your starter will look like a thick paste at first. Cover and place in a warm spot once again.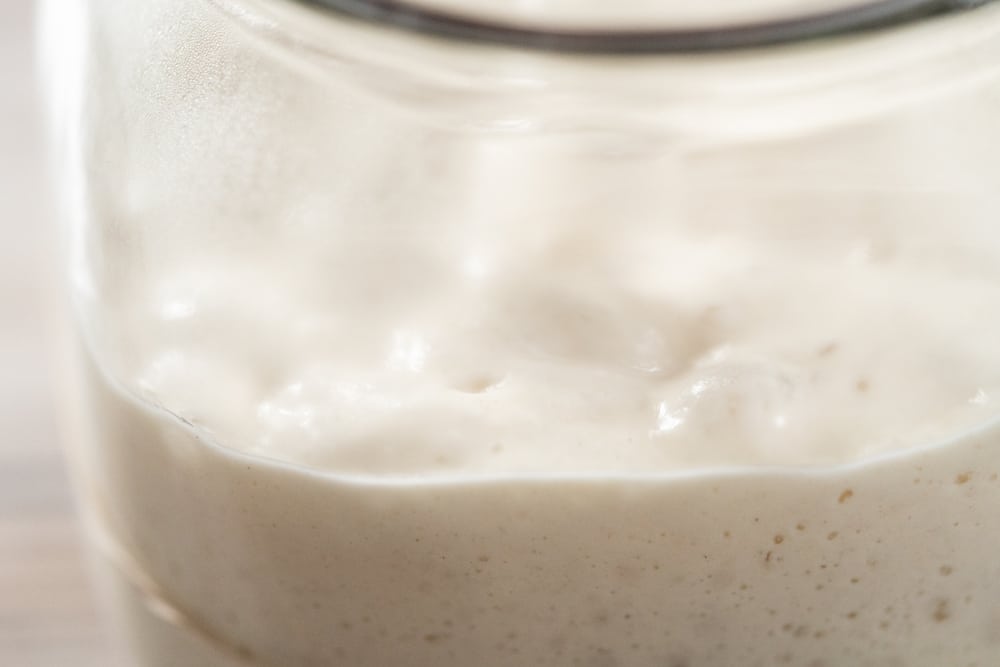 Days 4, 5, 6 and so on: Repeat what you did on day 3.
Continue the feeding process as mentioned above (discard half of the starter and feed reserved starter with water and flour). At this point you can place a rubber band on the base of the jar (around the area the starter reaches). As it becomes alive your starter will rise and bubbles will form on the surface and throughout the process. As it rises and falls, it'll leave marks on the side of the glass jar. When the starter falls, it's time to feed it again. (It may be 2x daily.)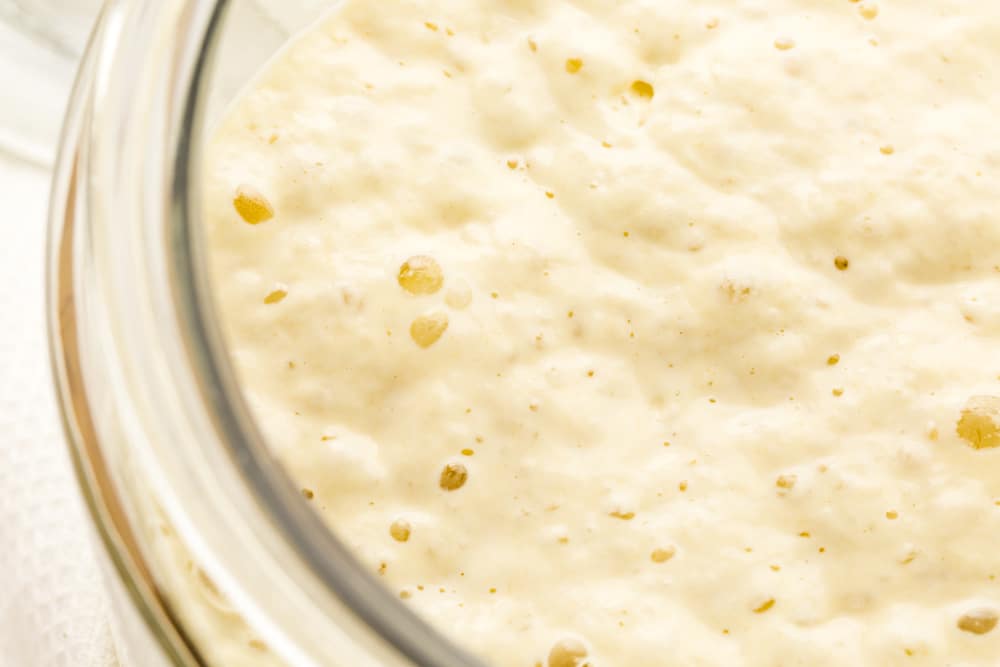 It's Alive! Your starter is ready when it shows all of the following signs:
Rises and falls

Doubles in size
Small and large bubbles on the surface and within the jar
Spongy appearance/texture
Non-sour smell(slightly fermented/slightly sweet)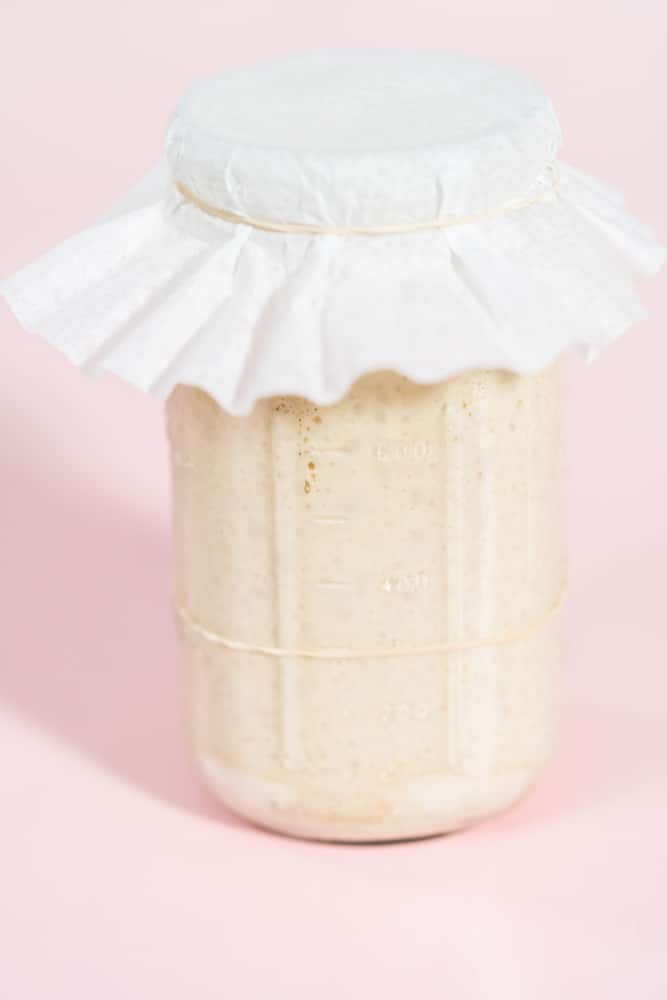 About your starter: Keeping your starter at room temperature is a commitment and you will need to feed your starter two (sometimes more) times a day, especially during the warmer months.
If you're a more "casual" sourdough baker, you can store your starter in the fridge, feeding it just 1-2 times a week (I usually feed it Wednesday am and pm and use it on Thursday).
Maintaining your starter at room temperature: If keeping your starter at room temperature, repeat this feeding process approximately every 12 hours (more often in the warmer months or in a warmer home). The colder the environment, the slower your starter will grow.
Maintaining your sourdough starter in the refrigerator: Take the starter out of the fridge. If you're feeding it weekly, it will probably appear a bit blah. There may be a bit of a clear liquid on top. This is called hooch. Discard it (hooch is the alcohol from the fermenting yeast).
Feeding time and Prep for baking: Weigh the starter by transferring it to a bowl. Remove half (if you have 50 grams of starter remove 25). If it's been a while since you fed your starter (longer than a week) OR if you want to grow your starter for multiple loaves, add double the amount of flour and water to your starter.
To strengthen or grow an already strong starter:
50 grams starter

100 grams water

100 grams unbleached bread flour
Regular feeding:
50 grams starter

50 grams water

50 grams unbleached bread flour
Mix. Cover with breathable material secured with a rubber band to prevent the starter from drying out but allowing air flow. Continue the feeding process every 12 hours. Your starter is ready to use when it's bubbly and sweet smelling. Another test is placing some starter into a bowl of water. The starter should float.
Click here to read on to part 2.
FOR EXCLUSIVE CONTENT AND A PEEK BEHIND THE SCENES, MAKE SURE TO JOIN OUR WHATSAPP STATUS HERE. JOIN OUR WHATSAPP GROUP AND WE'LL LET YOU KNOW WHEN A NEW POST IS UP!