This season, we invited the uber-talented Sina Mizrahi to bring her vision to our Pesach table setting. See what she's done with Luxe!
Use code BCP15 at LuxeParty.com for 15% off your order and stay tuned for more table setting ideas next week!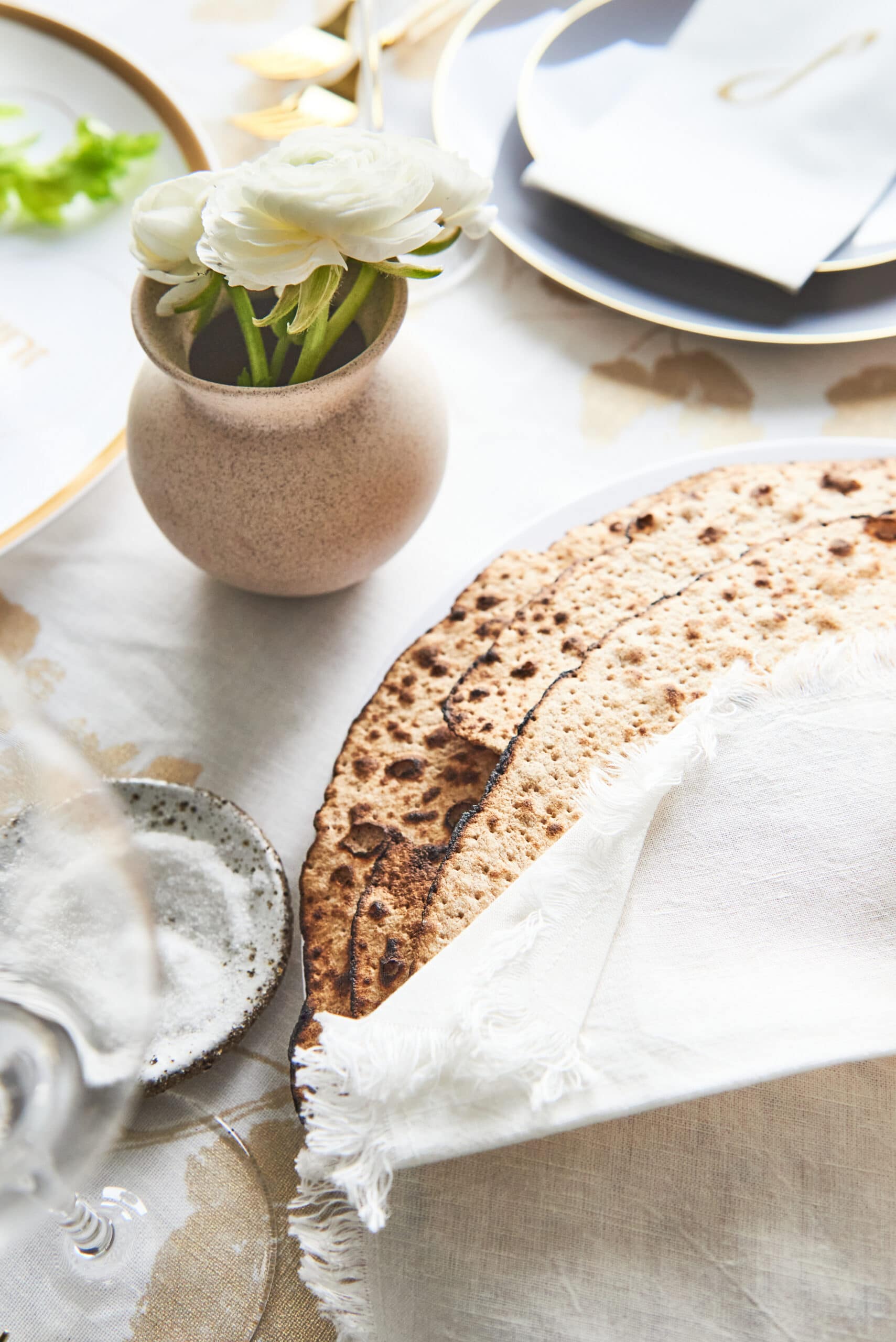 All of us at BCP are completely enamored by all the talent that fits into one Sina Mizrahi. We know, we said that already when her book came out last summer. And we probably say it every time she collaborates with us at BCP (like when she made this gorgeous salad for you). How could a person simply know how to do it all, from the recipes, to the styling, to the photography – it takes our whole team to get the same work done!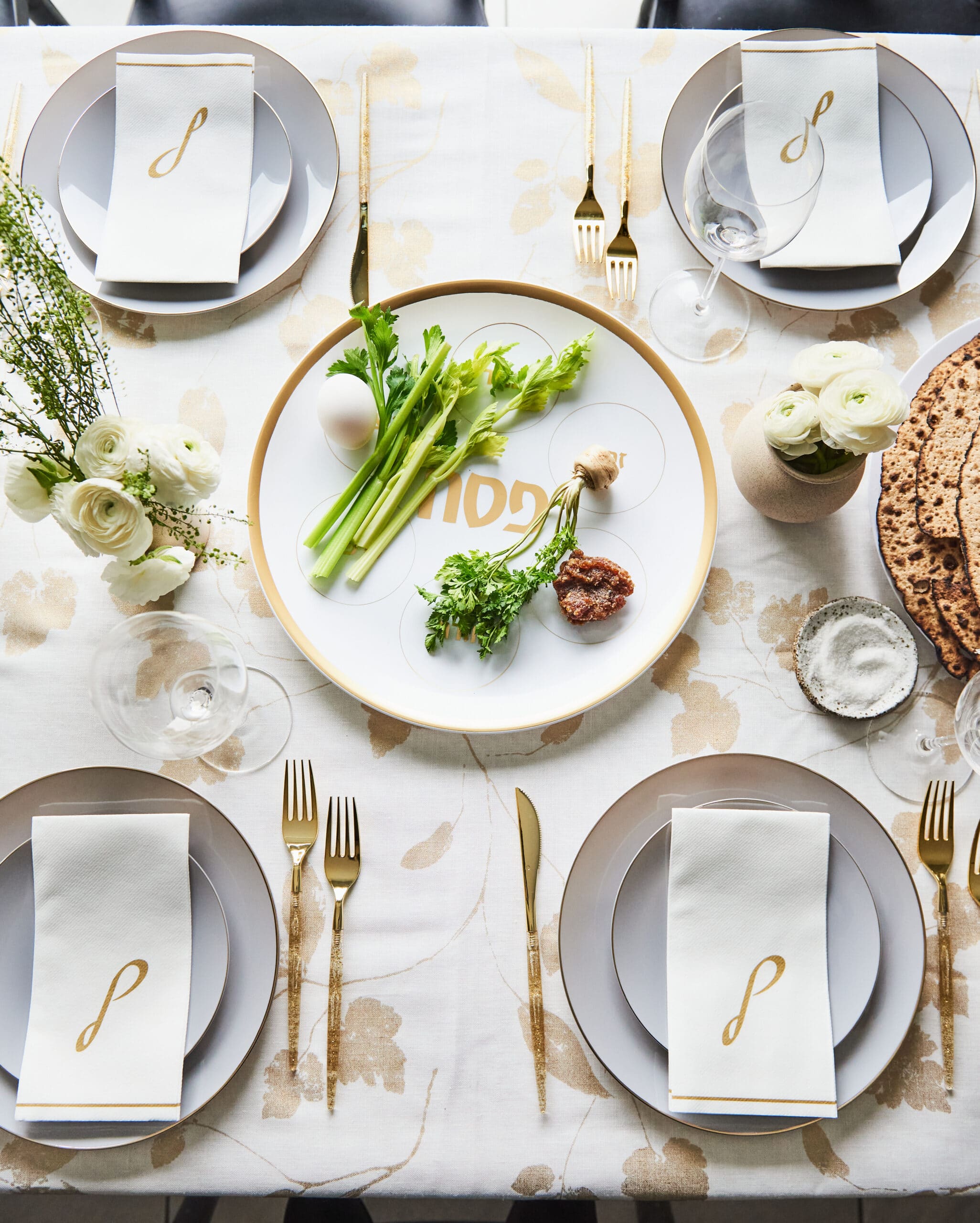 So, when we asked her to collaborate to create another Luxe table for you using disposable dinnerware, we knew it would be gorgeous, but we didn't realize it would be this gorgeous.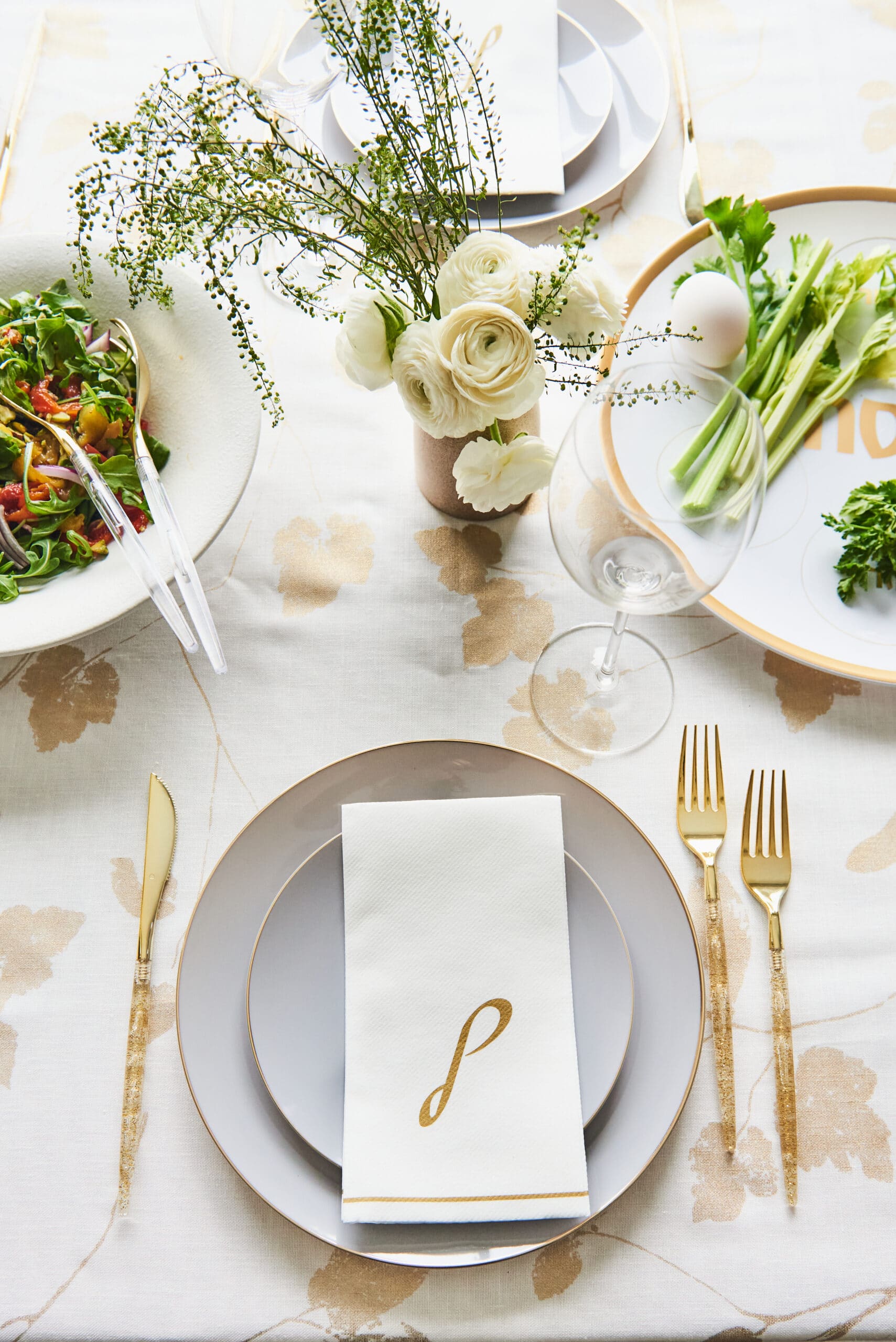 If you want to set a very classic table, this look is for you. If you want something fresh, springy, and different – we have more coming next week.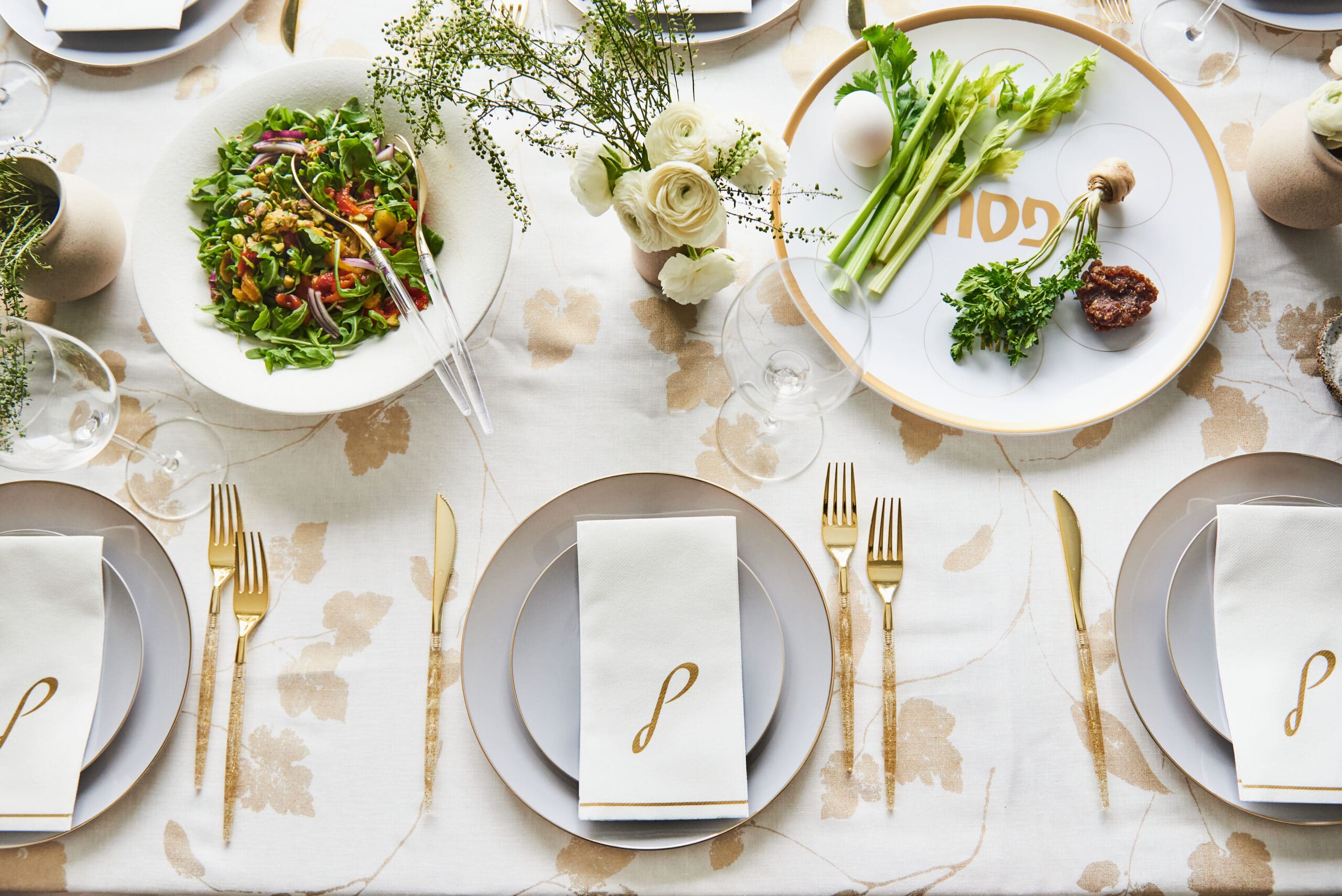 Now about the table! The best thing about these tables is that there's nothing you can't do yourself and there's nothing that takes time. It's just so practical and beautiful at the same time! This table setting works with any white-and-gold tablecloth. For those who are interested, scroll down for info on this particular one. But-totally-use the one you have! Even white works well!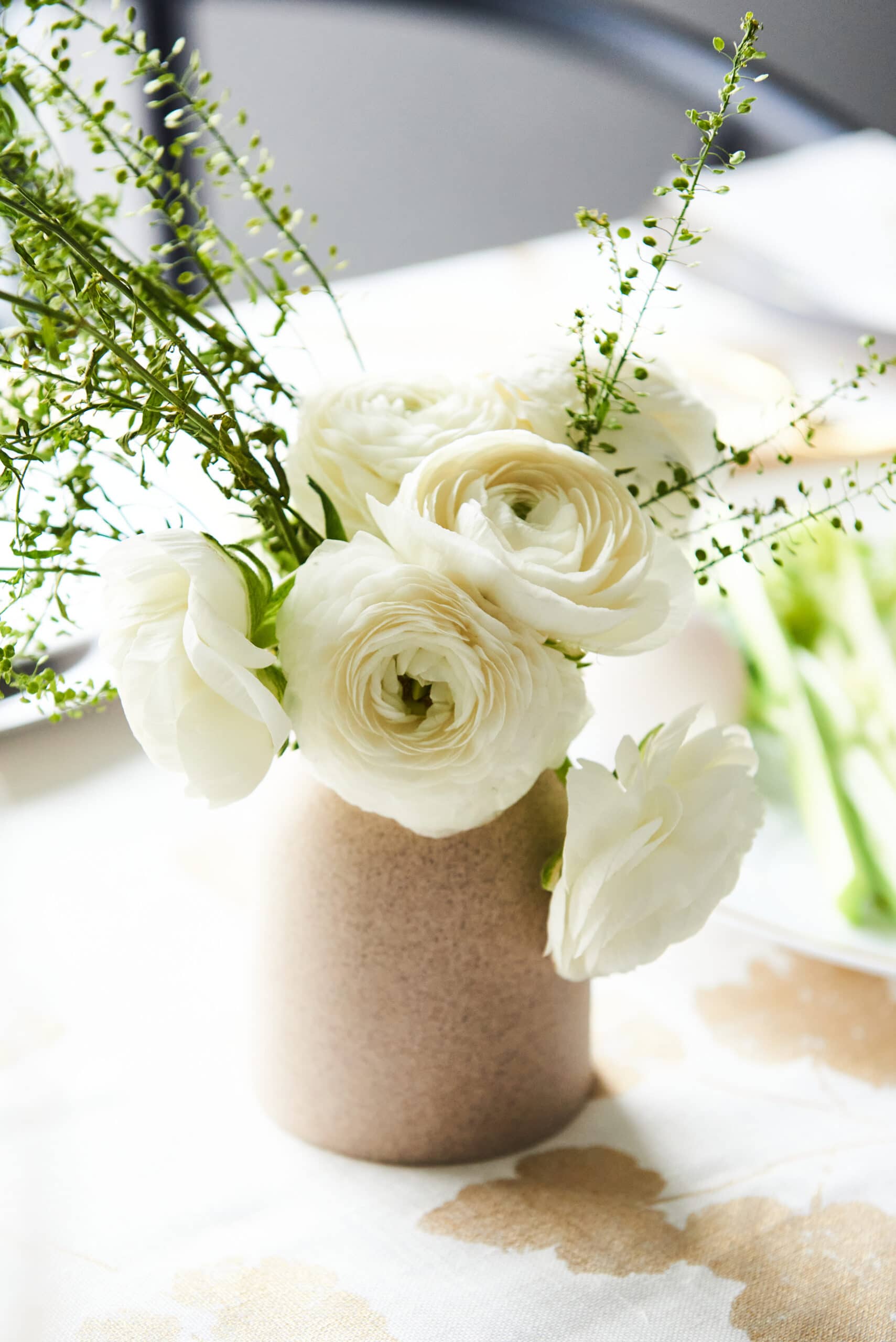 As far as the accessories, they are minimal. The small earthenware jar Sina used is available here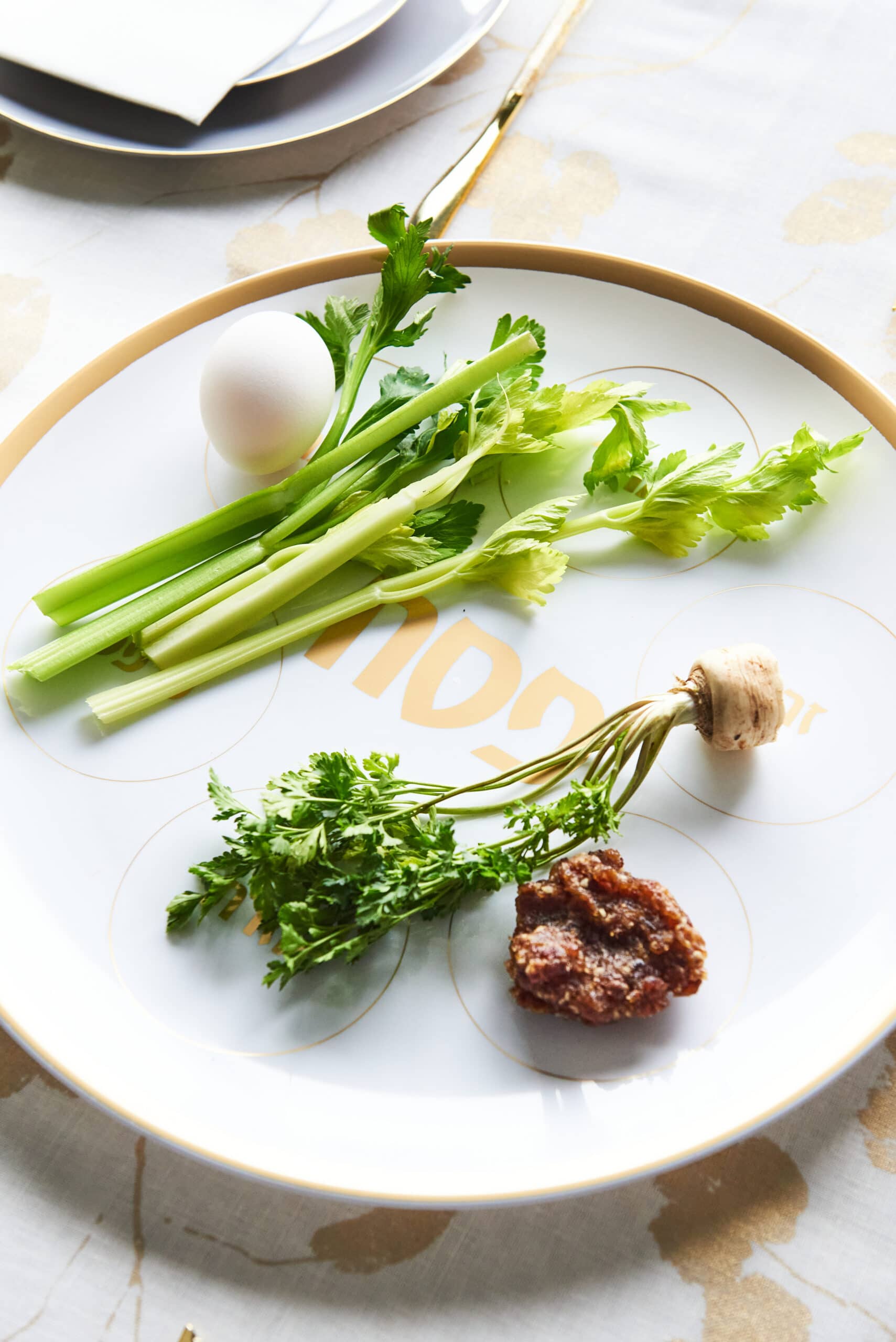 and the Seder Plate is actually plastic and available here.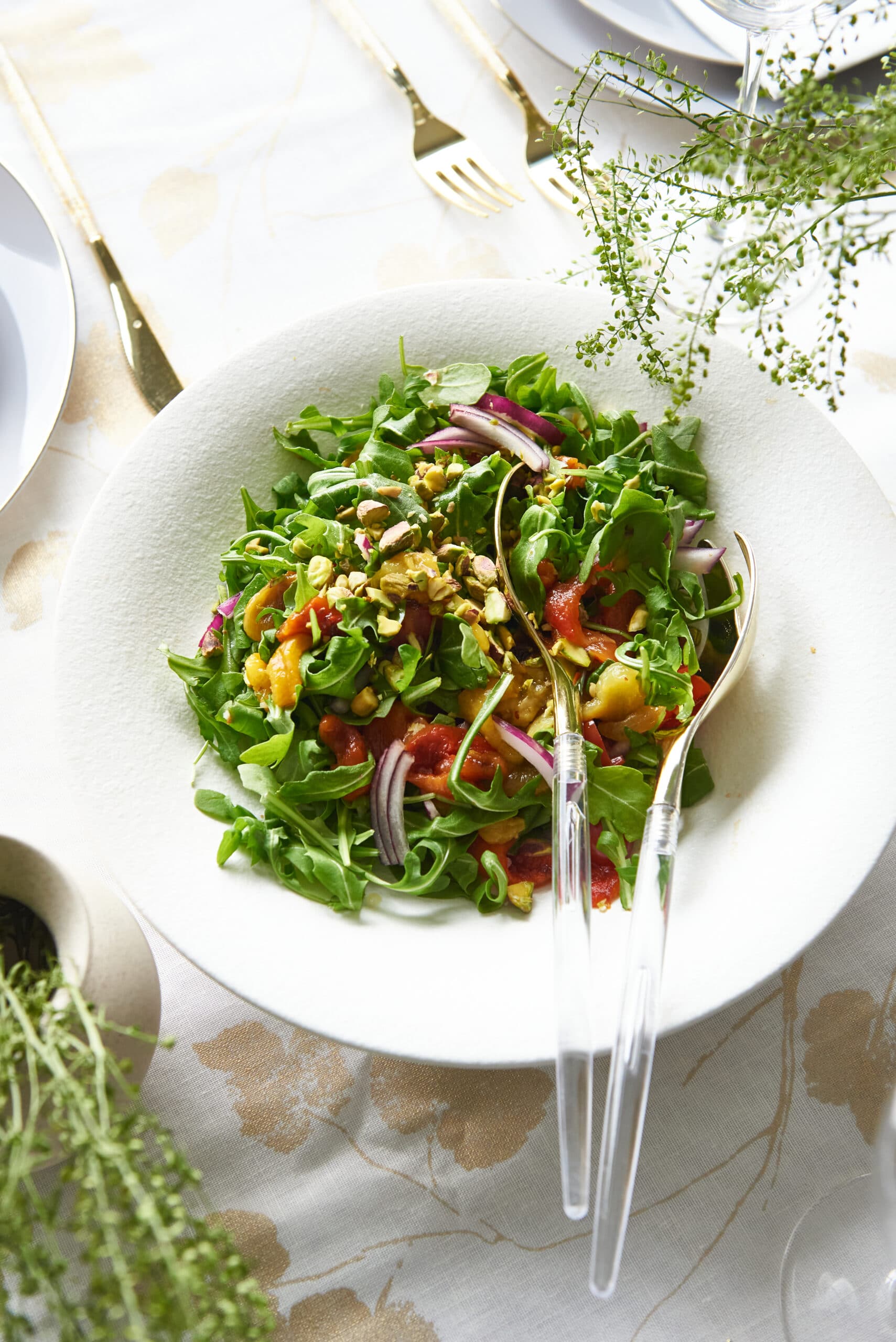 The salad bowl – Sina brought that from Israel so, sorry, you can't get that one.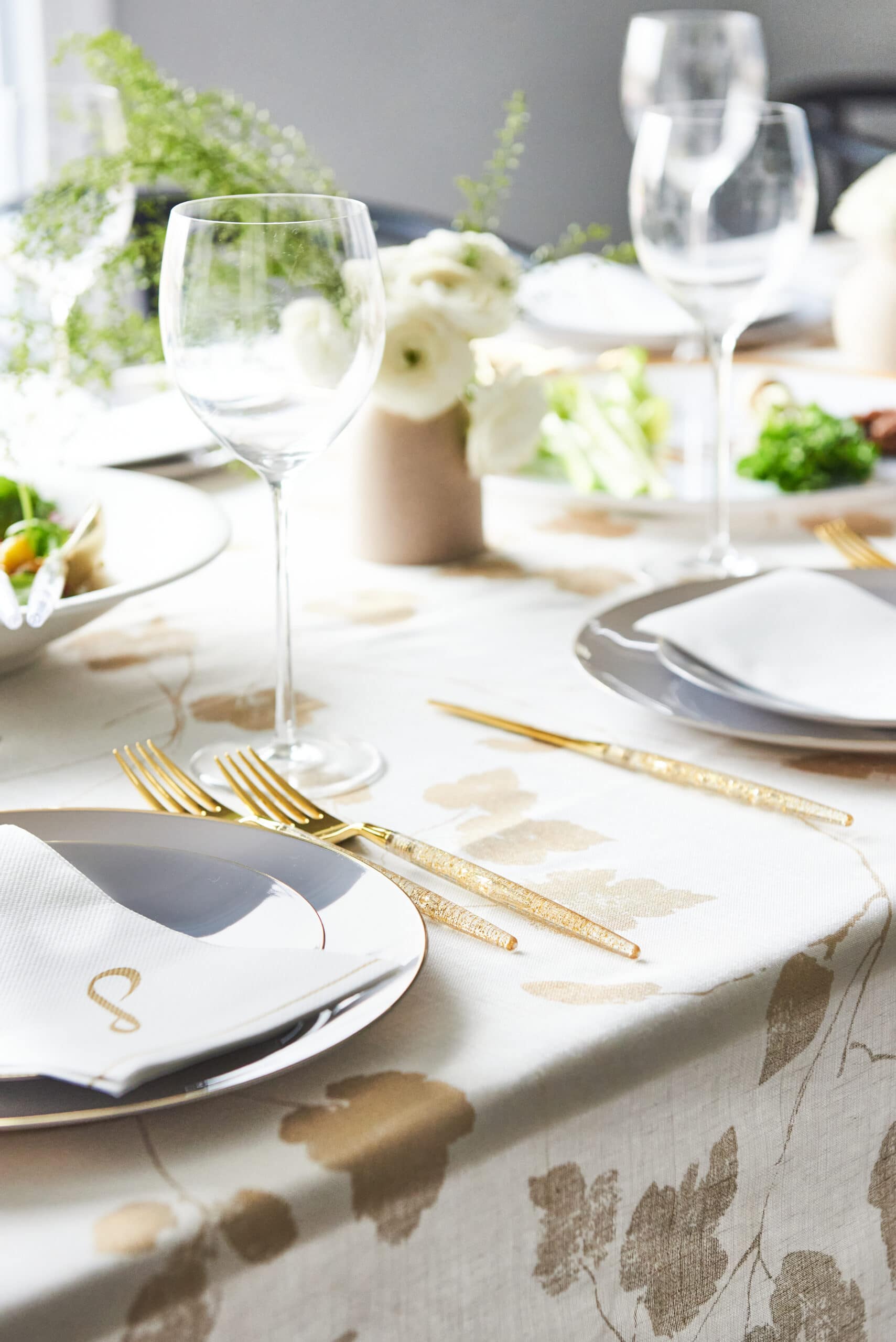 That's all! Luxe does the rest. Sina surprised us with this table – she didn't use white dishes – she used grey! And it totally works!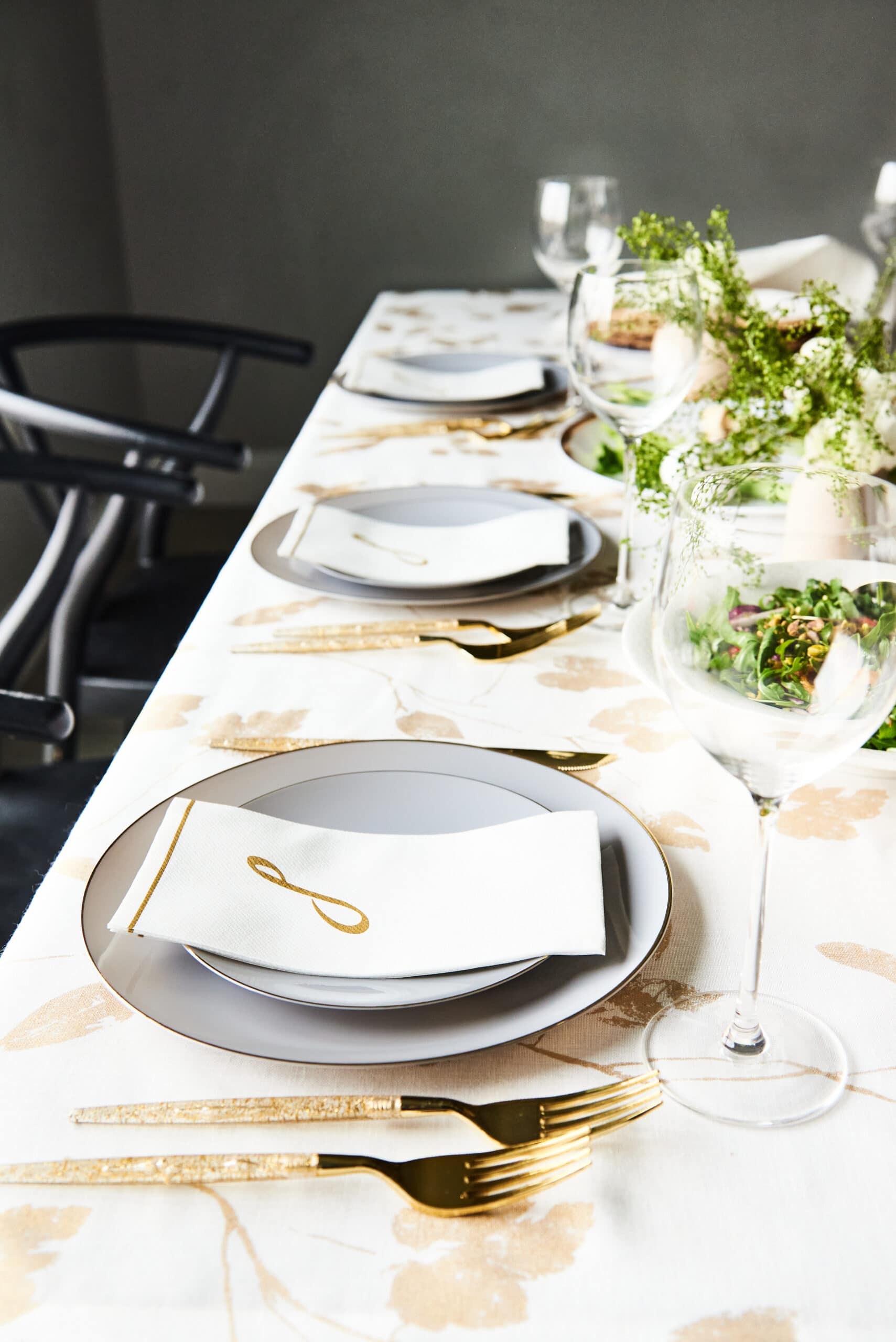 "I like to keep things classic with a touch of organic. Because the linen and florals have gold tones, I chose a gold-rimmed plate. I like that the grey breaks it up a bit-there's warm tones and cool tones together." Sina used these dinner and appetizer plates. "The flatware has a little glitter in it, which I thought was so pretty and tied into the gold leaf." Find the flatware over here.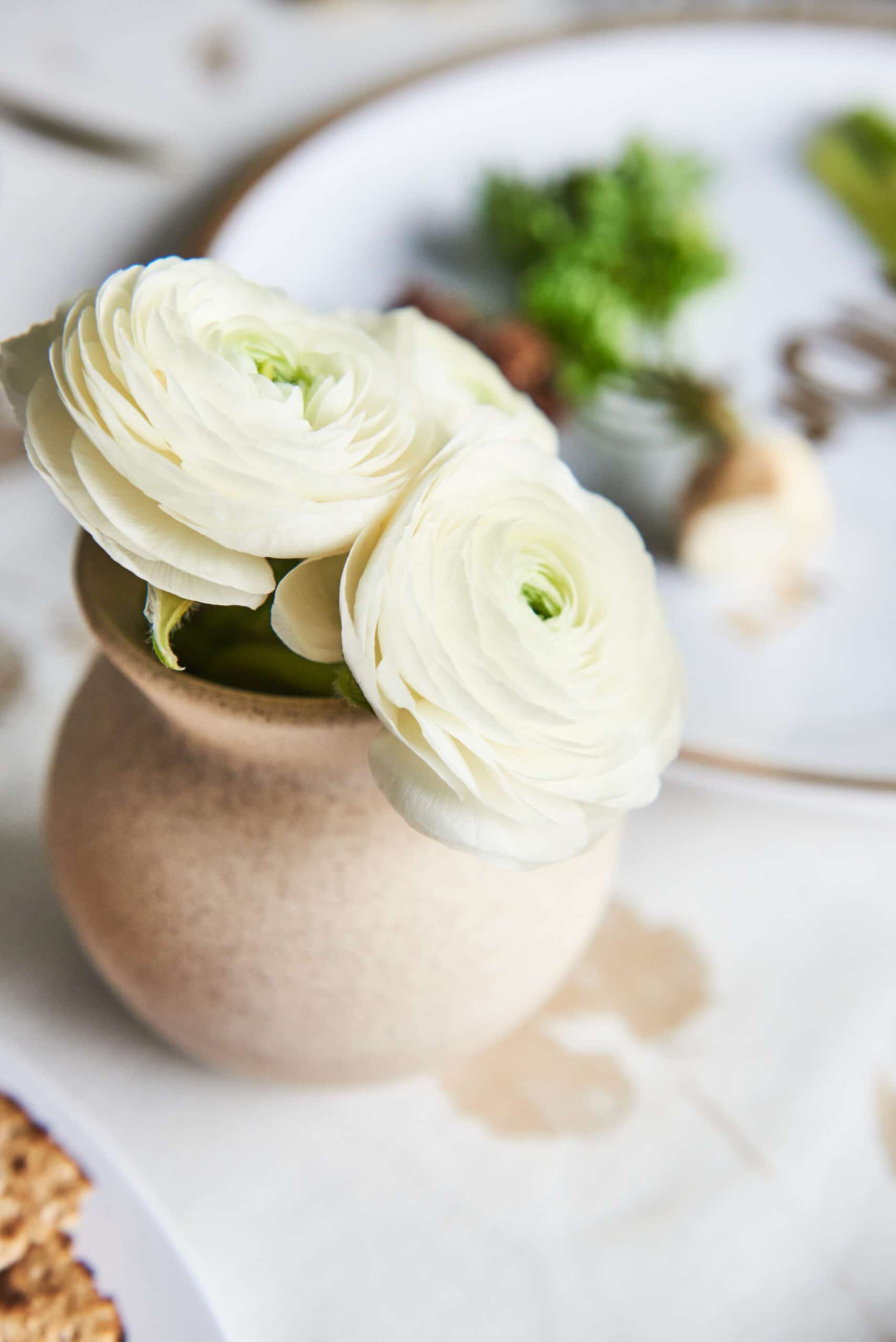 "I love Ranunculus. I love that the petals are so pretty and feminine. The Ivory tones are similar to the other colors on the table and keeps it simple and classic."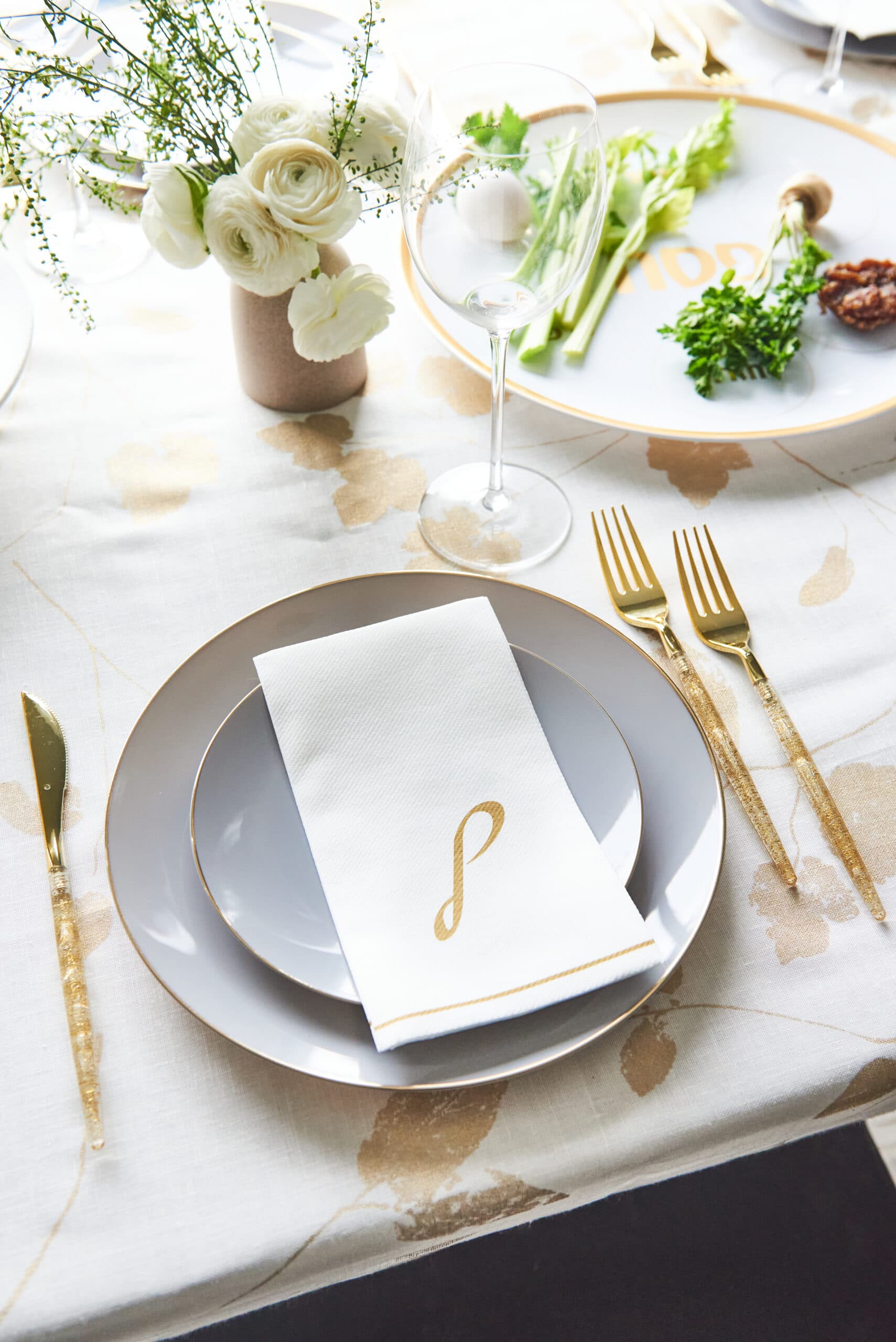 Sina finished the simple, gorgeous place setting with a Hebrew monogrammed napkin, also from Luxe. 
"This is a pretty approachable table that people can easily achieve. My overall advice when setting a table is just to simplify the color scheme. The more colors you introduce, the more eclectic it becomes. For a classic table, you can stick to beiges, greys, and gold and keep those colors throughout, from the plastic ware to the flowers. It will look very put together, beautiful and elegant."
FOR EXCLUSIVE CONTENT AND A PEEK BEHIND THE SCENES, MAKE SURE TO JOIN OUR WHATSAPP STATUS HERE.