You can make a DIY Balloon Dart Game…all the cousins will be talking about it until next Chanukah!
For as long as I can remember (perhaps for more than 10 years!), I've been hosting a big kids-oriented Chanukah party for the extended family…and I always try to think of the latest and greatest activities to enthrall the kids. Because when the kids are occupied, everyone is happy!
Last year's Balloon Dart Game wasn't just an amazing activity…it was my best activity ever. It wasn't only popular with the kids…even the adults wanted to get the pleasure of popping some balloons! Plus, I found that it was very orderly too. Each kid received 10 tickets in a gift bag (the bag is meant to hold their candy and prizes) when they arrived that they could either cash in for darts or spins on this wheel. They happily waited on a neat line for their turn as it was super exciting to watch others pop balloons too! Each color balloon coordinated to a different prize category.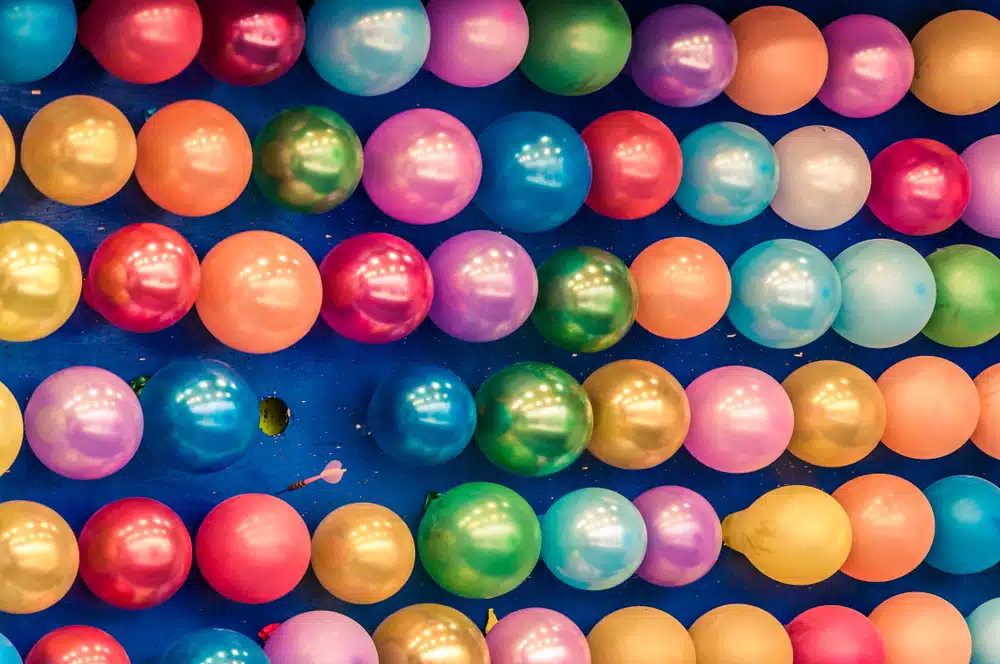 You'll need some

foam boards (I used these).

You can make your game as small or large as you desire (I taped 6 foam boards together so it was pretty big). Attach the foam boards together using duct tape (

colorful duct tape is great

!). You can cover the foam boards with colorful paper or simply use colorful foam boards (vs. black or white). 

Next, you'll need

balloons and darts

. They come together in one set and they're really inexpensive! 

You DON'T want to commit yourself to blowing up hundreds of balloons without an electric pump.

This is the best balloon pump ever.

It blows up each balloon in a second and makes the set up so much easier. You can blow up the balloons the night before the party. I've enjoyed using it since then for other events. 

I attached the balloons to the board using

these push pins

(any push pins would work).

You need a safe place in your home to use play the game. I propped the foam board against a wall and put a baby gate around it. This way, no one can walk in front of the game. The person throwing the dart stood behind the gate. You can also simply use chairs and rope/string to create a cordoned off area.

Finally, you need prizes! You can plan this part however you like. I had different levels of prizes coordinating to each balloon color.
Feel free to ask any questions below and get popping!