Did you ever think a dessert this gorgeous and fresh-tasting could be made entirely ahead?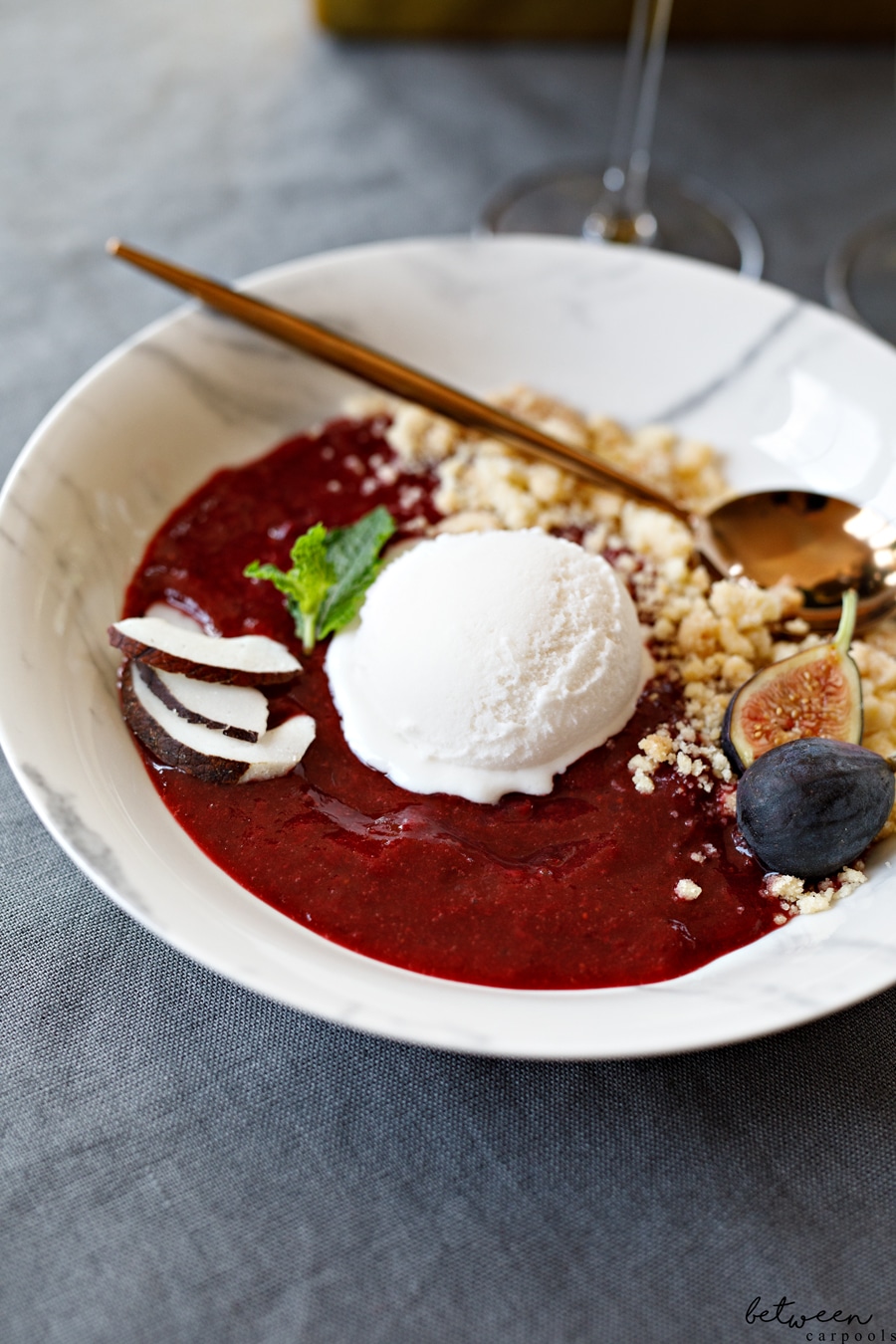 I called Renee Muller and told her I had an idea for a dessert based on a dish I saw at an event.  I needed her help. What kind of fruit coulis would work? What fruit did she think I should use for a tangy yet satisfying base for the ice cream and crumbs? She suggested some ideas and we hung up. A few days later, I called again to discuss it. She got the hint and told me not to worry, she's going to make the fruit part for me. I just need to show up with the rest of the dessert. I plan on calling Renee with more ideas in the future. The taste of this is so amazing, you will want to serve this dessert first, before you fill up with the rest of your meal. It's sweet, tangy, and addictively delicious. The kind of dessert where you lick your spoon and wish for more.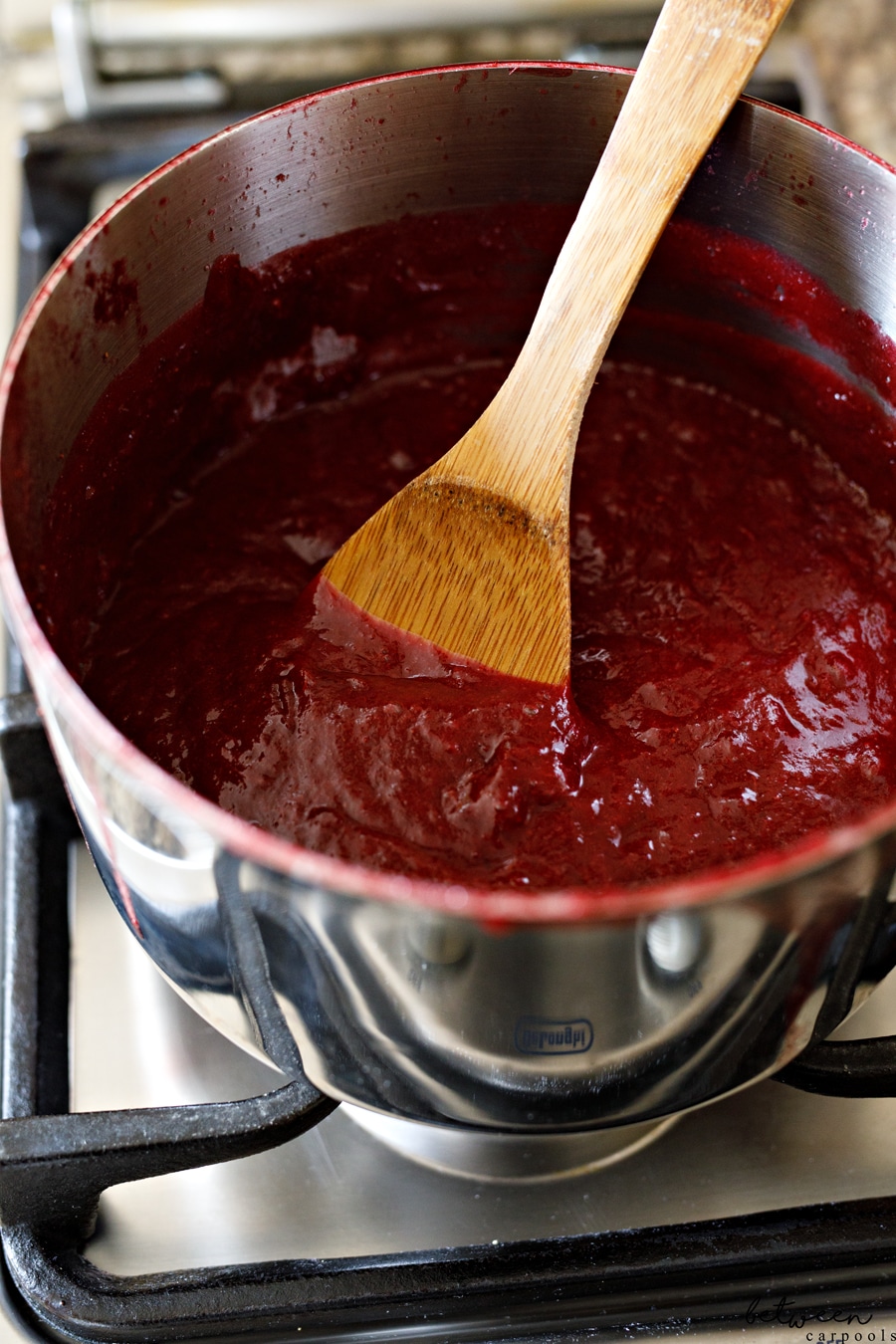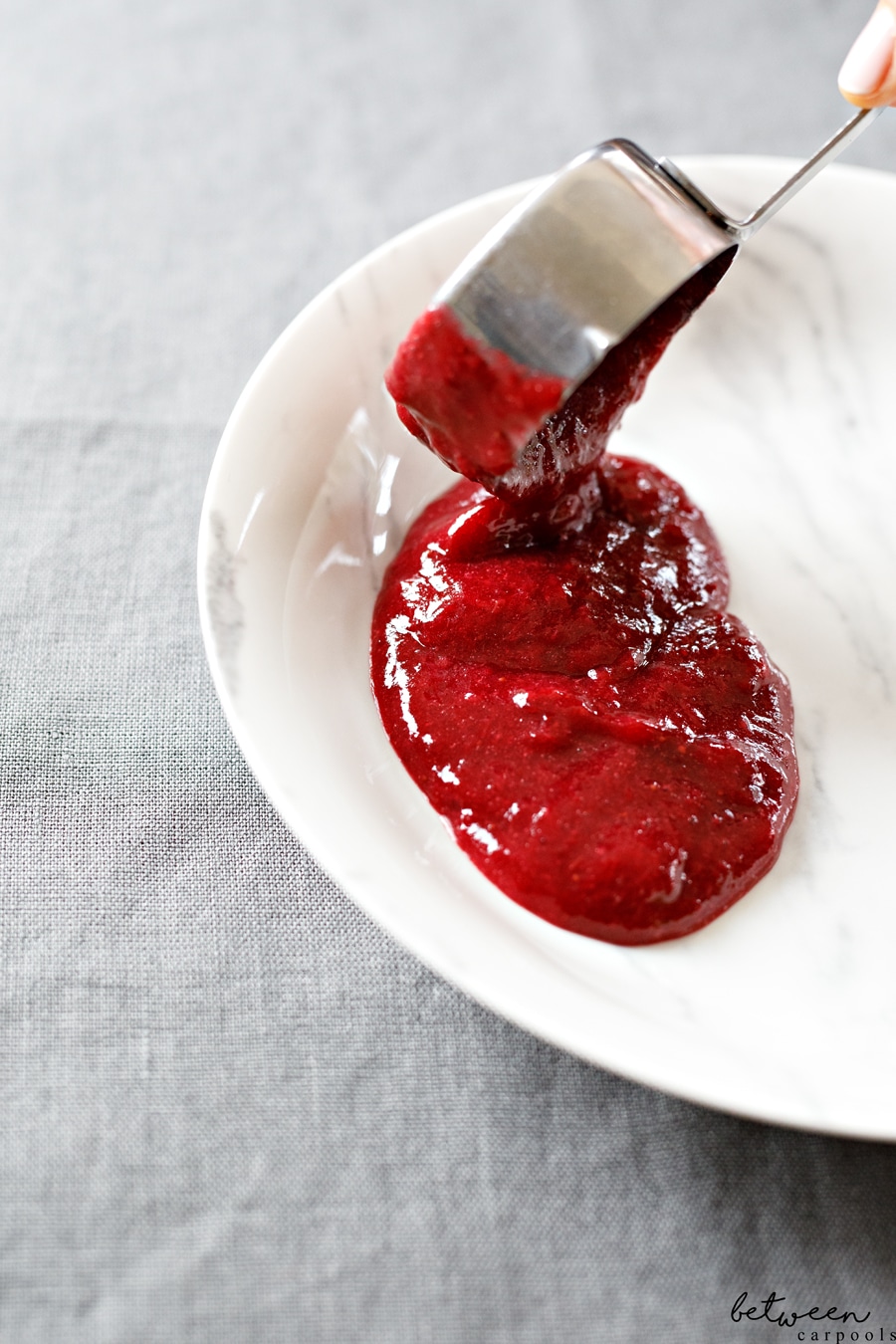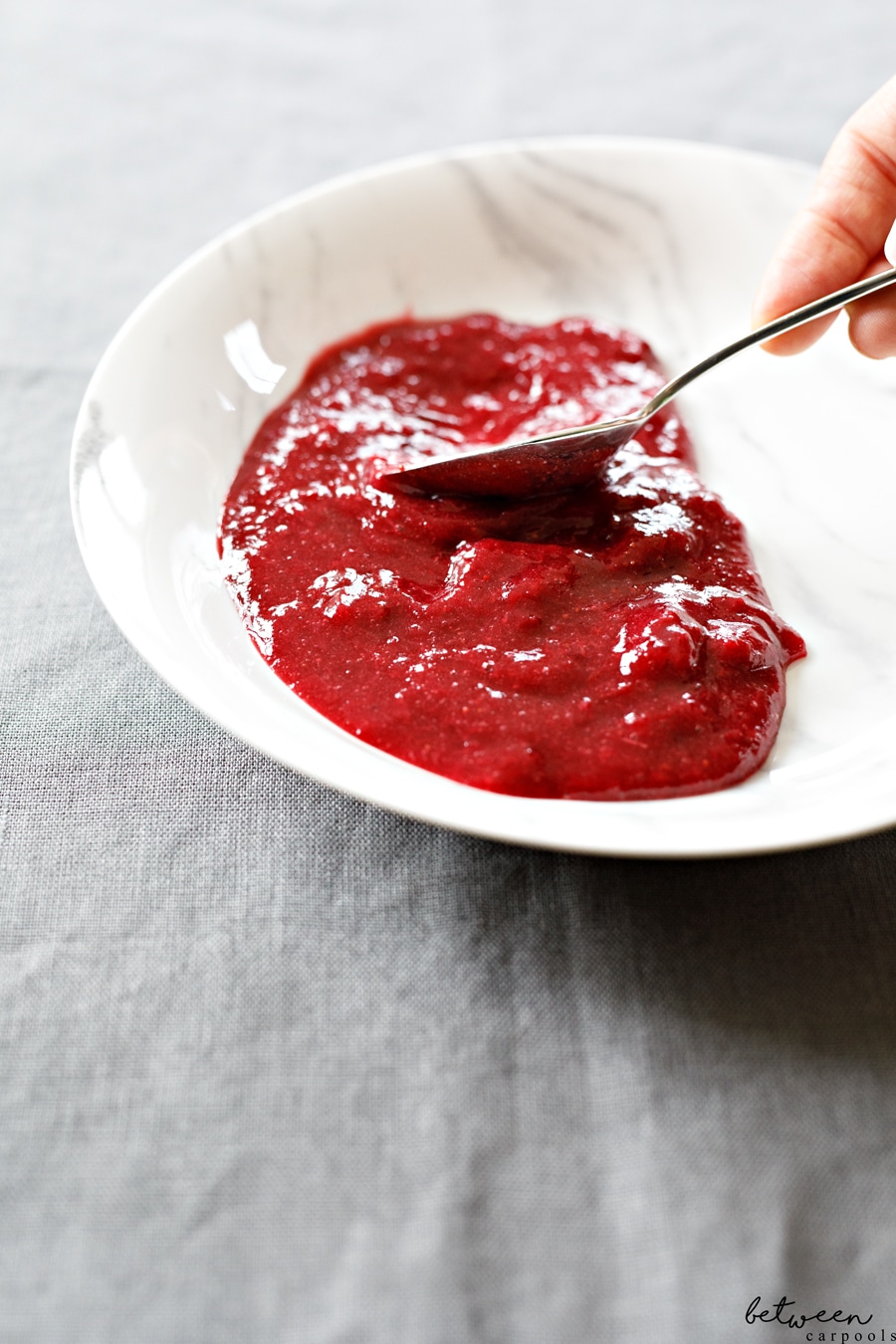 What's another reason we love this dessert so much? 
It's the dessert you can pull out from the freezer but doesn't have that freezer feel to it.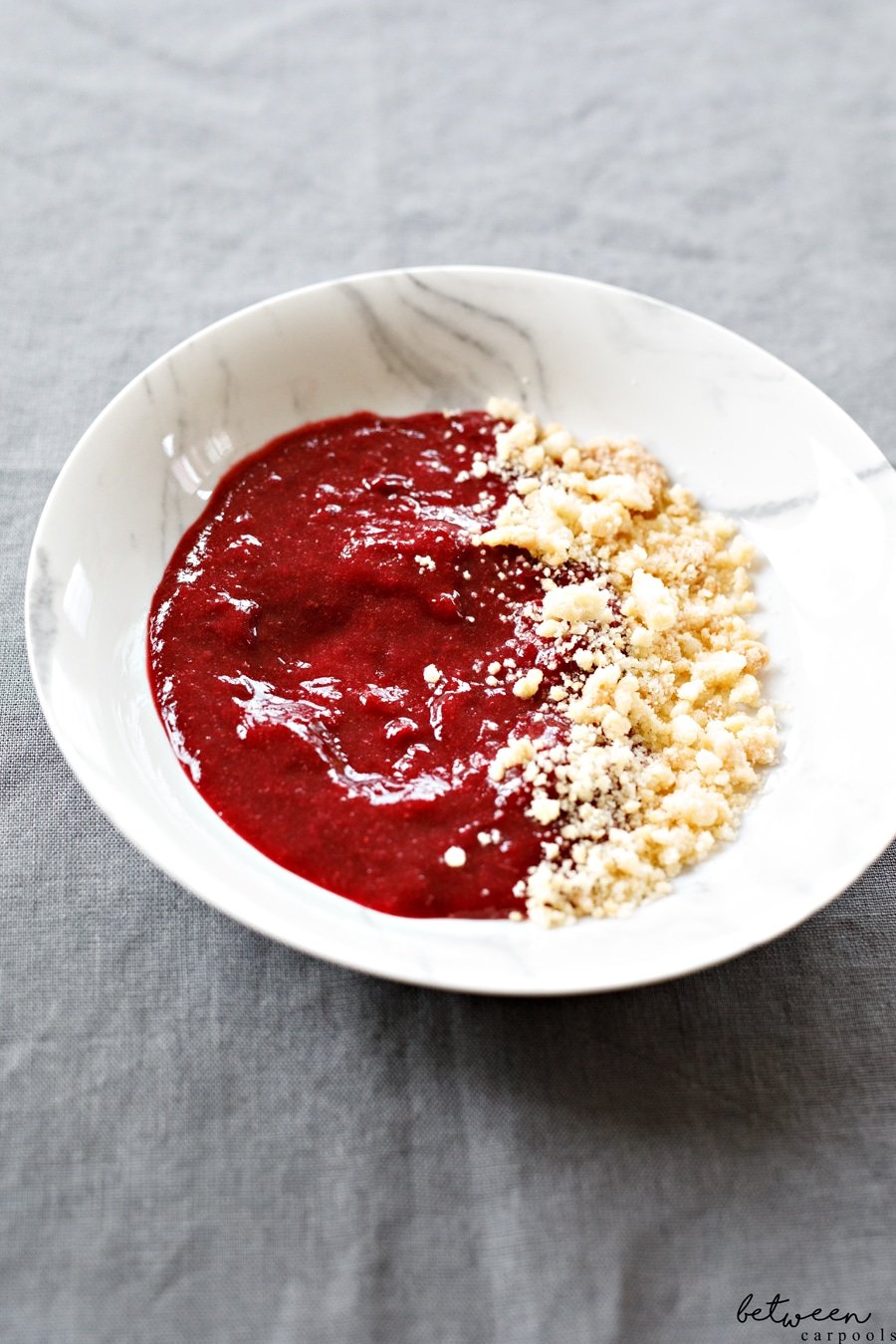 Another great aspect of this dessert is the striking presentation. Admit it: you never thought about serving dessert in a soup bowl, did you? Best of all, the soup bowl isn't used at every meal. So let's change that, shall we?
Make ahead…check 
Delicious…check 
Show stopping gorgeous…check 

Fruit Coulis
Ingredients
1 16 oz bag frozen strawberries
1 16 oz bag frozen whole cranberries (we used Dole for all frozen fruit)
6 oz frozen whole dark cherries (½ bag)
1 cup water
¼ cup sugar
Crisp Crumbs:
1 cup sugar
1 cup flour
½ cup (1 stick) margarine, chilled
Instructions
Prepare the fruit coulis. Place all ingredients in a large saucepan. Bring to a boil, lower heat and cook semi-covered for 1 ½ hours until sauce reduces and thickens. Keep an eye on the pot as it can easily boil over.
With a hand blender, blend it a few times, until mostly blended with some chunks left. Let cool. You can place in the fridge for 4-5 days or freeze and defrost before serving.
Prepare the crumbs. Preheat oven to 350⁰F. Combine ingredients together to form coarse crumbs. Place it on a lined baking sheet. Bake for 15-18 minutes until crumbs are golden at the edges. Let cool and break apart (if it seems like it came together you can mix warm crumbs with a fork to break apart. Then let cool and break apart further). You can freeze the crumbs until ready to be used.
To assemble, place ½ cup of coulis on ¾ of side of bowl. With a spoon, smooth it out. Place a handful of crumbs on the empty side, overlapping some on the fruit coulis.
Top with a scoop of ice cream and garnish with some mint leaves, half figs and coconut chips.
Make ahead: You can prepare balls of ice cream preshaped in the freezer.
Note: if you are doubling the crumbs divide them on two baking sheets.
See this mango version too!