It might sound basic, but this cooking method yields a meat that everyone loves.
One of my personal favorite recipes from Dinner Done Cookbook is the Smoked BBQ Brisket on page 130. I even created a Crockpot BBQ Brisket version (a version with BBQ sauce) here on BCP.  Like I wrote in Dinner Done, in the last few years, smoked brisket has been perhaps the most popular food trend in the kosher world. People love the soft meat, with a crispy seasoned crust and no sauce.
Last Pesach, after preparing our Pesach meat staples like caramelized French Roast and falling off the bone Flanken I was thinking we should have a meat like Smoked Brisket. No sweet sauce. Just meat seasoned well, cooked low and slow. Technically those that use processed ingredients can easily make the recipes from Dinner Done as is. Imitation soy sauce, KFP liquid smoke + the rest of the ingredients are available Kosher for Passover.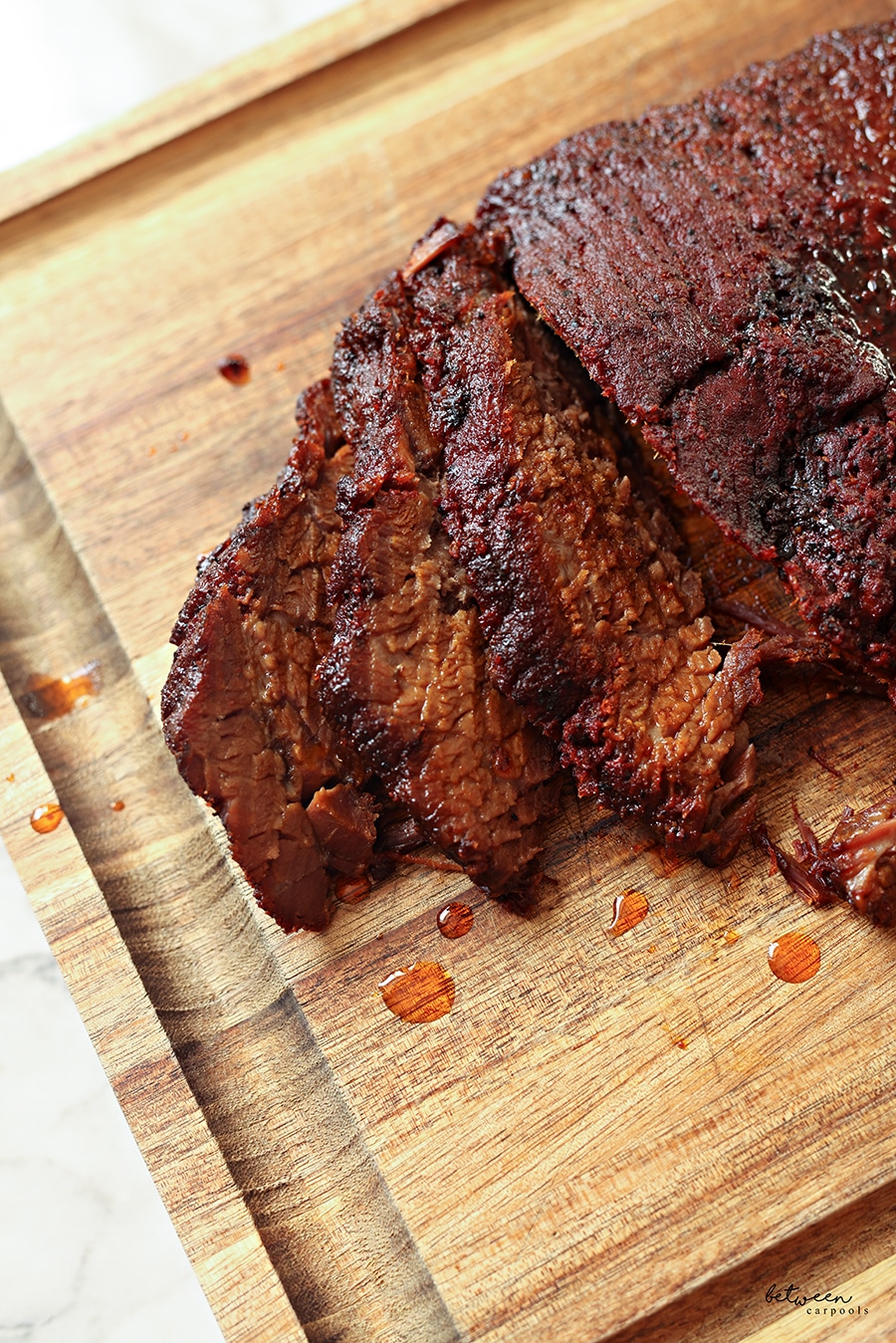 However, I decided I would make a version for those that really use nothing on Pesach (for you, we've got a list of non-processed ingredient recipes). With no honey, and no soy sauce…the ingredients in this version were so basic and still, everyone polished it off. It worked so great I made another two on Pesach itself with the oven on 250ºF, baking the brisket overnight.  
Fast forward to this March. I came with the Brisket to a photoshoot all ready to make our new favorite Pesach Brisket. Rereading the recipe a couple of months later, I started doubting myself. Perhaps we were hungry. Perhaps the limited palette of ingredients all week convinced us that this recipe was special.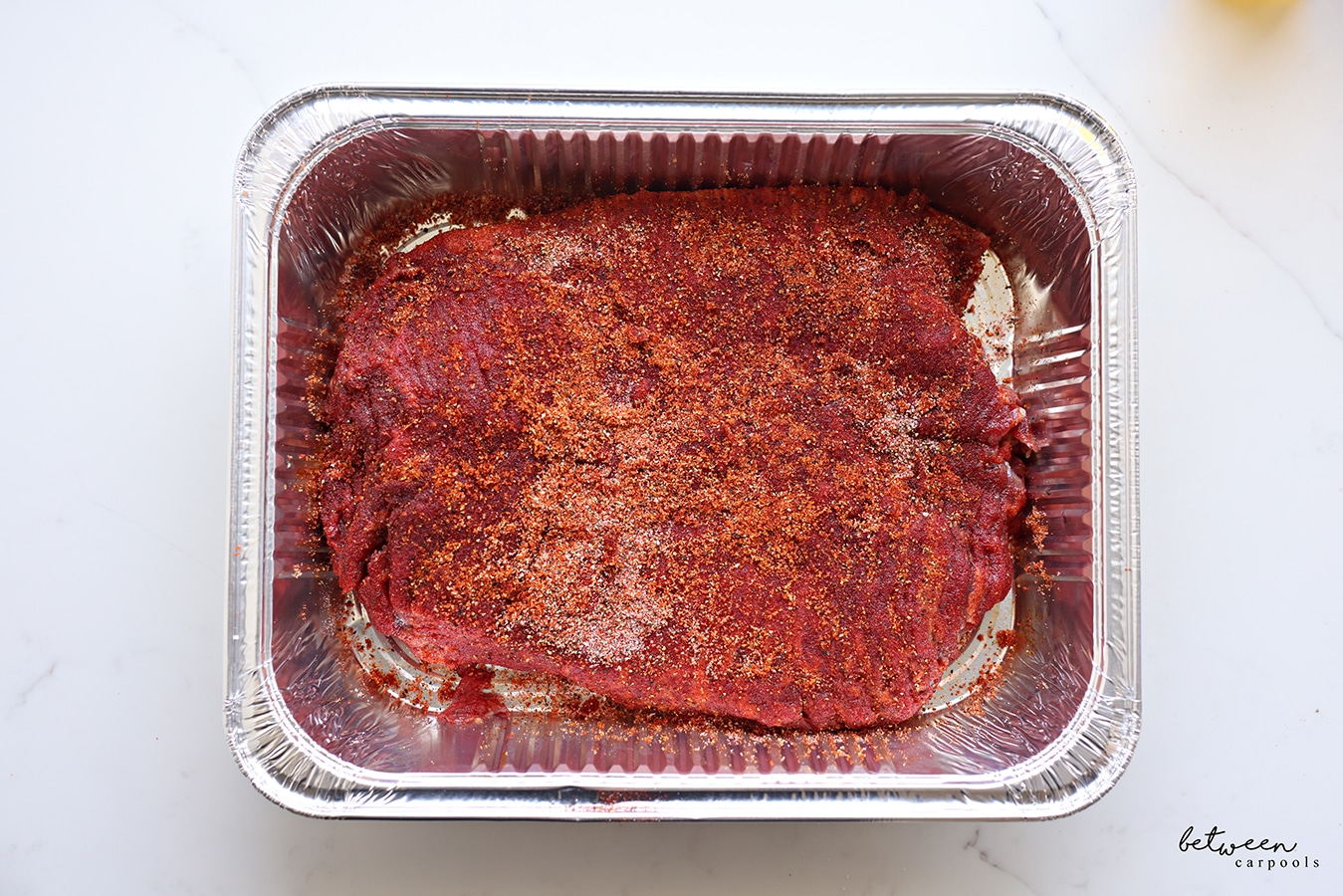 We were running a tight schedule and I figured, better to shoot it and then taste again. We shot the "before" photos on Monday. I baked it overnight and shot the final on Tuesday.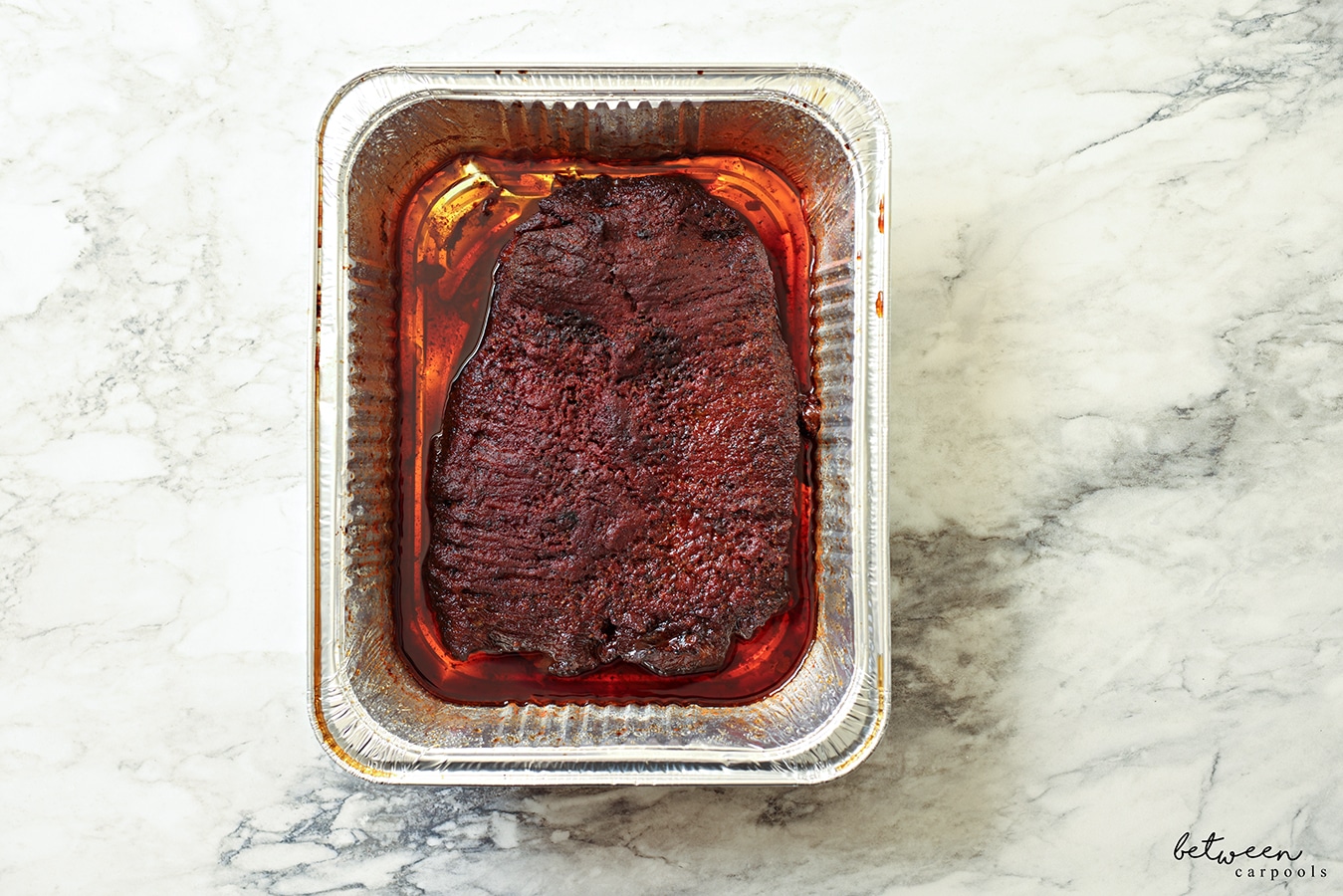 Tuesday night dinner was this Brisket. Polished off again. It wasn't just good because it was a good Pesach roast. It's great all year round.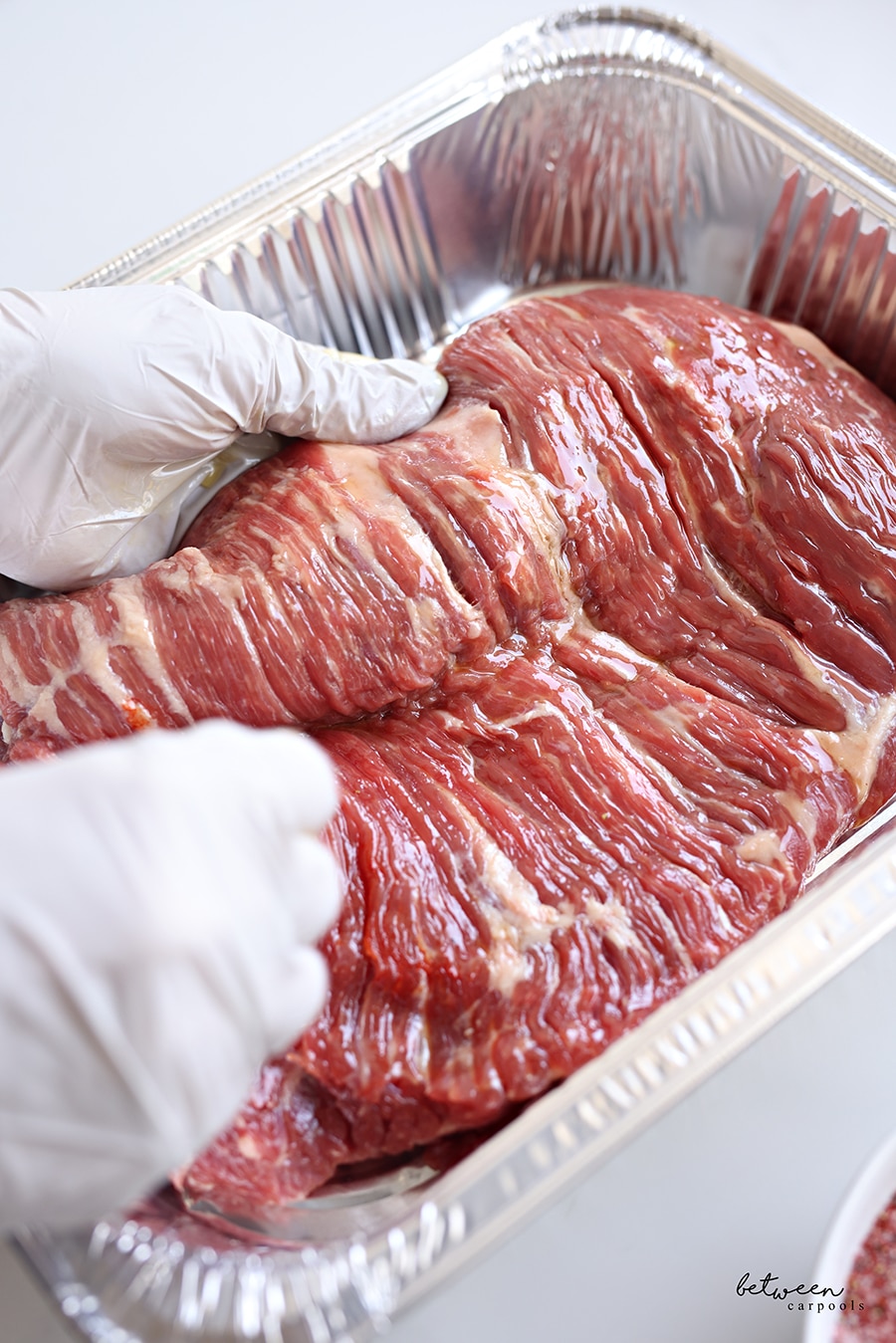 Rub both sides of the Brisket with oil.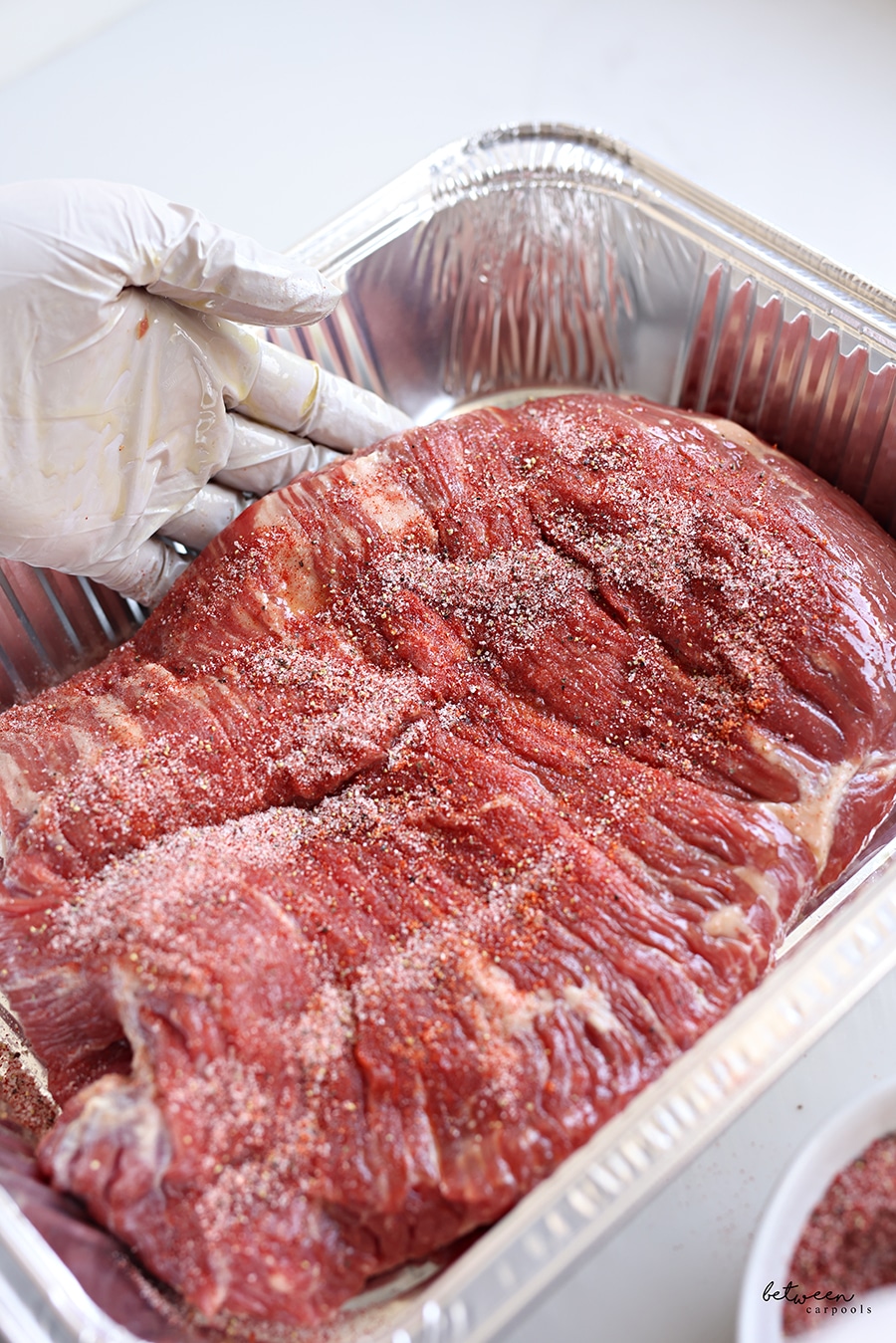 Rub sugar, paprika, salt and black pepper on meat.

Oven Smoked Brisket
Ingredients
3-4 lb second brisket
2 tablespoons oil
3 tablespoons white sugar
1 ½ tablespoons paprika
1 ½ teaspoons salt
1 ½ teaspoons coarse black pepper
Instructions
Rub both sides of the Brisket with oil. Combine sugar, paprika, salt and black pepper in a small bowl and rub on meat. Place brisket in a baking pan, fat side up.
Cover very well (2 layers of foil) and bake for 8-9 hours on 225⁰F. (In the original recipe in Dinner Done, we wrote to remove the brisket from the pan and bake it on 425⁰F, uncovered, for 8 minutes. While it gives it a nice crust, we found it wasn't a must and on Yom Tov is impractical, so we skipped this step this time).
At this point, you can remove the brisket from the pan and wrap it in baking paper and then foil. You can refrigerate or freeze it if not eating right away.
To rewarm, add 1-inch apple juice (or light grape juice) into the bottom of a pan. Wrap brisket loosely in foil and place in pan. Place in oven for 10 minutes, or until warm. If your oven is on a very low temp, you can cover and bake longer until warm.
UPDATE: Update for 2022:
Because I make this brisket so often, rather than start from scratch every time, I prepare 4 at a time.
After cooking, let cool and freeze. Then, vacuum seal (or ziplock) the brisket as shown in
how to prepare food for travel.
.
On Shabbos morning, I place the brisket in the vacuum sealed bag on top of the Crock Pot to warm. I slice and serve it as a main dish alongside the cholent.
FOR EXCLUSIVE CONTENT AND A PEEK BEHIND THE SCENES, MAKE SURE TO JOIN OUR WHATSAPP STATUS HERE.