"Tastes like Rita's"–that's what my kids said when I gave them a cold cup of freshly blended frozen drink. Yay!
Moms, if you cringe at the amount of sugar consumption in the summer and wish refreshing treats could be wholesome, you're going to love this recipe. There's some technique here, so pay attention the first time and you won't need to pull out this recipe again–you'll just pull out the blender and know what to do.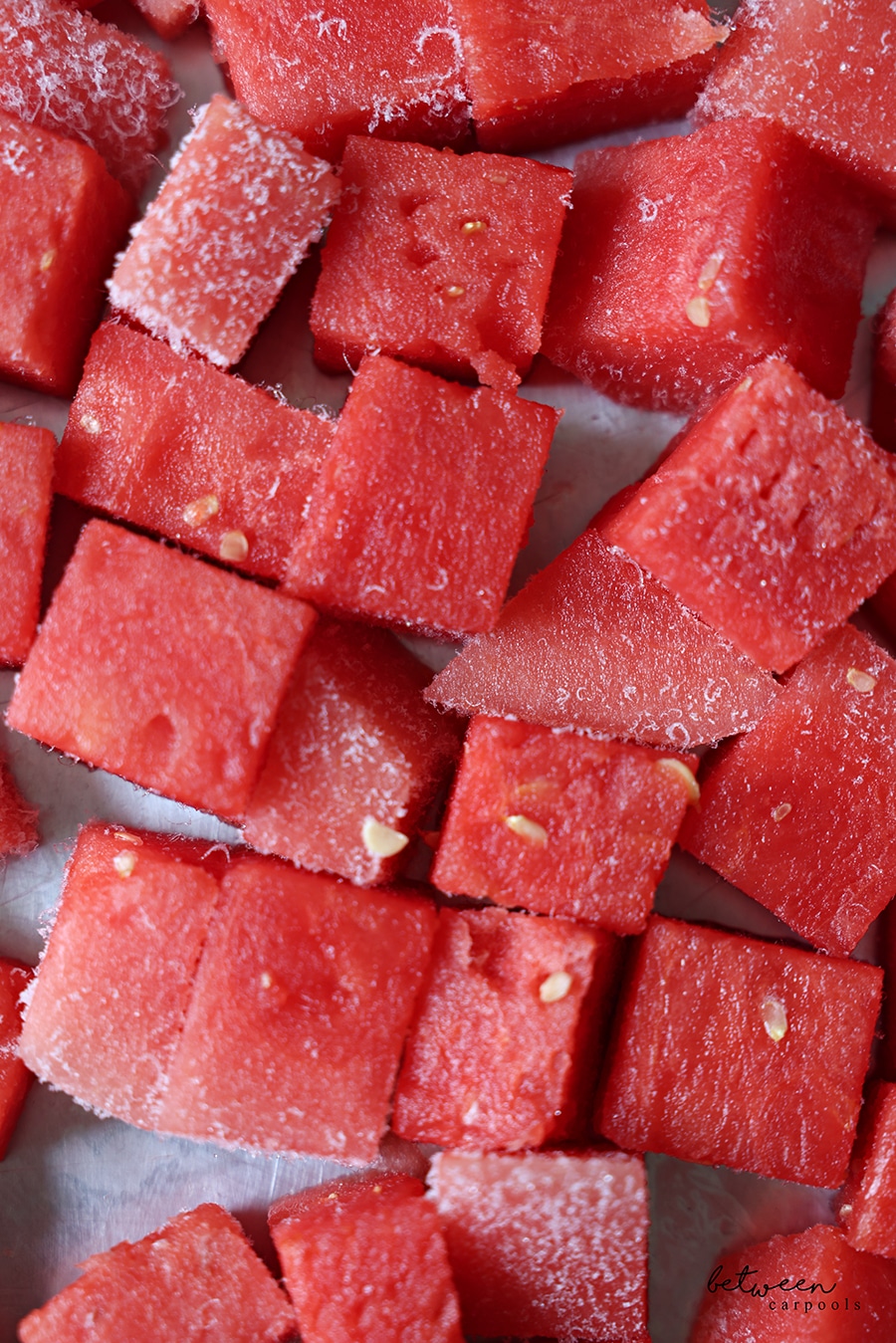 This first step needs to be done ahead. Cut up your watermelon into chunks and freeze them. Just put them in a bowl and stick it in the freezer. Better yet–keep frozen watermelon chunks in the freezer so you can make the drink in an instant when you want to.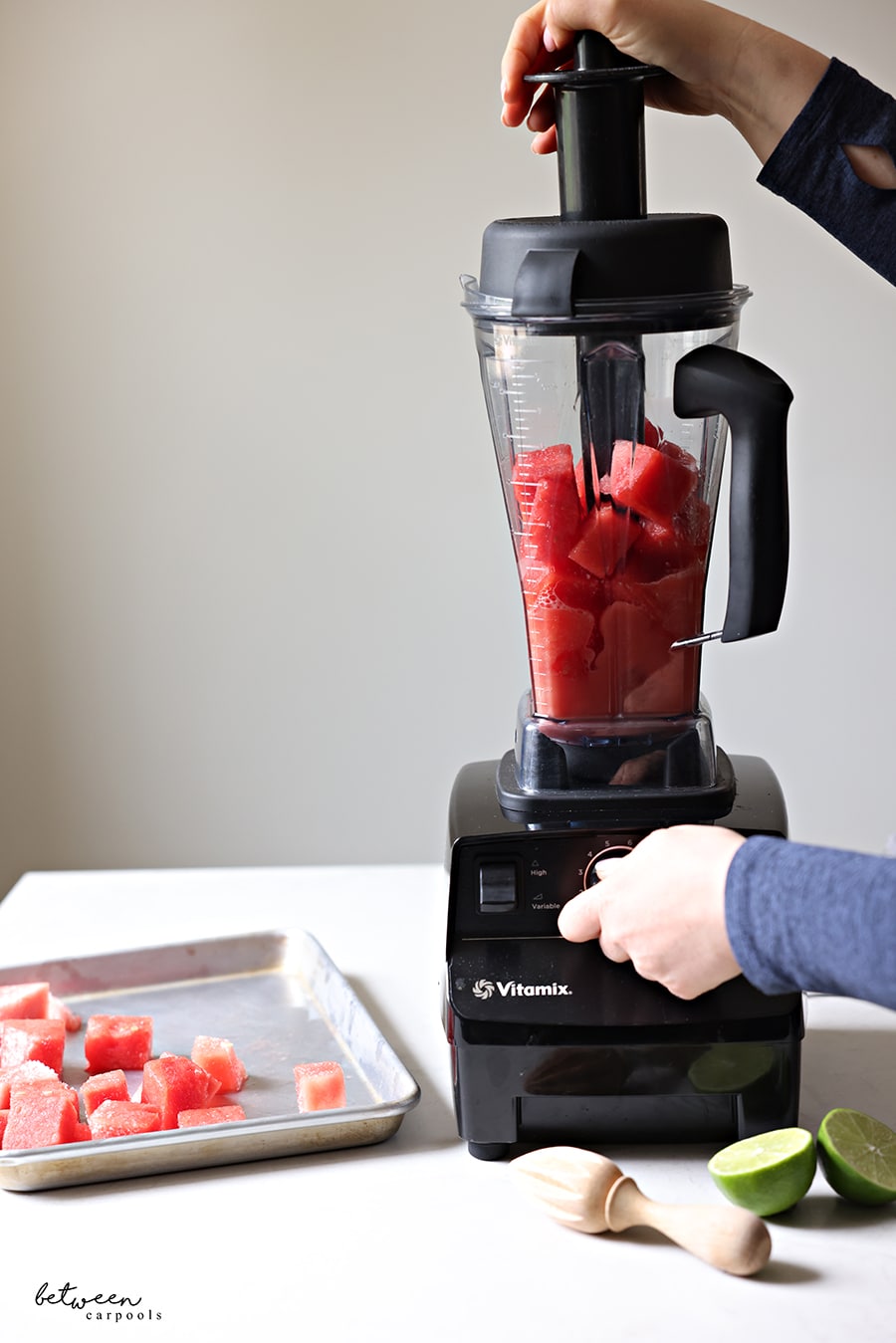 Now, take out the blender and add those watermelon chunks.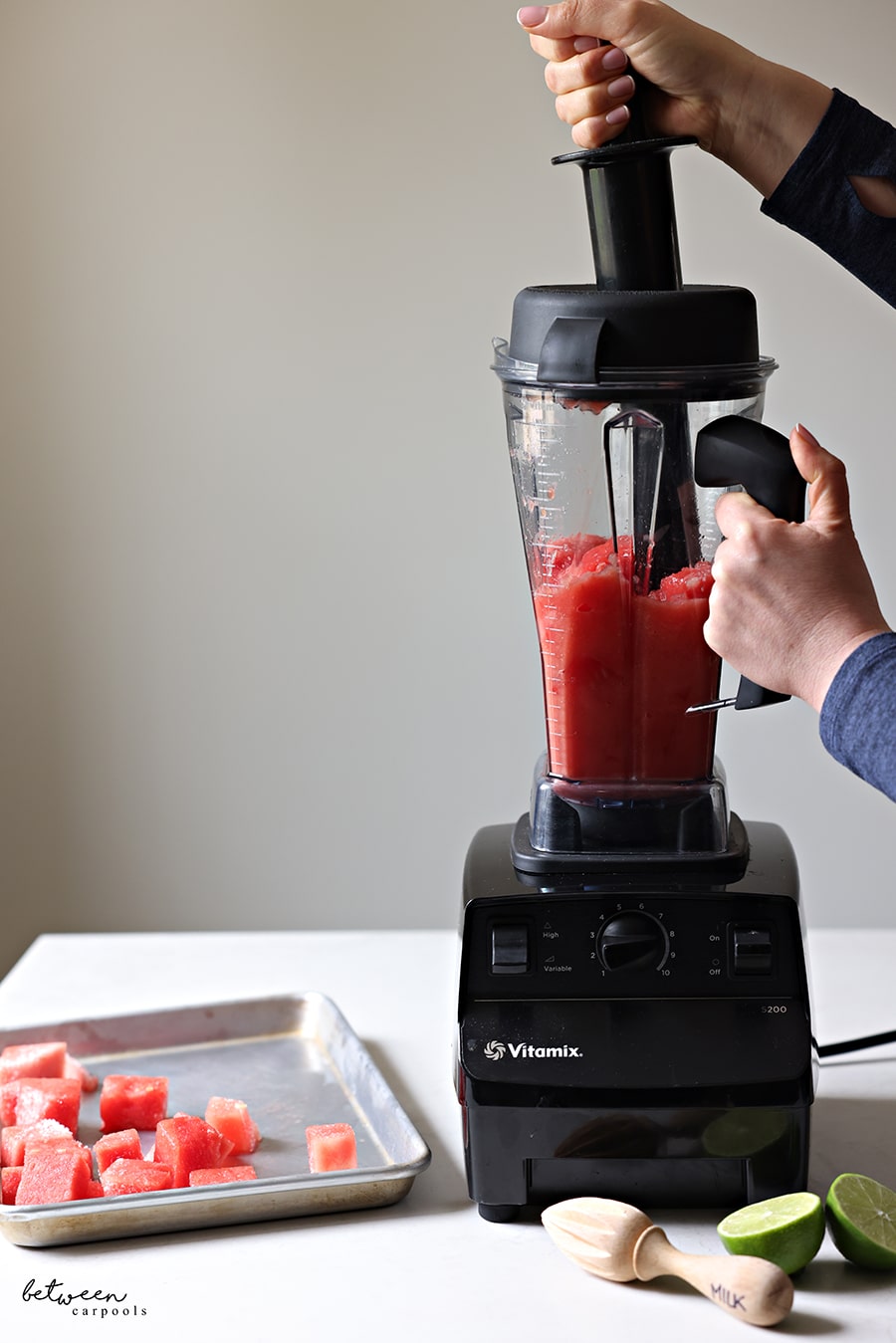 Add a little water to get the blender blending.
Watermelon already has lots of water, so you only need a bit. The quantity will depend on the amount and size of your chunks.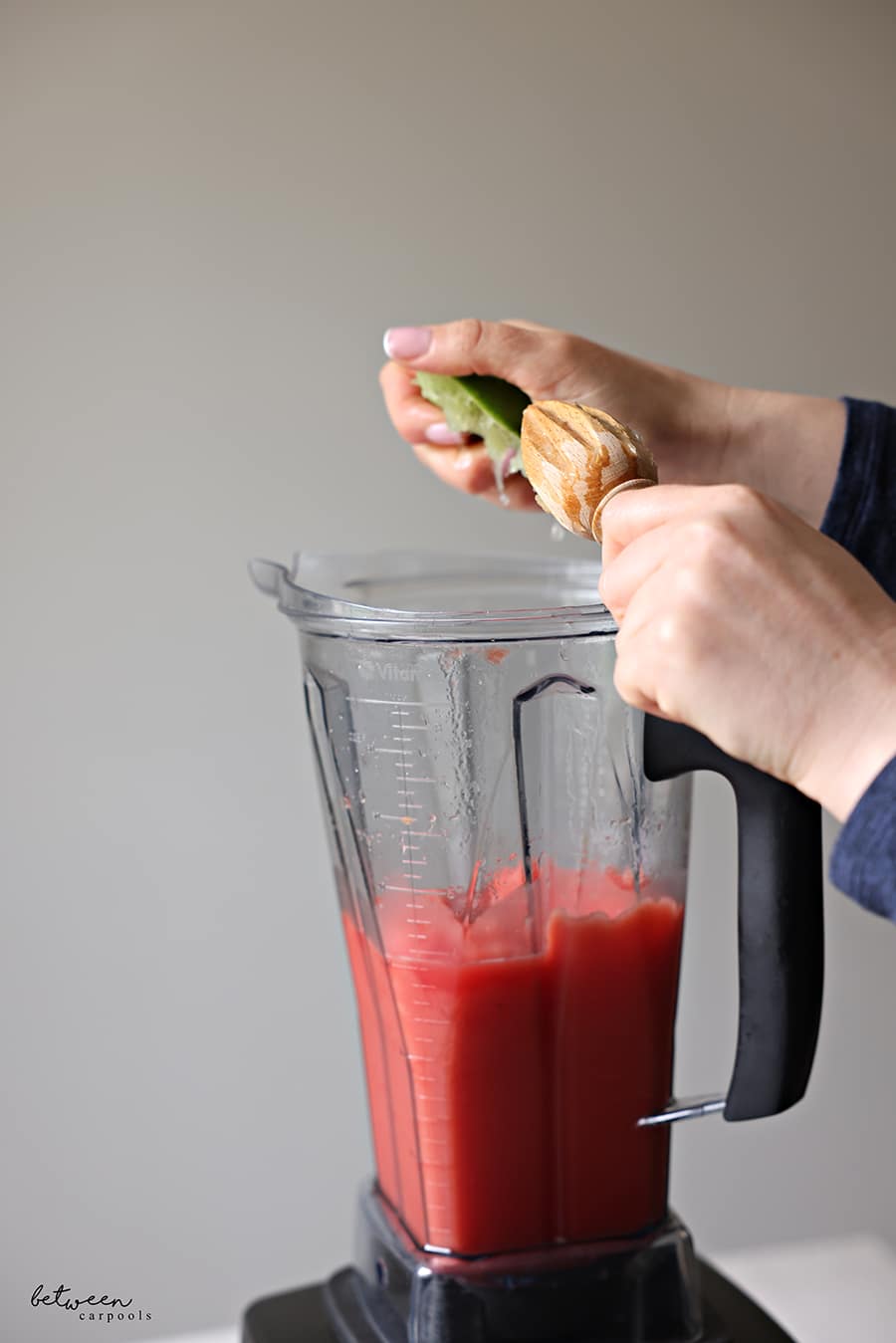 Next add some fresh lime and that squeeze of honey.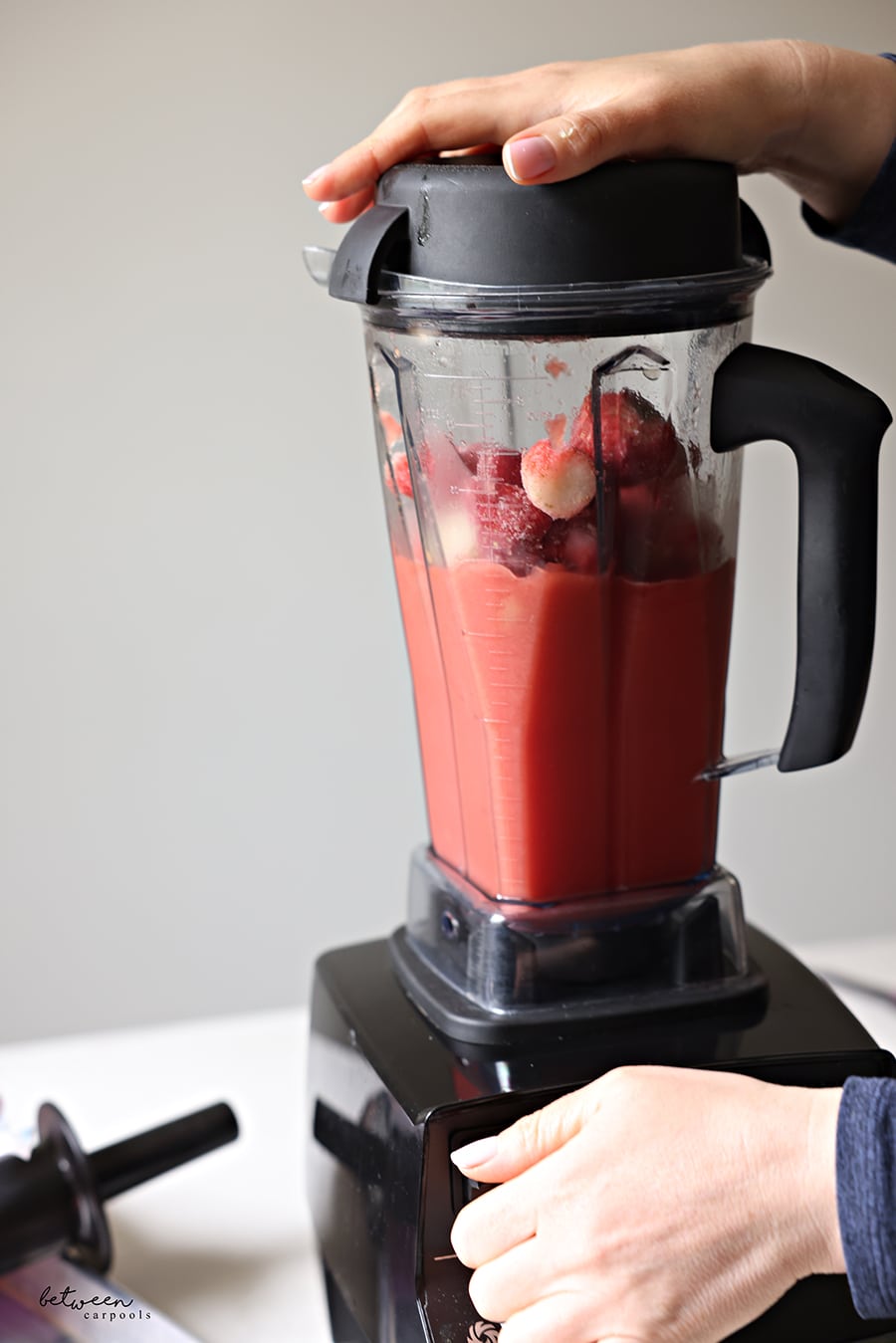 Finally, add the frozen strawberries.
We found the ratio we liked best was 2:1 (4 cups watermelon to 2 cups strawberries, or 2 cups watermelon to 1 cup strawberries), but you can definitely just keep blending in the strawberries until the drink has the flavor balance you want. The amount of strawberries you'll need will depend on the size of your watermelon.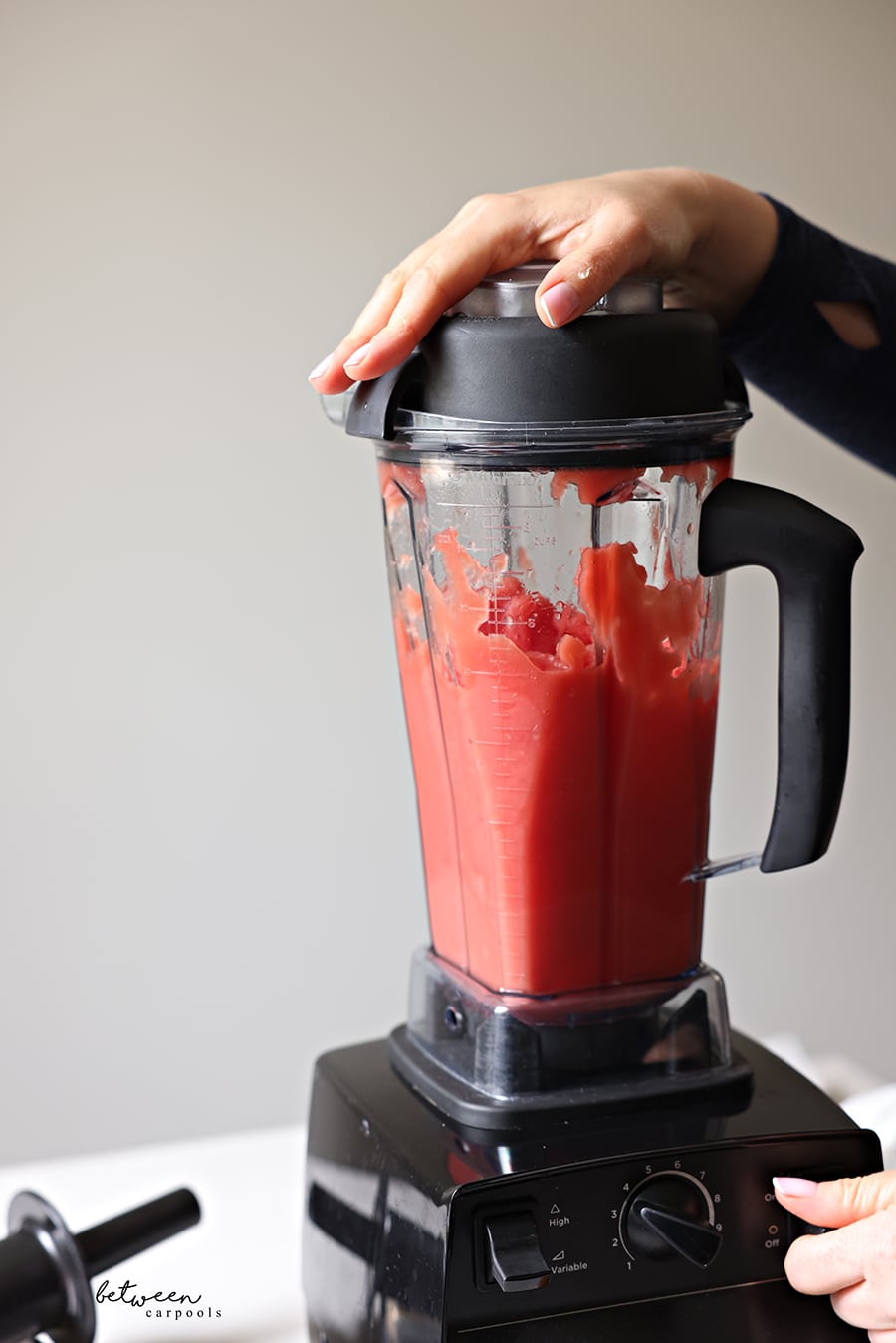 You can also adjust the thickness – do you want it more like ices?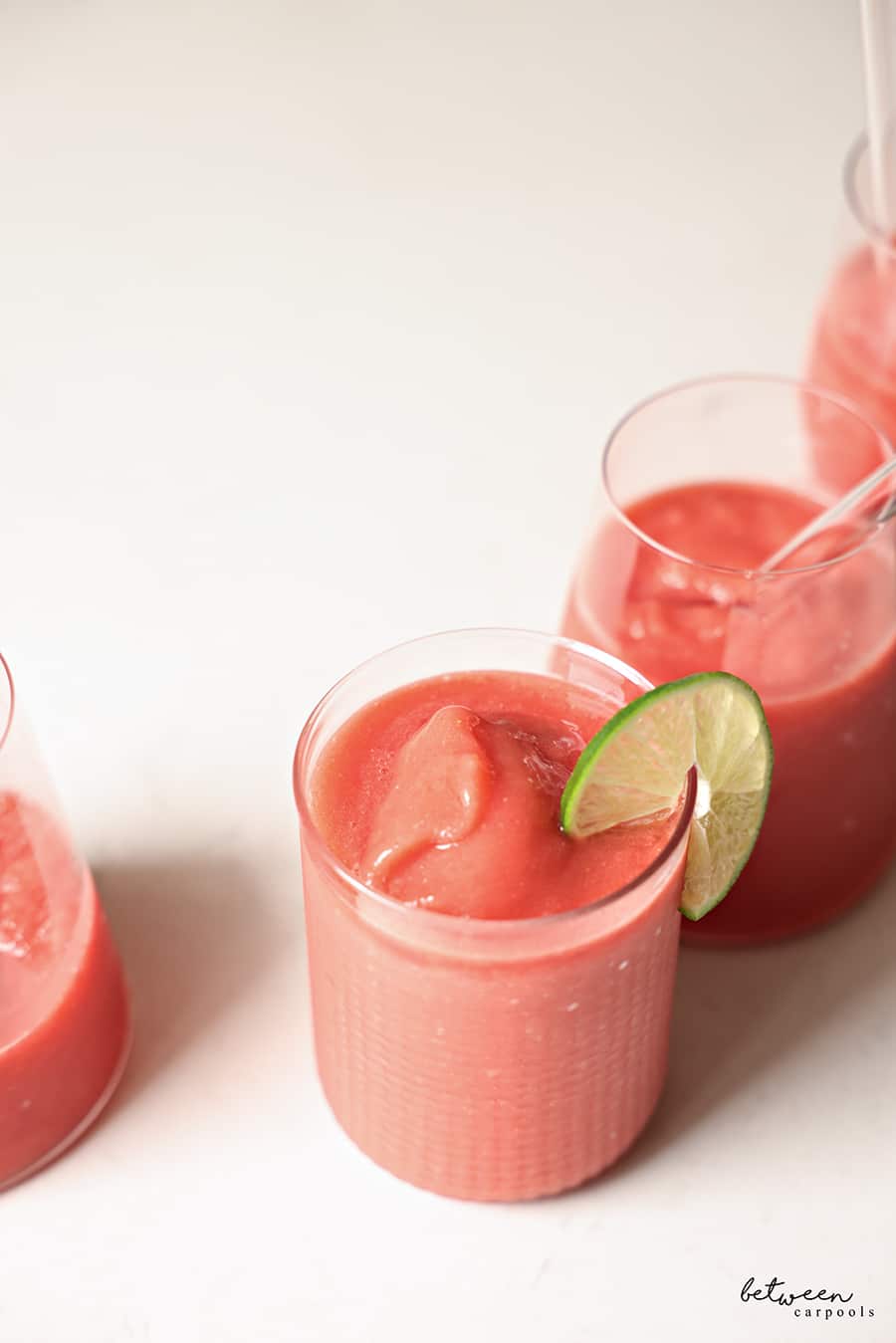 Or more like a frozen drink? It's easy to adjust the thickness by adding more/less water vs. frozen fruit.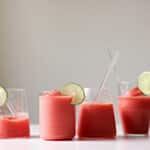 Print Recipe
Watermelon-Strawberry Frozen Drink
Ingredients
¼

watermelon

1

(16 oz) bag

frozen strawberries

juice of 1-2 limes

2-3

tbsp

honey or agave 
Instructions
Do Ahead: Dice the watermelon, put it in a bowl, and stick it in the freezer. You can keep frozen diced watermelon in the freezer at all times so you're ready to make this at any moment's notice. 

Measure 4 cups frozen watermelon cubes and add to the blender with about ¼-½ cup water (if your blender doesn't hold this, you can make smaller batches). The watermelon themselves have enough liquid for the drink, you just need a bit to get the blender started. Blend until watermelon is smooth. You will need to stop the blender and move the chunks around a couple of times. If you need a bit more water, go ahead.  

Add a squeeze of lime and honey at any point. 

Once the watermelon is smooth, measure 2 cups of frozen strawberries. Add strawberries to the blender, a few at a time, and blend until smooth.  

Repeat with remaining watermelon and strawberries (I had 2 cups watermelon and 1 cup strawberries remaining to blend, the same ratio). Add to cold cups with lids and straws. 

If you want to make this ahead, store in the freezer. Remove from freezer about 1 hour before serving.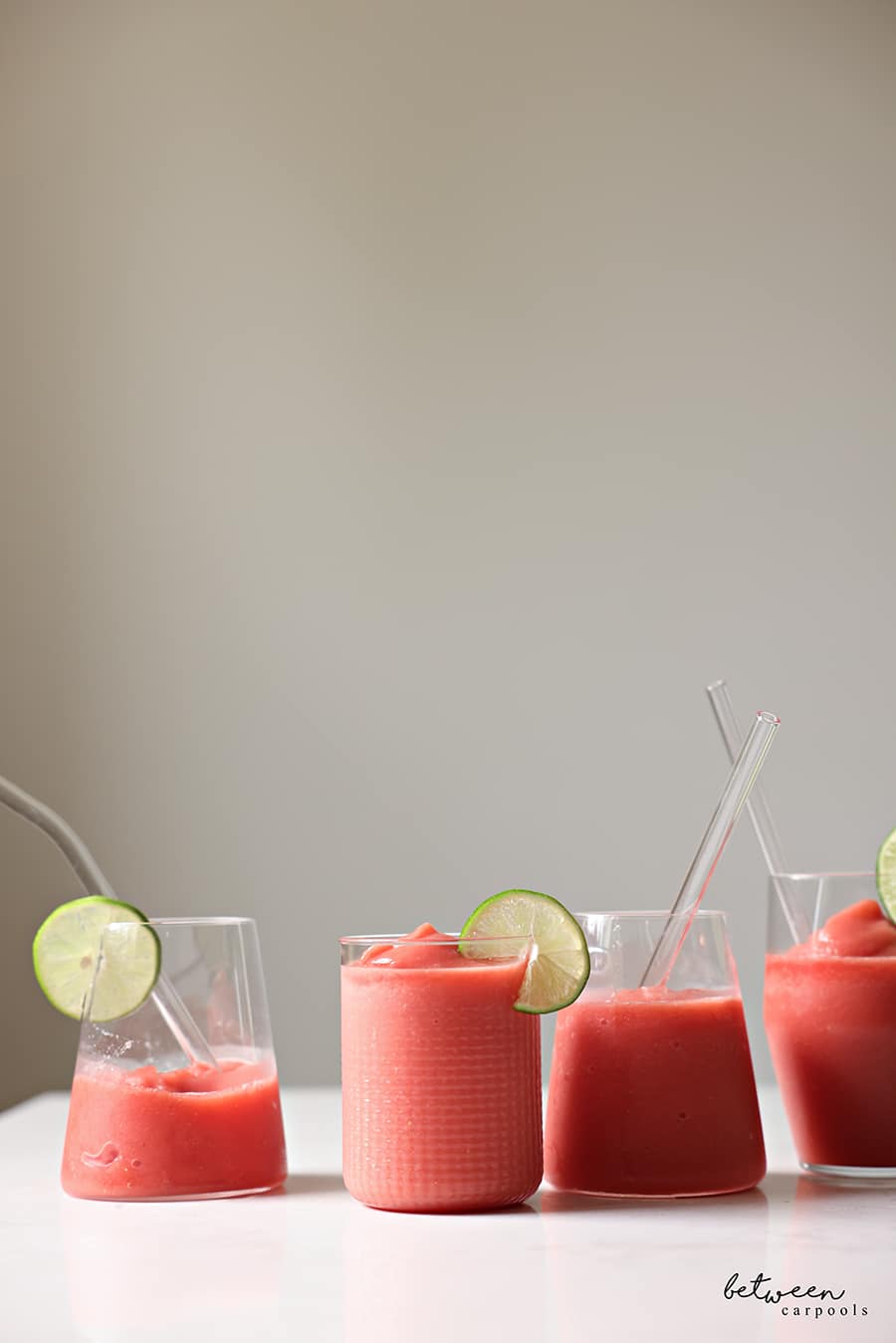 FOR EXCLUSIVE CONTENT AND A PEEK BEHIND THE SCENES, MAKE SURE TO JOIN OUR WHATSAPP STATUS HERE. JOIN OUR WHATSAPP GROUP AND WE'LL LET YOU KNOW WHEN A NEW POST IS UP!