Stretch pants are a dream come true for so many men and boys — and there's a style and fit that's right for your men, both big and little.
Depending on where you live, your son either already loves stretch pants — or he'll be so happy that you discovered them. But now matter if your boys are already a fan, you might be confused about all the different types that are available. 
First, what are stretch pants? They're pants that look like dress pants, but are way more comfortable (like the comfort of sweatpants). For older boys and men, they're perfect for everyday wear. For younger boys, they're great for Shabbos because they won't mind getting dressed up! They look polished and put together and it's so easy!
The largest range of stretch pants are available from the T.O. brand and we were first introduced to them at His Place in Lakewood, NJ. They also have a great website, so out of towners, don't worry. We are going to provide all the info you need in this post so you can order without worry). There's more sizing information at the bottom of this post. Let's go through the four different styles: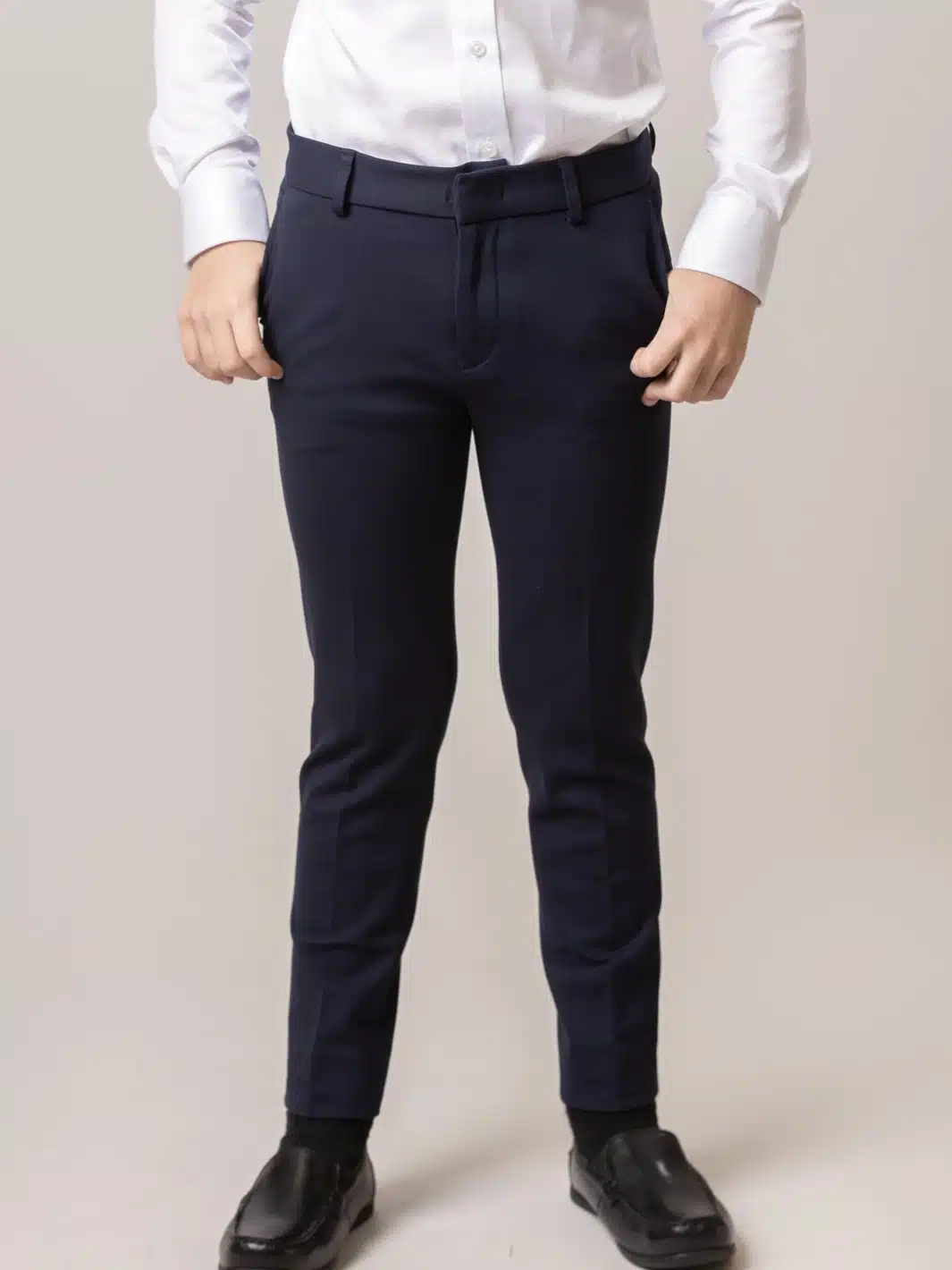 1. The Basic Collection. These are the original pants which you might or might not already be familiar with.
Fabric and Style: The fabric is thicker than any of the others and stretches across the width and length for lots of comfort. The waistband is also stretch so one could still have a fitted look even if they would normally need to size up in the waist. They are built to withstand kids who might play rough.
Fit & Sizing: The Basic pants (skinny fit) have a slim fit, but not too slim. They're a bit slimmer and longer than the Urbans. You might want to size up one size, or if you have a son between sizes, go with the larger size. They're also available in Husky, which will give extra room on the waist (about two sizes worth).
Colors: Black, Navy, and Pindot (The pindot style is a bit dressier. It's nice for Shabbos for younger boys).
Five Pocket: The Basic pants are also available in a Five Pocket Style, which is popular as a weekday pant (particularly among younger boys). Available in both black, pindot, and navy.
Men: The Basic pants are also available for men in the same colors. The five pocket style is available for men as well. There are also Green Label stretch pants, which have more of a medium fit.
Fabric and Style: The fabric is softer and thinner than the Basic. Since it is really soft and comfortable, if your child is hard on clothing, go with the Basic. As far as look and comfort, some prefer the Basics and some prefer the Urbans – it's a personal preference.
Fit & Sizing: Similar to the Basic Collection above.
Colors: Black and Navy.
Men: The Urban pants are available for men in Black and Navy.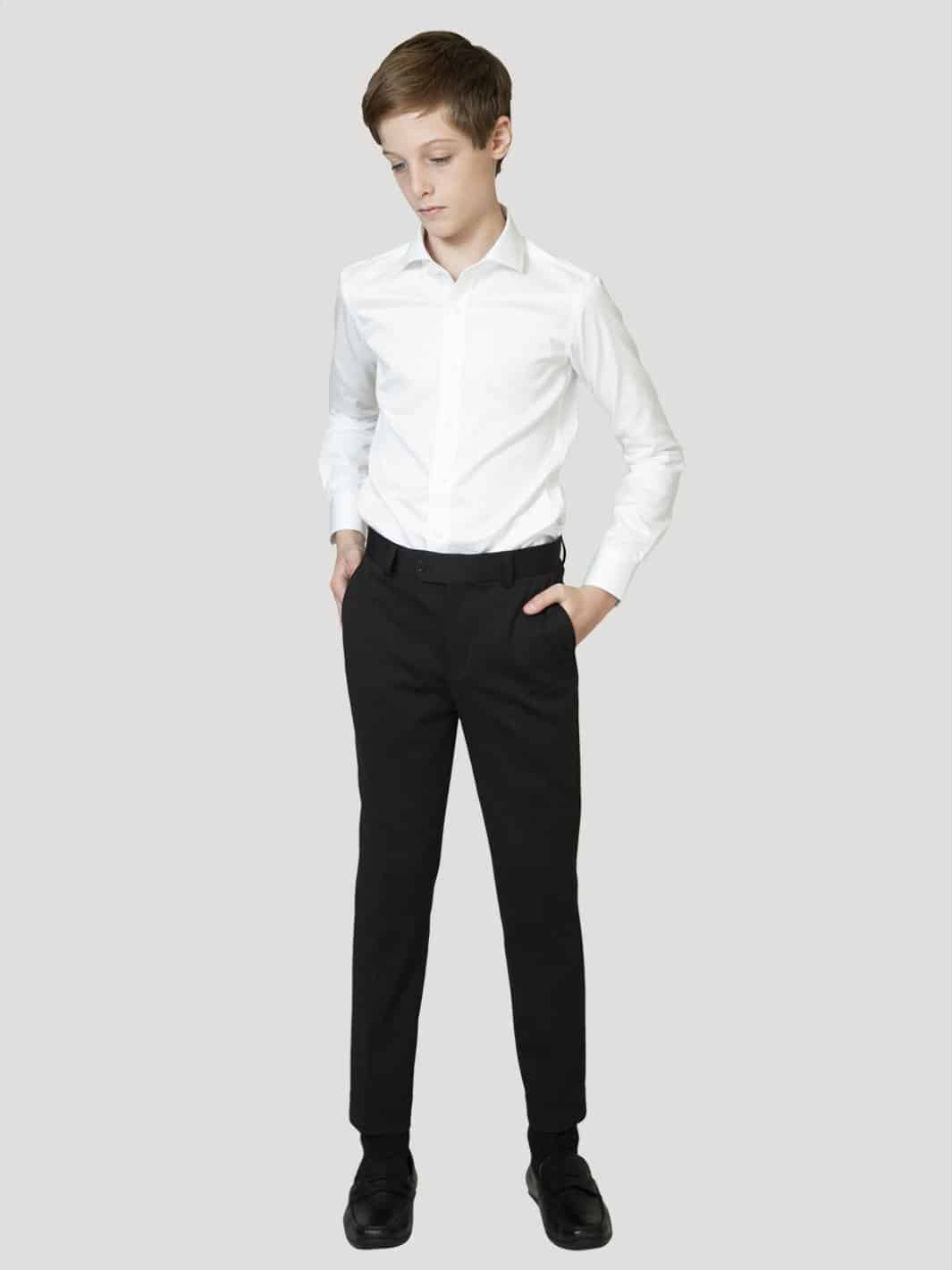 3. The Soho Collection. The Soho collection is distinctive because of its lightweight feel. They come in a wider range of colors, with coordinating suit jackets as well. The pants and jackets are available as separates, so you can choose different sizes. Although they are available and popular year round, it's a great suit option for young boys in the summer when it's difficult to wear something heavy and wool. The pants are great for all ages and men too.
Fabric and Style: The fabric is thinner than The Basic and Urban; many refer to them as T.O's "summer weight" pants.
The Soho jackets are unlined and more casual than a more structured jacket (other suits have canvassing inside the jacket).
Fit & Sizing: The SOHO collection runs a bit larger than both the Basic and Urban. There is slim fit which is still a slim fit, but a little more generous, and Husky.
Colors: Because the pants can be worn on their own or coordinated with a jacket as a suit, they come in a wider range of colors and patterns, including Black, many shades of Blue (Navy, Blue, Bright Navy, Light Blue, Navy Design) and shades of grey, including Charcoal and Grey.
Men: The Soho pants are available for men in Black and Navy.
4. The Flex Collection is Here! The Flex Collection looks exactly like a dress pant.
Fabric and Style: They look like real yeshiva pants and would be worn even by those who wouldn't consider wearing a stretch pant (Rebbeim, etc.). It doesn't look similar to the pants in the above collections. The stretch is woven into the pant from front to back, not top to bottom.
Fit & Sizing: In our experience, it's best to size up one size compared to the Basic Collection.
Men: Yes, they are available in both mens and boys sizes.
Good things to know:
All pants except for the five pocket style have room to be let out.
Does my son need a boys or mens size?
We asked His Place at what point a boy can transition from boys to mens sizes. To compare sizing, a size 20 boys is the same size waist as a size 30 mens. Every size down is one inch less on the waist, so a size 18 boys would be a 29 mens, etc. The thigh and hip area, though, will be roomier on the mens pants. 
Husky sizes go three sizes larger on the waist only (a Husky boys 16, for example, has a 32 inch waist). If a kid just needs more room in the waist, it is better to get a husky and stay in kids sizes than move onto men, as the rest of the pant may fit him better.
FOR EXCLUSIVE CONTENT AND A PEEK BEHIND THE SCENES, MAKE SURE TO JOIN OUR WHATSAPP STATUS HERE.