It's free, it's fresh and it's one of the simplest things you can do for your body!
As a nutrition and health coach, one of my strongest messages to my clients is the importance of water consumption. While water in and of itself does not make one lose weight, it certainly aids in the weight loss process. Water, particularly cold water may speed up your metabolism as well. The kidneys will utilize the water we drink and help the body get rid of certain waste products and toxins. With too little water, the body cannot remove metabolic waste as efficiently as it should.
As adults, we can understand the direct health benefits we can gain from water. But what about our kids? Children naturally gravitate towards sweetened beverages. A glass of orange juice, which one may deem as "healthy" contains 22 grams of sugar! That is equivalent to eating 5 ½ teaspoons of sugar! Same to a cup of grape juice. A cup of Kedem grape juice has 34 grams of sugar per 8 oz. cup. That is equal to eating 8 ½ teaspoons of sugar! Would we allow our children to eat sugar by the spoonful? No! So why would we allow them to drink these sugar infused beverages?
In my home, the only drinks my children will drink is water and lemon-flavored seltzer. For breakfast my children will sometimes get warm milk frothed in my milk frother (see this Between Carpools post for frother picks) or hot tea (with no sweetener). For the rest of the day they get water only. On Shabbos they are allowed to choose one sweetened drink per meal.
I devised the water tracking system for my children to use and the heat of the water competition is on!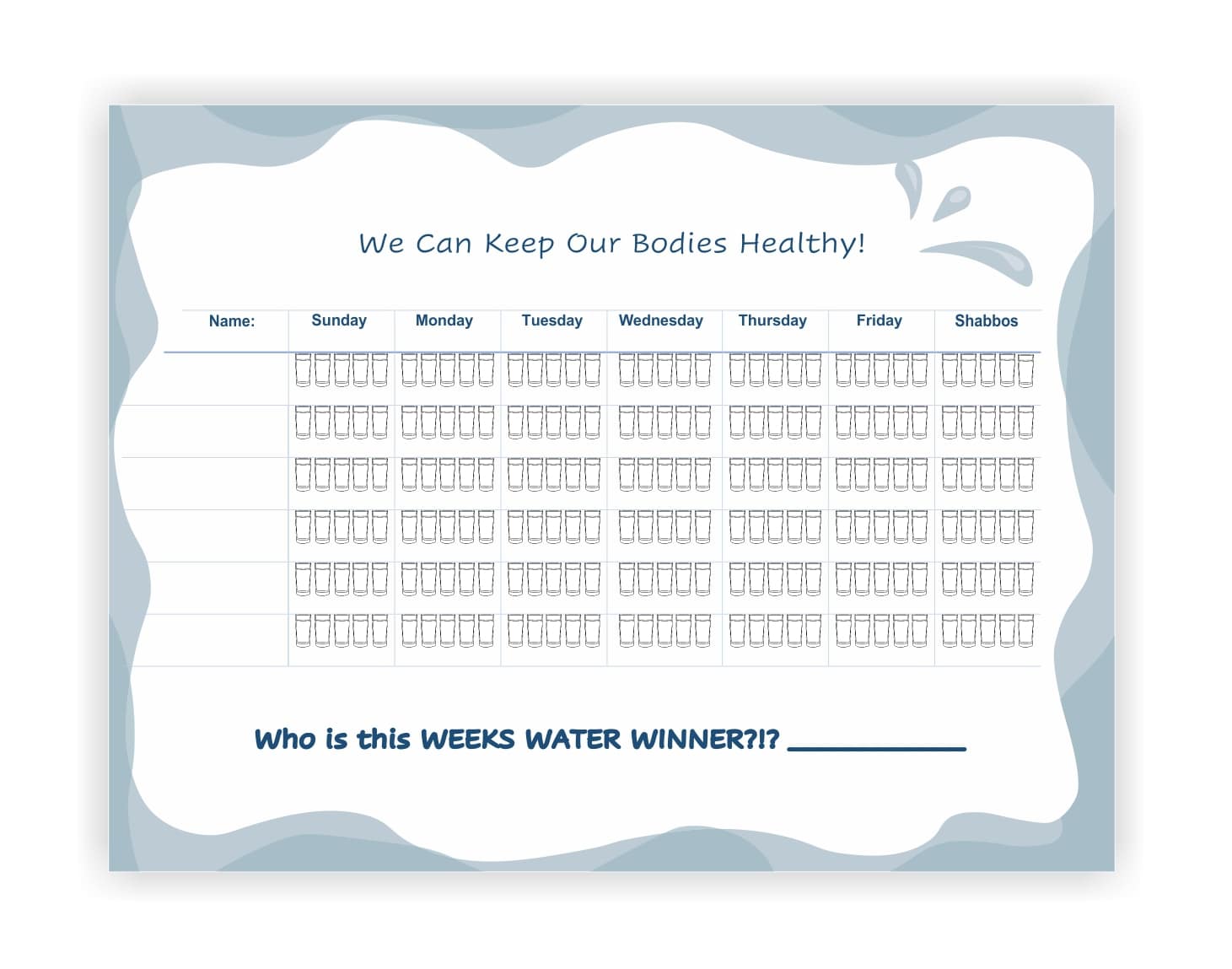 Download the Water Tracker Here
The recommended amount of daily water intake is 5 glasses for 5 to 8-year old's, 7 glasses for 9 to 12- year old's and 8 to 10 glasses for 13+ years. The chart pictured below is on my fridge. As they drink their water, they get to check off a glass of water. At the end of the week we see who reached the recommended amount of water intake and the winner gets a healthy nosh or snack that I usually don't keep at home during the week. Feel free to print out the attached chart so that you can track your children's water intake and help them be responsible for their health. All you need to do is fill in their names on the blank line. You are empowering your children to want to live healthy lives!