This is one we know you'll love. Take a taste of Kim Kushner's new book The Modern Table.
Editor's Note: We know Kim for her fresh, contemporary, and seasonal dishes that combine influences from both the Moroccan and Ashkenazi side of the family. We knew this dish from her latest exciting book The Modern Table, would be right up your alley.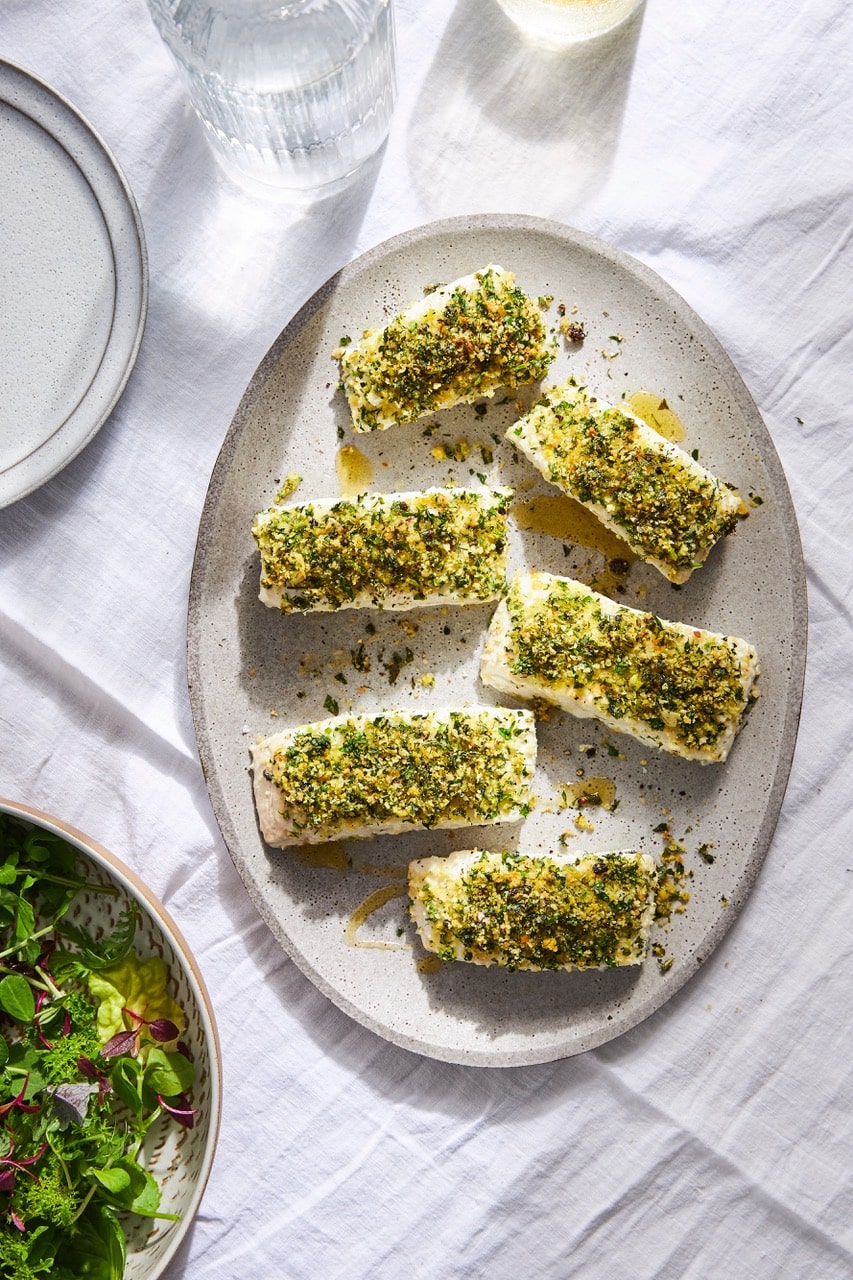 There's so much versatility with this easy recipe. Grab any herbs in your refrigerator (even if they're wilted), add a handful of breadcrumbs or crackers (or potato chips!), and blitz them together for a delicious and golden herb-crumb fish topping. It's that simple.

15 Minute Herb Crumbed Fish
Ingredients
6 (8-oz) fillets of fish of your choice
Kosher salt
Freshly ground black pepper
Handful of fresh herbs such as dill, parsley, basil, or cilantro, leaves only
Juice of ½ lemon (about 1½ Tbsp)
1 tsp yellow mustard
¼ cup breadcrumbs or a handful of crackers (such as Ritz or saltines)
1 tsp extra-virgin olive oil, for drizzling
Instructions
Preheat oven to 425ºF. Line a baking sheet with parchment paper.
Place fillets on the prepared baking sheet and season with salt and pepper.
In a blender or food processor, combine herbs, lemon juice, and mustard and blitz until chopped finely. Stir in breadcrumbs (or crackers). Season with salt and pepper.
Sprinkle the crumb mixture over the fish fillets. Bake, uncovered, for 12 minutes, until cooked through.
Drizzle olive oil over the fillets and serve immediately.
Good to Know: Herb crumbs are a great way to use up near-expired herbs. Make It Ahead: The herb crumb can be prepared in advance and stored in the refrigerator for up to 3 days or in the freezer for 1 month. I always have a bag of herb crumbs stored in the freezer, perfect for super-quick dinners.
Want to see more from Kim? Check out
this one pan weeknight chicken and potatoes.
You can also see our reader's top picks from Kim's previous books
in this post.
Excerpted from The Modern Table: Kosher Recipes for Everyday Gatherings by Kim Kushner. Photography by Kate Sears. Copyright © 2022 by Kim Kushner. Excerpted with permission from Figure 1 Publishing. All rights reserved. No part of this excerpt may be reproduced or reprinted without permission in writing from the publisher.
FOR EXCLUSIVE CONTENT AND A PEEK BEHIND THE SCENES, MAKE SURE TO JOIN OUR WHATSAPP STATUS HERE. JOIN OUR WHATSAPP GROUP AND WE'LL LET YOU KNOW WHEN A NEW POST IS UP!