Lehme B'agine is one Syrian staple than even the Ashkenazim go for. 
A few years ago, when we published a version of this lehme b'agine recipe in Starters and Sides Made Easy featuring a homemade dough. Well, life changes and gets busier, and homemade dough that needs to be rolled out and cut into circles is naturally ones of the things that gets sacrificed. But it's ok. My sister-in-law Rachel taught me that if I want my store-bought dough to taste like homemade, just let it defrost and rise on the baking sheet, then top it once it's fluffy. (Note: Other types of frozen dough rounds other than pizza will dry out if left uncovered).  

Although "temerhindi" or "oot" is the authentic ingredient, and I'll use this traditional ingredient in other Sephardic recipes, when it comes to lehme b'agine, I prefer using prune butter. Since prune butter is thicker than temerhindi, I find that it holds the meat together better and the sauce doesn't end up running all over the baking sheet.
No, this is not the version that was made in Syria, because this has the addition of ketchup (really, really authentic lehme b'agine uses just lots more temerhindi). But it is a version you'll really love.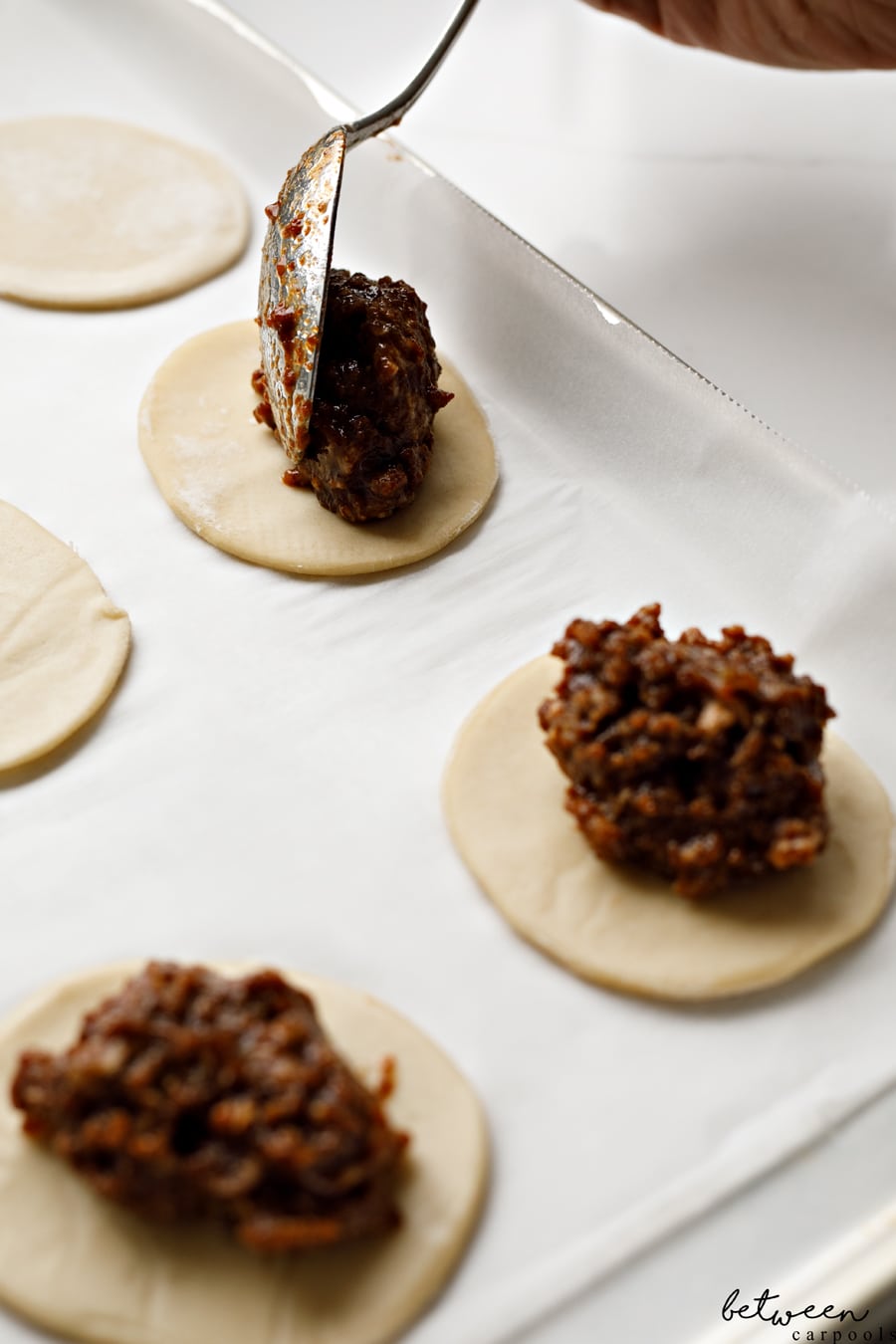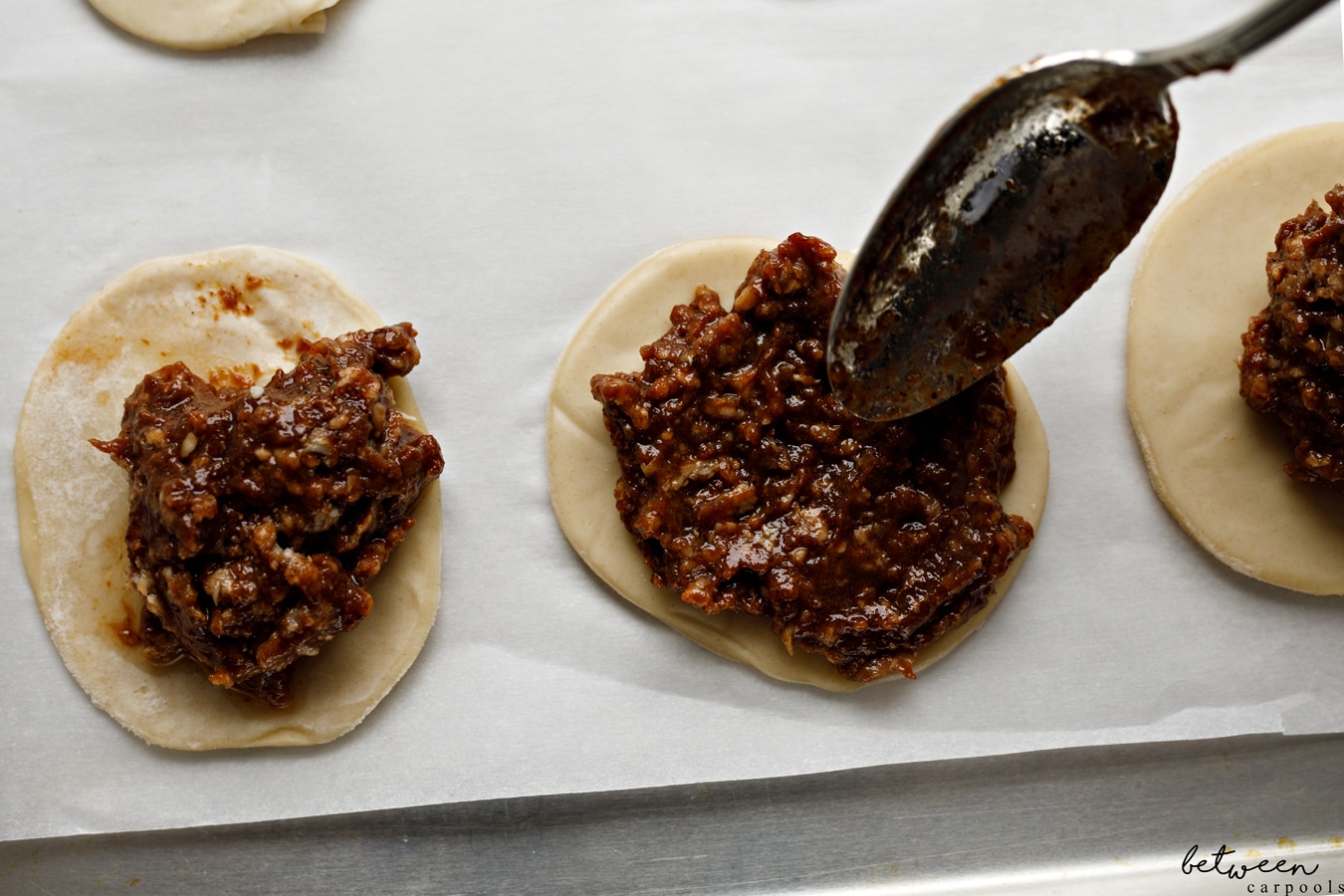 Making Ahead:
There are a few ways to make lehme b'agine ahead. I like to keep a batch of meat mixed with sauce in my freezer. Then, I just thaw the meat (I don't even need to thaw it all, just what I need), top the dough and bake fresh. You can also freeze ready-baked lehme b'agine. I like to warm up in a Ziploc bag on top of a Crock-Pot. This keeps them moist and soft (baking in an oven will dry them out). I don't like freezing the lehme b'agine raw and assembled. I don't find they bake well when baked from the freezer.

Lehme B'Agine
Ingredients
1 24 count package frozen mini pizza dough rounds
1 pound ground beef
1 cup prune butter
¾ cup ketchup
¼ cup tomato paste
¼ cup lemon juice
1 onion, very finely diced
1 teaspoon cinnamon
1 teaspoon allspice
1 teaspoon garlic powder
1 ½ teaspoons salt
½ teaspoon coarse black pepper
Instructions
Preheat oven to 350ºF. Line 2 baking sheets with parchment paper and place 12 rounds on each baking sheet. Let thaw and rise.
Prepare the meat topping. In a medium bowl, combine prune butter, ketchup, tomato paste, lemon juice, onion, cinnamon, allspice, garlic powder, salt, and pepper. Add ground meat, a little bit at a time, mixing very well until completely combined.
Top doughs with a generous amount of the meat mixture (overestimate, as the doughs will grow in the oven while the meat shrinks). Bake for 18-23 minutes, depending if you like them softer or a little crispier (if rewarming, bake for the lower amount of time). Serve with chummos or techinah.