This shawarma sheet pan chicken dinner is a simple, tasty family favorite.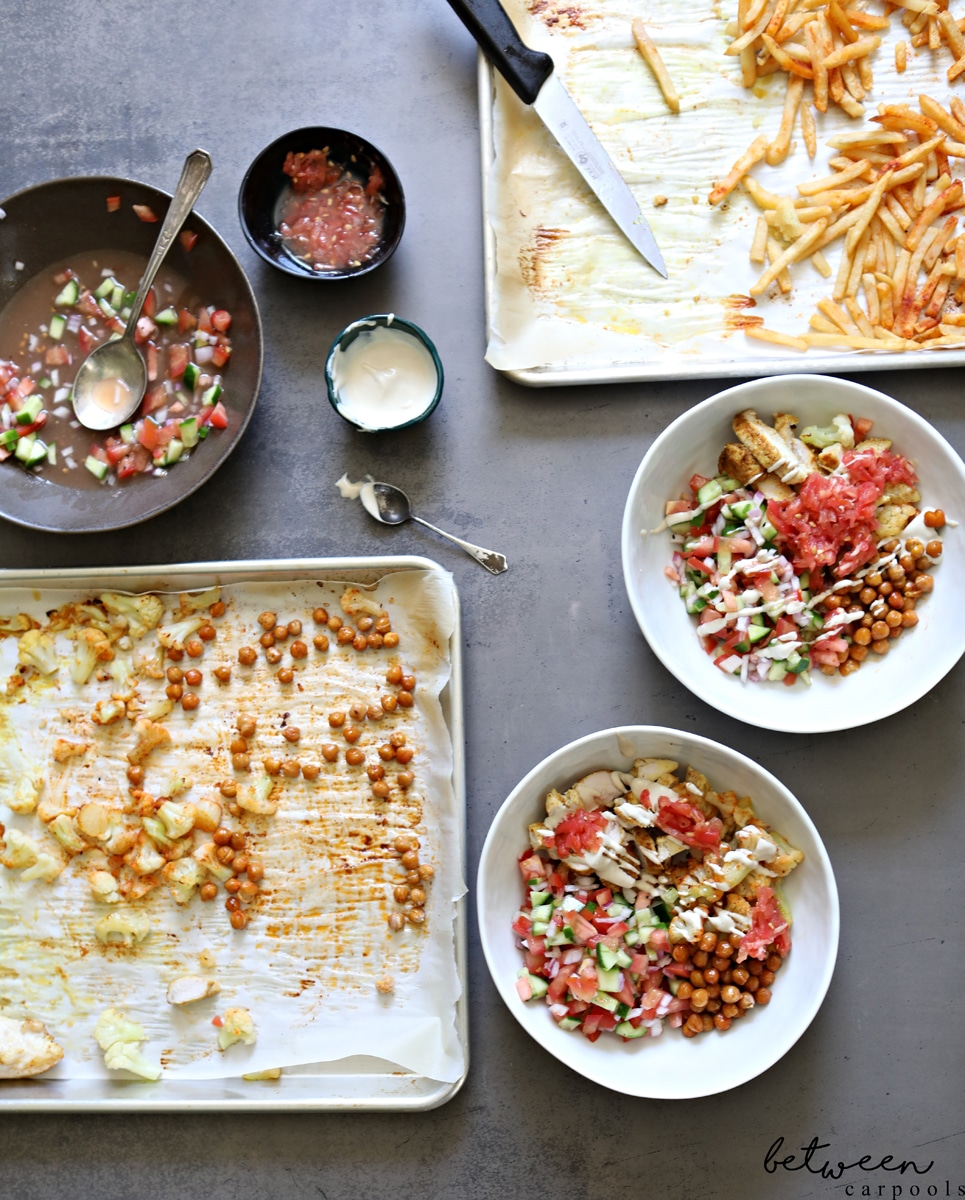 In the past I've stated that I'm not a huge fan of sheet pan dinners. My main complaint is that it doesn't work well for a large family. If you need to make 5-6 sheet pans to feed your family and it takes 20-30 minutes for each pan, a mom has to be busy for an hour or two moving pans in and out of the oven. Usually, my dinners consists of an oven component and a stovetop component. And dinner is all ready, from start to finish, in less time.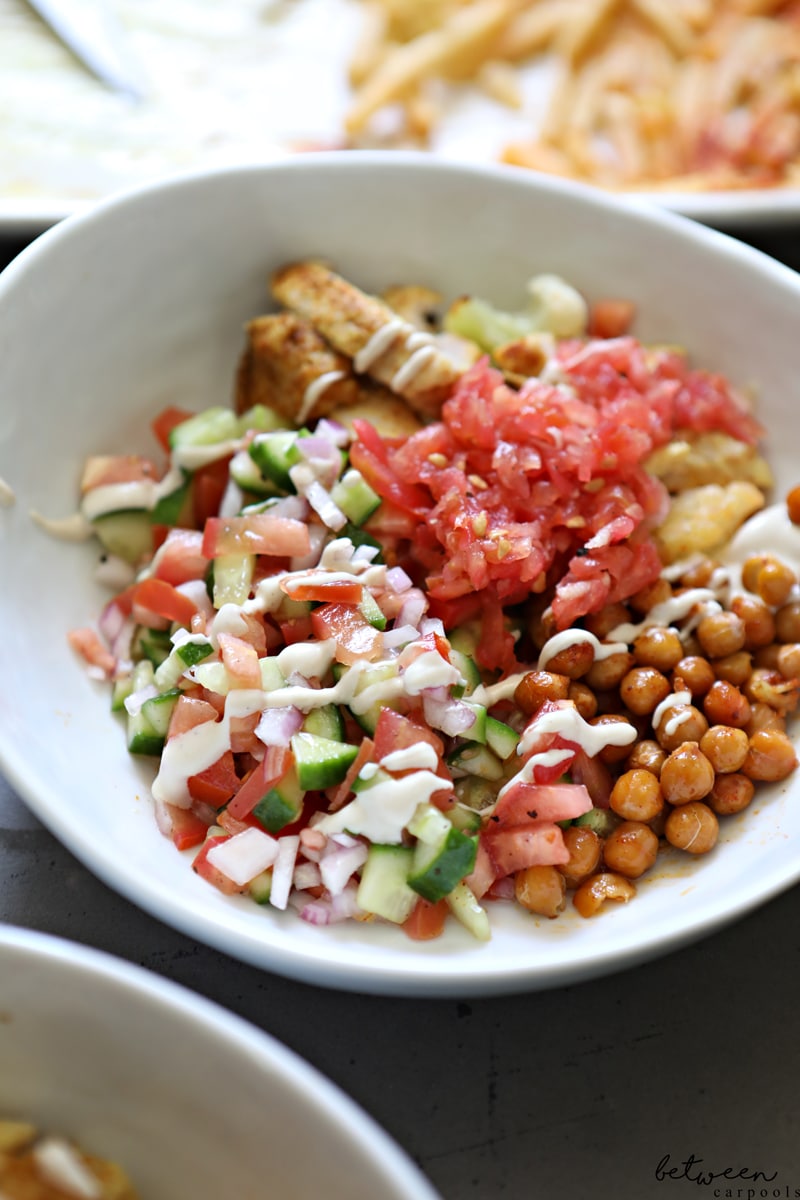 Yet, here is one sheet pan dinner that works for my family. In fact, I've made it countless times and we love it that much. It's just a simple, fresh great meal that satisfies everyone.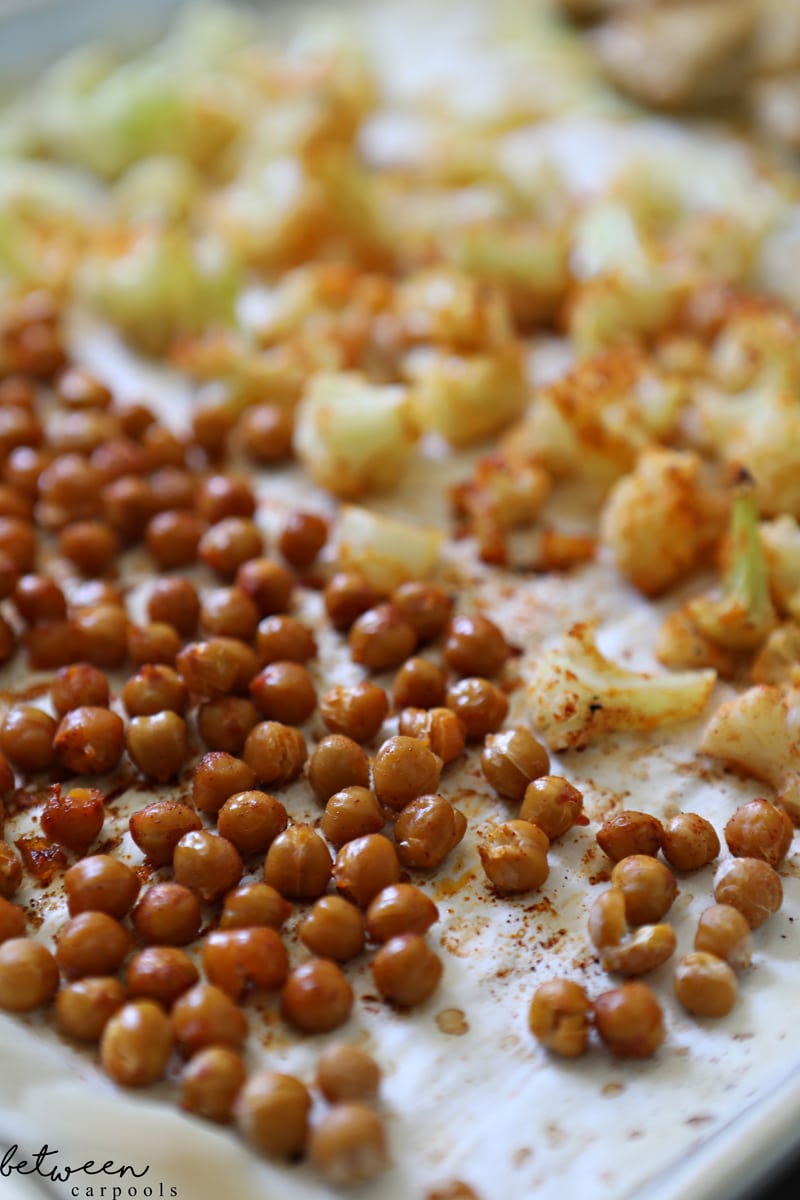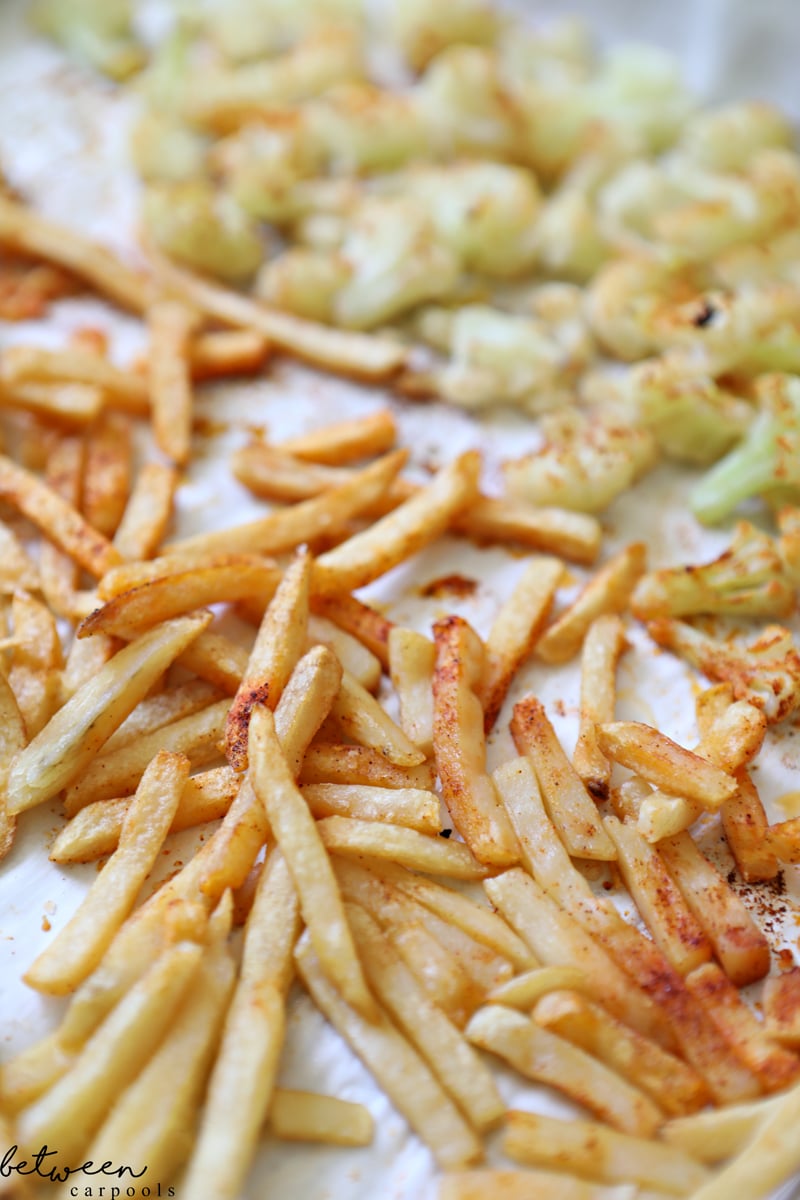 Shawarma Chicken Sheet Pan Dinner
Ingredients
1.5 pounds thinly sliced boneless chicken breast or chicken tenders (fingers)
2 cups frozen mini cauliflower (or cauliflower cut into smaller chunks)
1- 1 ½ cups chickpeas, rinsed and drained very well
(optional 2 cups frozen shoestring french fries to replace the chickpeas)
Seasoning:
¾-1 tsp shawarma seasoning
2 teaspoons oil
½ teaspoon paprika
¼-½ teaspoon salt
Black pepper, to taste
Oil or oil spray
For Assembly:
Israeli salad
Crushed tomatoes (see instructions below)
Techina
Instructions
Preheat oven to 450ºF. Prepare 2 baking sheets with baking paper.
Mix the chicken with the shawarma seasoning and oil. Use less seasoning on part of the chicken if you have kids who don't like very seasoned food. Divide between both baking sheets.
Place cauliflower, French fries or chickpeas on baking sheets. Season with paprika, salt and oil. Use black pepper for chickpeas and cauliflower only.
Bake for 20-25 minutes.
To serve, place chicken, French fries, cauliflower, and chickpeas in a bowl and top with Israeli salad, crushed tomatoes, and techina.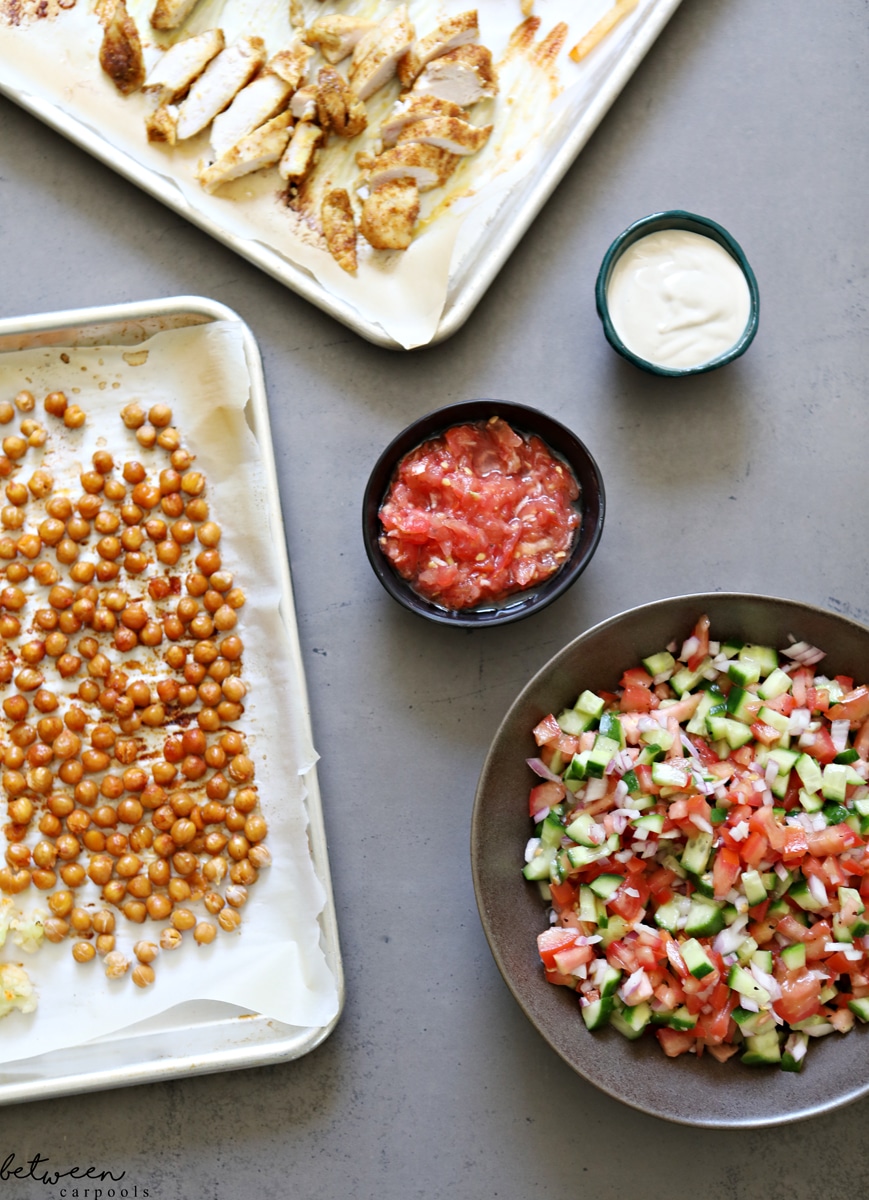 About Crushed Tomatoes:
A few weeks ago, Esti, Renee and I went to Alenbi Kitchen in Crown Heights. There, one of the breads we ordered was topped with crushed tomatoes, techina, and harissa. They were great, fresh compliments that I thought I'd also try the grated tomato-techina combination on top of this shwarma chicken.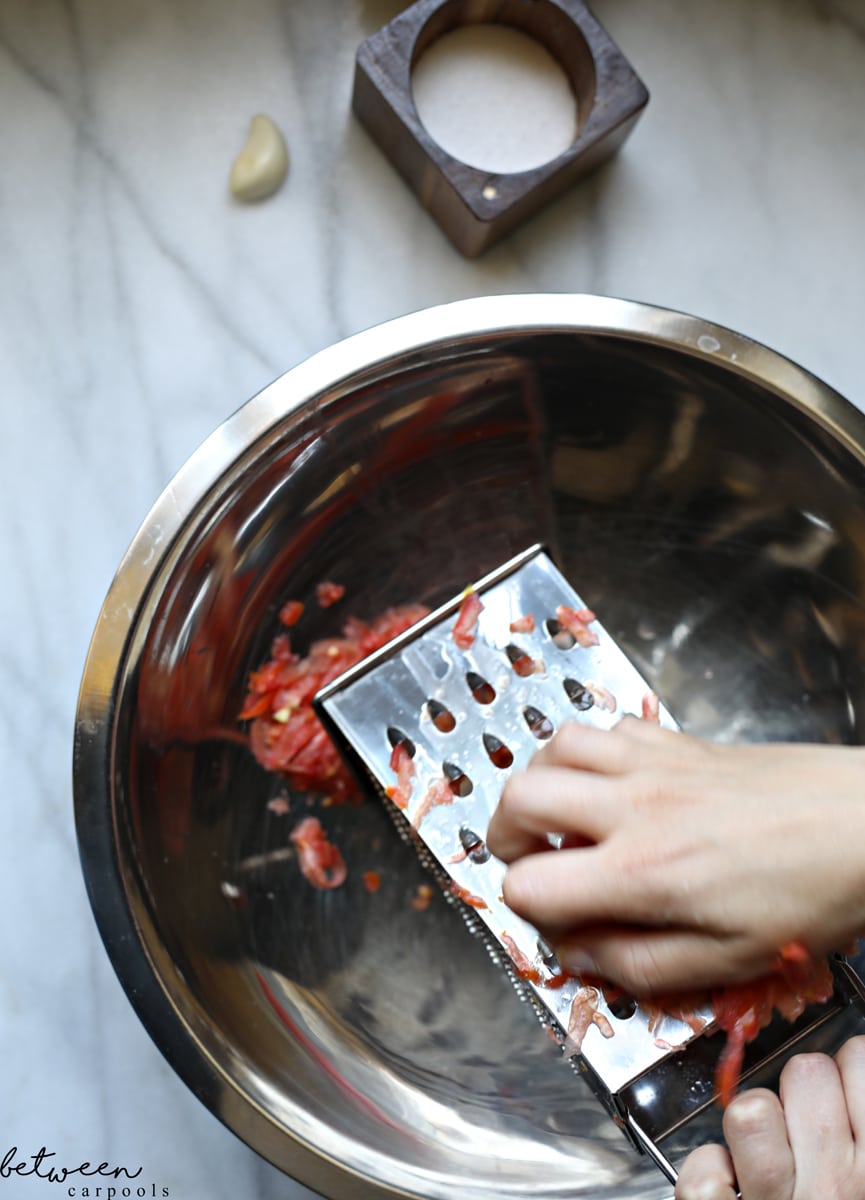 To make the grated tomatoes, grate tomatoes on a coarse grater. Most of the top part of the tomato is tossed away, so the contents of your bowl will end up being half of the outer flesh and all of the juice, seeds, and pulp inside. Then, grate a clove of garlic on the finer side of the grater. Generously season with salt and pepper and that's it!