My kids always beg me to make these dairy cinnamon buns.
A couple of years ago, while on vacation, I met a friend who was enjoying certified kosher, yet chalav stam, Cinnabons at a mall. When she said that I could not make something that good on my own in a chalav Yisrael version, I said I absolutely could and I would prove it, and she could do the tasting for me. It was actually quite easy. I did my "cinnamon bun" research and set out to make my buns, comparing doughs, fillings, and frostings, preparing a few different versions of each. I brought the buns hot out of the oven to my friend's doorstep. She may have been yelling about the calories (calories do count when we're not on vacation), but she said she had been proven wrong. She gave me a couple of small tips I needed to include in the final recipe to complete the experience (including having enough frosting to serve extra on the side for dipping) and we were there.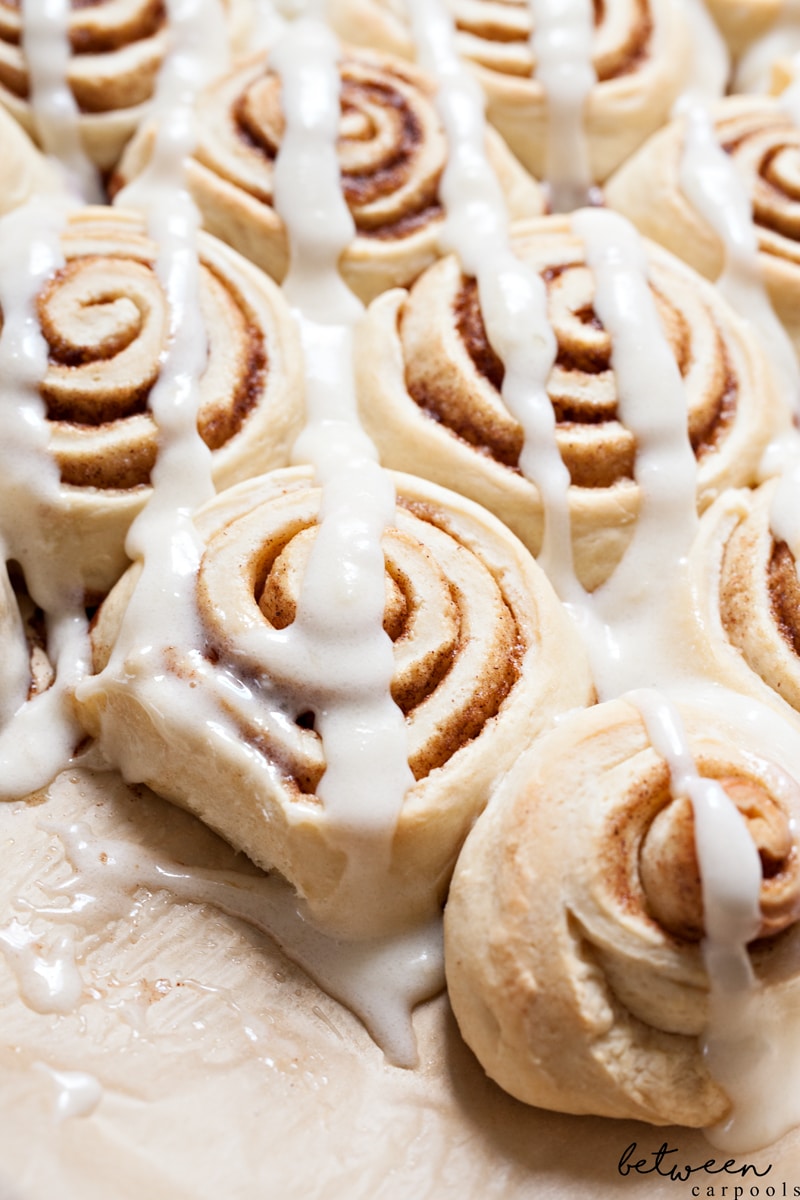 As in here. "Smells like the mall" couldn't-be-better cinnamon buns.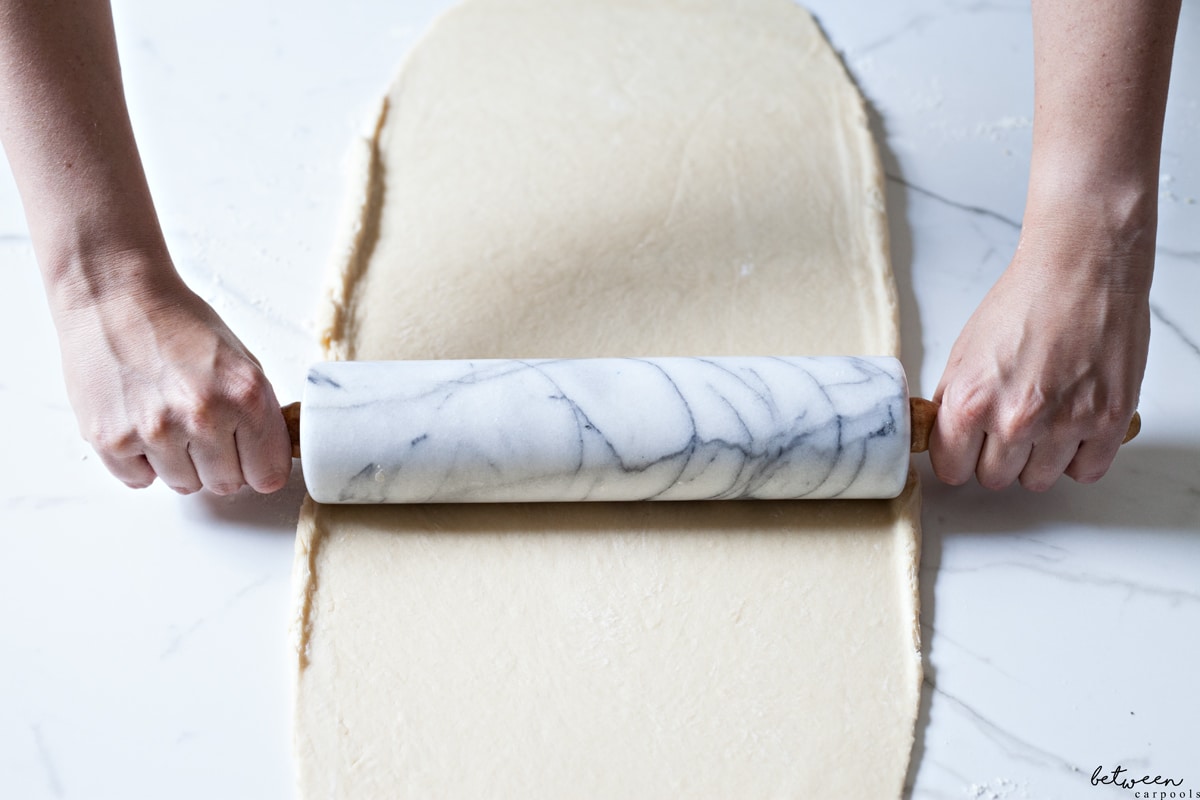 We made both mini and giant cinnamon buns. For mini buns, you simply need to roll the dough into a thinner, longer rectangle. Our rectangle was 14 x 30 inches.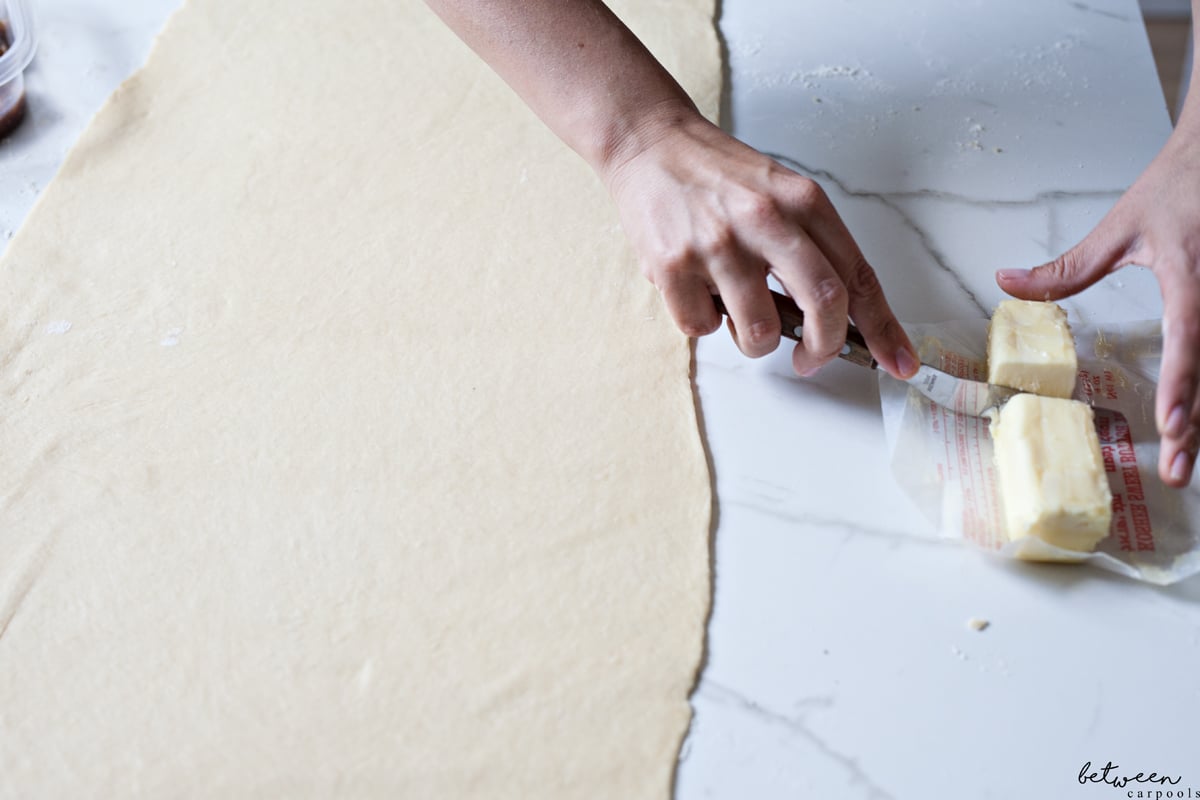 To have butter that's soft enough to spread, it needs to be very, very soft (i.e. sitting out of the fridge on a hot summer day for long enough). If you need soft butter quicker, simply melt it in the microwave, then put it in the fridge to chill and solidify.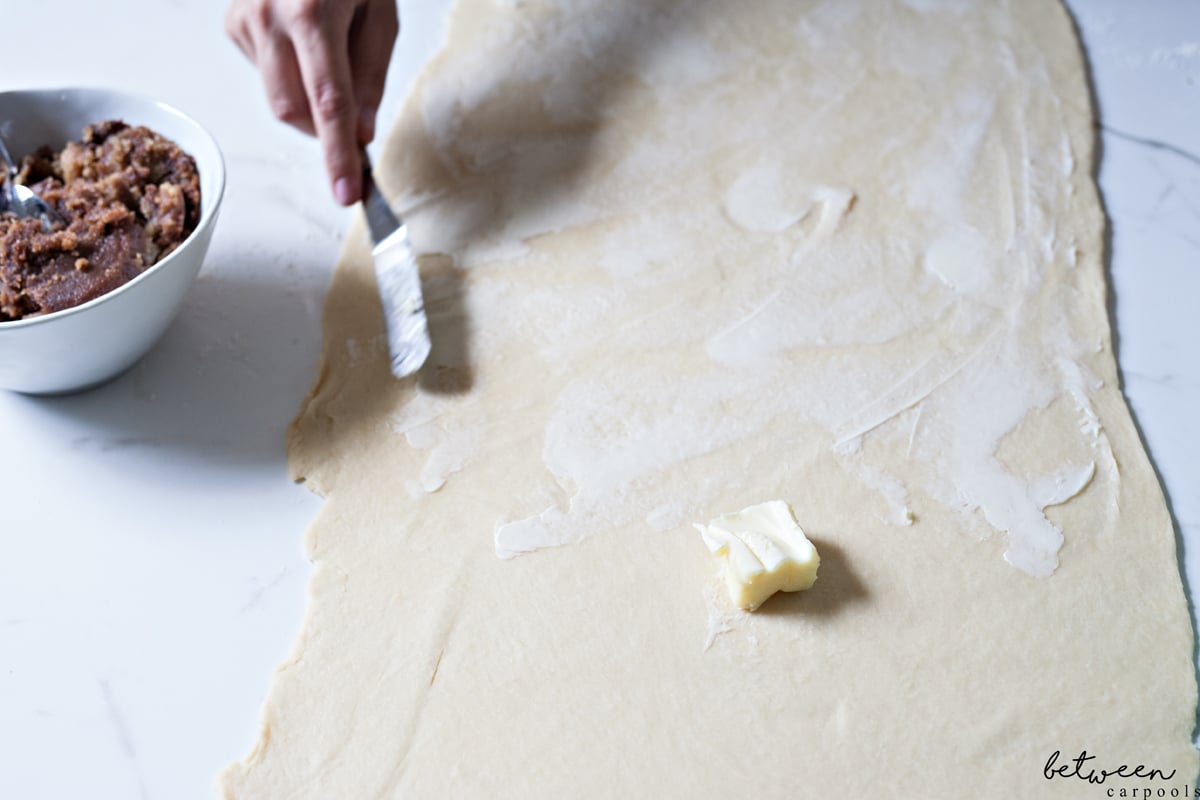 Half the stick is spread on the dough.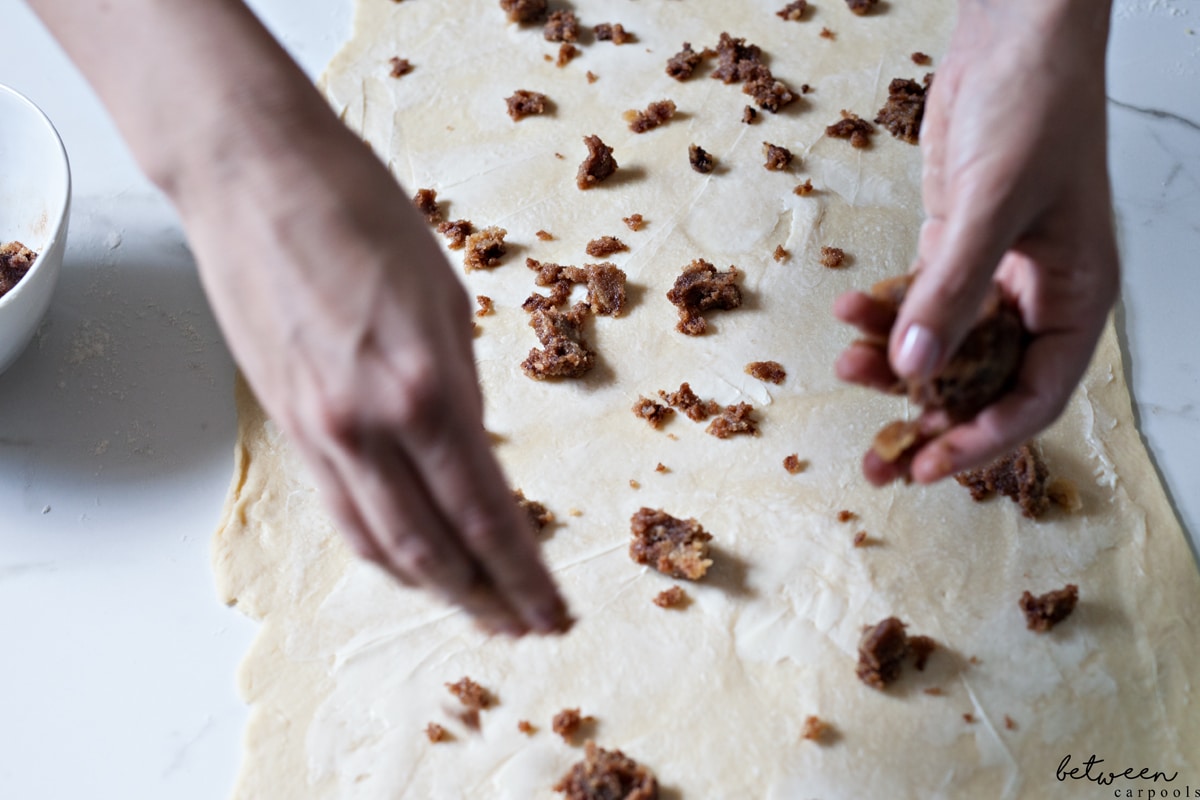 The other half goes into this brown sugar-cinnamon filling.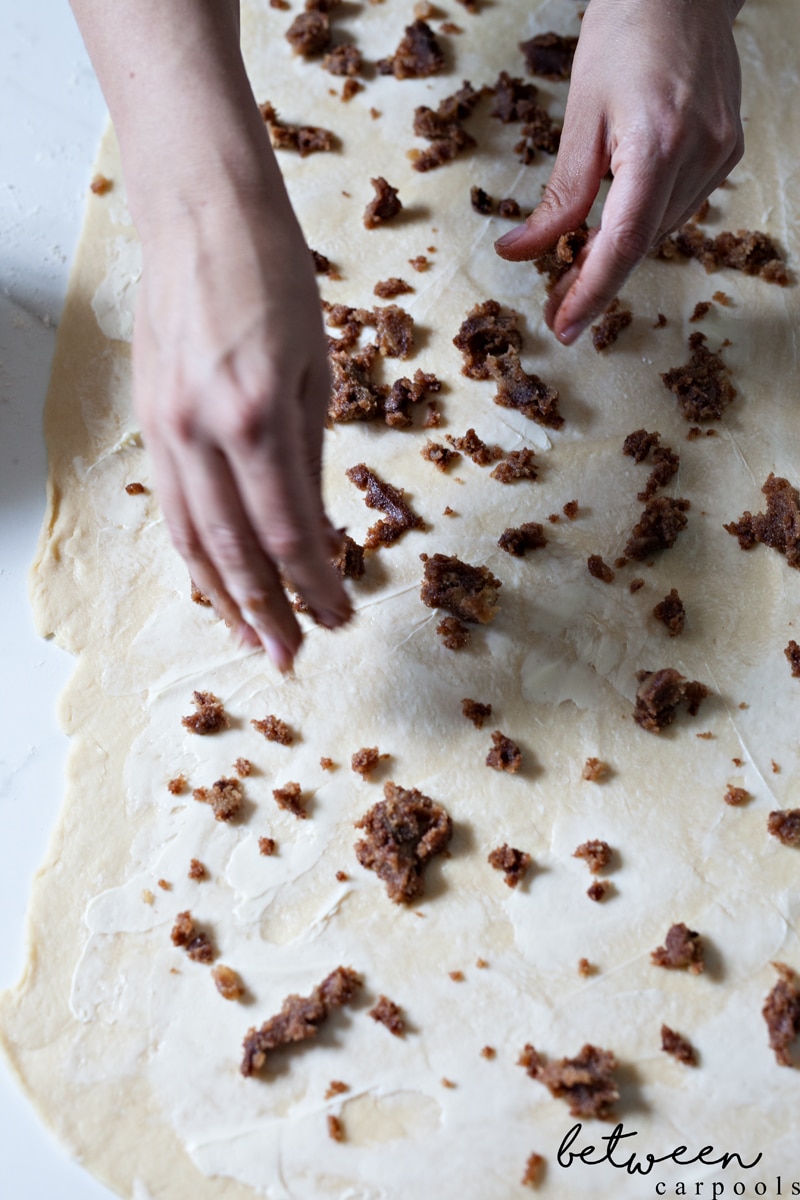 Sprinkle the filling over the dough.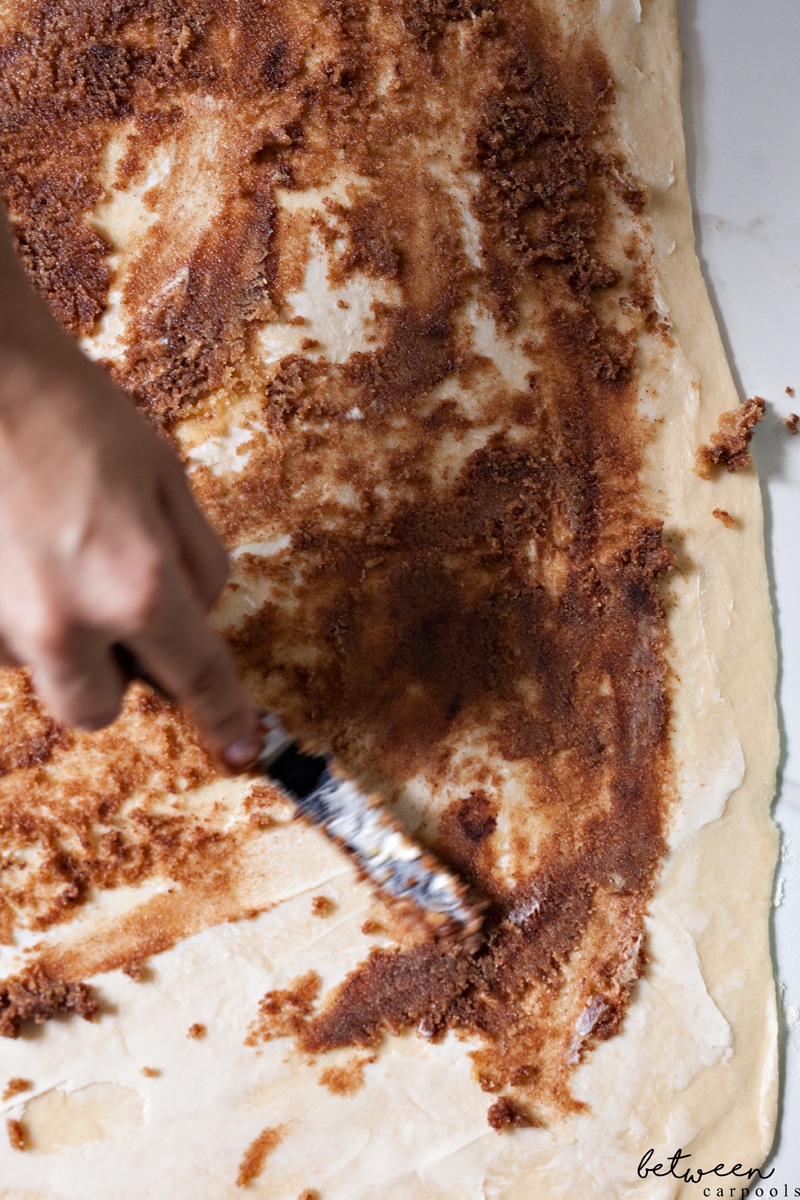 Then use a spatula to spread it evenly.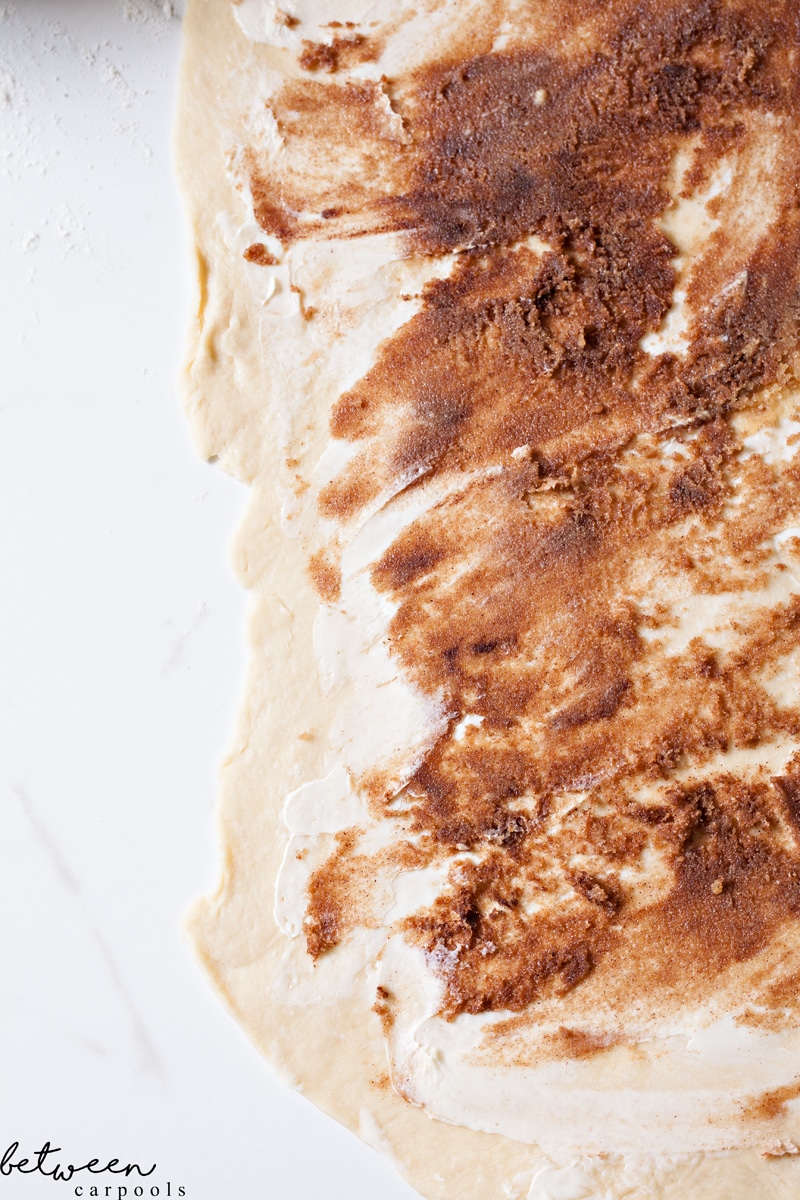 We're ready to roll up.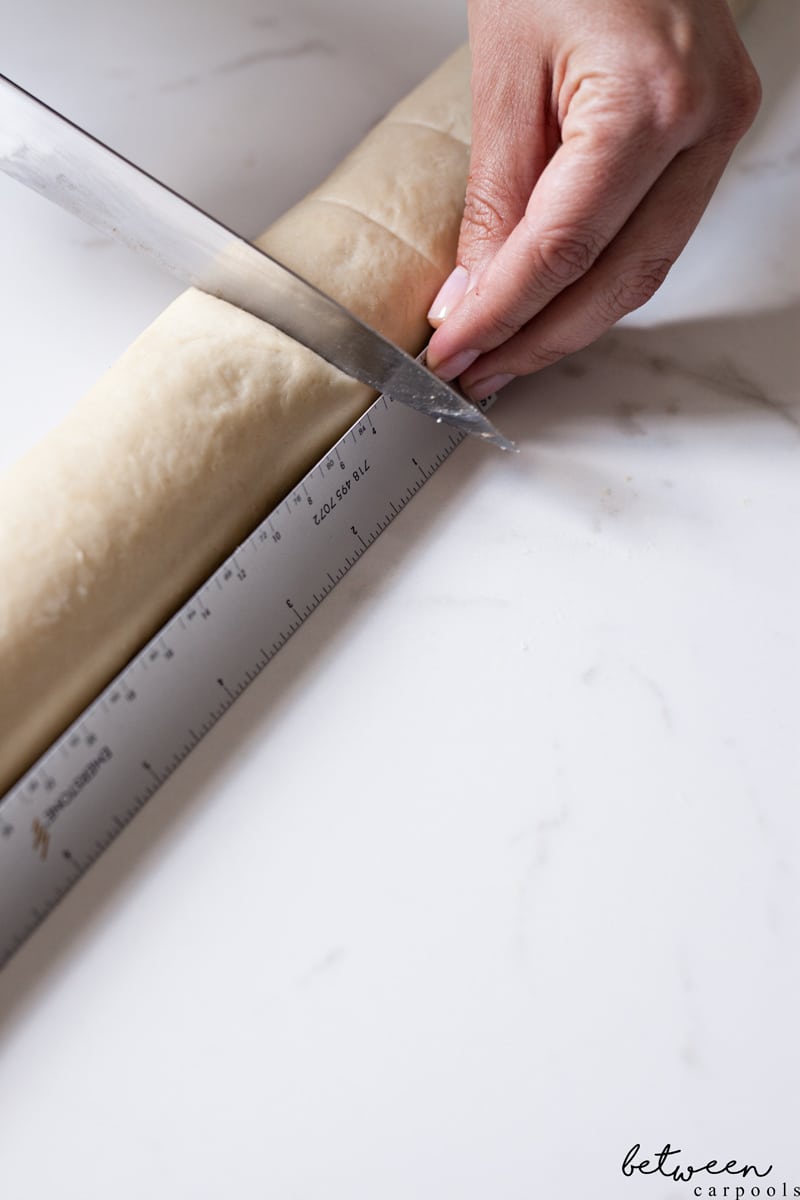 After cutting off the edges, we cut out buns 1-inch wide each.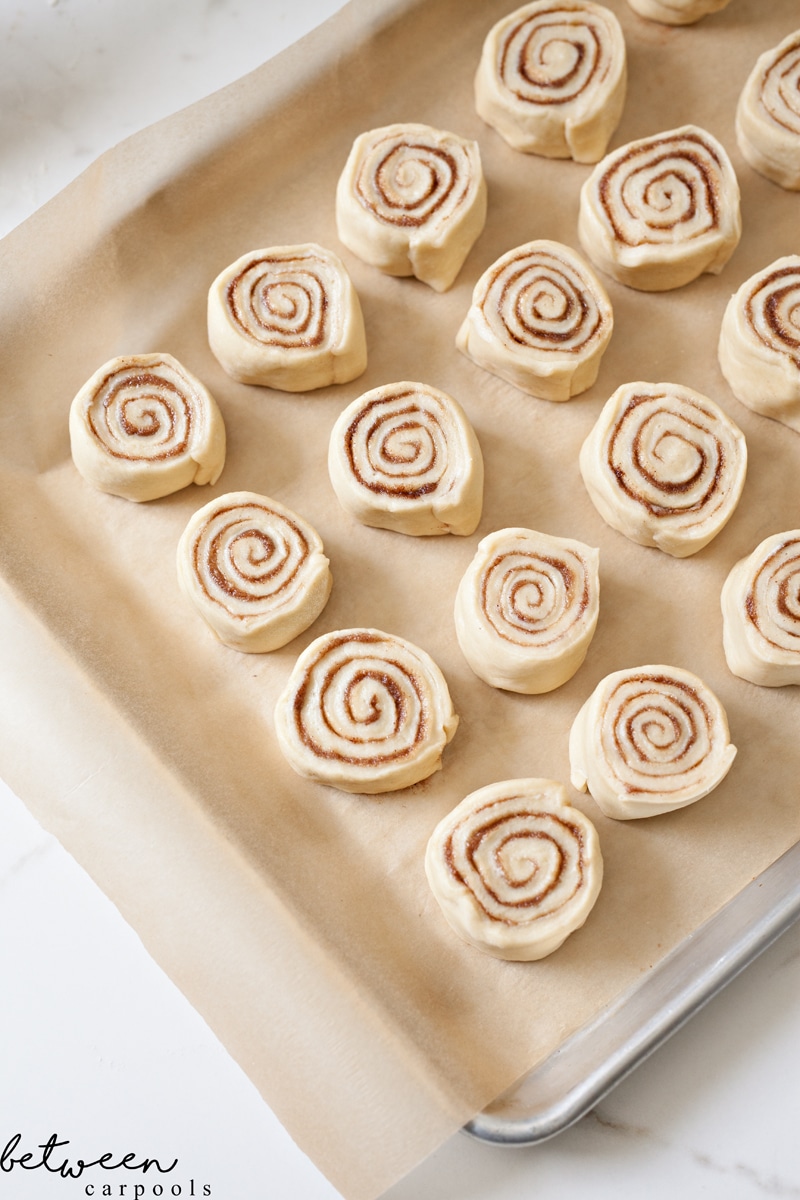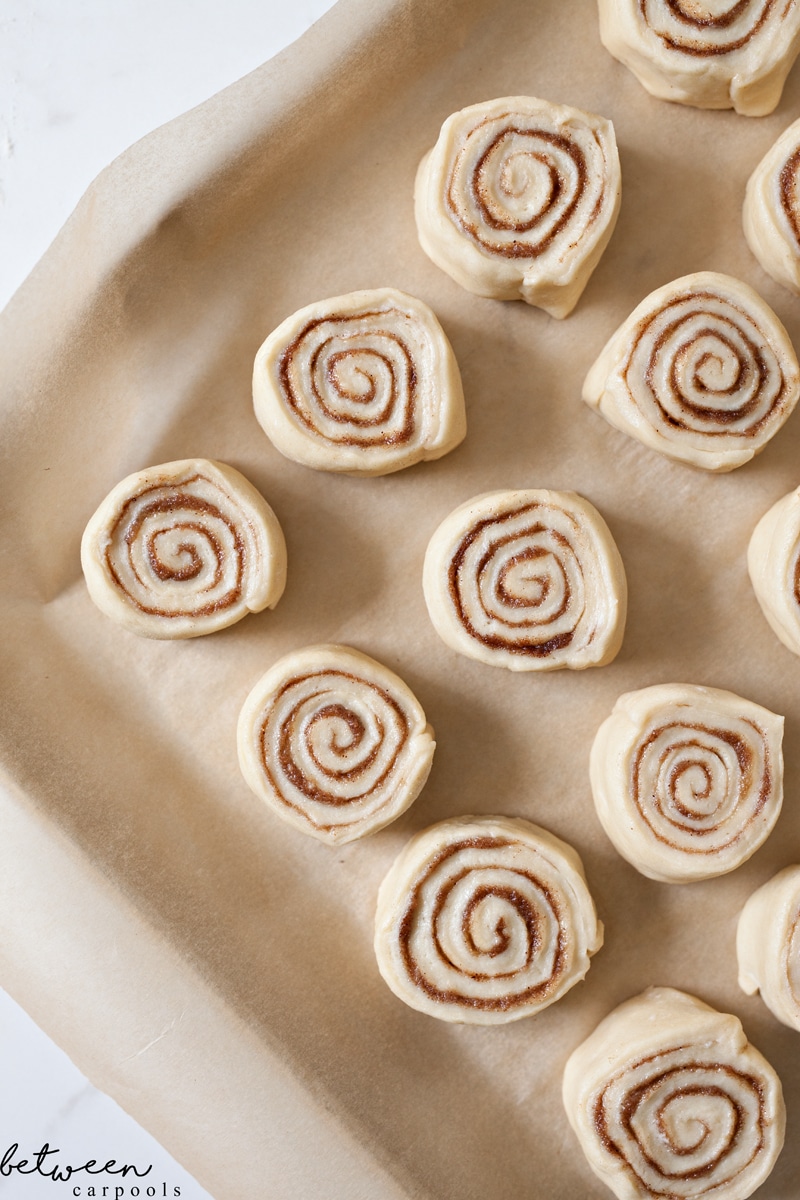 Let them rise for another 30 minutes before baking.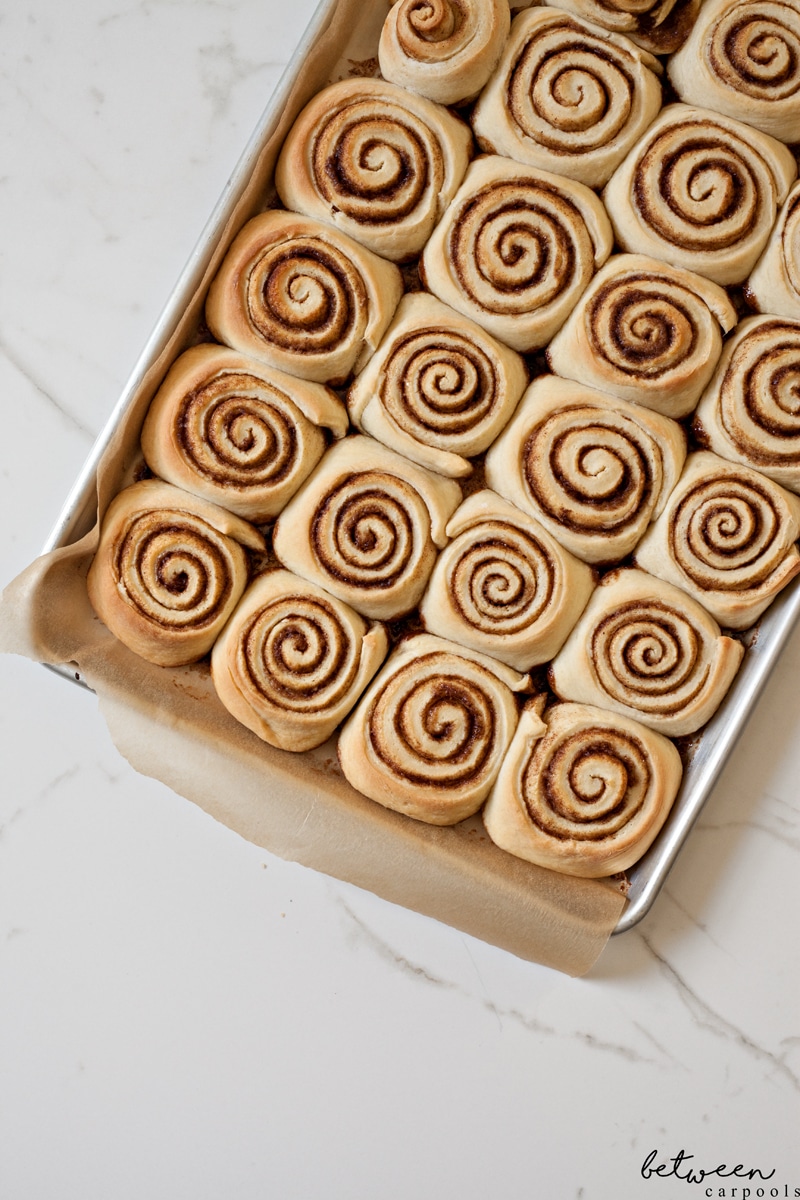 There's just one more thing these need.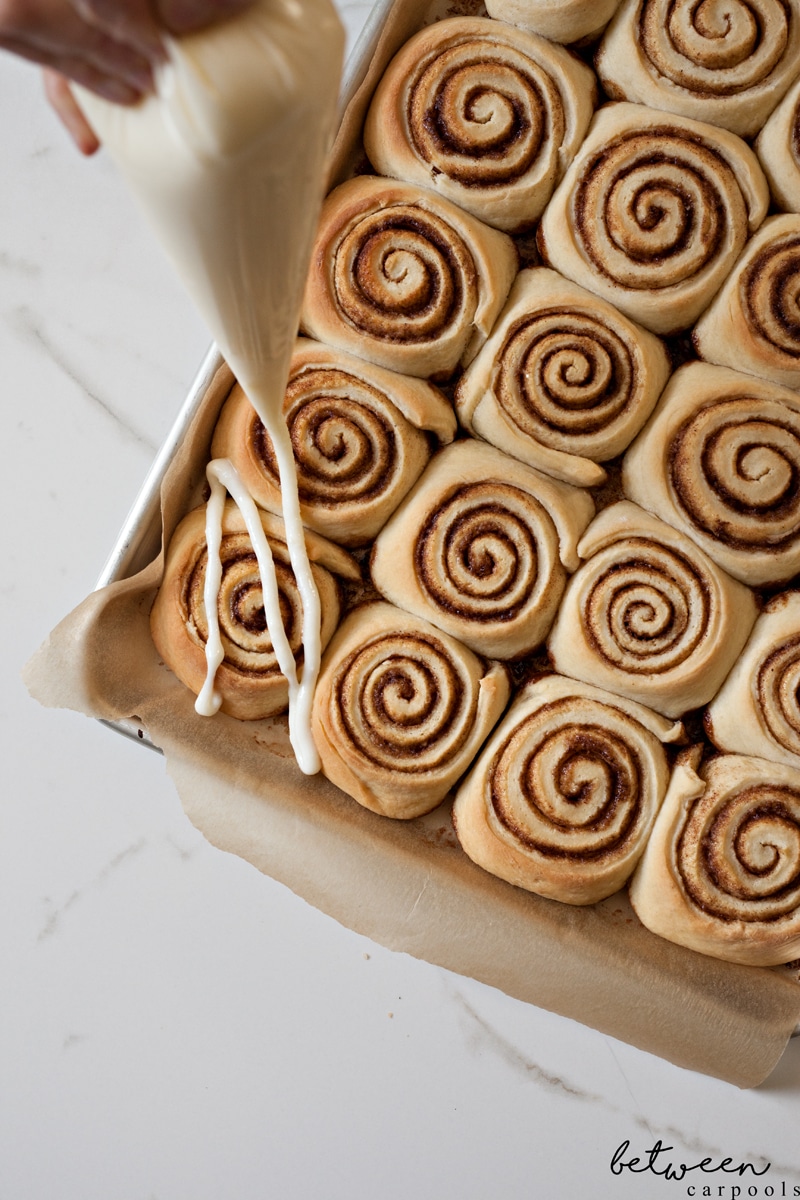 Drizzle the frosting very soon after they come out of the oven. This way, it melts slightly into the bun.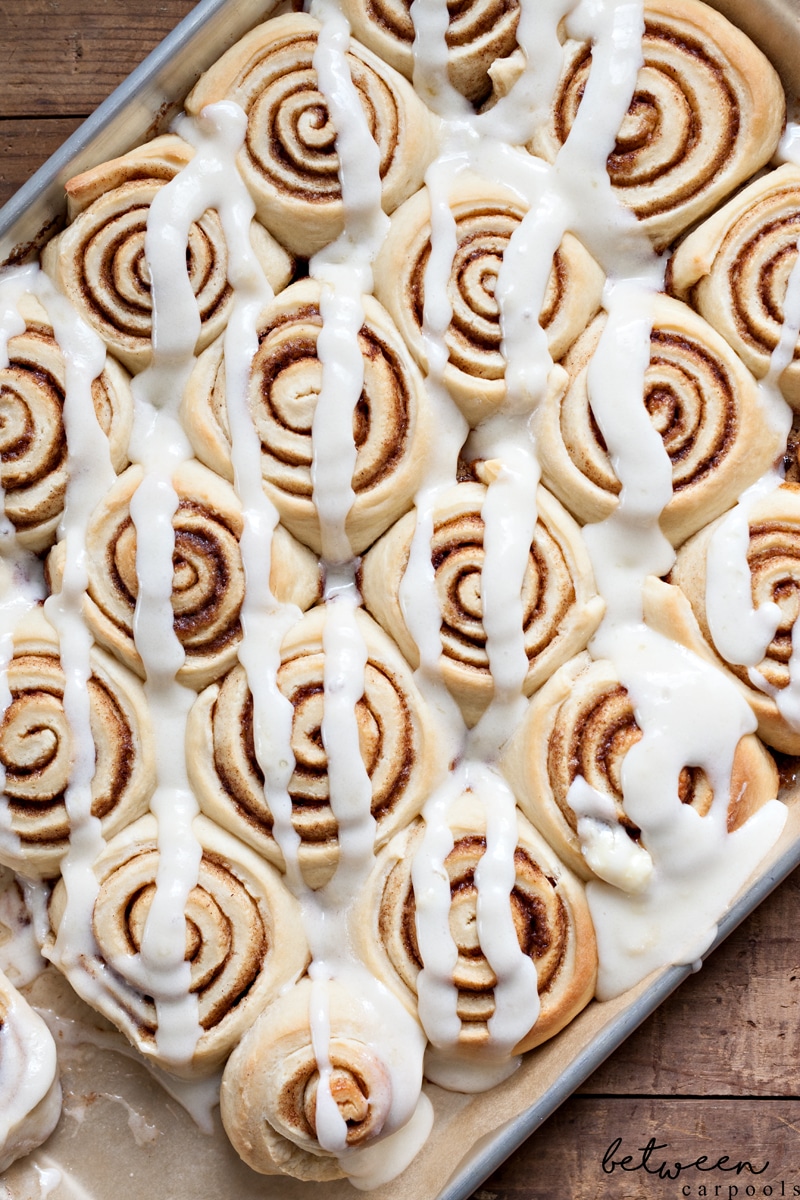 Some things to note:
*For the filling, I melt the butter and then chill it in the refrigerator for a few minutes so it solidifies a bit, giving it a consistency that's easy to spread on my dough. If your butter is very soft from sitting at room temperature for a while, that's fine too. It just needs to be easy to spread.
*These freeze very well! Freeze raw (after step 4) and bake as needed. It's even better to parbake for 10 minutes so you can pop them into the toaster oven quickly for breakfast. Keep your cream cheese frosting in a container in the fridge so it's available whenever you're baking the buns.
*If you only have whipped butter in your fridge, measure 1 ½ times the amount after melting or use a digital scale to measure the right amount. Whipped butter incorporates air, so it's less dense than sticks.
*Do NOT try to make these pareve! Use only dairy ingredients as noted for best results.
*For evenly sized buns, when rolling out the dough, try to roll the dough to an even thickness. You want the rectangle to be even also.
*Don't add too much flour on your surface. Dough that's a little sticky will hold itself together well.

Dairy Cinnamon Buns with Cream Cheese Frosting
Ingredients
1 cup warm milk
2 ¼ teaspoons dry yeast
4 cups flour
½ cup sugar
2 eggs
6 tablespoons butter, melted
1 teaspoon salt
Filling:
½ cup (1 stick) butter, melted and chilled
1 cup brown sugar
2 ½-3 tablespoons cinnamon
Cream Cheese Frosting:
½ cup (1 stick) butter, softened
1 (8-ounce) container cream cheese (any type)
1 teaspoon pure vanilla extract or vanilla bean paste
4 ½ cups confectioners' sugar
¼ cup milk
Instructions
In the bowl of an electric mixer dissolve yeast in warm milk. Add flour, sugar, eggs, butter, and salt. Knead until dough is smooth, about 5 minutes. If the dough is too sticky, add a tiny bit of flour but not more. It should be a little sticky. Place in a greased bowl, cover, and let rise for 1 ½ hours.
Meanwhile, prepare the filling. In a bowl, combine ¼ cup butter (half the total butter), brown sugar, and cinnamon.
Place dough on a work surface. Using a rolling pin, roll dough to a 16 x 21-inch rectangle. Spread remaining butter over the surface of the dough. Spread evenly with brown sugar mixture.
Roll up tightly, jelly-roll style. For regular sized buns (not shown here, we made minis and giant ones, instructions below): Slice into about 14 buns, 1 ½ inches wide. Place on a parchment-lined baking sheet, evenly spaced apart. Let rise an additional 30 minutes.
Meanwhile, preheat oven to 350ºF.
Prepare the frosting. In the bowl of an electric mixer, combine butter, cream cheese, vanilla, and confectioners' sugar. Add milk, a tablespoon at a time. Add additional milk if needed to achieve a runny consistency (you want the frosting to be able to drip and melt into the crevices of the bun and not be overly stiff).
Bake buns for 20-22 minutes, until golden. Immediately pour frosting all over the buns, letting it melt into the buns. Serve extra frosting on the side for dipping.
We're not done. We also made these giant buns.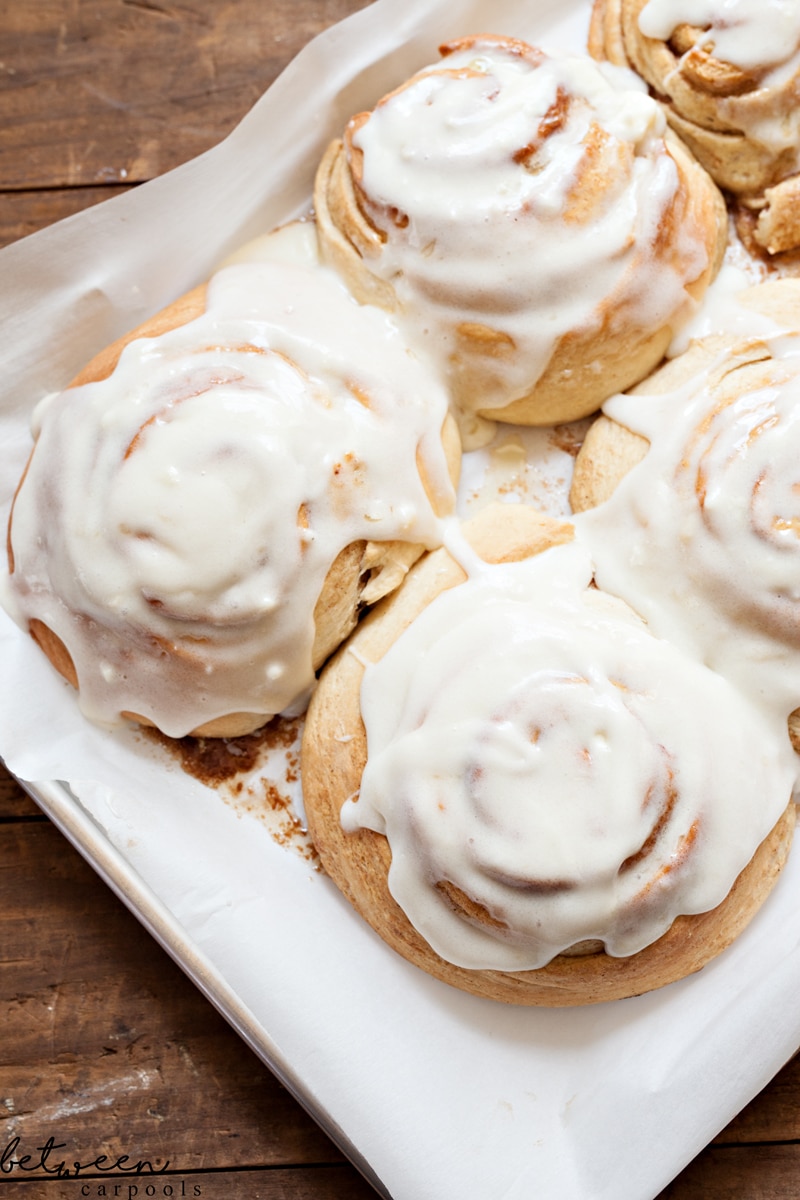 Now you can see why.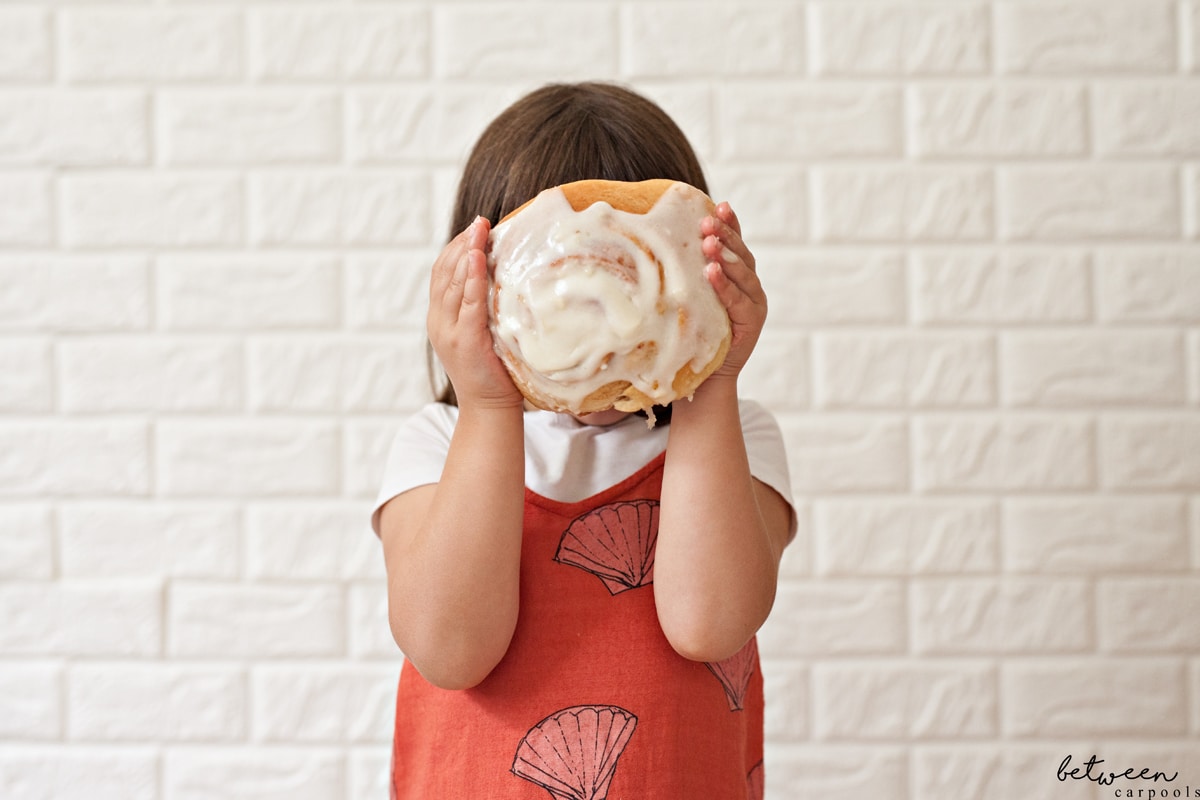 For Giant Cinnamon Buns: Roll into a 16- x 21-inch rectangle. Roll up jelly-roll style on the shorter side. Slice into 5-6 buns, 3 inches wide. Place cut side up on a parchment-lined baking sheet. Squish down a bit. Bake for 25-30 minutes.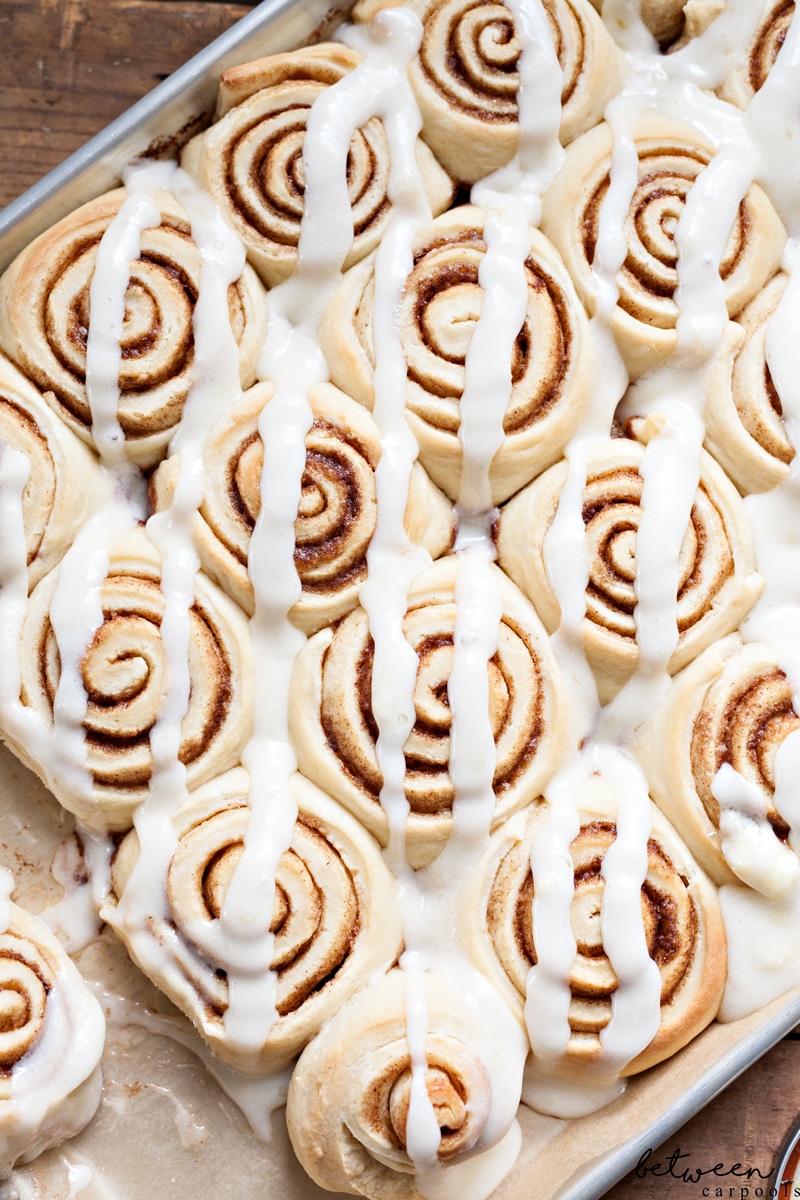 For Mini Cinnamon Buns: Roll into a 14- x 30-inch rectangle. Roll up jelly-roll style. Cut into 28 buns, 1 inch wide. Place cut side up on a parchment-lined baking sheet. Bake for 20-22 minutes.