Think it's too difficult to create costumes that are completely unique? With a little creativity (and a scissor, some glue, or a needle and thread), you can do it too.
Yes, I'm that crazy person who knows what we're dressing up as for the following Purim by the time Pesach comes around. I like to plan the costumes ahead and I take my projects very seriously (too seriously?).
I began creating costumes for my kids around 8 years ago. I wanted a specific costume and I just couldn't find what I was looking for. The goal was–and still is–to have a costume that is adorable, comfortable, and well-made. My kids love to wear them for masquerade day in camp and at school the following Adar, so they need to hold up. So I decided to make my own!
I will try to give over some of my tried-and-true tips that have served me very well for all these years. First things first. Pick a theme. There are so many great themes out there; the list is literally endless. You could just walk around your house and find things that can be adorable as a costume, but I will give some ideas at the end of this article. Once you pick your theme, decide who will be what. If you can find a costume that works for you, great! If you cannot, you can make your own!
It is easier than it sounds. I like to use a simple shell and skirt/pants as the bottom layer for my costumes. This way the kids are comfortable in clothing that fits them properly. For the costume part you can buy a cheap crewneck sweatshirt from Walmart and use that as a base. I usually end up making my own base since I have something more specific in mind.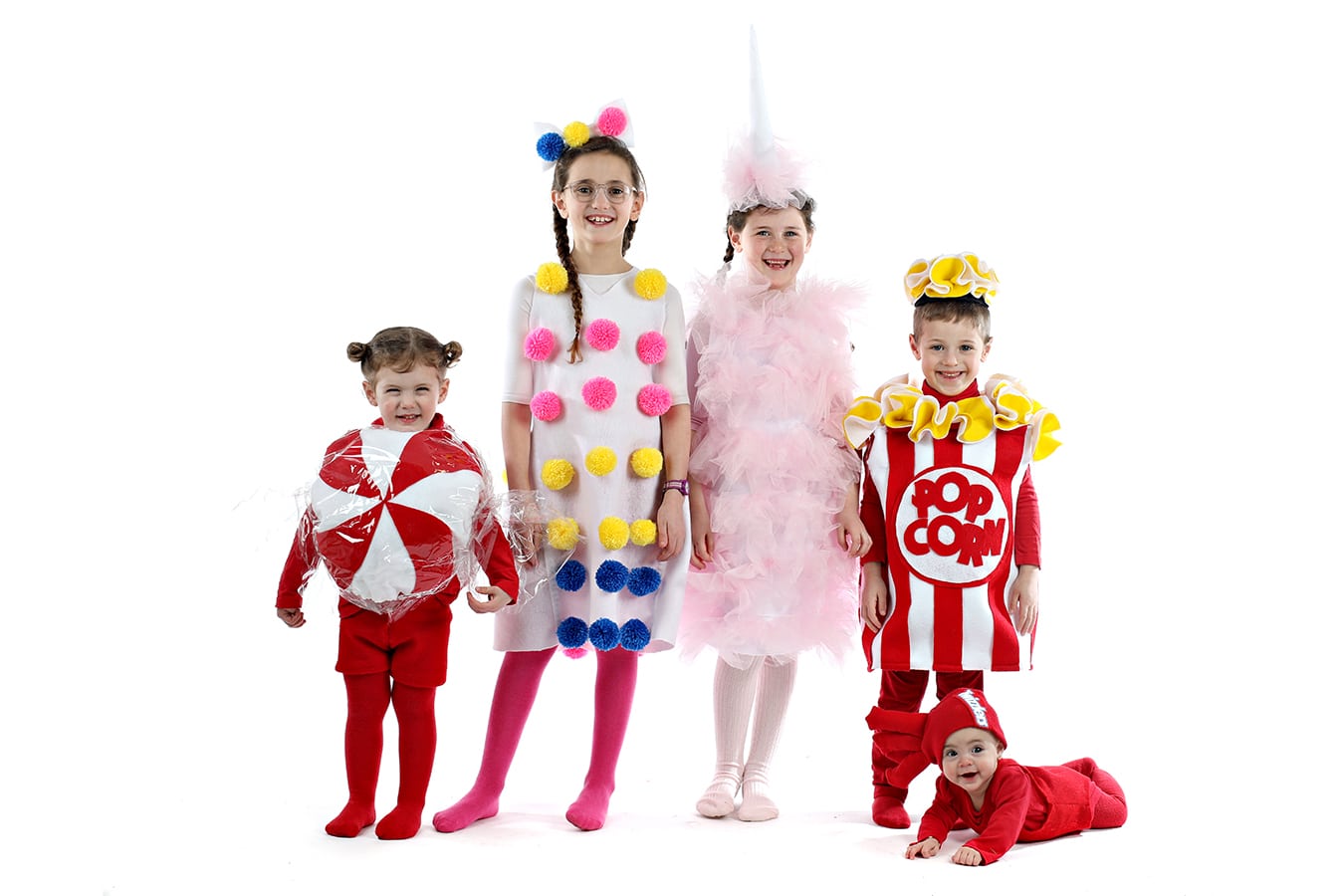 I typically use felt since it is a very easy-to-use fabric, it holds shape somewhat, the edges do not need to be finished and you can either sew it, or you can simply glue it with fabric glue or a glue gun. The above costumes were made of felt.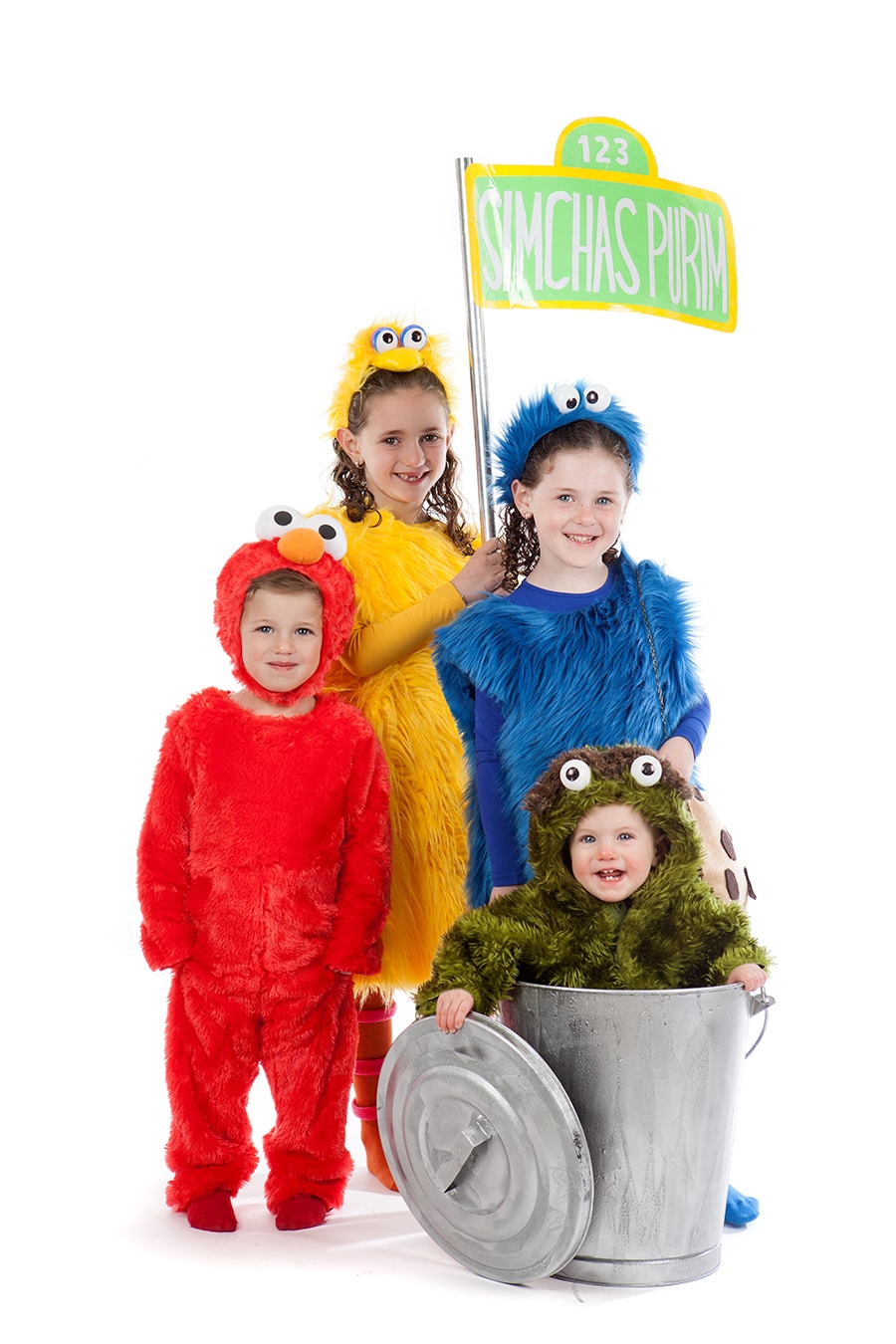 Furs do need to be sewn (preferably by hand) but they also don't have edges that need to be finished. With whatever fabric you choose, it is easiest to make a sleeveless dress for the girls or tunic for the boys.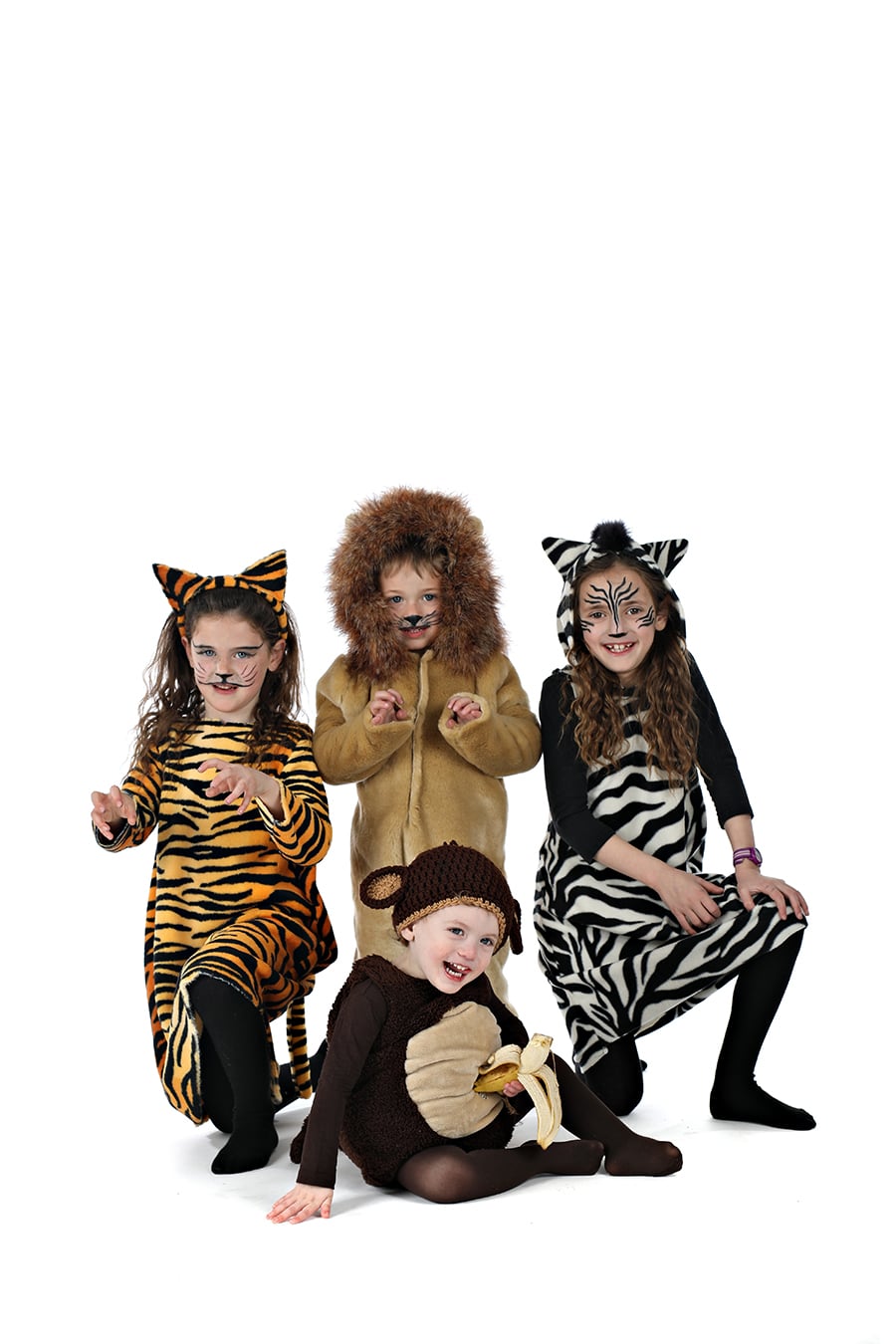 You can take any one of your kid's tops or dresses which you like the fit and length, place it on top of a folded piece of fabric (to create these, I used animal print fabric) and just trace it, from the shoulders to the bottom, the armholes and the neckline. Cut it out and glue or sew the sides together. You can now add on any embellishments to create the costume you are making.
You can glue some foam to the inside of the fabric to make it fuller if you want something puffy (like in the wrapped candy above). You can add a few inches to the sides of the dress/tunic if you want a more rounded look, like for a cookie or M&M type of costume.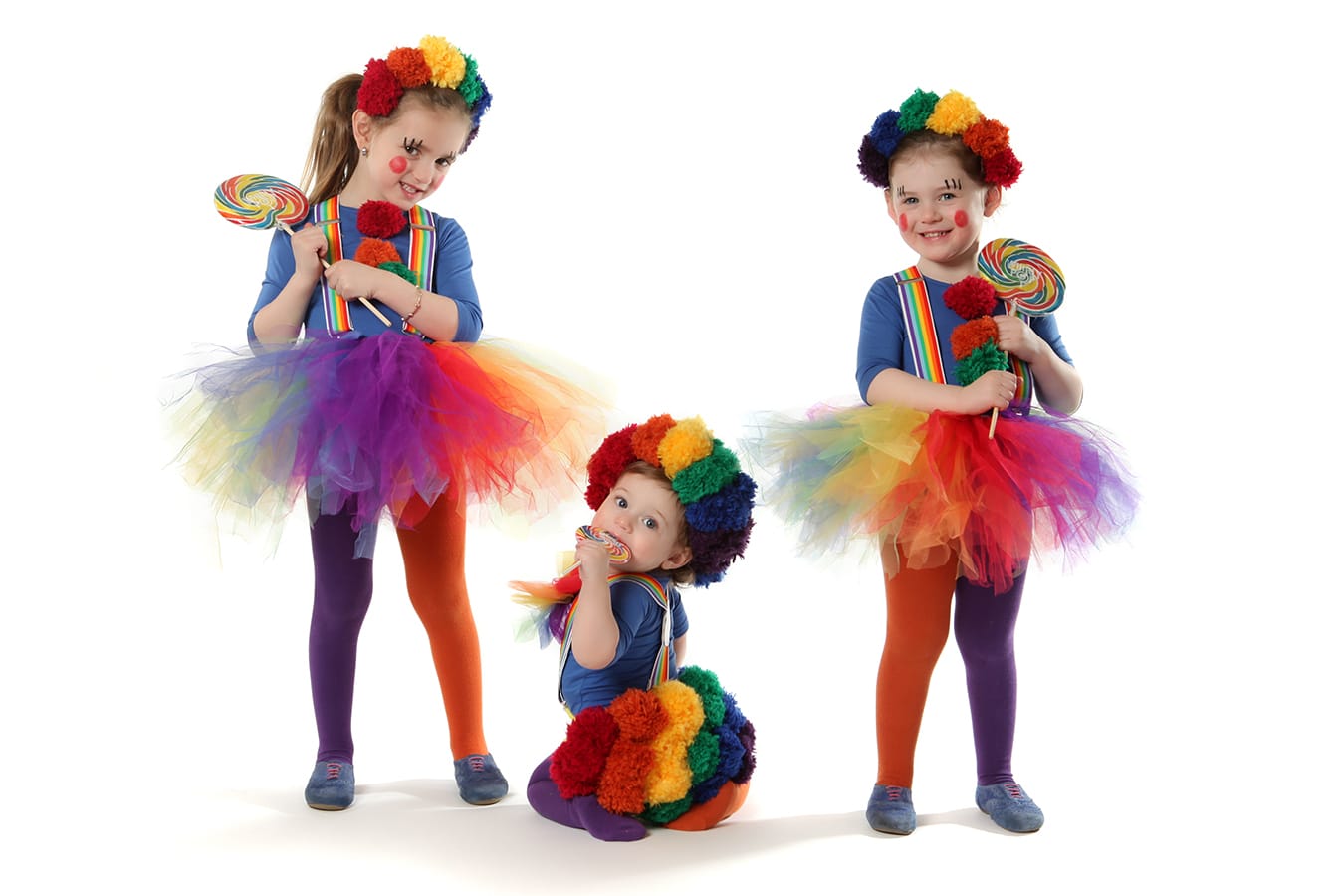 A headband or yarmulke is a great way to create the topping to each costume. A tutu is the easiest way to make any costume girly.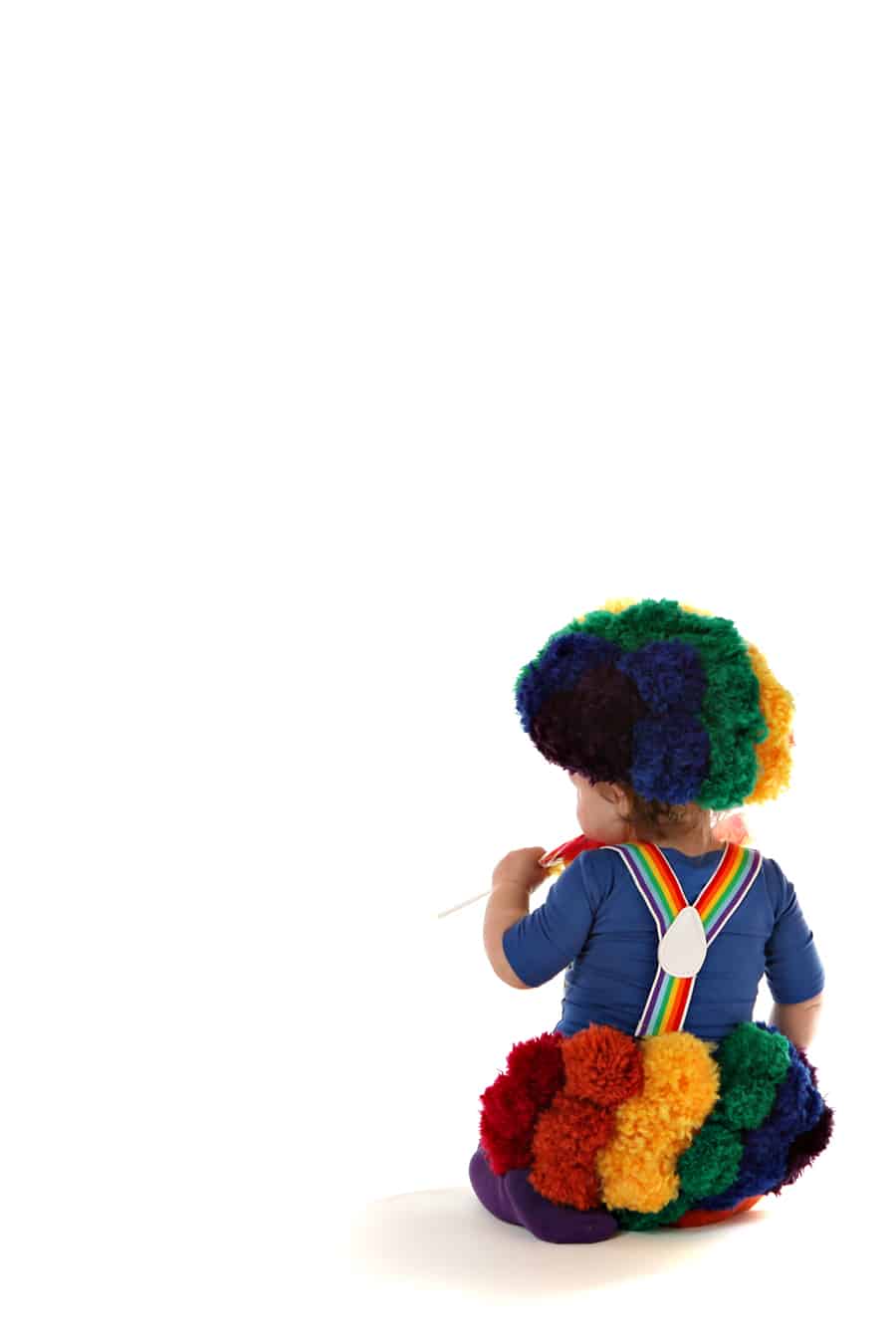 Each costume is different but for me, it's the little additions and details that matter the most. They're what make the costumes really great.
Here are some ideas (aside from the typical):
Donald and Daisy Duck
Madeline and Pepito
Sesame Street characters
Jungle/Zoo animals
Gumball machines
Mimes
Where's Waldo
Mr and Mrs potato head
Clowns
Thing one and thing two
Cookies
Raggedy Ann
Old ladies and old men
Nosh and sweets
The list can go on and on!
---
About Shana:
Shana is known by many as a creative jack-of-all-trades. For the majority of the past 10 years, she worked as a paralegal, while running a custom bakery business on the side, sewing costumes and clothing for her kids, developing some recipes and, of course, all other day to day tasks. She recently left the office-work life to pursue her other passions, baking and sewing. A new secret project is currently in the works that she is hoping to launch really soon. Stay tuned! (Shana is accepting orders for custom Purim costumes until February 15th. She can be reached on Instagram @shana_z.)