The great thing about moving is that you learn a lot about…moving. And while it can be stressful, here are some ways you can make it a great experience.
A year ago, Chaya Suri Leitner from @spiceandzest wrote an awesome article about moving which was the first place I looked when we prepped for our 6th move in 7 years a month ago. I've stocked up on tips over the years which have made or subsequent moves so much easier so I felt like I should share those with all of you too.
Toss
If you have some time before your move, go into each room with a giant garbage bag and get rid of anything and everything you don't have to bring along. The rule is if you haven't used it in 6 months get rid of it, but my rule goes more along the lines of 1 month unless it's a specialty item. If it's stained, ripped, doesn't fit, or is broken, throw it out. If you don't remember what you used it for, chances are you won't remember when you need it so chuck it. Kids projects are great but numerous, so either throw them in a box and create a book with Artkive or something similar or keep a keepsake box for each kid and pick and choose. There is no way your son's kallah is going to want to sift through boxes of old scribbles no matter how dear they are to you now.
Plan your storage needs
Use this time to estimate how many boxes you might need for each room. Sizes, heavy-duty or not, and amount should factor into your count. For example, if you have 3 sets of dishes, milk, meat, and China, you should write down to buy 3 dish packing boxes. (The one from U-haul is the cheapest one out there and we found it made packing up China and dishes so much easier and faster). This will help you create an estimate for the movers and also ensure that you only make one or two trips to the store instead of 50.
Pack by Room
Pack by room, and as Chaya Suri said, it's easiest to pack the things you don't use every day first. In each room set up a bunch of boxes and throw in the things you don't use every day. You can make it neat later. Keep working, room by room, a little each night until you are all packed up. Remember you are packing for the rooms you will be moving into not the rooms you are coming from.
Shluppa
Learn this word because it is your magic. When we were moving for the first of our 6 times in 7 years, someone recommended we buy Stretch Wrap but couldn't remember what it was called. We called it shluppa. It became our most useful tool. We used it to wrap containers that needed protection, to bind together similar plates, and to hold bubble wrap in place instead of using a ridiculous amount of tape. It just holds everything together so nicely and protects it from damage as well. For our silverware and utensils, we neatly placed the items into silverware trays like this Oxo one and then just wrapped it all up in shluppa. Then we labeled them and stacked them into a heavy-duty box. Instead of hours of work, it took about 15 minutes and the best part is for unpacking, all you have to do is cut off the shluppa and place it into your drawer and you are done! Shluppa works great for pictures, and paintings too!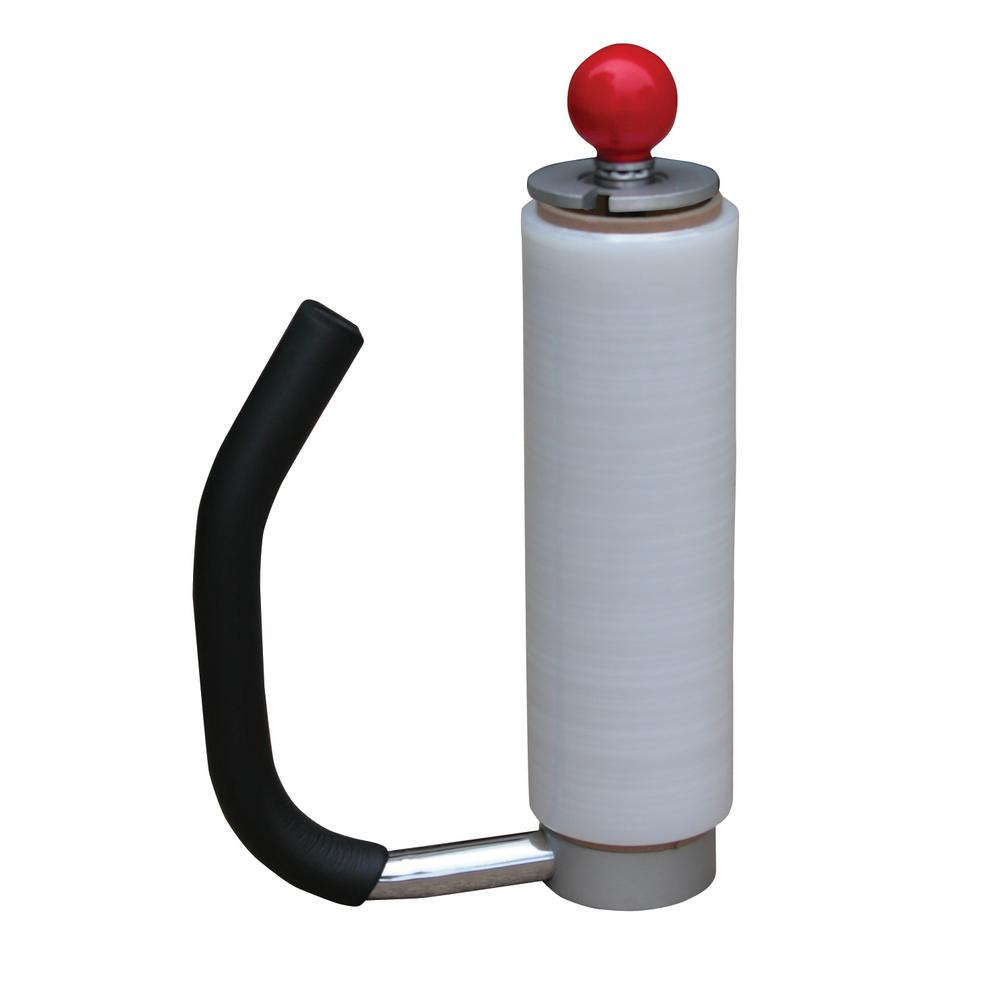 P.S. we like the shluppas where the handle moves so it makes going over one item again and again easier.
Keep an Essentials Box
Keep all the items you'll need right away in your new home in one box, such as
paper towels, plastic plates, cups, utensils, tissues, some towels, shampoo/soap, and some basic closed cleaning supplies. Traveling with open cleaning supplies can be hazardous so chuck them and only take bottles that are sealed. Any toiletries that are open should go into Ziploc bags so they don't spill all over creation. Ziplocs are your friends! This box of essentials should travel with you in your car along with delicate decorative pieces, expensive silver, jewelry, and important documents like passports and social security cards (and your kesubah people)! This way, they won't get lost in the move and will be on hand if you need them.
Don't move in just yet!
This is the time to splurge if you can. Rent a hotel room for the night. Nothing is worse than getting home to a big house full of boxes the night of your move when you are exhausted and sweaty, and then you realize you have to make beds and somehow find the shampoo and a towel to take a shower. Nothing feels better then, after finishing your move, arriving at a clean hotel room, taking a nice hot shower, sleeping in a big comfy bed, and waking up refreshed the next morning to start unpacking.
Another splurge: hire a packer
Which brings me to a packer. The first time I used a packer was during my most recent move. I didn't have any friends available to enlist and I was packing up an entire house on my own. She charged $250 for the day and we packed from 10 am to 6 pm. She helped me clean out all the trash in the house, take it to the curb, and helped label every single box with what was inside. It was the best money I spent during the entire move. If you have the opportunity to hire someone professional to help you, do it.
Store bedding in a box
If you don't have an opportunity to book a hotel the night you move, which I get, moving is expensive. Pack your bedding in a large box or a heavy-duty marked bag like this one or this one. When I say bedding, I mean a fully made bed, like blankets with covers, pillows with cases, and sheets over mattress covers. Start with a fully made bed and gently pull the sheet and mattress cover so that it comes off the sides of the bed. Fold the mattress protector, sheet, and blanket together toward the center and do the same for the other side. Then fold the entire package so that it forms sort of a large square of blankets. Place it in the bag with your pillows and label accordingly. When you are ready to go to sleep, just roll the entire sheet package over the bed so you don't need that much effort to get a good night's sleep.
Label, label, label
Labels are ridiculously important. We used these which are divided by color and room for a four-bedroom and 3 bathroom home. We labeled as follows. Each box received three labels, one over the top of the box and two on the sides of the box on the corner so you can see the color no matter which way you look at the box. With so many boxes stacked on each other, you are going to want to know where each one goes. Save one label from each category for the "map" of your new house. Create a poster board outlining each room and place the appropriate sticker so the movers can just bring things in without asking questions. Go one step further and create door handles for each room with the appropriate sticker.
Keep a record of the contents
When packing each box, write a brief reminder of what is inside. It'll help later when you want to find that one thing before you've unpacked everything. All boxes look the same when they are closed. You can also keep an inventory list on a Google sheet. Record the following information:
The place where the box will be going (or sticker color).
The number of the box.
The items in the box. Have one person keep track of an inventory list as you pack or if everything is clearly written on top you can just do it after you pack as the final step. Here's why this is awesome.
If you lose/break something you will know and can hopefully get reimbursed by the moving company!
When you move into your new home you can be like, where's my kid's extra blanket? Oh wait, it's in bedroom 4, box 3!
If feels so much better to grip that list in your hand and know that everything is accounted for. Plus this is where everything you have done packing wise comes together in a nice little box (pun intended). It's like the ultimate closure (pun also intended. I'll go for my time out now.)
Have a packing box of packing supplies
These will include bubble wrap, shluppa (see above), moving labels (see above), permanent markets, pens, and tape—lots of tape. The only thing worse than losing your permanent markers in a sea of boxes is losing your phone in a sea of boxes, after it died. Keep a niced-size brightly colored shoebox with all of the essentials so you can spend less time looking for your pens.
Food and Kids
Okay, two super important things to take care of are food for move-out and move-in days and what to do with the kids. If you're moving out and in on the same day, send the kids off to someone with a kiss and a hug. The last thing you want as movers are carrying heavy objects through the house is a little kid running underfoot. It can be dangerous. Also, your attention is needed elsewhere; there are always a bunch of last-minute things that have to be done. If you can send the kids to someone for the day of the move and the day after, that is the most ideal. If not, get a babysitter who can help take them out for the day and kept them entertained.
For food, you can pre-order meals on sites like Seamless or Grubhub. Order something for move-out and something for move-in day. Don't forget to get something for the movers as well. You can also prepare a couple of freezable meals in advance a couple of weeks before you leave. Marinade chicken or fajitas or keep any of these dishes in a large Ziploc bag in the freezer. That way you can just use disposable sheet pans, place everything on there and throw it in the oven. You can have a healthy dinner that doesn't involve takeout or the pots you need to pack.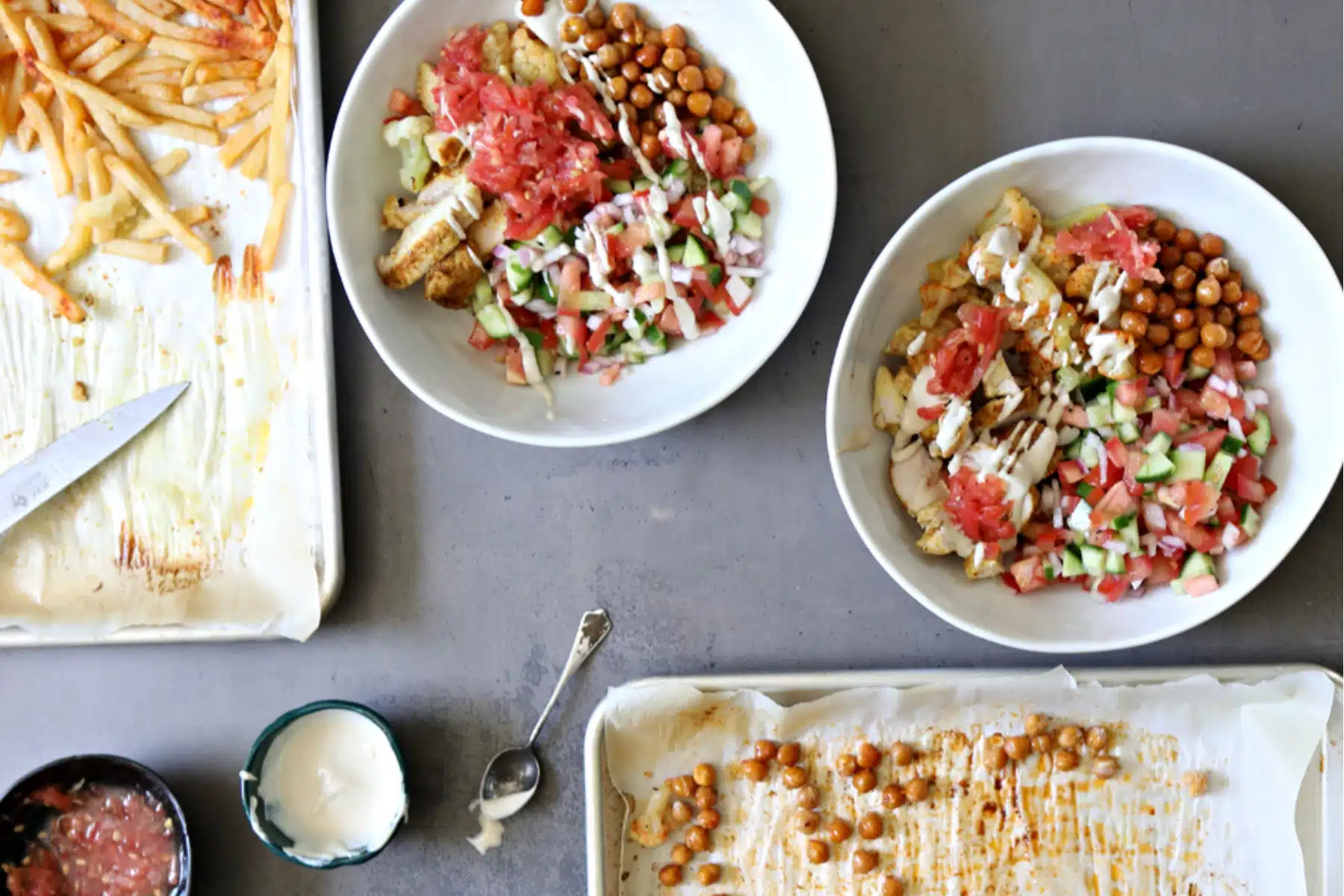 Shawarma Sheet Pan Chicken
Get a moving planner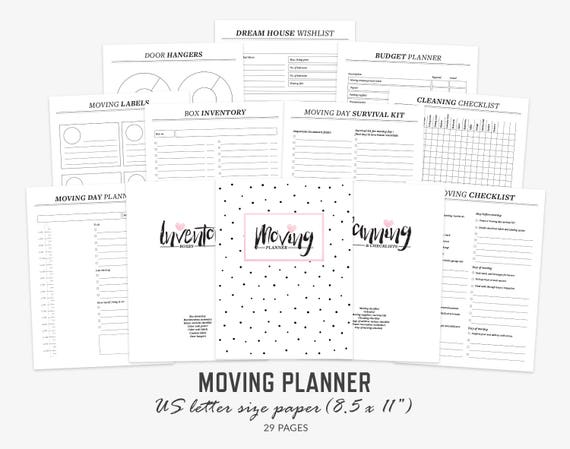 During our last move, I had some very minor panic attacks about how I was going to pull it all together alone. My husband downloaded this planner for me to keep all my thoughts in one place. Even though I didn't use most of it, I found that it was such a useful tool for anyone moving. The inventory list alone made it worth it all. It helps you remember to change your address with USPS, with all your bills, along with helping to keep track of a budget and a lot of other things you wouldn't have thought of. Plus, it's a great place to keep information related to the move so it doesn't get packed by mistake.
Have fun
Packing is so so stressful; so many things can go wrong even if you plan to a tee! During the last move we packed and labeled and inventoried everything perfectly, but the movers showed up with a truck that was way too small and we had to rent a U-haul and drive for 4 hours to our next home. It's so important to realize that not everything has to be perfect and you can do it! So turn the music up super loud and sing at the top of your lungs as you shluppa all of the things together and get it done!