Get doughnuts on your table in less than 15 minutes.
Every Chanukah while growing up, my grandmother fried fresh hot doughnuts every single night. We never added jelly or chocolate; we just kept them plain with a lot of confectioners' sugar on top. During some years she fried a fresh batch of doughnuts every night for another family, and sometimes she would come to stay with us and prepare the doughnuts together with us in our home. I've never been able to eat a store-bought doughnut since. I need them fresh out of the pot.
When my grandmother passed away we realized that not one of us has the same recipe. Every family wrote down the "original" doughnut recipe but none of them matched. Some had apple juice, others had water, but there was no single consistent recipe that was "the one."
Here are two quick options that you don't have to spend all day making. To me, Chanukah is all about great food and memories and nothing says both like fresh hot doughnuts.
Doughnut Poppers 
Recipe by Faigy Grossman

Here's a trick for achieving room temperature apple juice and warm water. Simply mix cold apple juice and hot water. Then you'll have a warm mixture!

Doughnuts Poppers
Ingredients
Ingredients:
4 ½ cups flour
1 cup apple juice, at room temperature
1 cup warm water
1 tablespoon dry yeast
1 tablespoon oil
1 scant teaspoon salt
oil for deep frying
confectioners' sugar for coating doughnuts
Instructions
Place flour in a large mixing bowl, form a well and add yeast into well. Pour in juice and water and let proof for 10-15 minutes. Add remaining ingredients and mix well until a soft dough forms.
Heat oil in a deep pot or frying pan. To see if the oil is hot enough, pinch off a small piece of dough and drop it into the pot. If the dough sizzles and rises to the surface, the oil is ready. Lower heat to medium and begin frying doughnuts. Pinch off walnut size pieces of dough and add to pot.
Fry until golden and remove using a slotted spoon onto a paper towel-lined plate, then immediately, while hot, toss with a lot of confectioners' sugar.
Yield: 2-3 dozen, depending on size
5 Minute Doughnuts
Make it faster, Make it simpler!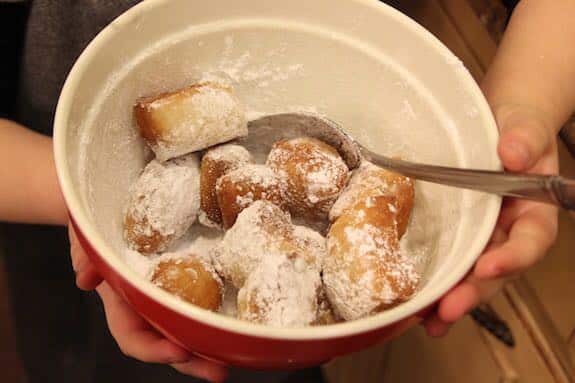 Start with store-bought pizza dough. Roll out dough to a 12- x 10-inch rectangle. It doesn't have to be exact, as long as you don't stretch the dough too much. Using a pizza cutter, cut the dough into little bite-size pieces. Since pizza dough isn't sweet you don't want to have too much dough in each donut. Heat a pot of oil. I don't use a very large pot so that there isn't too much oil wasted. With a smaller pot, you have to stand over and fry a bit longer, but it's worth it. Fry until golden brown and flip. Remove and drain on paper towels. Toss with lots of confectioners' sugar to add the sweetness.