Serving a crowd buffet-style? This pepper steak dish is intended to be prepped ahead and rewarmed…perfect for your seudah menu.
People often ask where recipes come from, and honestly, every recipe has a different story. The day I received this recipe, Victoria and I had gone to interview Margie (then Schrek, now Gross), who was a pastry chef for Greenwald Caterers at the time. As we were walking out, I realized that I should find the chefs and ask for the pepper steak recipe, as I love Greenwald's pepper steak. At the time, we had finished writing Secret Restaurant Recipes, and didn't know what we would do next. Perhaps we'd write a caterer edition and this recipe would be useful?
I asked the secretary where I'd find the chef.
And though she directed us to him, she also said, "Oh no, he'd never give out the recipe."
Well, let's just see.
We found the chefs in the office, and sat down. When I told them my request, they proceeded to list the ingredients and prep instructions while I wrote everything down.
As we walked out of the office for the second time, the secretary was on the phone. But we couldn't help showing her…we had proven her wrong. We had the recipe.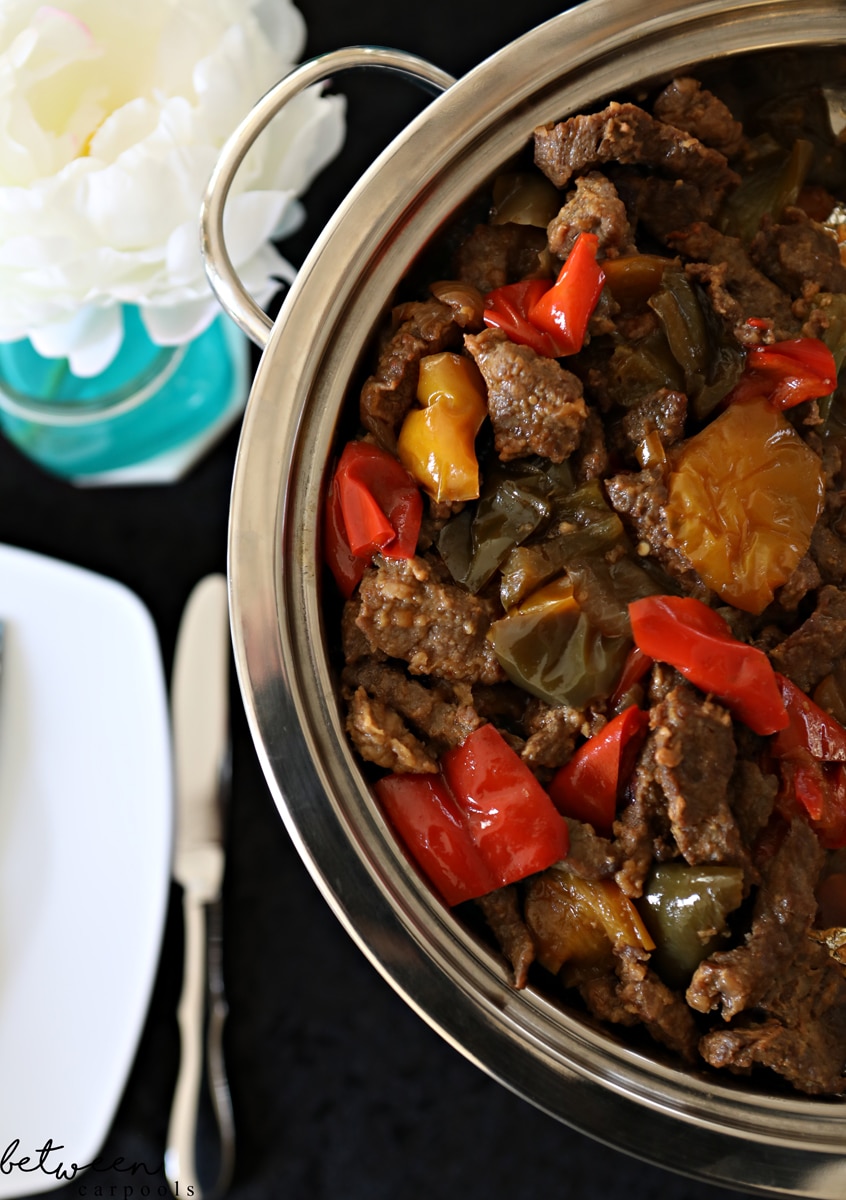 Many butchers offer pre-cut pepper steak in the meat showcase. While some use London broil, other butchers use other cuts of meats. Double-check with the butcher before purchasing.

Caterer-Style Pepper Steak
Ingredients
Meat:
4 lb London broil, thinly sliced
⅛ cup toasted sesame oil
Pinch salt
2 tablespoons soy sauce
1 tablespoon fresh ginger
2 garlic cloves, crushed
1 teaspoon baking powder
2 eggs
2 tablespoons cornstarch
Vegetables:
Oil, for sauteing
2 onions
6 peppers (green, yellow, red)
2 garlic cloves
Salt and pepper, to taste
Sauce:
½ cup ketchup
3 ½ cups orange juice
½ cup brown sugar
2 cups water
¾-1 cup soy sauce (depending how salty the soy sauce is)
1 teaspoon ginger
1 teaspoon garlic
3 tablespoons cornstarch, dissolved in 2-3 tablespoons water
Instructions
Prepare the meat. Combine sliced meat with sesame oil, salt, soy sauce, ginger, garlic, baking powder, and eggs. Marinade overnight or 4-6 hours. When ready to fry, add 2 tablespoons cornstarch to the marinade. Fry in batches until golden, about 4 minutes.
Prepare the vegetables: Heat oil over high heats and sauté onions. Add pepper and continue to cook over high heat for a few minutes, until crisp, not soft. Add garlic, salt, and pepper. Set aside.
Prepare the sauce: Place all sauce ingredients aside from the cornstarch in a pot. Bring to a boil and cook until reduced by ⅓. Add cornstarch mixture.
Combine meat, vegetables, and sauce in a deep 9- x 13-inch pan. Cover very well and bake at 350ºF for a minimum of 2 hours. You can also choose to freeze the pepper steak before baking. Remove from freezer the day you are serving and bake for 4 hours or until the meat is soft.