Maybe this post will give away some trade secrets of my bike coaching business, but if it can encourage happy and confident riders, I am ready to share! 
There are no don'ts when it comes to riding a bike, just do's:
Know that the child wants it. I always try to start my coaching sessions with a prayer, asking the child to take a turn to say a tefillah first in his/her own words, and then I add to it. This moment defines whether or not the child really wants to learn (even if there is fear). I don't work with a child if only his parent wants him to learn.
Do start wearing a helmet right away, and ride in a wide, open space without traffic or distractions, like a dead-end or cul-de-saq (no straight narrow paths or sidewalks). 
Do take off the training wheels. (You can even take off the pedals for a few hours or days, while you have the wrench in hand!) The only purpose I can think of for training wheels is to teach good, relaxed seated posture (not leaning forward, and holding on with "loose arms," not a tight grip). You can teach this with feet flat on the ground, on a bike that is slightly too short, and stationary! Don't buy training wheels, and if you did, remove them!
Do use a bike that is a little too small (even if it's smaller than the one you just removed the training wheels from. Soon your child will 'graduate' to that more size-suitable bike.) Using a too-short bike will help give a sense of control when learning to balance, and will help when stopping with feet, as explained below.
Do teach stopping before going. Some kids (and people) are simply scared of the whole bike idea. They're scared of going, scared of even being on the bike. It is wobbly and unnatural and really is scary! That is why we start with a too-short bike. Learning to stop first often reduces anxiety. 
Teach the 'lean-over': Stand in front of the bike, face the child, and clamp the front tire between your feet. Then with his/her feet on the pedals and his/her hands on handlebars, hold and roll the bike a few inches forward and backward between your own legs. Comment on how much balance you can feel he or she has! Now, still standing facing the child, in front of the bike, hold on to the middle of the handlebars and then (with child's feet on pedals and hands on handlebars) just barely let go for a split second. As the bike tips to the side, the child will reflexively put out a foot to the ground to lean into. Show them how they just stopped themselves and will be using that muscle above the knee to hold their body weight when they stop!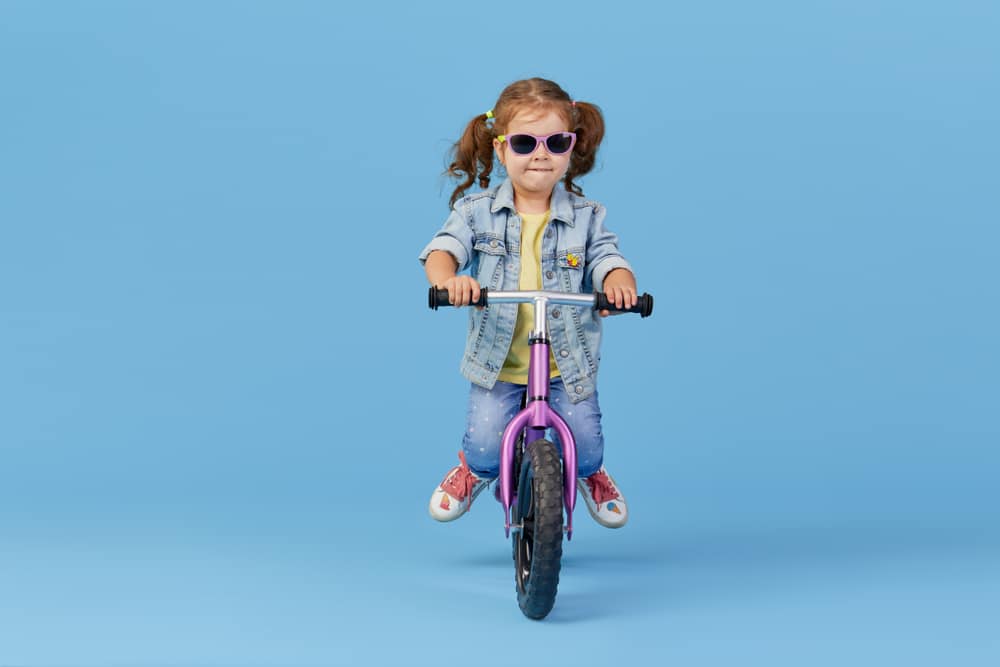 Do teach gliding before trying to pedal. While seated on the bike, with feet ignoring the pedals, ask your child to push off the ground with two feet at the same time (like a big jump, as in a stomp rocket getting off the ground). Push off the ground twice in a row, and then lift feet to glide. Just for a second or two at a time. They will stop whenever they feel like stopping again using their feet (no Crocs or Floafers)! Do this push-push-and-glide sequence a bunch of times, or even for a week, while they get the feeling of gliding in a controlled way. Soon, they will want to pedal.
Do remind them to look ahead. Keep eyes on the road (and keep repeating that when they are gliding and learning)- but not DOWN at their feet. Looking down will make them lose their balance (the body's center of balance will be compromised), much the same way as lifting one's head when swimming will make them sink. 
Next challenge them to either glide for longer, or do it more quickly, or try the push-push-glide sequence with one foot pushing off the ground, and the other foot resting on the pedal (not pedaling), and then switch.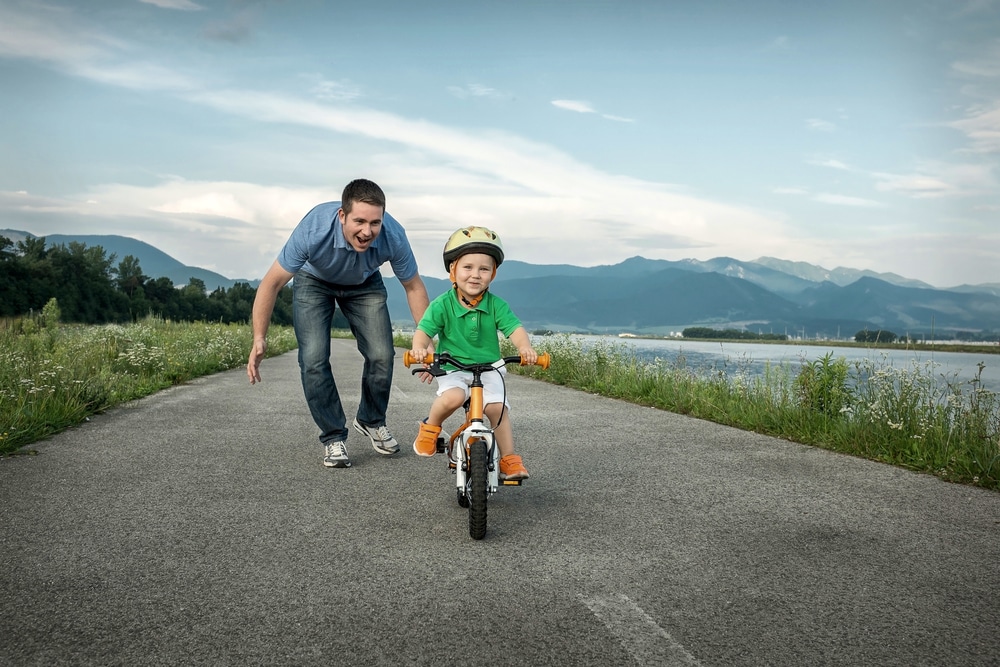 When he or she gets to this point, he or she will likely ask to start pedaling. Some will 'catch' their second foot after the push-push-glide sequence, and be off for a few seconds at a time until independence. Others need more support but holding onto the bike or holding on to the child will  compromise their balance and independence. What I like to do is make a harness out of a shirt tied under their arms, with sleeves to the back. Holding it closer when more support is needed, further when less support is needed. This way you still need to run, but without bending over, and they really control the bike and learn more efficiently! Often the hardest part is to start off- you can leave that for later, it's ok if they always need a 'push' at first.
Do teach safety. Once balance is established and they ride on their own, you will need to teach safety rules like not crossing just because your friend ahead of you crossed, always look for yourself! Look out for traffic in and out of driveways, make eye contact with drivers stopping, etc. And you will have to practice taking corners and using brakes. 
No, I do not teach drivers' education!
FOR EXCLUSIVE CONTENT AND A PEEK BEHIND THE SCENES, MAKE SURE TO JOIN OUR WHATSAPP STATUS HERE. JOIN OUR WHATSAPP GROUP AND WE'LL LET YOU KNOW WHEN A NEW POST IS UP!