I didn't think my family liked chicken on the bone. But then I made this dish. 
My kids don't willingly eat chicken on the bone. Or even chicken that I've taken off the bone. But every once in awhile I try again.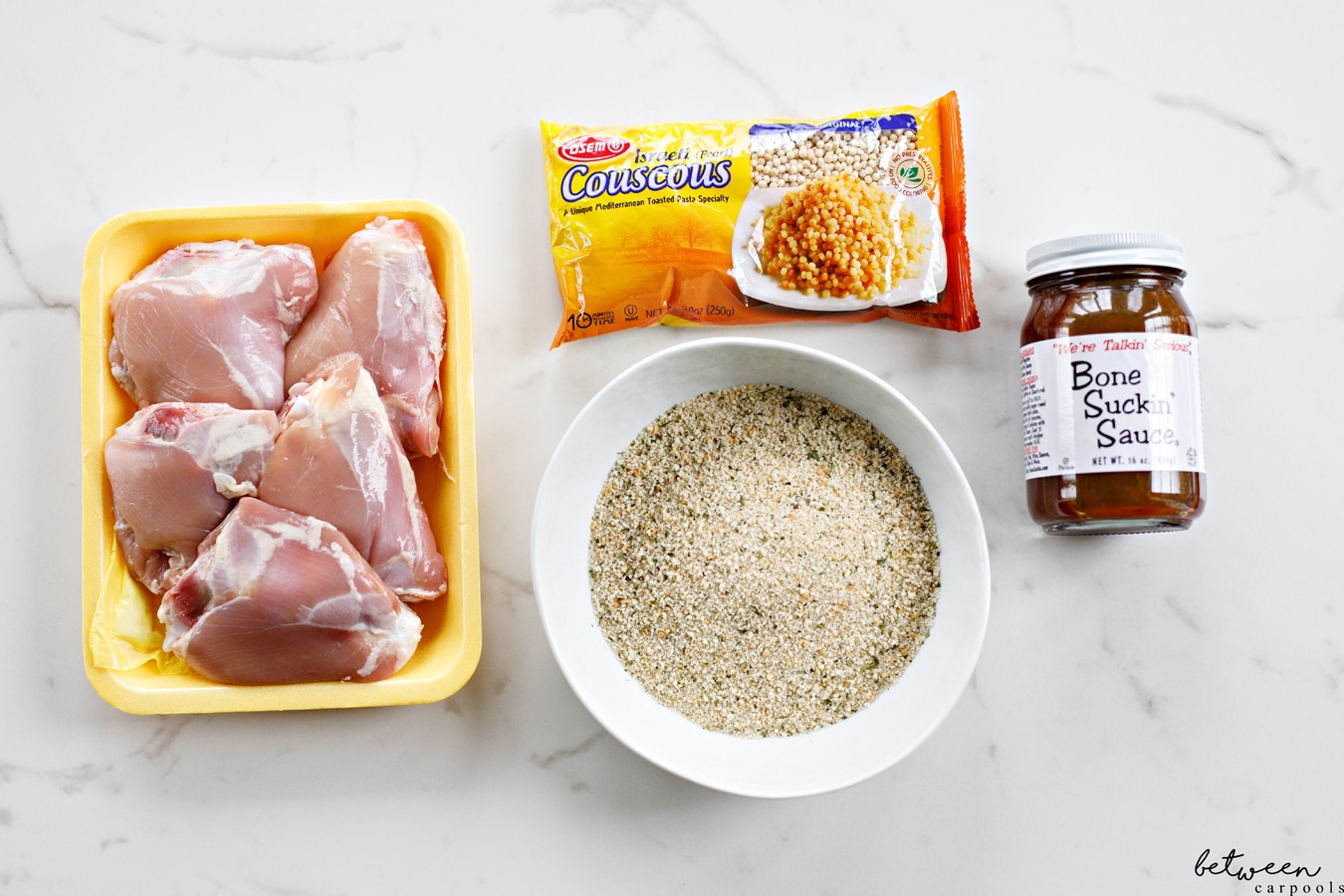 One afternoon when I was running out to a photoshoot that would have me out past dinner time, I needed to get dinner ready in under five minutes and be out the door. All I had in the fridge was a pack of skinless chicken thighs that I'd purchased in a delusional moment, thinking that my kids would maybe eat it. I figured I'd prepare them and the kids would just eat peanut butter sandwiches for dinner, as usual. But how could I make them look remotely appetizing so they'd maybe try them?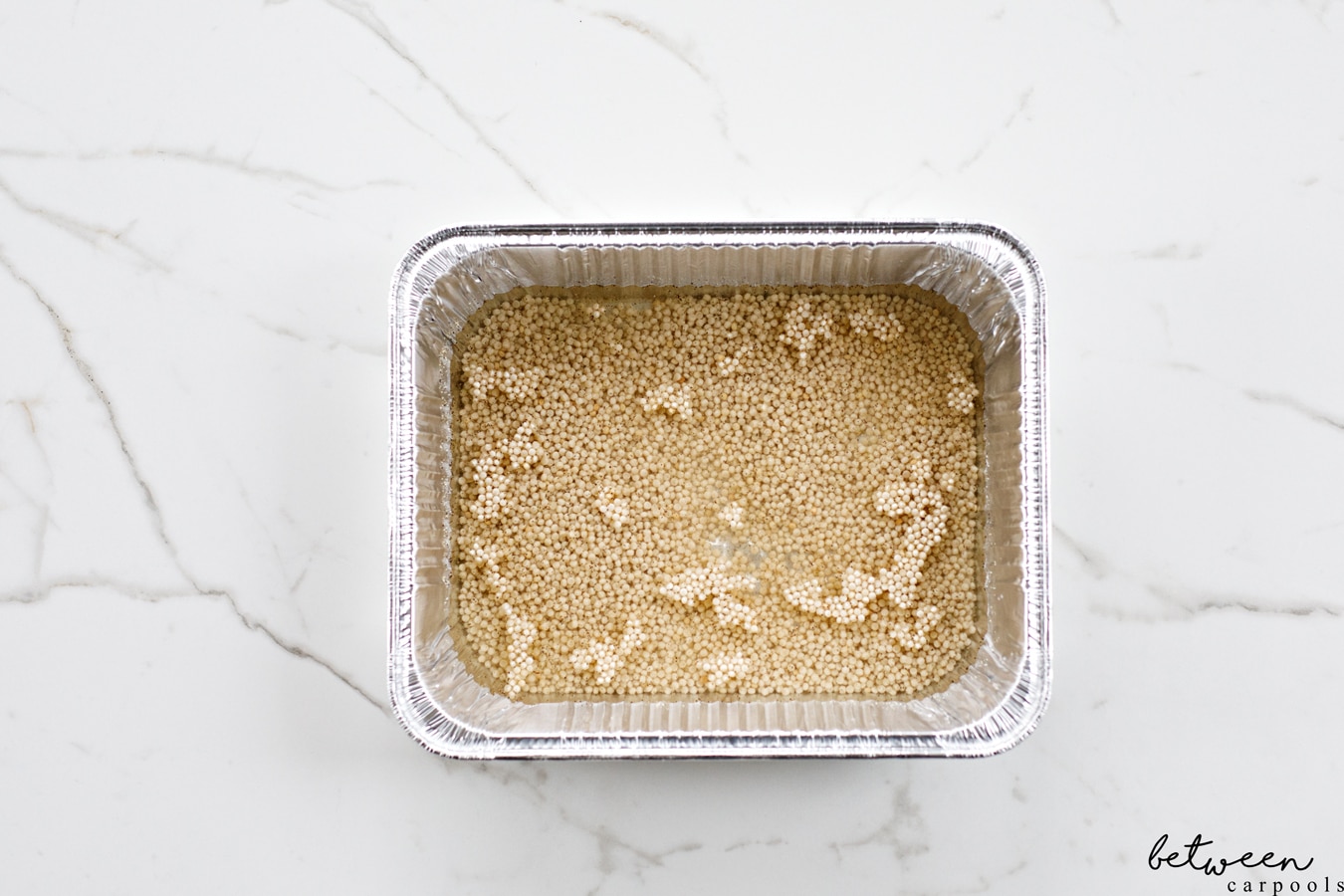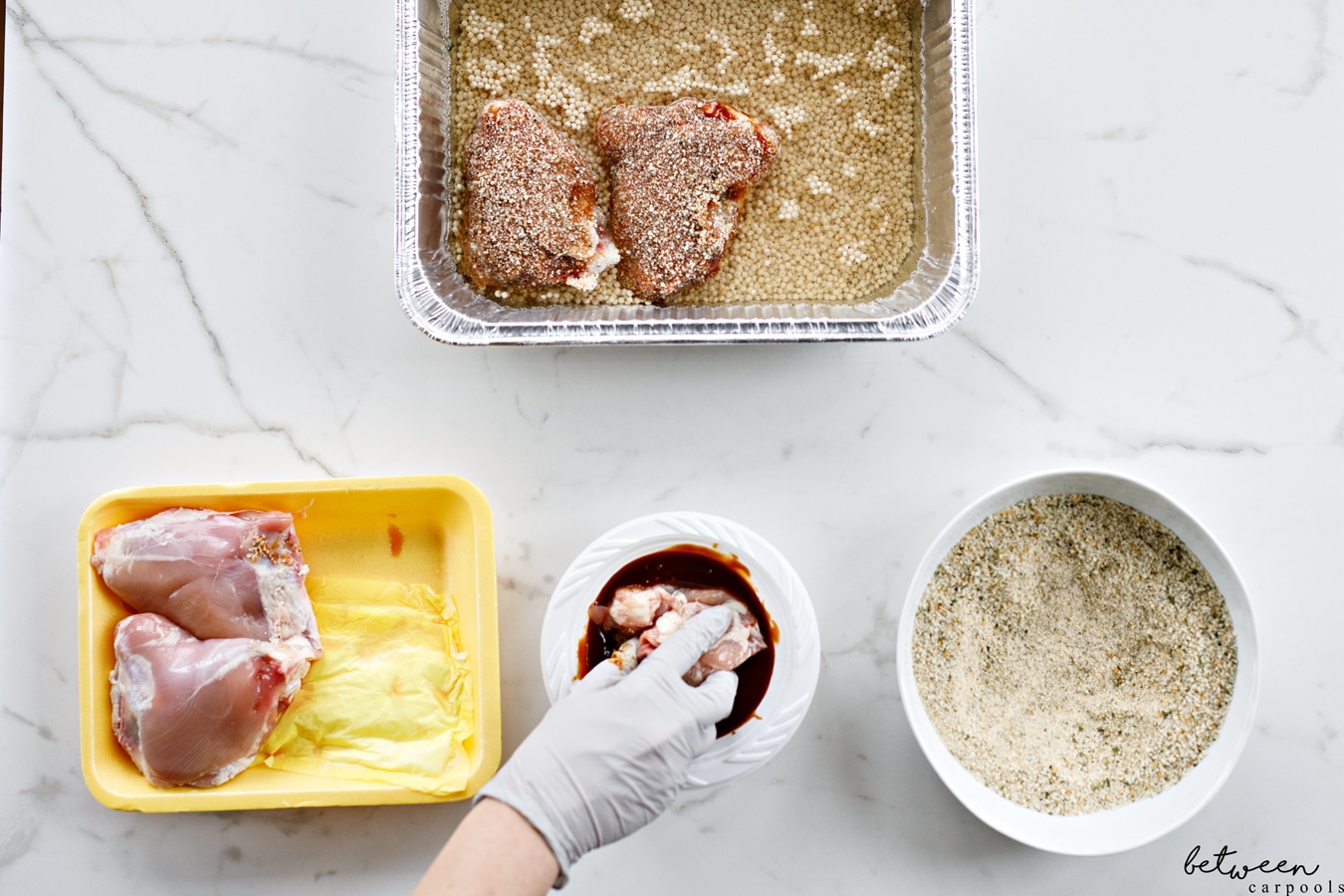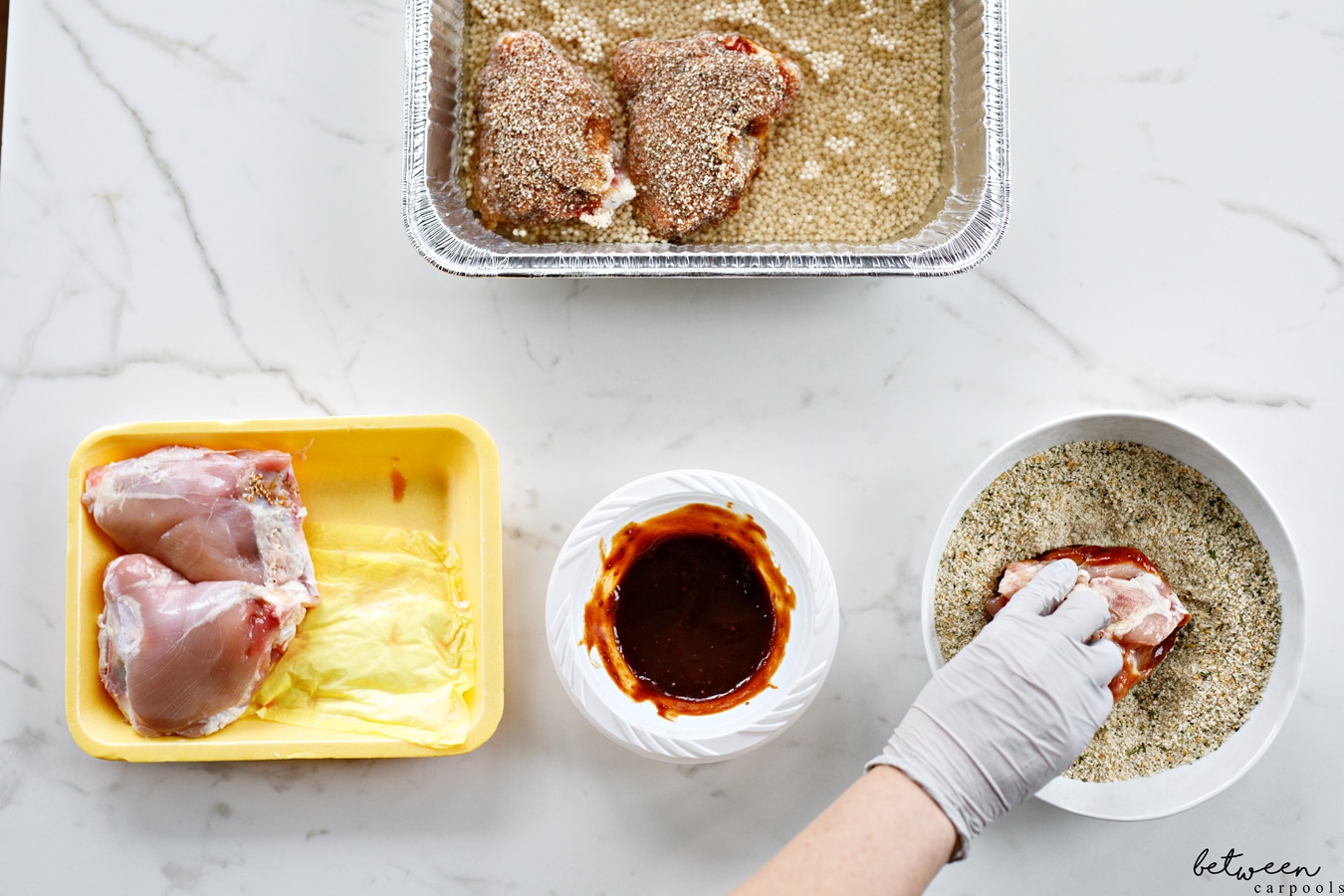 I grabbed a jar of Bone Suckin' Sauce from the fridge and some bread crumbs from the pantry. I dipped each chicken piece in sauce and then in crumbs, threw them into a 9×13, and then into the oven. I called out to my teenager to put up a pot of macaroni to go with it and I ran off to take some pictures.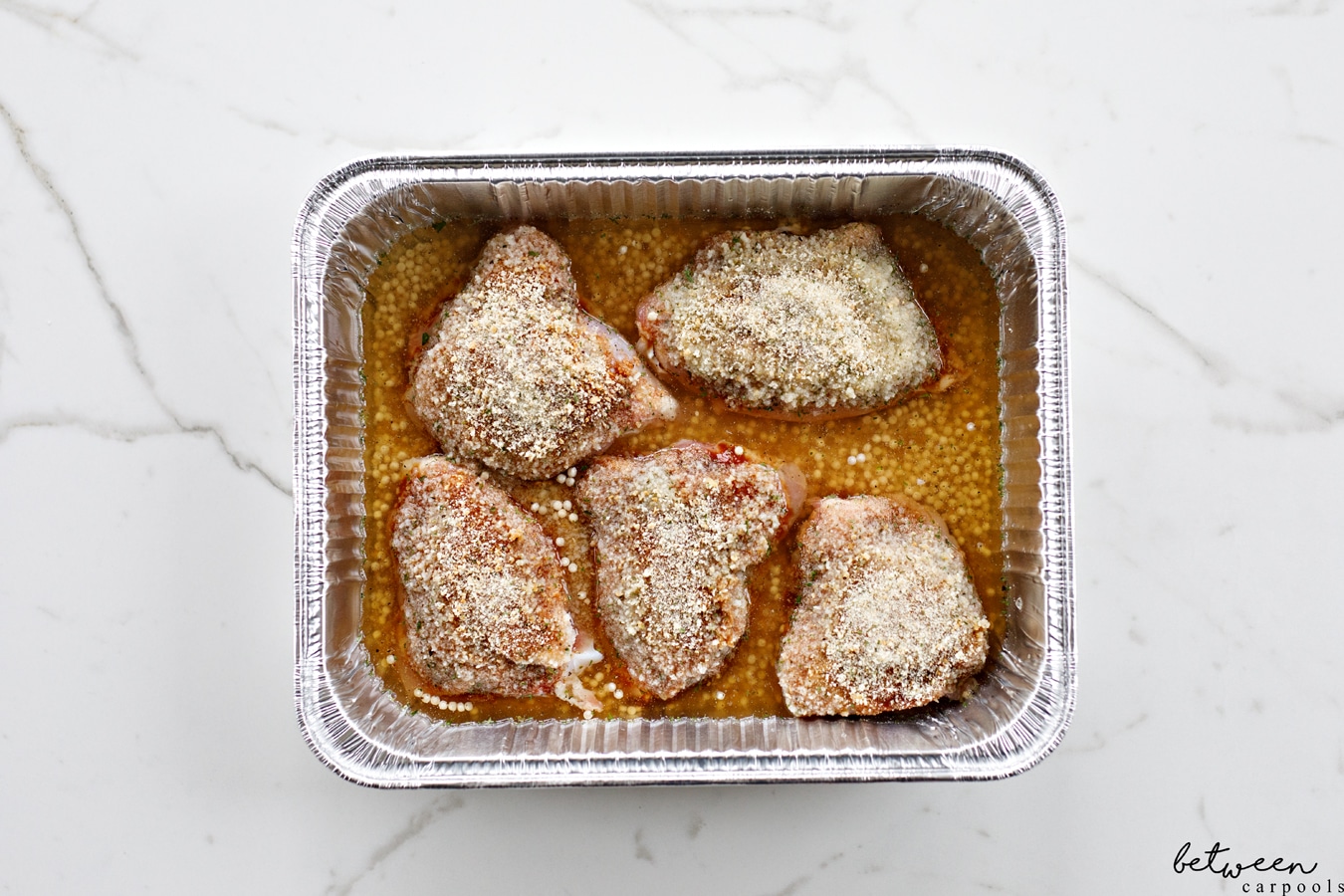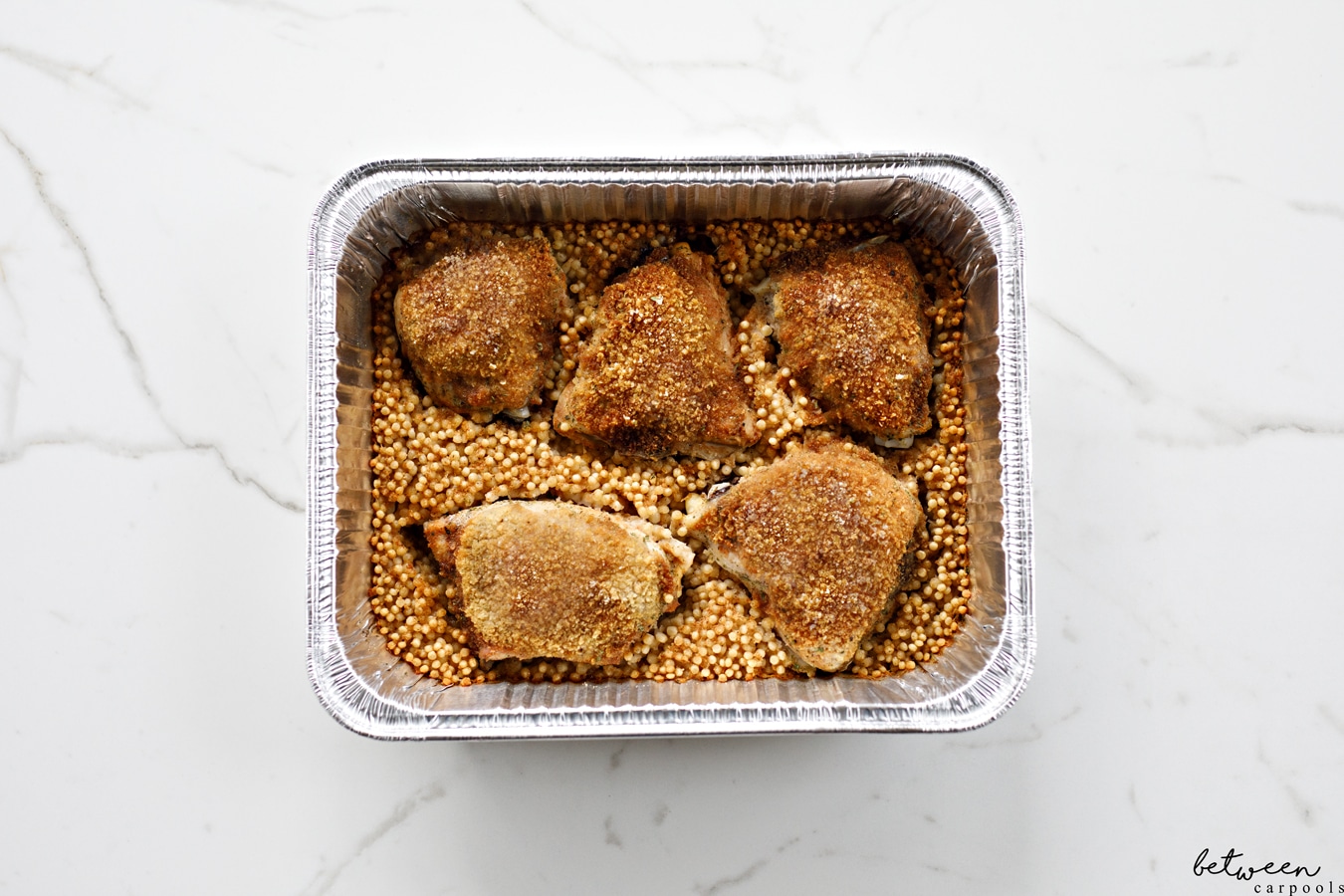 I came home expecting to see a full pan of chicken waiting for me, minus a couple that maybe my husband or my visiting nephew had eaten. There wasn't a single piece left!! My mind was completely blown! They'd all eaten the chicken!
The only way to perfect this miracle was to add a side dish right into that 9 x 13. I experimented with some Israeli couscous and a perfect meal was born! The couscous cooks into a crunchy layer on top and a softer one underneath, which suits my family just right.  And I hope it suits your family, too!
9 x 13 Chicken and Couscous
Ingredients
5 skinless chicken thighs
½ cup Bone Suckin' Sauce (or any bbq sauce your family likes)
1 cup seasoned bread crumbs
1 package Israeli couscous
2 cups water
1 teaspoon salt
Pepper to taste
Instructions
Preheat oven to 350⁰F.
Pour couscous into 9 x 13-inch pan. Add 2 cups water, salt and pepper (make it as spicy as your family likes).
Pour sauce into a bowl and crumbs into a plate. Dip the top of each piece of chicken into sauce and then into crumbs. Place on top of couscous. Spray the chicken pieces with cooking spray.
Bake uncovered for 1 hour.