An incredible, moist, coconut-y cake is paired with the famous coconut crunch topping. The only question is…why did it take so long for this match to come about?
One Friday night in the summer of 2005, I walked with my husband and in-laws to visit a neighbor. There were a lot of people there and they were just about to serve dessert when we arrived. The men sat on one side of the dining room, and the ladies on the other, and out came plates with slices of two different types of cake. 
One of those cakes was an amazing carrot cake and I saw my husband beckoning to me from the other side of the room, holding up his plate and pointing to the cake. (Interpretation: This cake is amazing. Get the recipe). 
A few days later, I called our neighbor's daughter-in-law, who had baked the cakes. And she gave me the carrot cake recipe (an amazing recipe on its own) and, as a bonus, the original version of this Coconut Crunch Cake.
So, I baked the Coconut Crunch Cake back in 2005. But I wasn't enthralled. The streusel topping was amazing, but the bottom was a plain white cake, and not a particularly moist one. But, on the merit of that topping, the cake went viral! It passed from home cook to home cook and became one of those cakes just about everyone in Brooklyn bakes (it later ended up in a community cookbook or two).
Everyone agreed, sure, the bottom wasn't the star of this cake. But no one ever thought to give it a new one. 
Until now!
One Friday, I was working on some recipes, and the winner of the day was a moist, irresistible 9×13 Coconut Cake. (YES! The cake base works great as a 9×13 cake). 
But I really like toppings on my coconut cake…so then I realized…this cake…with the topping of the famous Coconut Crunch Cake…it would make a great shidduch!
Now, the Coconut Crunch Cake is coconutty throughout, with a moist, flavorful cake base and crunchy sweet topping. And we can't get enough.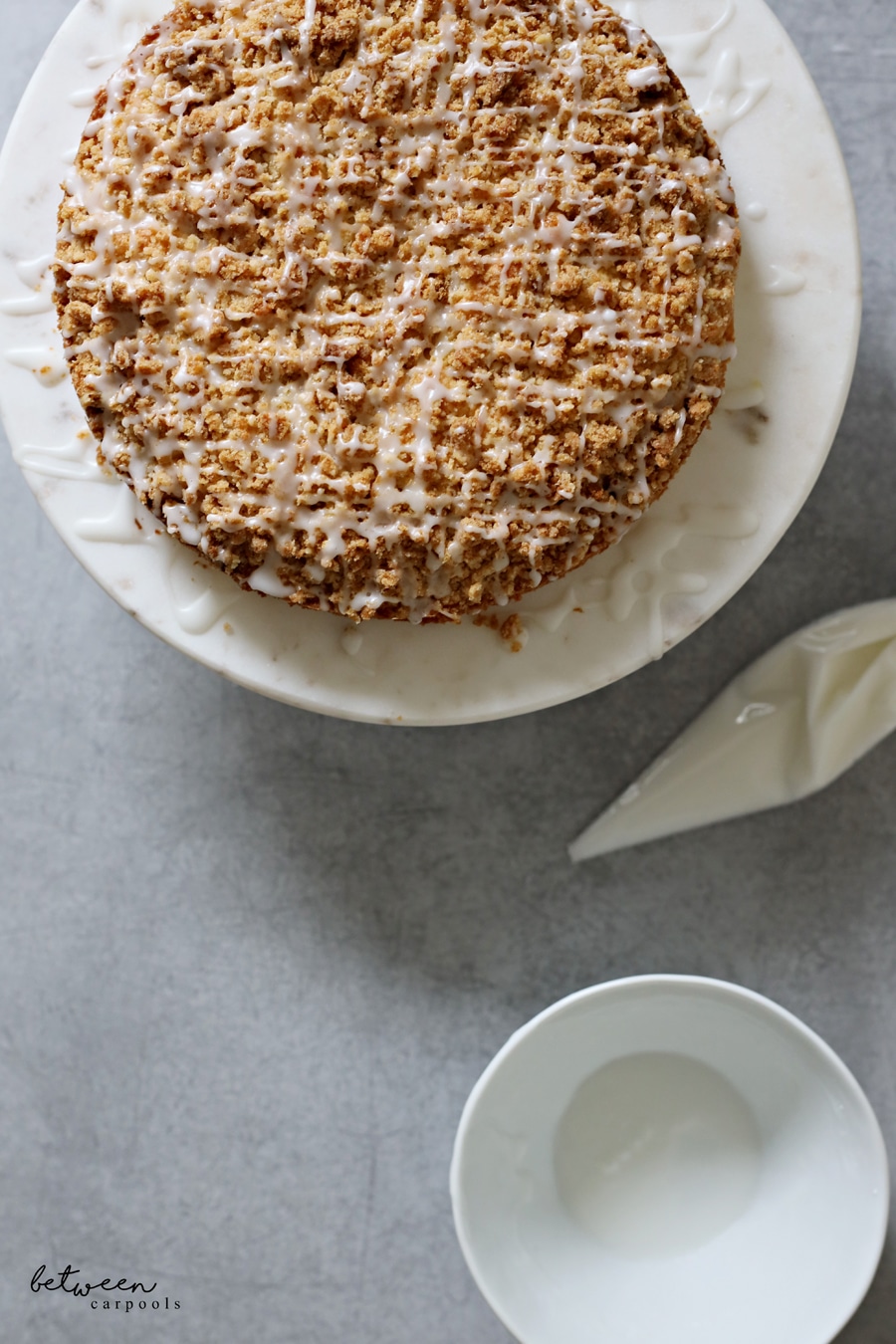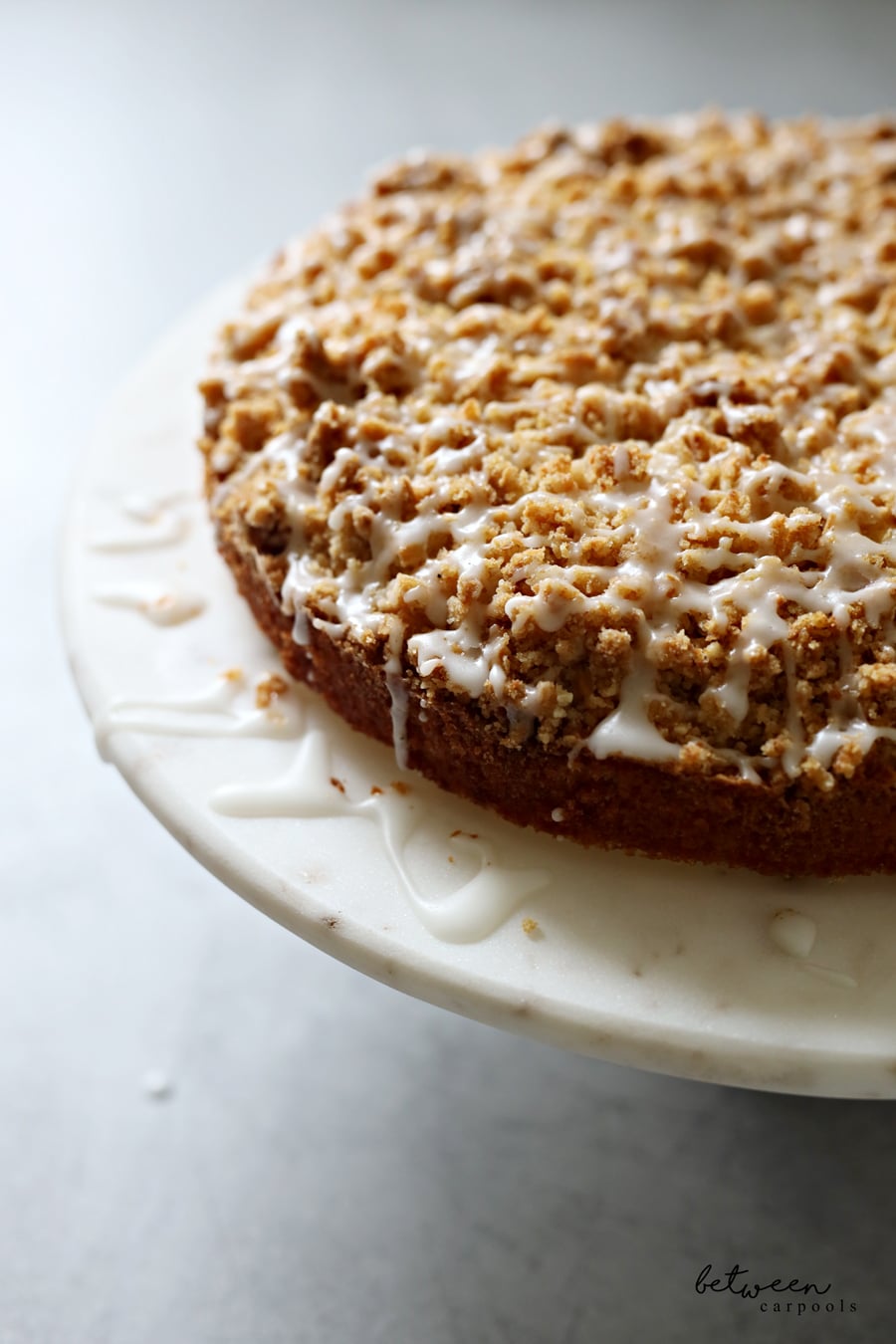 Some notes, of course!
Mix your can of coconut milk to an even consistency. You'll be able to make 3 cakes from one can of coconut milk (it will keep in an airtight container in the refrigerator for up to a couple of weeks). 

Since the topping is added on afterwards, this would also work great as a bundt!

Sweetened or unsweetened coconut? I used unsweetened coconut inside the cake because that's what I typically keep on hand and prefer to use. For the topping, the original recipe calls for sweetened coconut, so I left the "famous" topping as-is. I'm sure both would be interchangeable. 

My family also loves Susie Fishbein's Castaway Cake, from the original Kosher by Design. The topping of the Castaway Cake would also work great on this cake!

This cake has an interesting technique of using icing to "glue" the crumbs to the cake. Follow instructions!
The New Coconut Crunch Cake
Serves:
8-10 servings; 1 cake
Ingredients
Cake:
1 ¾ cups flour
¾ cup unsweetened coconut flakes
1 ½ cups sugar
1 ½ teaspoons baking powder
¼ teaspoon salt
½ cup canned full-fat coconut milk (mixed to an even consistency)
½ cup oil
4 eggs
1 teaspoon vanilla extract
Coconut Crunch:
½ cup coconut flakes (sweetened or unsweetened)
⅔ cup flour
¼ cup brown sugar
¼ cup oil
Icing:
2 cups confectioners' sugar
¼ cup boiling water
2 tablespoons oil
½ teaspoon vanilla
Instructions
Preheat oven to 350⁰F. Line and grease an 8-inch springform pan or bundt cake pan.
In a bowl, combine all ingredients for the cake. Mix well. Add batter to prepared pan and bake for 40-45 minutes. Let cool.
Line a baking sheet with parchment paper. Combine all Coconut Crunch ingredients. Spread on prepared baking sheet and bake for 12-15 minutes.
Combine all icing ingredients. Once cake is cool, drizzle icing over cake and add coconut crunch. The icing is meant to act as a "glue" to attach the crumbs to the cake. Continue to drizzle more layers of icing and crunch until all the crunch is "stuck" to the cake. Finish with a final drizzle of icing. You might not need all.