You're less than 10 minutes away from digging in.
A while back, I shared on my @cookkosher instagram account a quick recipe for Shredded Beef Pizza: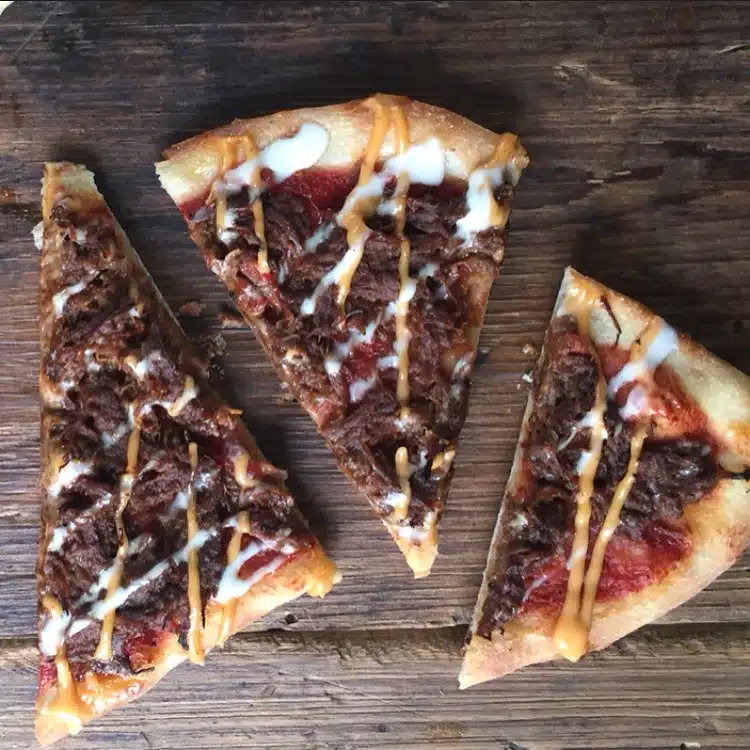 Loving tonight's shortcut dinner (yes, it's as good as it looks!). Breadsmith's Pizza Dough + pizza sauce (tomato paste, water, seasoning) + @jacksgourmet shredded beef on top. Place on a baking paper and bake directly on the oven rack. Bake at 500ºF for 8-9 minutes. Drizzle with spicy mayo and Caesar dressing. #recipes #meatpizza #summercooking
Hundreds of you made the Shredded Beef Pizza and enjoyed it. Now it's time to break this recipe down and explain it further.
1) The Crust
All pizza needs to start with a good crust. Make your own pizza dough, buy frozen in your freezer section, or use a pre-baked flatbread or pizza crust (such as Brooklyn Bred Pizza Crust). Place crust/dough on a sheet of baking paper.
2) The Sauce
Use any pizza sauce. I quickly make my own by mixing tomato paste with equal parts of water and some Italian seasoning and garlic powder. For this recipe, I prefer using tomato paste over tomato sauce as I find that sauce a little too thin for the shredded beef.
3) The Beef
The easiest option for this component of the pizza is to use store-bought shredded beef such as Jack's Gourmet (follow directions on the back of the pack), or you can easily make your own.
Use leftover roasts. Shred beef while it's warm, mix in some of the sauce, or add some BBQ sauce to the shredded beef.

Place a 2-3 pound second cut brisket in a 9- x 13-inch roasting pan. Top with 2 cups of BBQ sauce and add some water until brisket is covered. Cover well and bake at 350ºF for 4 hours, until brisket is soft and falling apart. Shred with 2 forks and mix in some fresh BBQ sauce.
4) Time to Bake
Place the pizza (with the baking paper) directly on a rack in a preheated oven. This is so the bottom gets baked and crispy. When using pre-baked crust this isn't as necessary (since the crust is baked) and you can place it on a baking sheet.
5) Dress It
While hot, drizzle the pizza with some spicy mayo and a mayo-based Caesar dressing (pareve, obviously).
To make your own quick spicy mayo:

Spicy Mayo
You can make your spicy mayonnaise as hot as you want by adding more Sriracha sauce. Aside for sushi, it's a great dip for French fries, pizza, and sandwiches.
Ingredients
Spicy Mayo
4 heaping tablespoons mayonnaise
1½ teaspoons Sriracha chili sauce
Dash of soy sauce
1 teaspoon lemon juice
Instructions
In a small bowl, combine all ingredients.
Serve as an appetizer, or as a main! It makes a great fun dinner, with some soup and salad.
Love beef? Try this Mongolian Beef Recipe