These cookies, made with cream cheese and butter, simply melt in the mouth. Cheesecake cookie bites are delectable, light, and delicious.
Yocheved is the type of friend and neighbor who always delivers something yummy at your door just at the right moment. Lucky for us, 3 out of 5 of us live in her vicinity. (But, hey, don't fret, she delivers and ships as well). So, when Yocheved showed up bearing gifts that weren't her usual cheeseminis, we knew we better make ourselves a large cup of coffee and sit down… because a cookie made in Yocheved's kitchen isn't "just a cookie."
Yes… this cookie is just what we expected it to be: incredibly delicious, soft, and delicate, and of course, dairy. Very.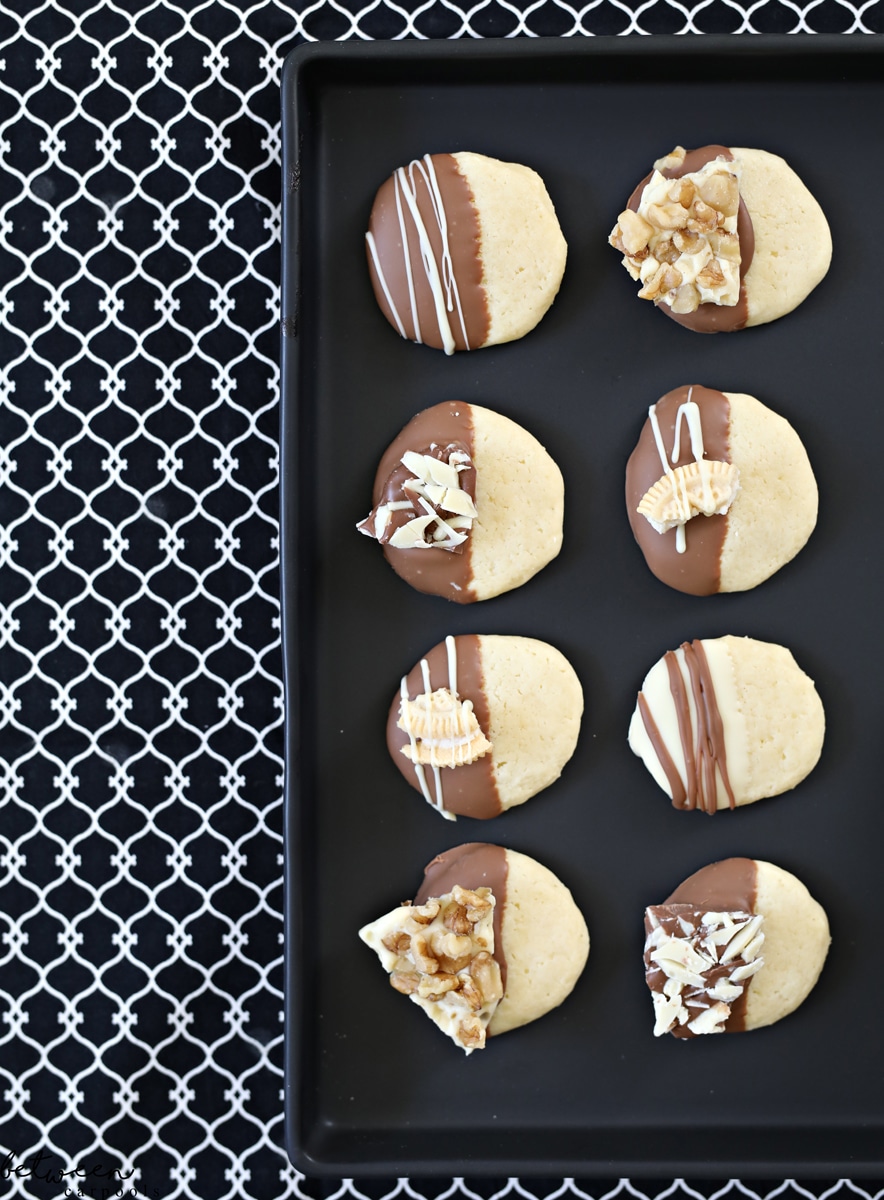 Cheesecake Cookie Bites
Ingredients
8 oz whipped cream cheese
1 stick butter, at room temperature
1 egg
1 ¼ cups sugar
1 ¼ cups flour
½ teaspoon baking powder
1 Tablespoon milk
Dairy chocolate, to decorate
Desired topping, to garnish
Instructions
In the bowl of an electric mixer, whip cream cheese, butter, egg, and sugar for 2-3 minutes. Add flour, baking powder, and milk and mix until combined. Dough may be sticky. Refrigerate for 30-45 minutes.
Meanwhile, preheat oven to 350F.
Shape dough into 1 ½ inch round balls. Pat down the center and place on a lined baking sheet. Bake for 10 minutes. The cookie should still be soft when you remove it from the oven. Let cool. Transfer to freezer.
Melt good quality milk chocolate. Dip one side of cookies in chocolate and sprinkle with desired toppings. Return to freezer to store and allow to come to room temp before serving.
Pro tip: If melting 2-3 bars of milk chocolate, use an immersion blender to blend the melted warm chocolate to create an even perfect consistency.
For more Shavuos delectables, see
this post