It's refreshing, it's different, and it's made from all fresh fruit and veggies and nothing else. This Fruit Punch from the restaurant Kalamata is a winner.
It was towards the end of our meal at Kalamata, a kosher dairy restaurant in Jackson, NJ (just across the border from Lakewood), when a waiter walked by with a huge tray filled with lots of glasses of this drink. He stopped at our table and we all had a try. 
We enjoyed our night, and each dish was delicious, with just the right creative twists, but sometimes it's the little things at the end…like the fun, expected drink…that gives a meal just the right finishing touch. 
I knew that a new summer drink would be just the thing that BCP readers would like, and the owner graciously shared the recipe (he also told me how they make those cauliflower poppers, but we'll save that for another time).
Note on the ginger – the amount depends on the thickness of your ginger. Also, ginger can vary in strength, so use your judgement. 
Use enough orange juice to allow the fruit to all blend to the right consistency. If you don't want to squeeze oranges, I personally like Smart Juice brand, which tastes more like freshly squeezed than other commercial brands of orange juice. 
I think I'm going to make a batch to serve this Shabbos afternoon.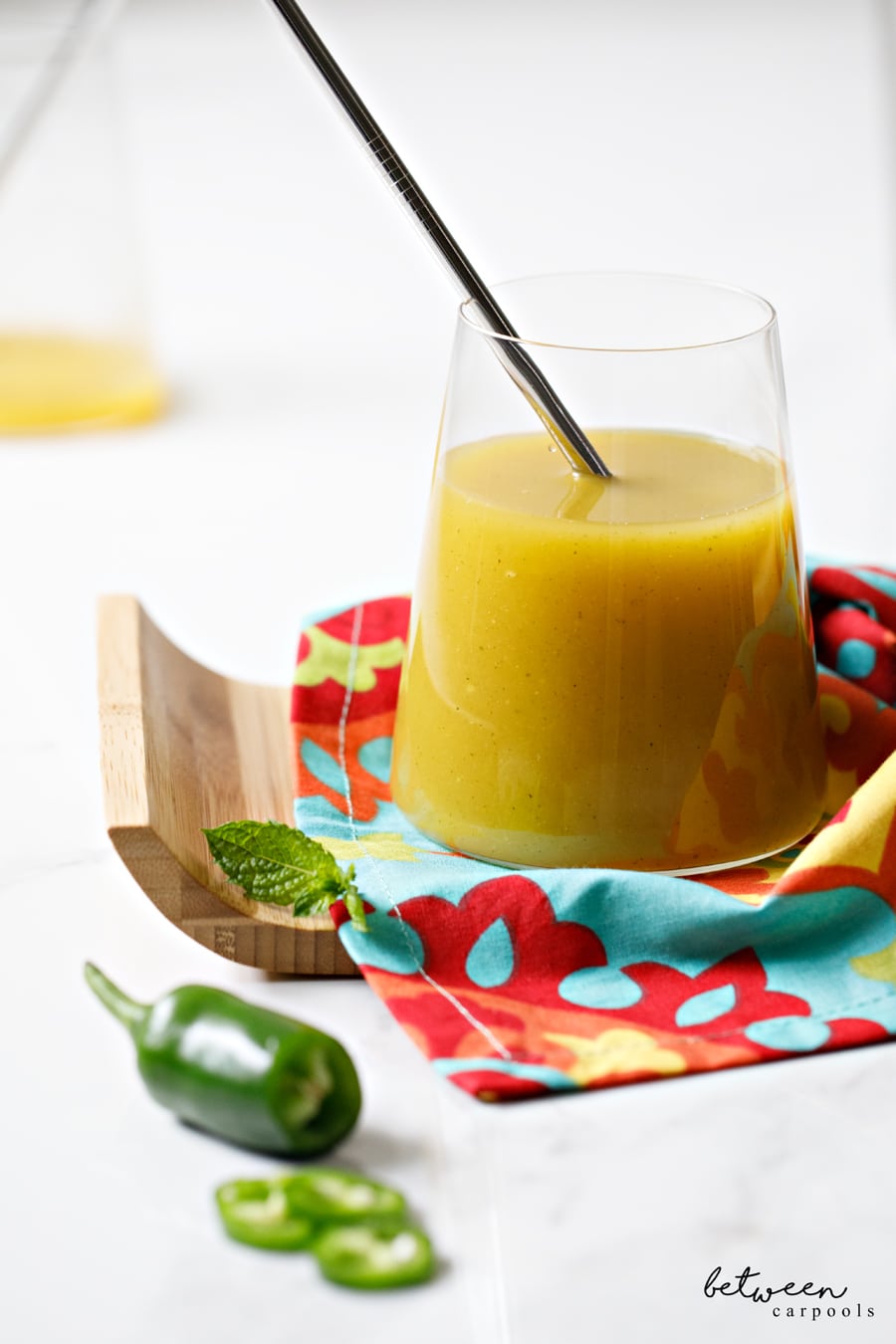 Kalamata's Fruit Punch
You'll need to split this in half to be able to make this in two batches in the Vitamix. If you have a smaller blender, you'll probably need to split it into three or four batches. 

Kalamata's Fruit Punch
Ingredients
1 cantaloupe, peeled and cubed
1 honeydew, peeled and cubed
1 pineapple, peeled and cubed
1 - 1 ½ inches ginger (depending on thickness), peeled
½ jalapeno, ribs and seeds removed
1 bunch mint
About 5 cups freshly squeezed juice
Instructions
Blend all ingredients together in a Vitamix, in multiple batches, as needed. Serve chilled.