It's usually passed over, but celery root deserves to star in a dish of its own. Why not? It's low-cal, easy to prep, and totally tasty.
With winter approaching, the seasonal spotlight is on root vegetables. A root vegetable that's underrated and hardly recognized is celeriac, more commonly known as celery root. The celery that we know and recognize, with the crunchy, green, leafy stalks, is the part of the celery plant that's visible during the growing process, while the root is the portion of the plant below the ground.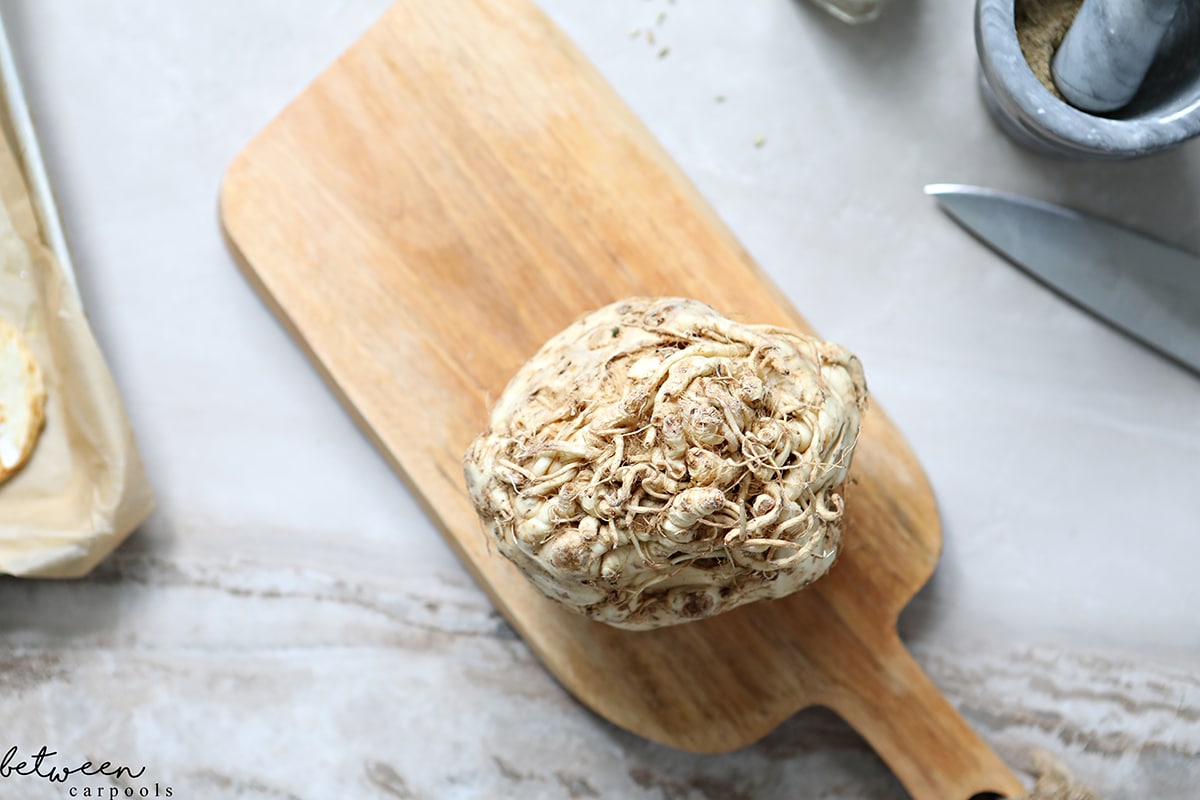 Browsing through the produce section you can spot celery root as a very ugly and gnarled looking light brown bulb-type root which is very bumpy and resembling a large turnip, but beneath its ugly, rowdy exterior lends a delicate, nutty, and mildly sweet flesh.
How to peel celery root: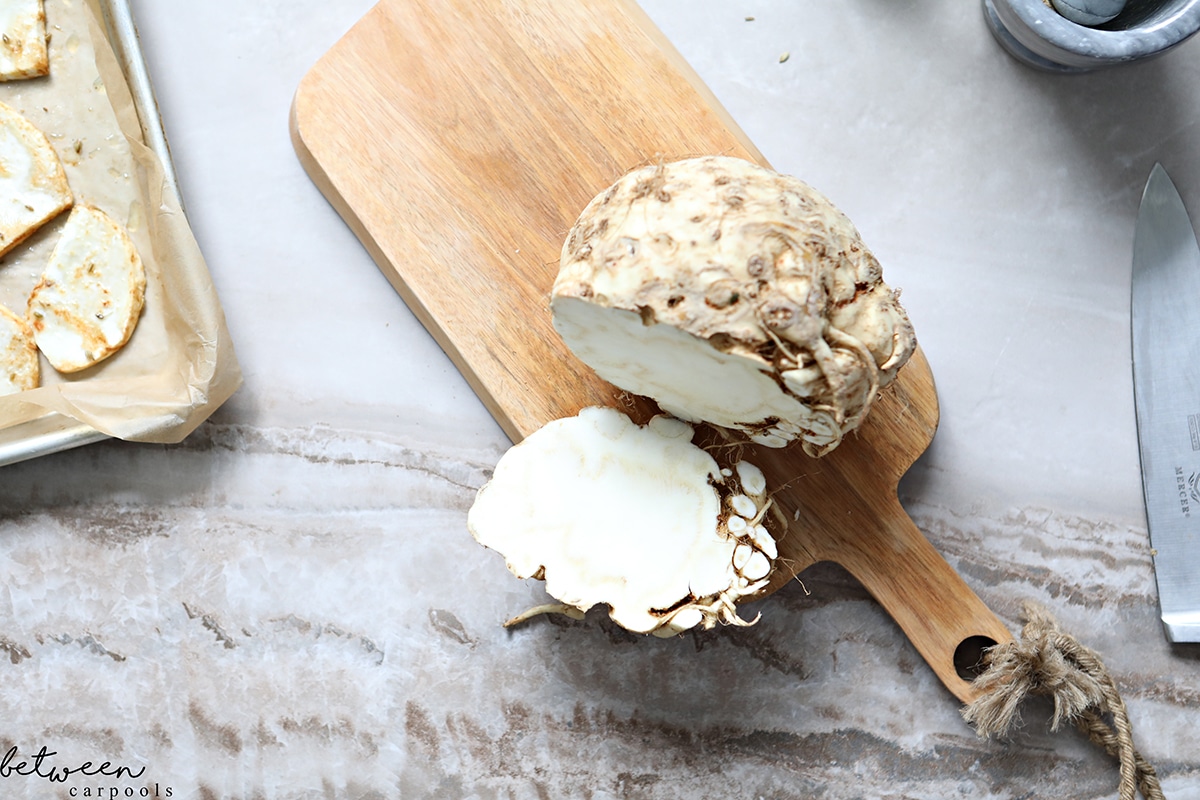 There is no obvious point of entry when dealing with celery root. Prepping it isn't complicated, though: Use a chef's knife or strong large knife to shave off the top and bottom of the root, exposing the pale flesh of the interior. Prop the root on one of the newly flattened exposed sides, and, using curved downward strokes, cut off the brown skin in long swaths. If peeling it with a knife seems to intimidating, use a peeler once you've shaved off the top and bottom of the root. Using a peeler, though, requires more of a workout.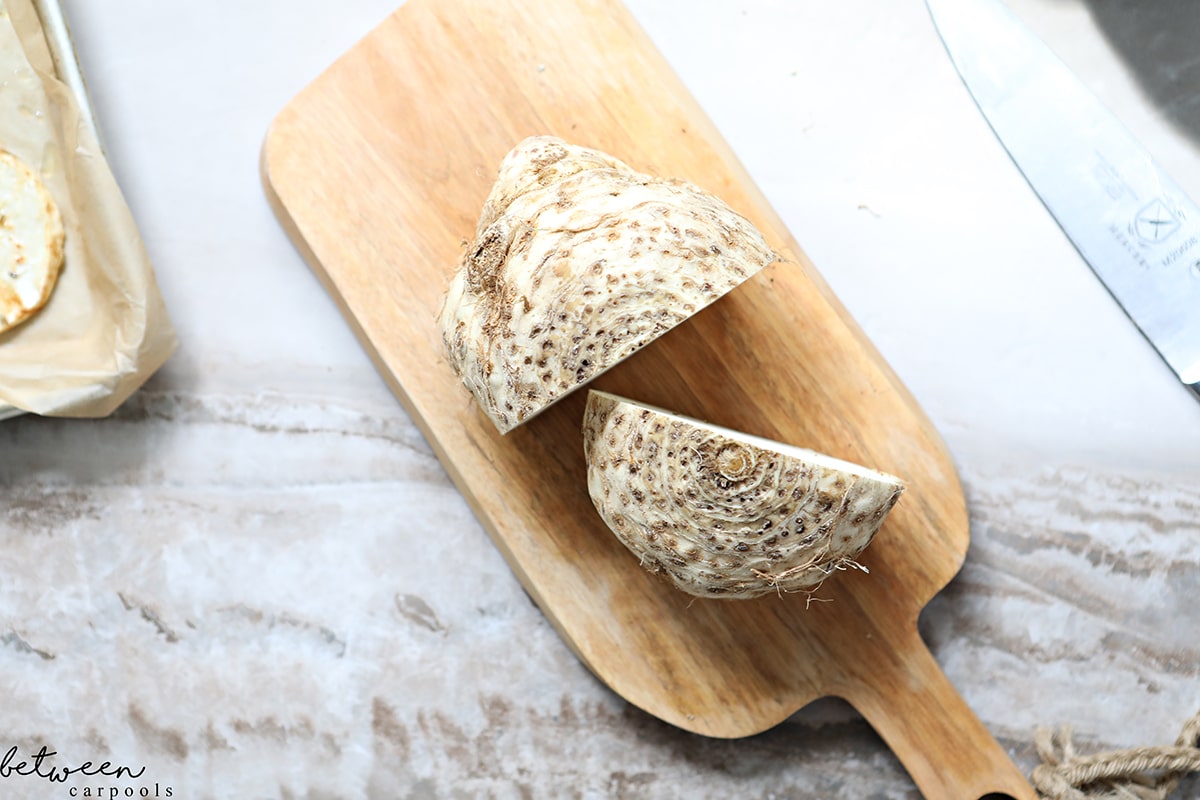 Once peeled, cut the root in half vertically as shown in the picture above. Further slice each half into moon slices ⅛-inch thick vertically.
Fennel Roasted Celery Root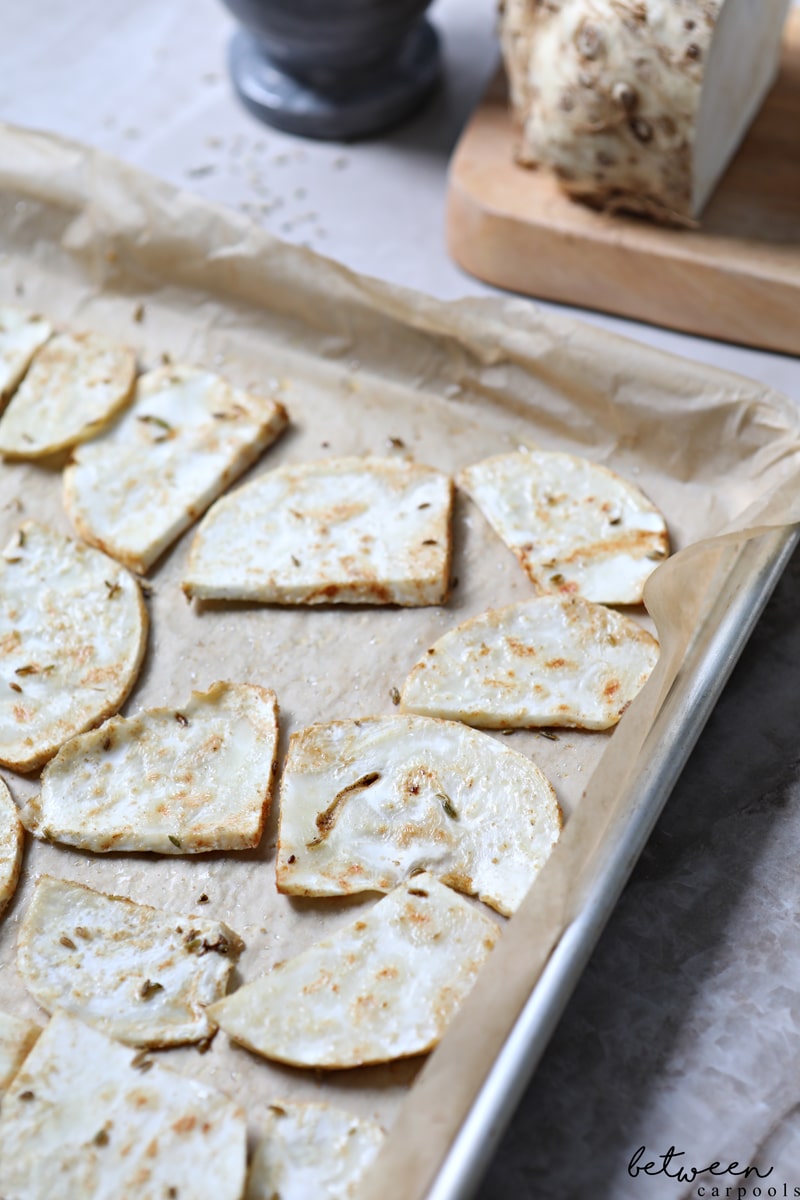 Celery root is a sweet, mild, comfort flavor that can take the brunt of flavors well. That's why pairing it with big bold flavors like fennel seeds and coriander seemed like the obvious. If you've come to know me, you've likely spotted it in a recipe or two, but on its own it's completely something else.
This recipe comes together in a matter of minutes and is completely healthy and wholesome.
Being that this is a vegetable with not much starch content, it can go from alive and crispy to wilted and soggy in a short period of time. Plan to roast them just before serving them for best results.

Fennel Roasted Celery Root
Ingredients
1 medium celery root
1 tablespoon olive oil
2 teaspoons fennel seeds, slightly crushed
1 teaspoon garlic powder
1 teaspoon cumin
1 teaspoon coriander
1 teaspoon kosher salt
Instructions
Preheat the oven to 350ºF.
Celery root just like potatoes, once peeled and exposed to oxygen, they turn brown. Plan and prep all other aspects before tackling the celery root.
Using a mortar and pestle*, slightly crush the fennel seeds, opening them and exposing their full flavor. Add the remaining spices and mix, set aside. Line a baking sheet pan with parchment paper (for easy cleanup) set aside.
Peel and slice celery root into ⅛-inch thick half moon slices. See detailed instructions above. Drizzle parchment-lined sheet pan with half the oil.
Lay slices down sporadically, leaving room between them to roast evenly. Sprinkle slices with half the seasoning mixture. Turn over the slices and season with remaining spice mix. Drizzle the remaining oil over the slices.
Place the sheet pan on the floor of the oven for about 10 minutes, the pans direct exposure to the heat will roast the edges of the celery root, leaving them brown and crispy. Turn over the slices and roast them on the second side for an additional 5 minutes, being conscious not to forget about them. They can go from beautifully roasted to burnt in minutes.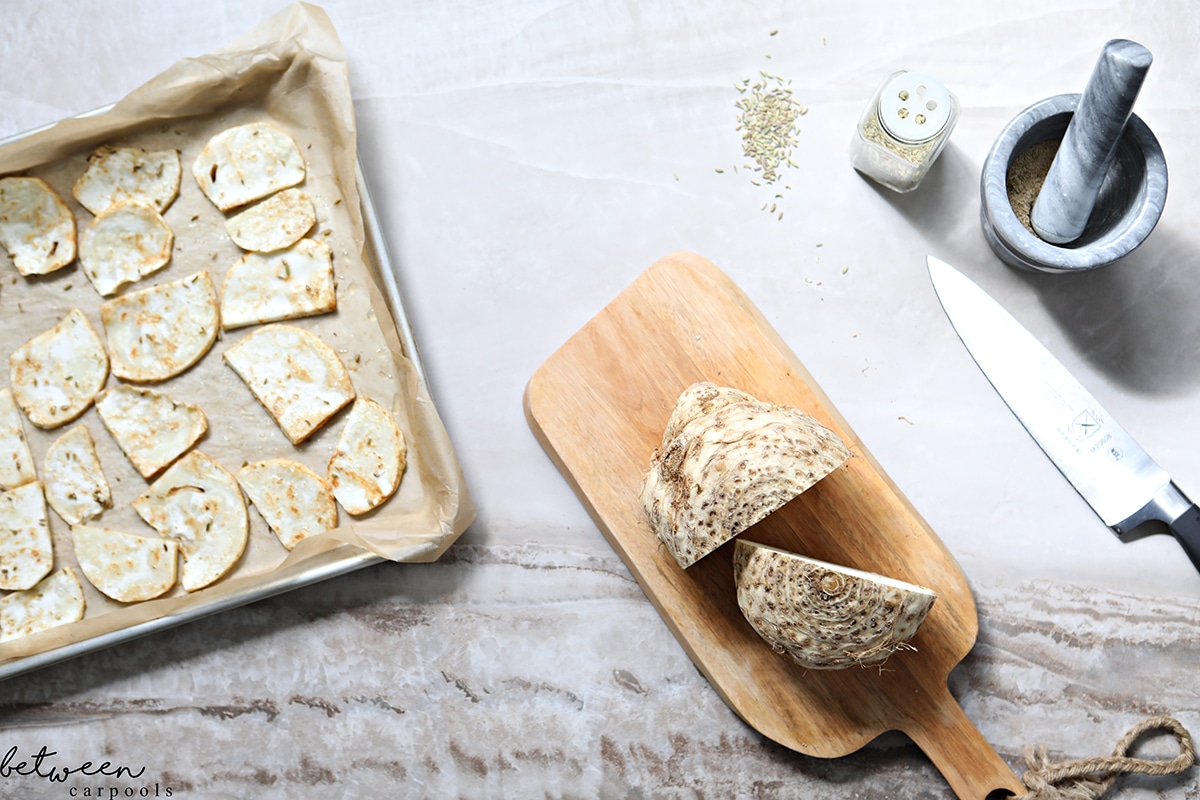 **No mortar and pestle no problem! Use a Ziploc bag and a mallet/hammer to do the same job. Place seeds in Ziploc and lay flat, using a mallet crush the seeds open slightly to expose their full flavor.