Our readers have asked us this question often: What brand of (no-pills, please!) black stockings or tights do you prefer?
Well really, it's a super easy question to answer. Amongst BCP, most of us prefer the same two brands. I like Esatto because they're super comfortable and they don't pill. It's a fav for Shaindy also. Whenever choosing a pair of tights from the drawer, I always look for the Esatto tag. Leah and Esti like Memoi, either these or these extra thick ones. Renee likes either of those brands.
But, in order to diversify the recommendations a bit, we asked BCP readers what kind of tights they love to wear most.
Ready to hear?
A few of you shared my affinity for Esatto, but the overwhelming favorite of the BCP audiences was Memoi, followed by Melas.
"Memoi…killer!"
Some of you were specific in regards to which Memoi is your favorite. A bunch of you recommended the 90 Denier Firm Fit Collection ($9.99). Others liked the Velvet Touch 80 Denier  ($7.99) version. Others love the ribbed versions for a little extra style (this is a thinner rib ($8.25) and this is a thicker knit tight ($11.70) that's great for really cold days with boots). You can also find the shaping tights (with a thick waistband) on sale over here.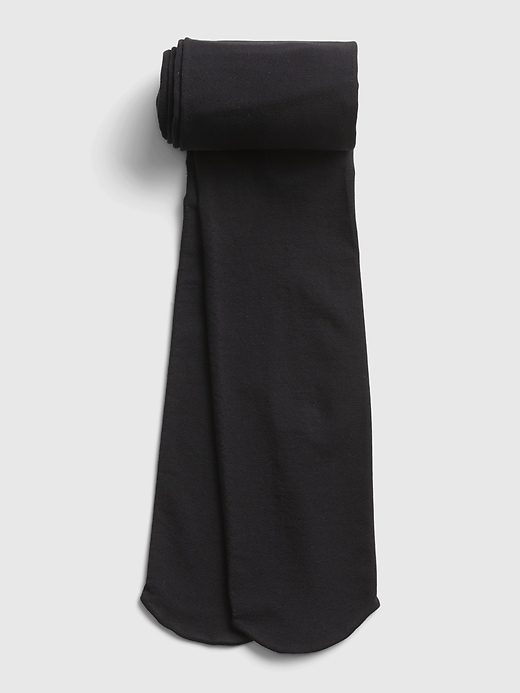 "Melas for the win! Hands down!"
Melas ($6.49) also got loads of love from the BCP audience. Really loads. You can also get a 6-pack here. 
So there we have the most popular. But there are some other favorites too!
Lots of us grew up in DKNY and Hue and they still have a lot of enthusiastic fans. The crowd picks are the DKNY Super Opaque tights ($16) and the Hue Blackout Tights ($11 – on special today). On the Hue: "Thick and last forever! Size down they run big."
Spanx is a great pick for those special occasions when you want extra control. Here's the 60 denier  ($28) and this High Waist version ($38). One of you loves the reversible color tights. ($34).
Levante's 80 Denier Tights which are made in Italy ($15.75) are a great premium pick too. 
Finally, there are some brands that have just one or two mentions but are still worth sharing. 
Like in the UK? One reader was really enthusiastic about Marks and Spencer. "They never rip and are comfy!"
Another likes the Yummie brand tights at Costco (also available here. $11 for 2). If you live near a Primark store, you can nab a great deal on tights there too, says another reader (not available online). Another liked Nordstrom's store brand tights ($15) and yet another says about Gap Opaque tights, "They're so, so good. They never rip and they survive the dryer." 
There are also votes for H&M Tights ("The higher the denier, the better," prices vary), Wolford ($50, definitely a luxury brand), Berkshire ($11), Hipstik Lace Top Tights ($32), Commando ($40), No Nonsense ($18.99 for pack of 3), and Uniqlo's Heattech Tights ($7.90 on sale) "No control top but thick and lasts forever." 
Lastly, there's a Sireco fan (sold in Jewish stores but hard to find); another likes these by Simply Vera Wang, sold at Kohls, and finally, the Theatrical Dance Tights from Discount Dance Supply ($6). Interesting! 
Did we miss any? What do you love? Share specifics below. And remember: we want those no-pill good quality comfy ones you actually like to wear!