I baked these apple cider donuts and then invited the girls over to taste. The verdict: We gotta spread the word.
This might be strange, but I prefer baked donuts to fried ones. It kind of defeats the whole Chanukah connection thing, but that's just the way it is.  And when I came across this recipe for baked apple cider donuts on the Katie Bird Bakes blog, I knew I had to try it. Apple cider, cinnamon – what's not to love in this donut?!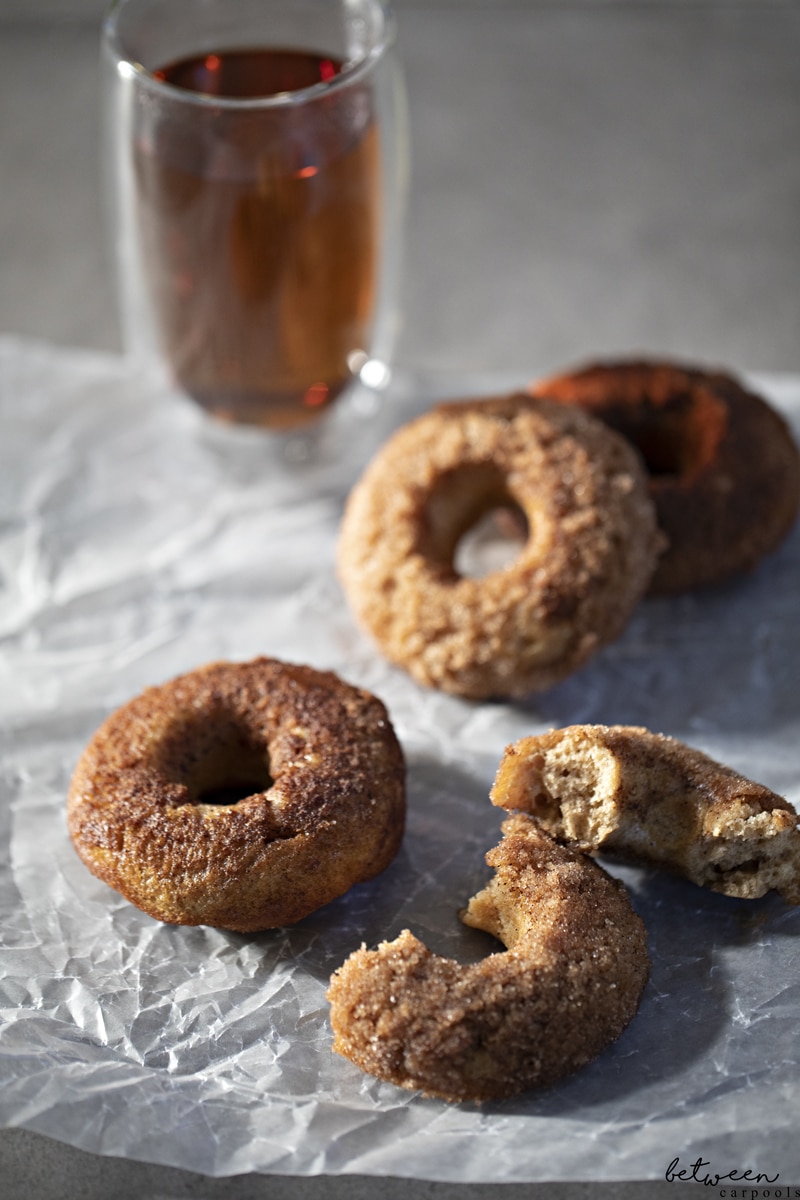 First I made the donut just as the recipe was written (minus the cloves because I didn't have any) and it was just as good as I anticipated. But then I decided that I needed to try a non-dairy version so it could be served at any Chanukah party, and also so that the dairy-sensitive family members could also enjoy them.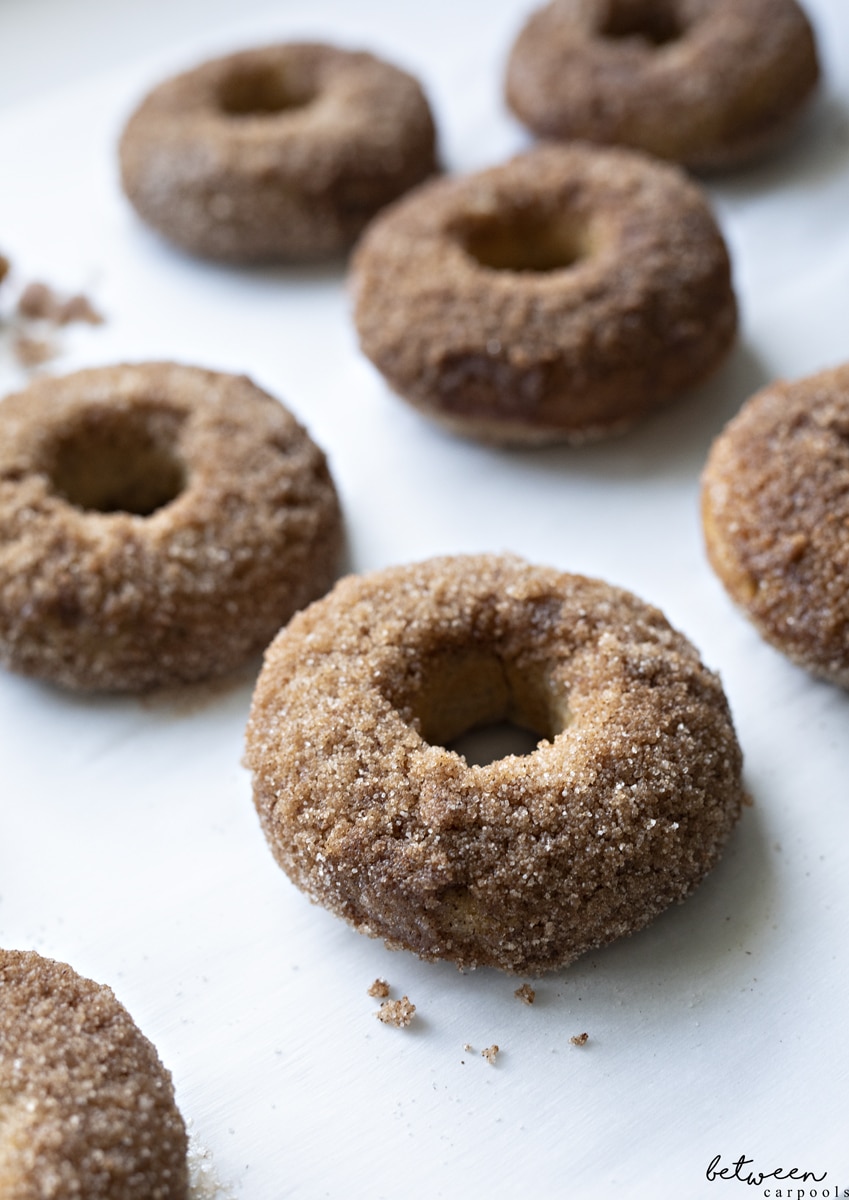 I played around with a few versions and, while it's not quite the same taste as the buttery one, it's *almost* as delicious. And, of course, doubling is necessary because who makes just 8 donuts?? I used this donut pan, which comes with two, to bake a dozen at a time.    

Baked Apple Cider Donuts
Author:
Adapted from: katiebirdbakes.com
Ingredients
For the Baked Apple Cider Donuts:
2 cups apple cider (see instructions below)
6 tablespoons Earth Balance or margarine
½ cup sugar
2 large eggs
4 tablespoons Tofutti sour cream
1 teaspoon vanilla
2 cups all-purpose flour
1 teaspoon cinnamon
Pinch nutmeg
Pinch salt
1 teaspoon baking soda
1 teaspoon baking powder
For the Cinnamon Sugar Topping:
3 tablespoons Earth Balance or margarine
ºRemaining reduced cider (see instructions below), about ¼ cup
1 cup sugar
1 tablespoon cinnamon
Instructions
Preheat the oven to 350ºF. Grease two 6-cup donut pans (or one, you'll just have to re-use it for the next batch).
In a small saucepan, heat apple cider over medium heat, stirring occasionally. Bring to a simmer. Let simmer until reduced by about half, around 10 minutes. Remove from heat and whisk in margarine until melted and combined. Let cool. Mixture should be a little syrupy in texture. You need 1 cup of this reduced cider for the donuts, and a ¼ cup for the glaze.
In a large bowl, whisk 1 cup of the cider mixture, sugar, egg, sour cream, and vanilla until well-combined.
In a separate medium bowl, whisk together flour, cinnamon, nutmeg, salt, baking soda and baking powder. Add to wet ingredients and stir until just combined. Do not over mix.
Spoon or pipe batter into donut pan until ⅔ full (if you only have one pan, you'll have to bake in batches).
Bake for 9-11 minutes, until risen and browned on the edges. Let cool for 2-3 minutes, then remove from pan and let cool on a baking sheet or wire rack.
Prepare the topping. While the donuts are baking, whisk together ¼ cup cider mixture with 3 tablespoons melted margarine in a small bowl. Whisk together sugar and cinnamon in a second bowl.
Working with one donut at a time, dip one side of the warm donuts into the cider mixture, then into the cinnamon sugar mixture. Coat donuts with as much cinnamon sugar as possible!
Notes
These are best fresh but will keep in an airtight container at room temperature for two days.