So you thought babka needs to be sliced? This babka is simply pull, pull, pulled…and then poof…it's gone.
When I was growing up, I took my mother's cooking for granted. She has always liked experimenting with new recipes and unique ingredients. Looking back, I think she was a bit of a foodie before it was officially a word.
When I got married and began cooking, I gained both an appreciation for my mother's inventiveness…and the constant aromas of my mother-in-law's baked goods. I bring both of their influences into my own kitchen. It's rare that you can walk into my mother-in-law's kitchen and find that she's not baking. Although all her baked goods are beyond amazing, this is an all-time favorite.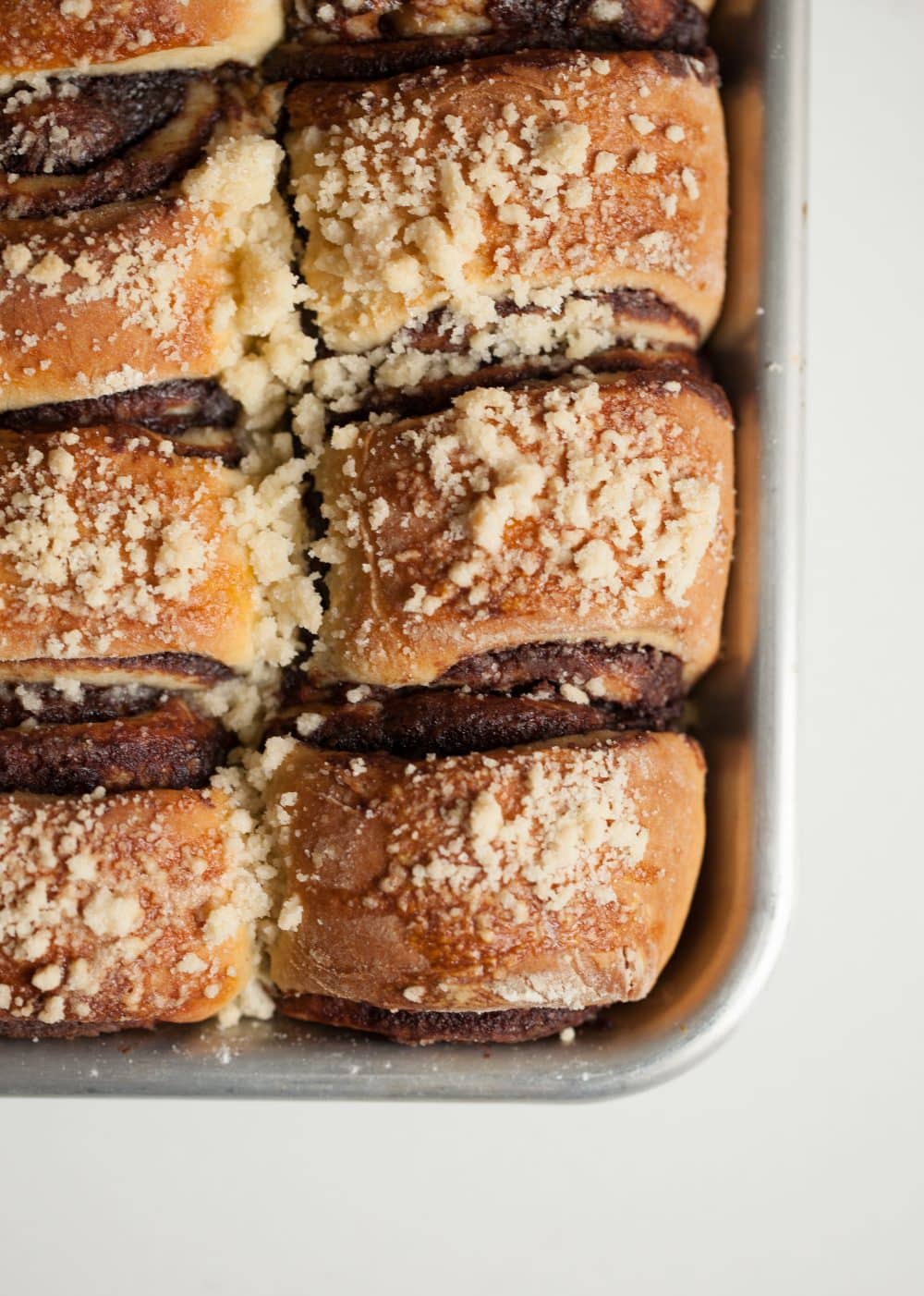 Babka Buns
Ingredients
Dough:
2 ounces yeast (3 packets or 6¾ tsp dry yeast)
1 ¾ cups warm water
7 cups flour
3 sticks margarine, softened
¾ cup sugar
1 tablespoon vanilla sugar
2 teaspoons salt
2 whole eggs
2 egg yolks
Filling:
1 cup cocoa
2 cups sugar
½ cup water
1 egg
1 (approx. 4-ounce) package instant chocolate pudding
2 sticks margarine, melted
Streusel Crumbs (optional):
1 stick margarine
1 cup flour
¾ cup sugar


Instructions
In a small bowl, dissolve yeast in water.
In the bowl of an electric mixer, combine flour, margarine, sugars, salt, eggs, and yolks. Add yeast/water mixer and mix to combine. Let dough rise for 1 hour. The dough will be sticky.
Prepare the filling. In a medium bowl, combine cocoa, sugar, water, egg, pudding powder, and margarine, and mix with a spoon. Set aside.
Prepare the streusel crumbs, if using. In the bowl of an electric mixer, or by hand, combine margarine, flour, and sugar and mix or knead to form crumbs. Set aside.
Preheat oven to 350F. Line a baking sheet with parchment paper.
To assemble, divide dough in 4 equals parts. Roll out each part on a floured surface into an approximately 6-inch by 18-inch rectangle. Spread filling evenly over doughs and roll each up into a long strip.
Cut strips into 1 ½-inch pieces. Line up buns in rows on prepared baking sheet, leaving ¼-inch space between each piece. Sprinkle with streusel crumbs.
Bake for 30-45 minutes, until golden brown. I like to lift out one bun to make sure the bottom is not raw before removing from oven.