Our basic section wouldn't be complete without the most basic Jewish food of all – some classic chicken soup. 
We all agreed that we needed to have a BCP Basics post about chicken soup. But we couldn't all agree on the best recipe. Because everyone knows, chicken soup is personal. There's no right way or wrong way, but we figured we'd put together our favorite recipes and techniques and let you choose the one that works best for you.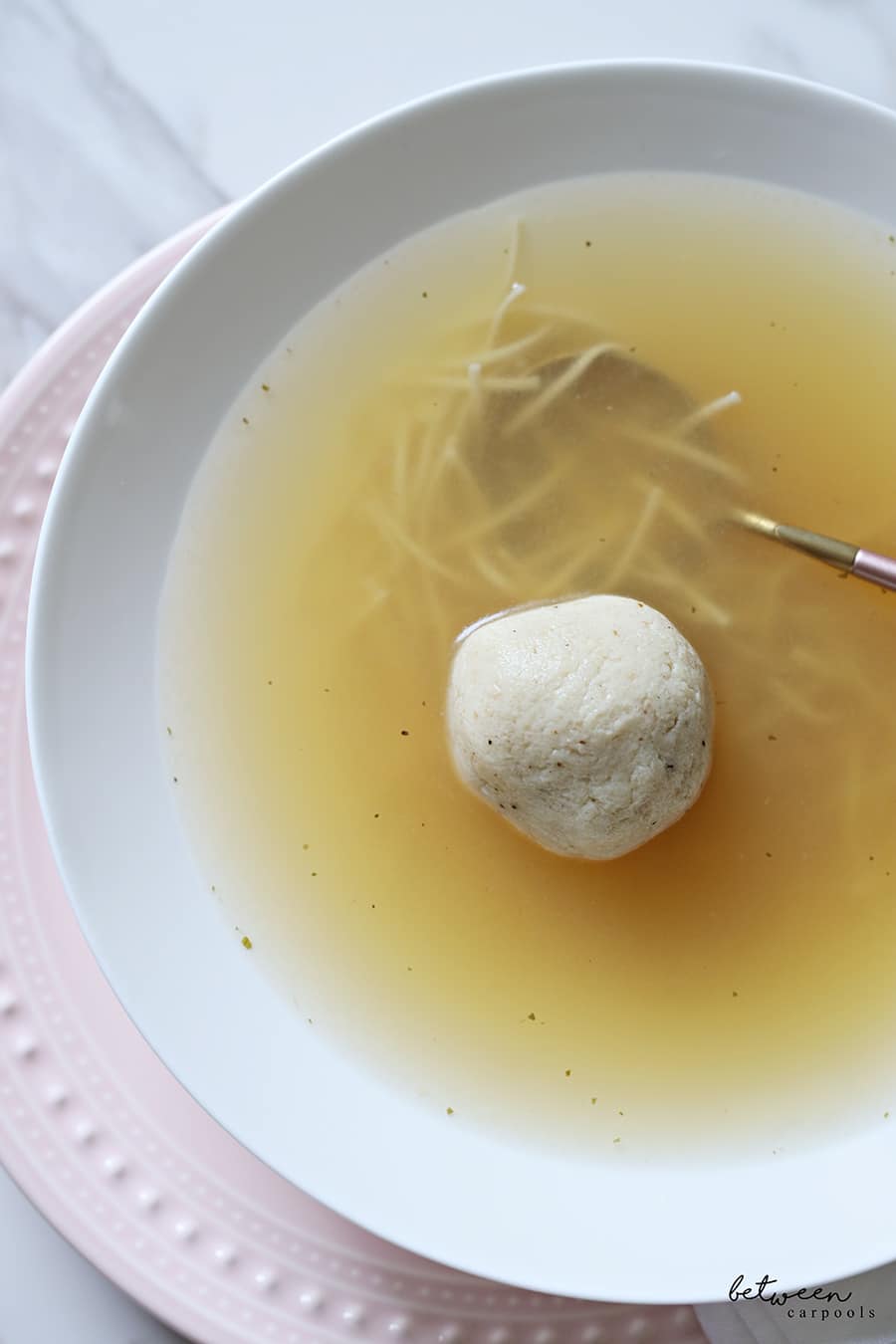 Leah's Chicken Soup:
In a large pot, put lots of carrots and 2 onions. Place chicken bones (optionally add a turkey neck), kohlrabi, turnip, knob celery, parsnip, and sliced leek all in a mesh bag and add to pot. Cover with water and bring to a boil. Keep skimming off the scum that comes to the top. You don't want the soup to boil for too long, as that makes for a cloudier soup. Lower heat and keep it right at a simmer once it boils. Cook for 4- 5 hours semi-covered. Then, season generously with salt and drop of pepper. Sometimes I add a tablespoon of chicken soup mix at this point. Yes, you can get the msg-free version. If not then I'll add parsley leaves and garlic cloves. 
At this point the soup water level has dropped and I add lots of zucchini. I find that by adding it after a few hours of cooking, I can cook the soup longer and not worry about the zucchini falling apart. Cover with lid, leaving it open a bit and cook for an additional 2-3 hours until it's soft and soup is golden. 
Usually the soup needs a bit more salt for seasoning. However, most of my family likes salting their food, so I usually under-salt my soup slightly so that they don't overdo the salt.
I usually cool the soup. If it's Thursday, I put the soup in the fridge and on Friday morning I remove the mesh bags and transfer the soup to a small pot and put aside some of the soup for the freezer. I generally make soup 3 times a month and rely on the frozen soup for really busy weeks. Those few weeks that I take from the freezer, I reboil the soup with fresh zucchini.
Shaindy's Chicken Soup:
I start by adding a lot of chicken bones to a hot pot. I sometimes add a piece of flanken, as well. Then I add the vegetables on top. The chicken will brown a bit while I peel and add the veggies. I put in 4 large carrots, 1 large or 2 small zucchini (peel it striped), 3 stalks of celery, 1-2 kohlrabi (really adds to the flavor), turnip, parsnip, and 2 garlic cloves. Only then do I fill the pot with water. Add 2 tablespoons salt and pepper to taste. 
I find the trick to a clear golden soup is to bring the pot to a boil but not to let it boil beyond that point. Once it reaches a boil, I quickly lower the flame and let it cook for hours with the cover slightly open. I put it up on Friday morning and then let it cook until Shabbos. Before Shabbos I transfer the whole pot into my oven and the result is a very clear delicious golden soup. 
Renee's Chicken Soup:
My chicken soup relies on lots of different factors for depth and flavor. Start by adding the protein to the pot:  I like to use some chicken bones, chicken gizzards or necks. I also use turkey (wings, necks, or even a drumstick) – whatever you can get your hands on. Turkey adds a lot to a chicken soup. I sometimes add a piece of brisket, usually that uneven corner of a roast I'm cooking anyway. 
Then come the vegetables: a few carrots (the thicker the better; thin carrots aren't usually sweet enough), one parsnip, a few celery stalks, one knob celery (celery root), one zucchini, 3-4 onions, 5-6 cloves of garlic, a red pepper (adds color and flavor), and 2 leeks. Season with salt and pepper, paprika, garlic powder. Add water to cover and cook for about 4 hours. 
Esti's Chicken Soup:
Place lots of chicken bones in a mesh boiling bag and place in a large soup pot. Peel and cut carrots and celery in small pieces and add to the pot. Peel two parsnips and one kohlrabi and add to the pot whole. Peel a sweet potato and put in another mesh bag. Fill the pot almost to the top with water. Season with salt and white pepper. Bring to a boil and then immediately lower to a simmer for many many hours. 
In the last hour or two of cooking, cube a couple of chicken breasts and place in another mesh bag. Add to the soup. If I'm making the soup on Thursday, I add the chicken to the pot on Friday when I'm reheating the soup. When the soup is done, I discard the bag of bones and the parsnips/kohlrabi. The sweet potato makes the soup very messy if you touch it with your ladle. I like to remove it whole in the mesh bag and then it doesn't leave any pieces behind. I serve the soup with the carrots, celery and chicken pieces. The bonus to putting all the chicken in mesh bags is that the scum sticks to the bag and comes out along with it. I don't usually have to skim my soup.
(Victoria decided to leave this one to the Ashkenazi women on the team….)