And by basics, we mean use a good ol'  pot. 
Try it one time and you won't go back. Of course, microwave popcorn is super convenient and quick…but…as fresh as it is, there's still something stale about it. Know what I mean? No? That's probably because you need to try it our way and taste the difference. Grab a pot. 
Speaking of pots, you want to use one that is a nice size (think your pasta pot or your soup pot). 
Next thing you need to do is make sure you have popcorn kernels. You will find those near the beans and lentils in the dry goods aisle of your supermarket. And yes, they are super cheap. Another reason to opt for stovetop popcorn. 
So, here goes.
You will need:
2 tablespoons oil (olive oil works fine)
½ cup popcorn kernels
Salt, to taste (we used this popcorn salt, it's amazing! More on that below)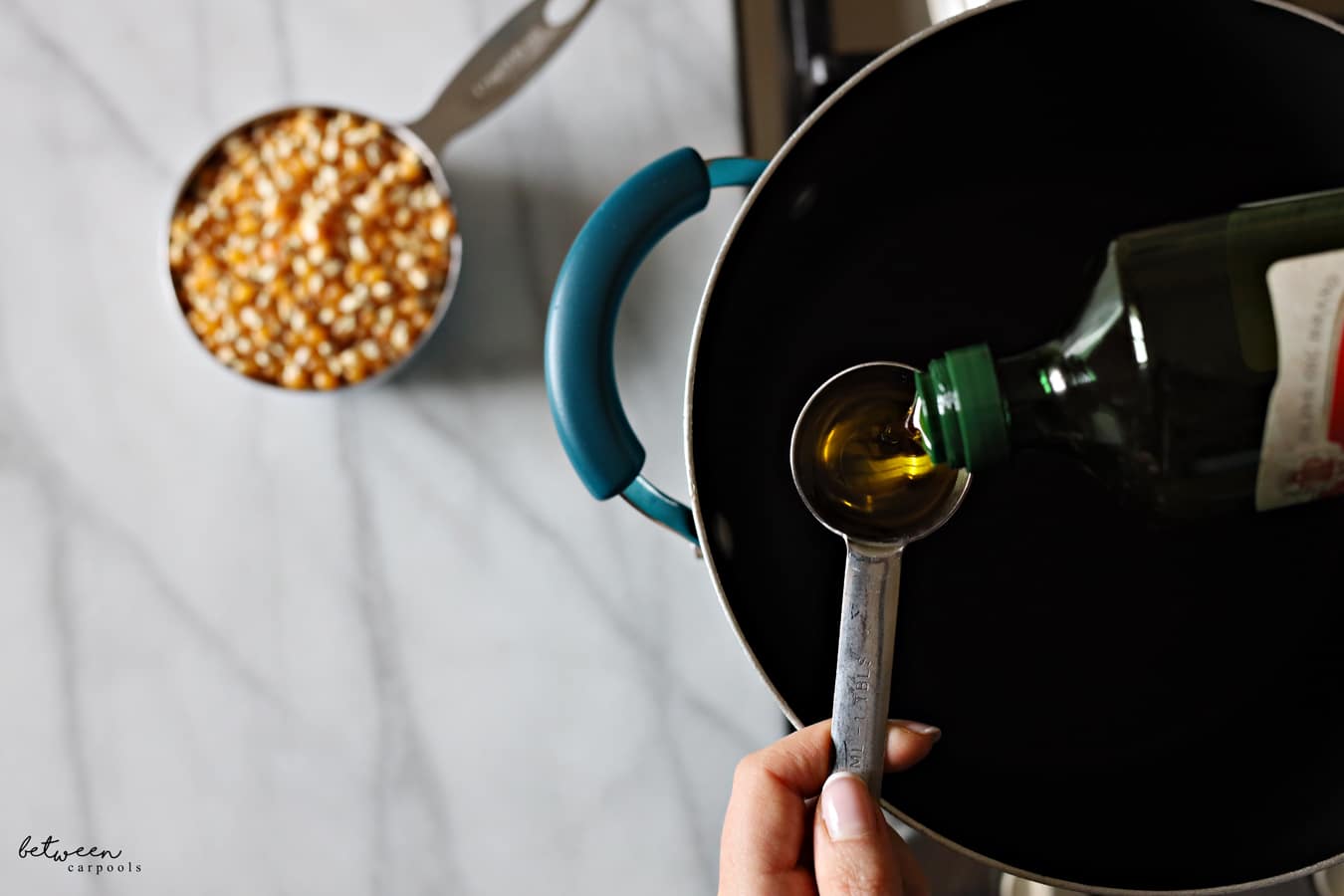 In a large, heavy-bottomed pot over medium heat, combine the oil and 3 popcorn kernels. Cover the pot and wait for the kernels to pop, which might take a few minutes. In the meantime, place a large serving bowl near the stove so it's ready when you need it.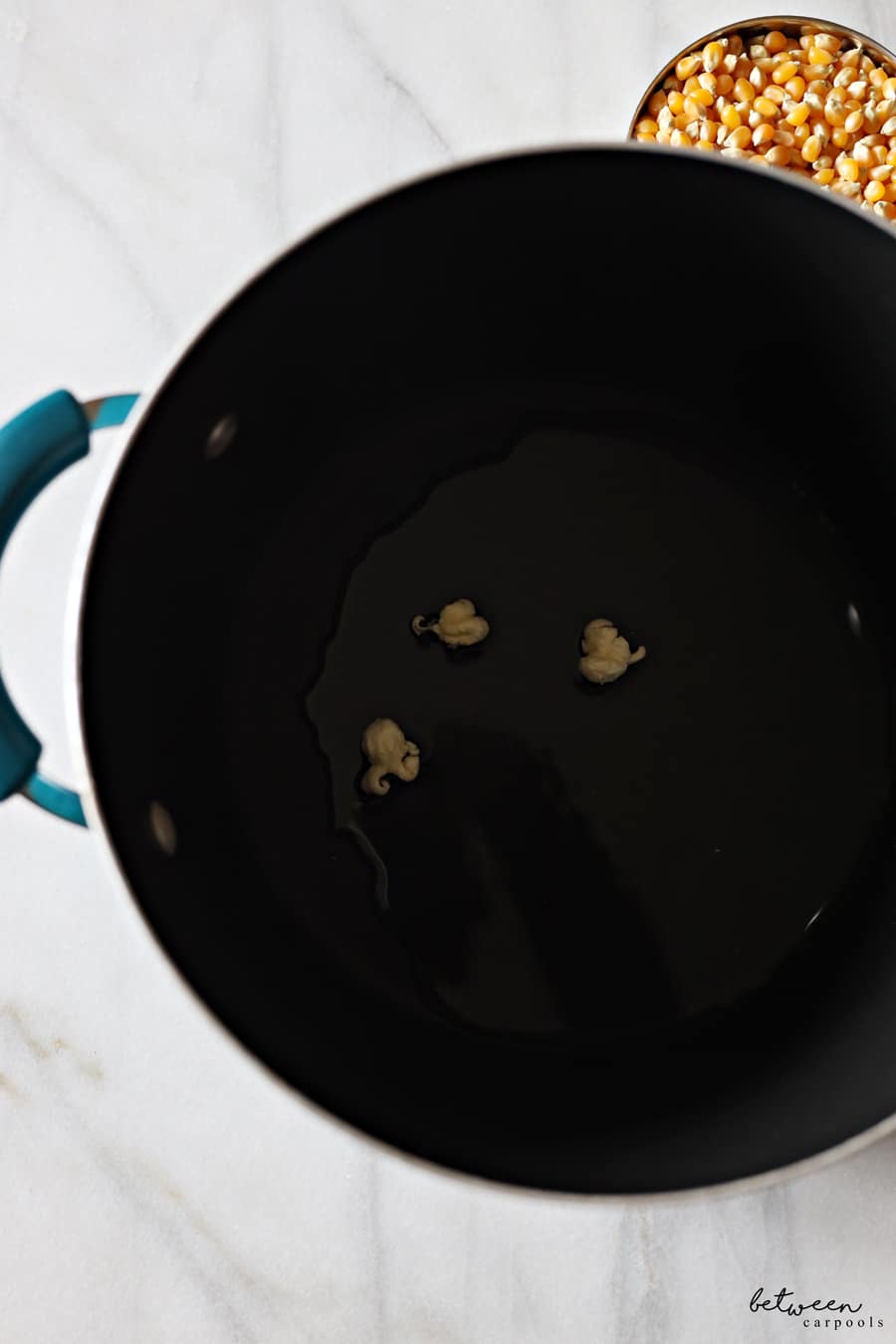 Once the kernels pop, turn off the burner, remove the pot from the heat, remove the 3 popped popcorns carefully (use a spoon) and pour in the remaining popcorn kernels.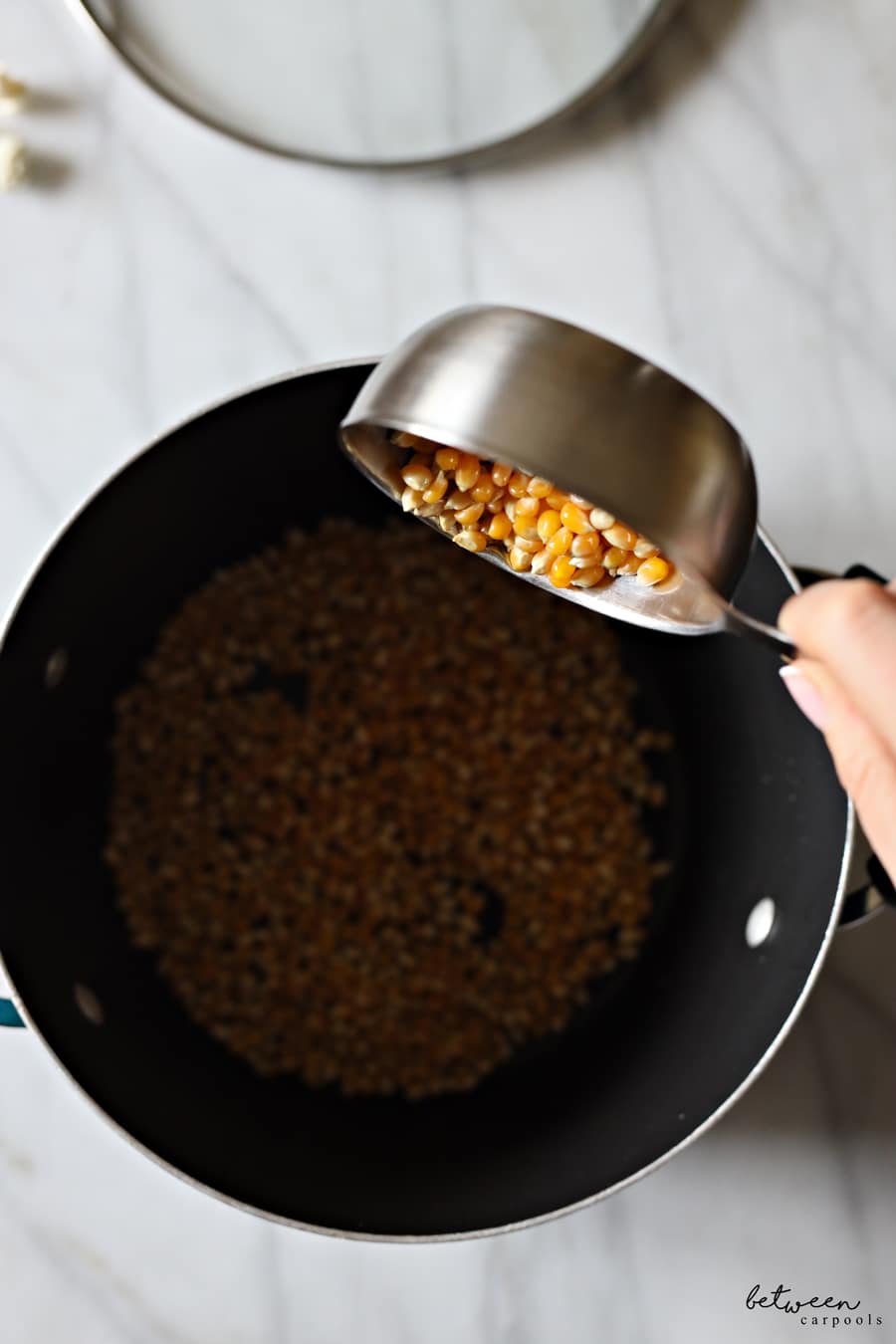 Cover the pot again, and give the pot a little shimmy to distribute the kernels evenly.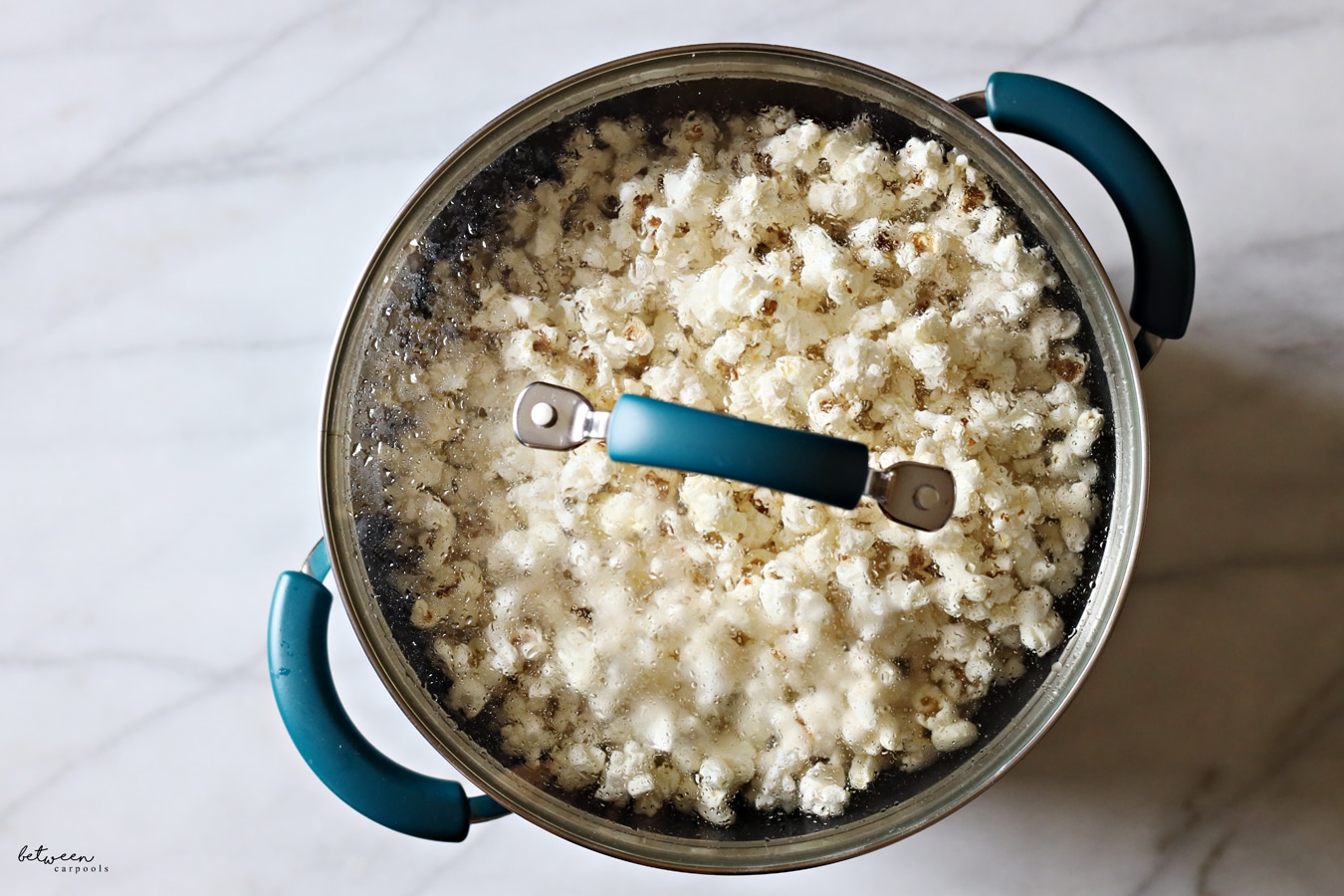 Turn the heat back up to medium, put the pot back onto the burner and continue cooking the popcorn, carefully shimmying the pot occasionally to cook the kernels evenly. Once the kernels start popping, tip the lid just a touch to allow steam to escape (see photo). This will ensure that your popcorn won't turn soggy. 
Continue cooking until the popping sound slows to about one pop per every few seconds. (If the popcorn tries to overflow the pot, just tip the upper portion of popcorn into your bowl and return it to the heat.)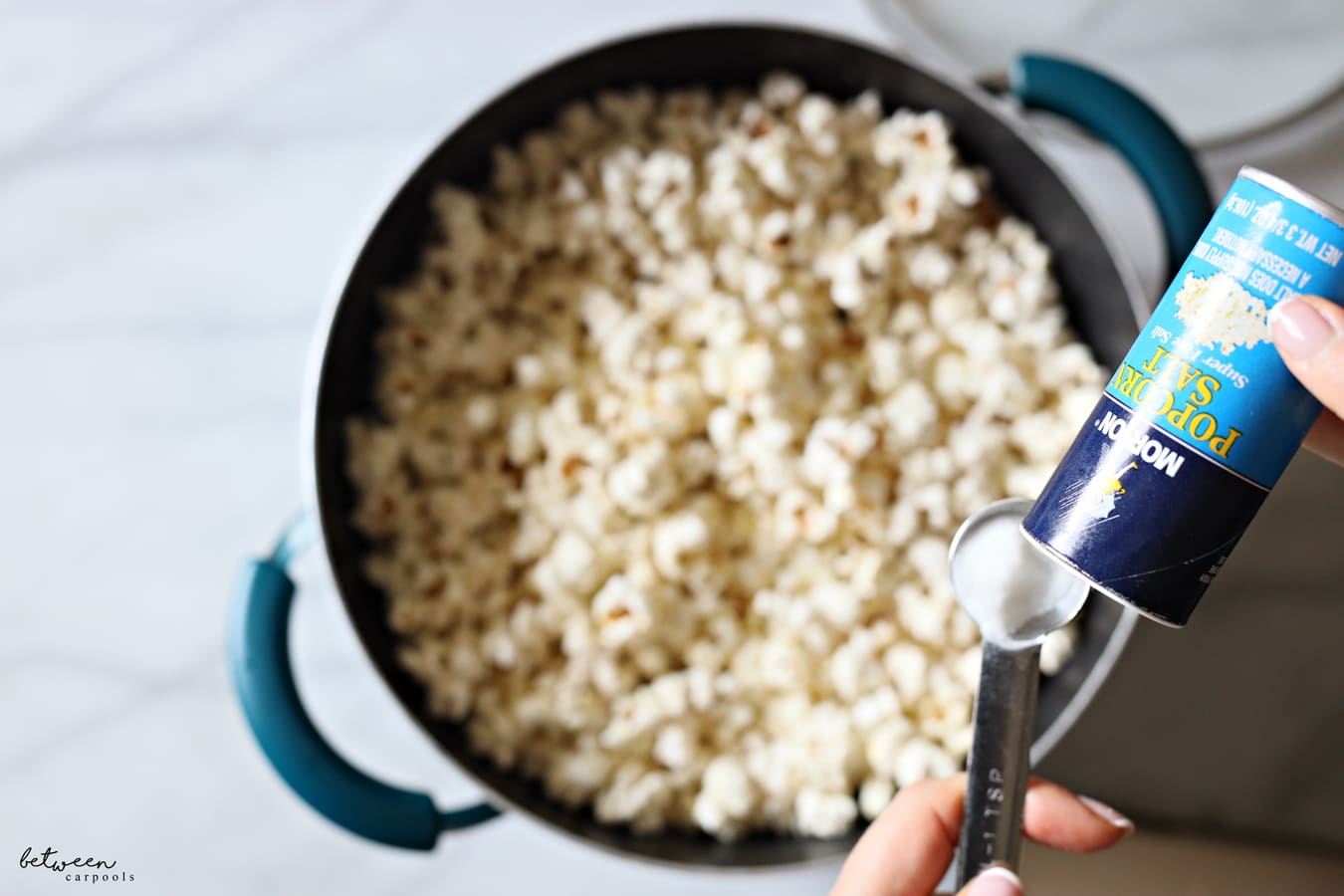 Remove the lid and dump the popcorn into your serving bowl. Sprinkle the popcorn with a couple pinches of salt, to taste, or  any other topping you would like. Esti introduced us to popcorn salt and we are hooked! Why did nobody ever tell me such goodness existed? It's super fine salt that actually sticks to every little bit of popped corn. Game changer. 
Toss the popcorn and serve immediately, for best flavor and texture. The popcorn will still taste good for several hours.
If you want to try something incredibly good use your popcorn and elevate it to this winning chocolate popcorn treat that we love.