They're easy to make ahead and the reward is crispy edges and cheesy, oozing filling.
I don't know why this is particularly a Syrian thing, but baby pizzas are a staple (perhaps because they're the dairy alternative to lehme b'agine?). They're at every formal dairy meal and break-the-fast. The mini versions are perhaps more common than the big ones on dinner rotations too.
Mini pizzas, while super easy to make fresh, are not so good when they're reheated. They either get overcooked or the cheese simply doesn't look so appetizing the second time around. And if you're assembling, freezing, and baking fresh, 24 little pizzas will monopolize your whole oven.
Plus, sometimes we just need a change.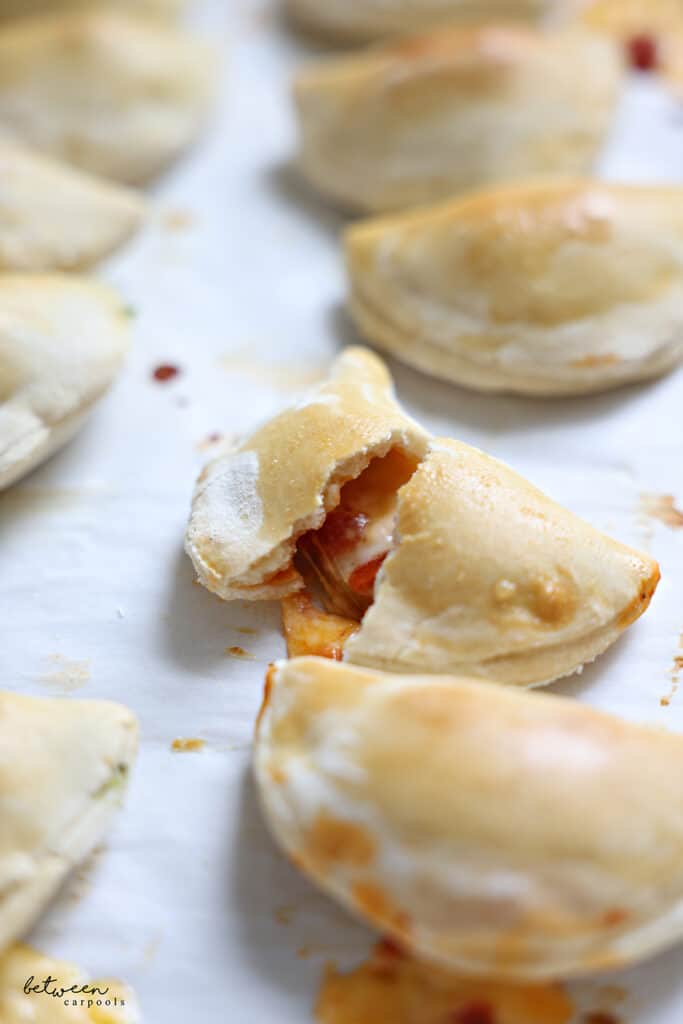 There are a bunch of things that I really like about these calzones.
You can make lots of different fillings. I fill mine with these three combinations… a pizza version, a cheese-and-broccoli version, and regular cheese. Our cheese mixture is not just cheese. The combination of cheese, mayo, and fresh garlic makes our filling extra creamy, gooey, and flavorful.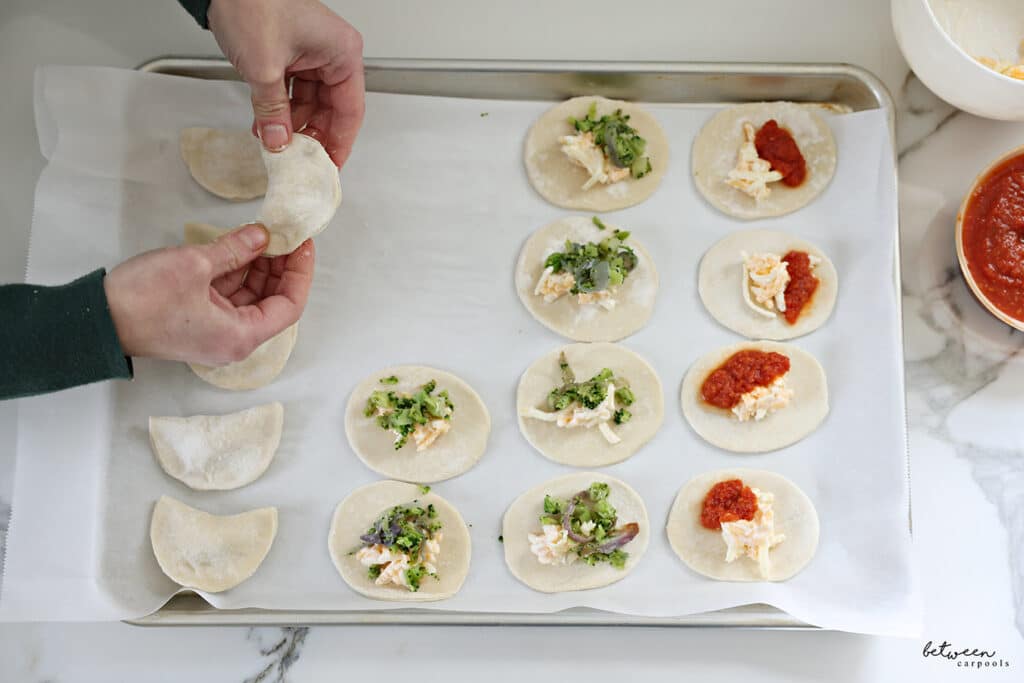 Let your doughs defrost completely. It's even good if you let them get soft and rise a bit. The quantity of cheese that this recipe calls for will be enough to fill 24 calzones.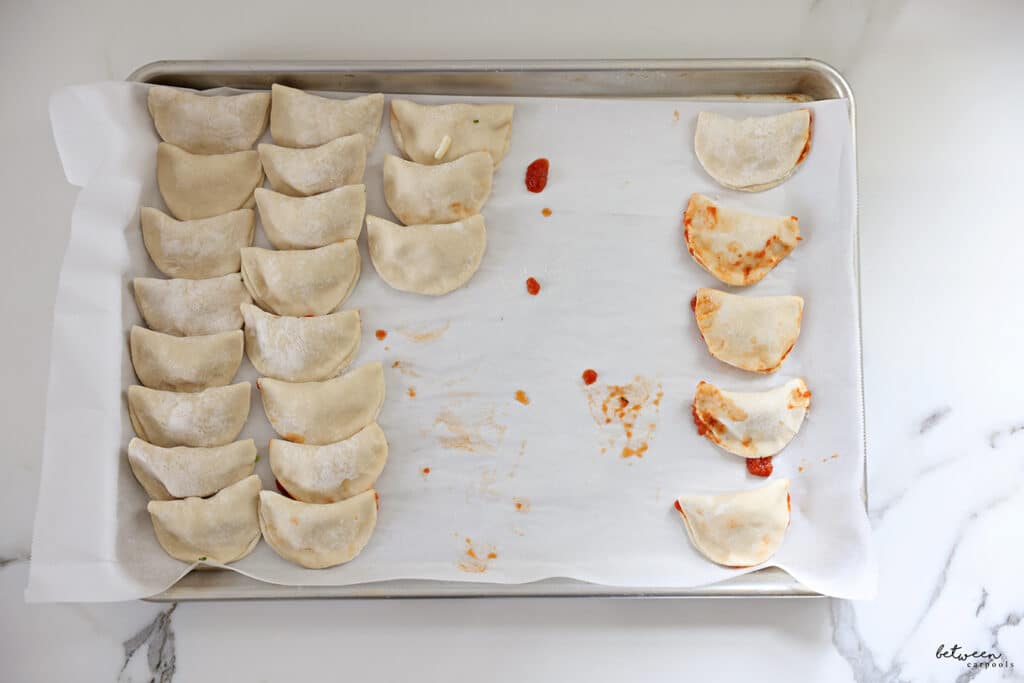 To close, simply fold over and seal closed. I really don't mind when these are a bit messy, because then I have a clue as to what's inside!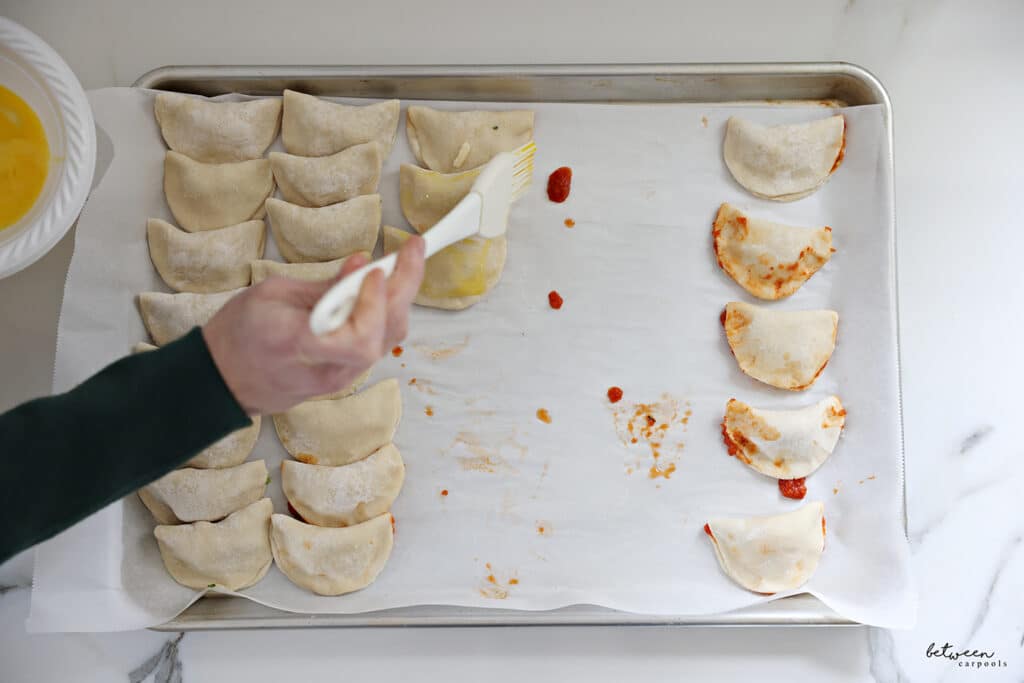 Then brush with egg. You can fit lots of calzones on a baking sheet when you're assembling and freezing. If you're making ahead, flash freeze then stick them in a Ziploc.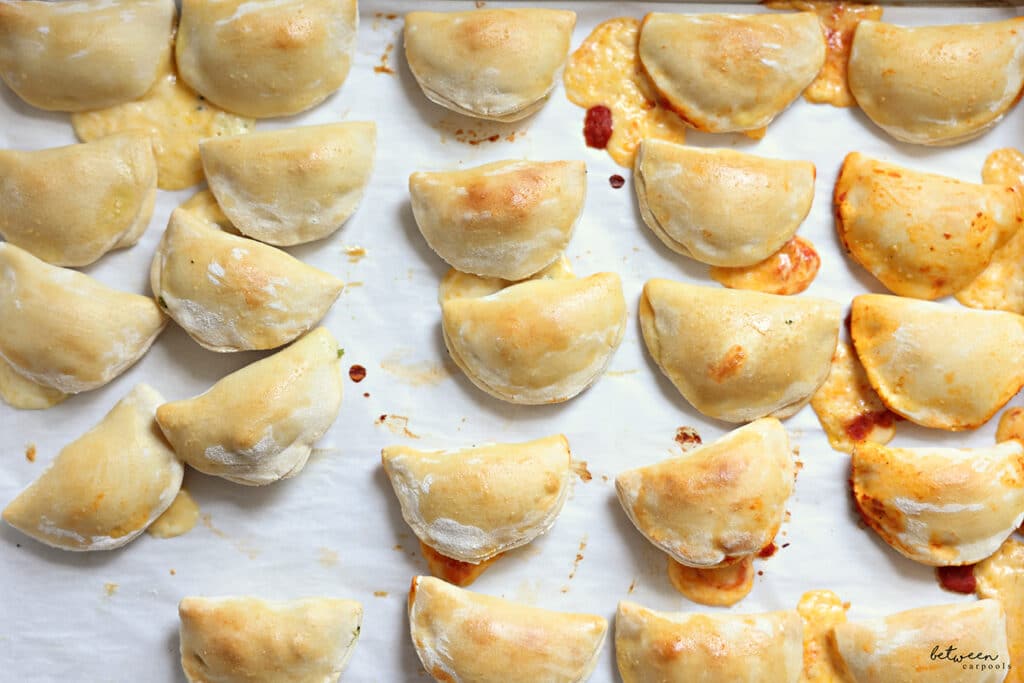 When you're baking, you can make way more at a time vs. mini pizzas. And the edges get delightfully crispy.
Yay. Great for entertaining and making in bulk, also great for a basic weeknight.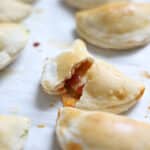 Print Recipe
Mini Calzones
Ingredients
24

mini pizza doughs

Pizza sauce 
Broccoli Filling:
1-2

tbsp

oil

1

onion,

very thinly sliced or diced

½

(24-ounce) bag frozen chopped broccoli 

Salt, pepper, and garlic powder to taste

1

egg,

beaten 
Garlic Cheese Filling:
1

cup

shredded mozzarella 

¼

cup

lite mayonnaise 

2

garlic cloves,

crushed

2

frozen basil cubes,

optional (if your kids don't mind "green stuff")
Instructions
Preheat oven to 350F if baking immediately.

Line a baking sheet with parchment paper. Lay rounds on baking sheet (you won't be able to fit all in the beginning, but as you start closing the calzones, you will).

Meanwhile, prepare the broccoli filling. Heat oil in a saute pan or frying pan. Add onion and cook until soft, 5-7 minutes. Add broccoli and cook until cooked through. Season with salt, pepper, and garlic powder.    

* The broccoli filling is enough to fill all of them, so freeze the leftovers. Quantity of sauce needed depends on how many pizza calzones you are making.

Prepare the cheese filling. In a bowl, combine all ingredients.

Assemble the calzones. Put a spoon of cheese filling on each round. Add a small spoon of sauce or broccoli as desired. Close calzones. Brush with egg.

Freeze or bake immediately for 18-20 minutes.
FOR EXCLUSIVE CONTENT AND A PEEK BEHIND THE SCENES, MAKE SURE TO JOIN OUR WHATSAPP STATUS HERE. JOIN OUR WHATSAPP GROUP AND WE'LL LET YOU KNOW WHEN A NEW POST IS UP!