These cookies from Taste of Pesach 2 are perfect for chocolate lovers
We looked through Taste of Pesach 2 to see which new dishes we'd like to add to our menus. And though the plating tips were very interesting, these cookies seemed irresistible. Enjoy! -BCP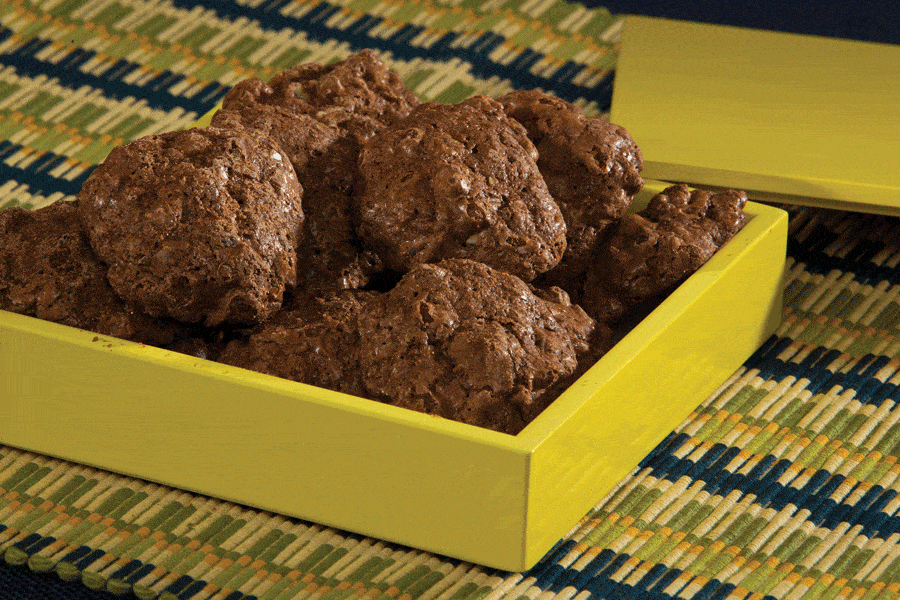 We thought we had already seen every Pesach cookie that exists, but then we hit upon this winner! Make sure to have enough in your freezer to replenish your empty cookie jar!

Cookies with Melted Chocolate Just Have to Be Good
Serves:
36 small or 18 large cookies
Ingredients
1 (10-ounce) bag 
 chocolate chips
2 tablespoons oil
½ cup sugar
2 eggs
1 teaspoon vanilla extract
2 teaspoons instant coffee, 
dissolved in 1 tablespoon 
hot water
2 tablespoons cocoa
2 tablespoons potato starch
¼ teaspoon baking powder
⅛ teaspoon salt
1 cup walnuts or pecans, 
coarsely chopped
1 cup good-quality truffle 
chocolate, cut into chunks
Instructions
Preheat oven to 350°F. Line 2 baking sheets with parchment paper.
In a double boiler, melt chocolate chips and oil, stirring until chocolate is fully melted.
Using an electric mixer, beat eggs with sugar until light in color, then add vanilla, coffee, and melted chocolate chips. Combine well; add cocoa, potato starch, baking powder, and salt. Mix well. Fold in nuts and chocolate chunks.
Drop batter by teaspoons (for smaller cookies) or tablespoons (for larger cookies) onto cookie sheets, leaving 2 inches between cookies.
Bake smaller cookies for 12 minutes and larger cookies for 18 minutes.
This recipe is from a Taste of Pesach 2. You can order the cookbook
here
.