That easy, comes-together-in-minutes Chol Hamoed dinner that's fresh and flavorful.
I believe Pesach foods should be just as delicious as all year foods–no compromises. So my dinners for chol hamoed mirror my usual weeknight dinners with just slight adaptations.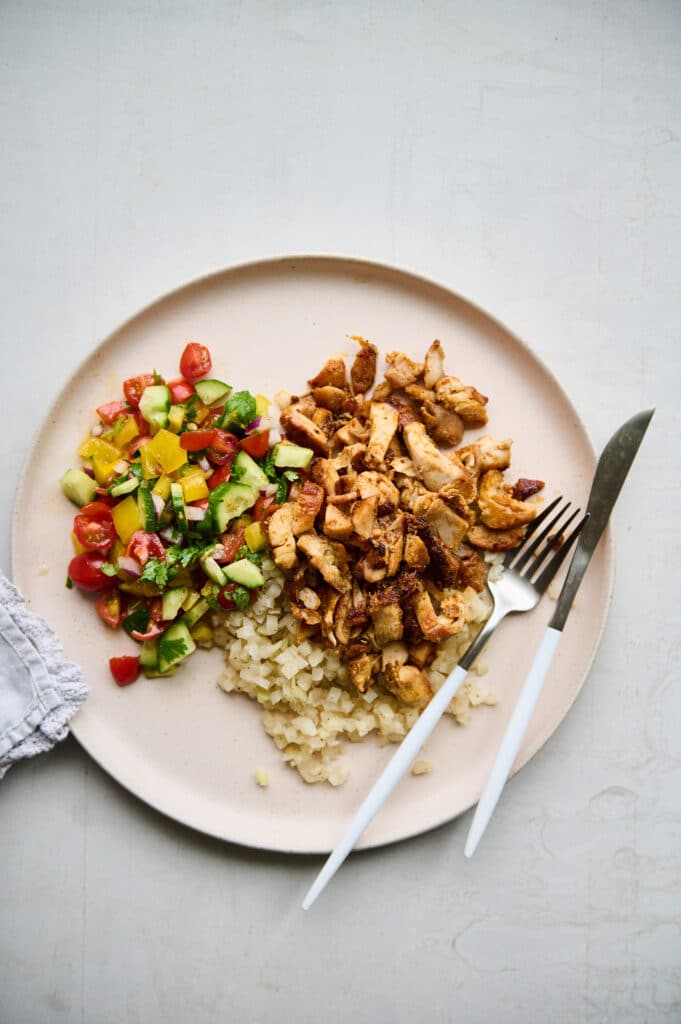 Here I baked pargiyot (skinless, boneless chicken thighs) because they're incredibly tender and juicy, then chopped and fried them so the edges get a crisp texture. I top it over cauliflower rice (or actual rice – perks of being Sephardic) that is simply pan-fried with salt and pepper and serve it with a fresh salad.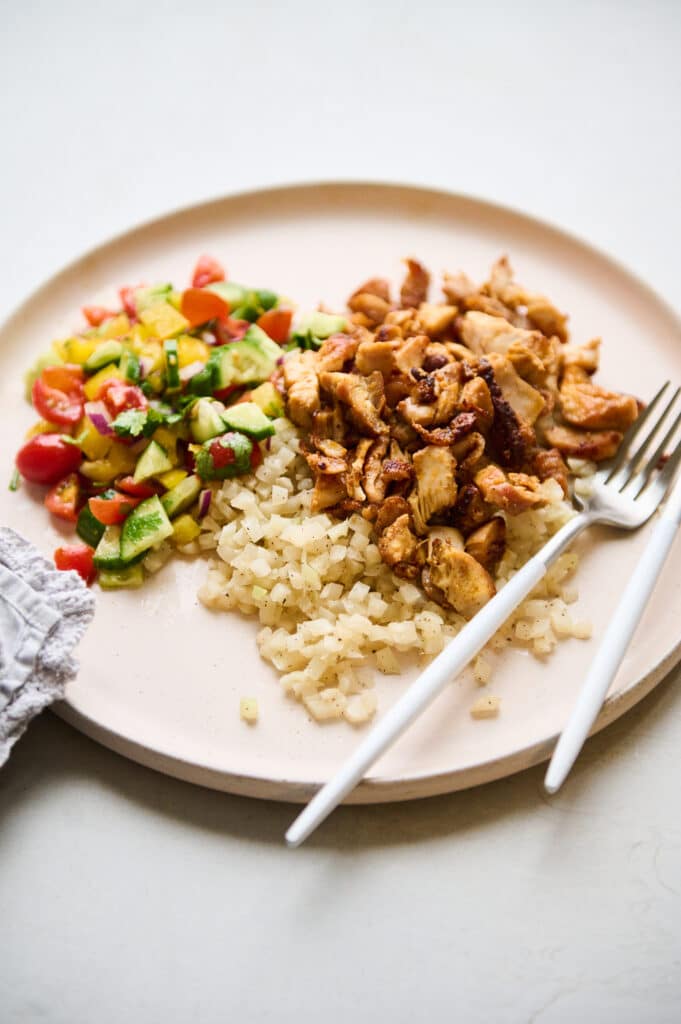 There – a dinner so good it'll be part of your dinner rotation all year.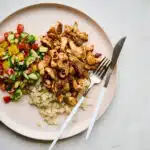 Print Recipe
Crispy Pargiyot over Caulirice and Israeli Salad
Ingredients
5 Tbsp olive oil, divided  

2 tsp paprika 

1 tsp granulated garlic 

1 tsp granulated onion  

3/4 tsp sea salt 

1/2 tsp black pepper  

Juice from 1/2 lemon  

2 1/2 lb boneless, skinless chicken thighs  
For serving:
Prepare cauliflower rice 

Israeli salad  
Instructions
Preheat oven to 425°F. In a mixing bowl, combine 4 tablespoons oil, spices and lemon juice. Add chicken; stir to coat. Place on baking sheet in a single layer and bake for 20-25 minutes. Cool slightly. Transfer to a cutting board and chop into small pieces.

Heat large skillet over high heat. Add remaining 1 tablespoon oil. Add chicken strips in a single layer and cook, without stirring, until the edges are crisp, 3-4 minutes. Stir and cook another 3 minutes. You might need to do this in batches if your skillet isn't wide enough.

Serve warm over caulirice and salad.
FOR EXCLUSIVE CONTENT AND A PEEK BEHIND THE SCENES, MAKE SURE TO JOIN OUR WHATSAPP STATUS HERE. JOIN OUR WHATSAPP GROUP AND WE'LL LET YOU KNOW WHEN A NEW POST IS UP!