The house will smell good as it simmers, and it'll make you all warm, toasty, and satiated inside. Meet Red Lentil Soup.
One Tuesday, a bunch of us gathered at Renee Muller's house for a Between Carpools photoshoot.
"It smells good here," said Leah, "What are you cooking?"
"A soup recipe Naomi Hazan gave me," Renee said. "It uses a bunch of spices I never used before, like allspice."
"You never used allspice before?!?" Victoria was slightly aghast. The exotic Renee never met allspice before? "It's the spice I need to replenish the most often! Allspice is everything….."
"What's in allspice?" Renee asked.
"It's not a blend. It's its own, flowery spice."
A little while later, Renee tasted the soup. "Oh, wow, this is good soup!"
Allspice now has a place in Renee's spice cabinet…and Victoria has one more excuse to pull it out.

Red Lentil Soup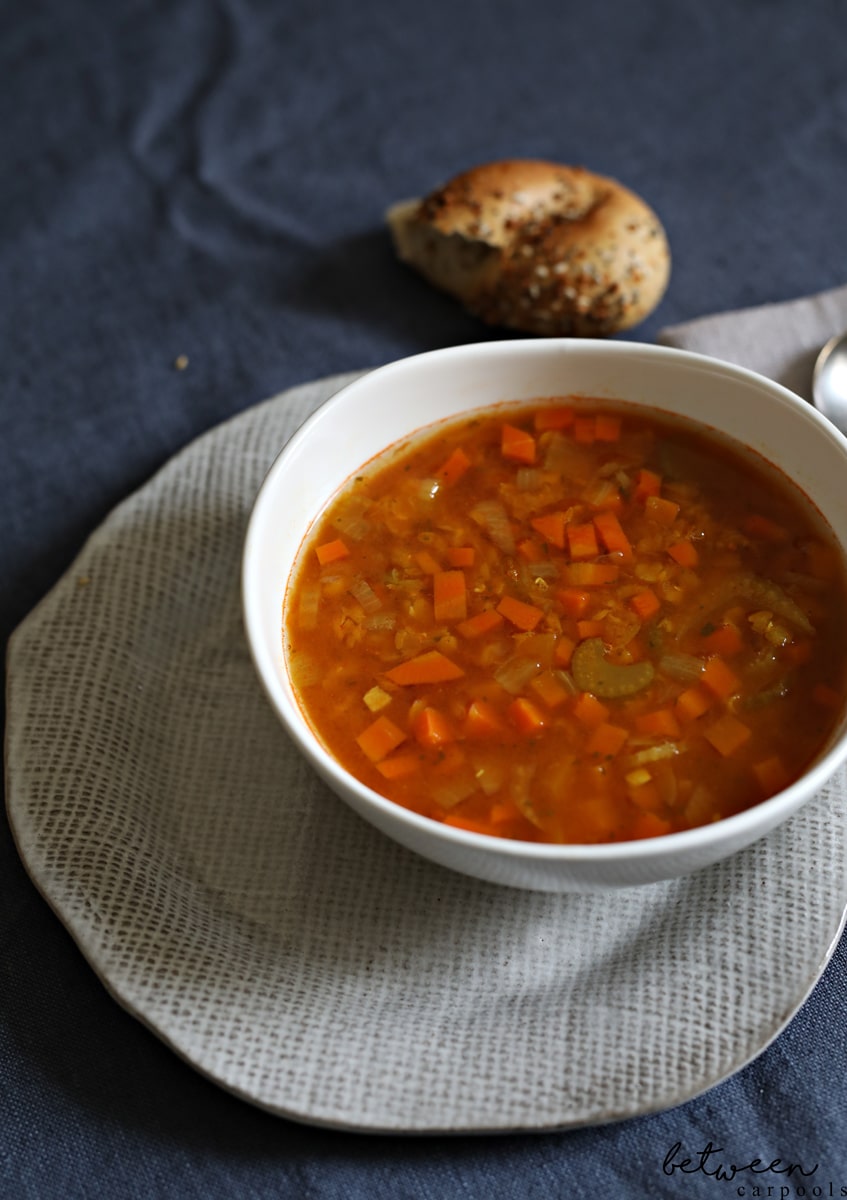 This soup is incredibly filling and comforting. Perfect for a cold winter night. And, yes, Red Lentil Soup is the same type that Yaakov gave to Esav in exchange for the birthright (although we don't have that recipe). Even if you're not accustomed to some of these ingredients, this is a great reason to get to know them. And if you're already cooking with red lentils, allspice, and turmeric, you'll enjoy it too.

Red Lentil Soup
Ingredients
1 pound dry red lentils (soaked for at least 2 hours to overnight)
2 tablespoons coconut oil
4 celery stalks, chopped
4 carrots, chopped
1 onion, chopped
2 garlic cloves, minced
1 tablespoon Himalayan salt
1 tablespoon turmeric
1 tablespoon dried parsley
½ teaspoon black pepper
2 teaspoons cumin
½ teaspoon allspice
2 tablespoons tomato paste
10 cups water
Instructions
In a large soup pot, heat oil. Add celery, carrots, onion, garlic, and salt and saute for about 10 minutes.
Add in the spices and tomato paste and stir for 1 minute, then add in the lentils and water. Bring to a boil, then reduce heat and simmer for 1 hour, until all ingredients are tender and soup has thickened (do not cover pot). Serve.