You might see those pretty, hefty pans in some food photos. But do you need one to cook great meats?
Years and years ago, perhaps when I was newly married, there was an All-Clad store at the local outlet mall. And while there was not typically such amazing deals there, there was one day that I spotted the ultimate metziah: there, stacked in the middle of the store, were perhaps a hundred boxes of All-Clad Dutch Ovens. And the price?
You seriously won't believe it. $40.While I had received All-Clad pots as a wedding gift, I did not own a Dutch Oven. And, when I saw this deal, I was young, I was dumb, and perhaps I also did not have much disposable income. So I bought just one. (I should have bought loads and loads. Similar Dutch Ovens today cost $300-$400.)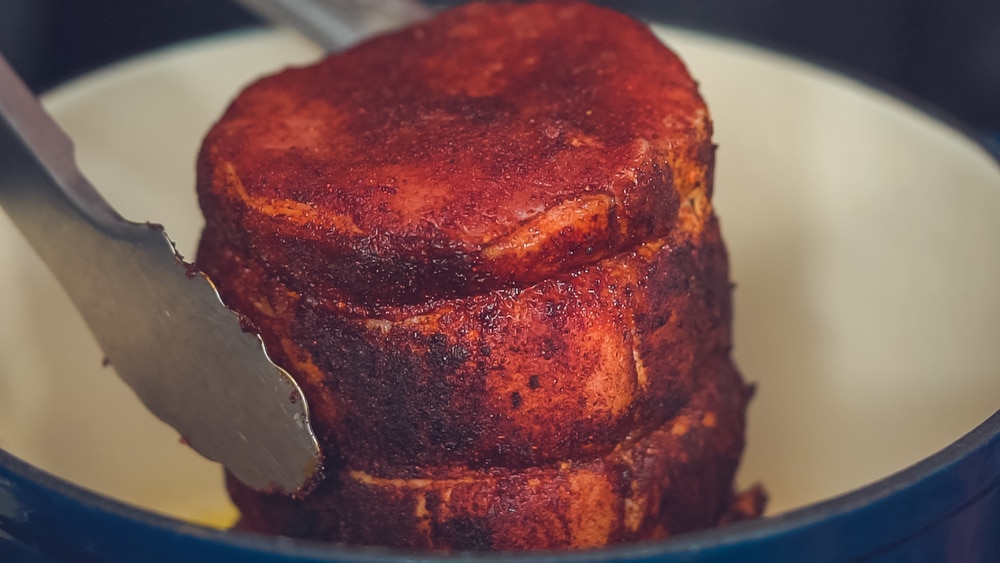 Perhaps 15 years later, I still pull out that Dutch Oven every single week. Dutch Ovens have thicker walls than a pot, they retain heat beautifully, and since they'll get very hot, they are the best for searing meats efficiently and thoroughly. But when the heat is low, they'll also cook gently, making them ideal for those long cooking chilis, soups, and stews. I also pull it out when I'm making a sauce for spaghetti and meatballs (like these), and it's also great for boiling the pasta (water will boil nice and quickly!). So, yes, while the quality ones today tend to be expensive, they'll pay you back with their long life.  (Sometimes there's closeouts, like these MLB ones Le Creuset made which you can get at half price.) There are also copycats from reputable brands, like Crock-Pot (haven't tried this one). My Dutch Oven is round, not oval, and it's on the smaller side, so while it's perfect for ribs (especially when they're being braised and need lots of liquid), it doesn't work for larger cuts of meat.
That's when I turn to my black speckled roasters. Both Dutch Ovens and roasters work well on both the stovetop and in the oven. Those, by the way, are excellent as well for cooking meats. And they're cheap too! I remember buying them in a housewares store when I was engaged (someone told me that I needed a couple) and they're still going strong. Black speckled roasters are definitely the dark horse in the cooking world. Black speckled roasting pans come in mostly every size; these are a couple of the most popular sizes, for smaller and larger cuts of meat. I use the smaller one for smaller roasts, and the larger one for bone-in meats (back ribs, flanken roasts) which need more space (my large one is in between the sizes listed below).