Green falafel on the inside = fresh herbs, fresh taste

Did you know that authentic falafel is green on the inside? I certainly didn't. I found that out the "Israeli way." I was sitting at some falafel joint in Geulah and thought it funny that my falafel was bright green on the inside. I was convinced something was off. I was determined to get my money back: After all, I was a sem girl with little pocket money to last the month.
The elderly store owner looked me in the eye and asked, "Motek, ta'amt? (Sweetie, did you even taste it?)."
Mortified, I replied that no, I hadn't really tasted it. Well, he made me take a bite right there, standing at the counter. It was one of the best falafels I'd ever tasted. The owner then took me to the back and showed me the fresh parsley and cilantro he used, and added:
"Falafel amiti hu tamid yarok mibifnim. Ze lo mikufsa—Authentic falafel is always green on the inside. It's not coming from a box." Bitayavon!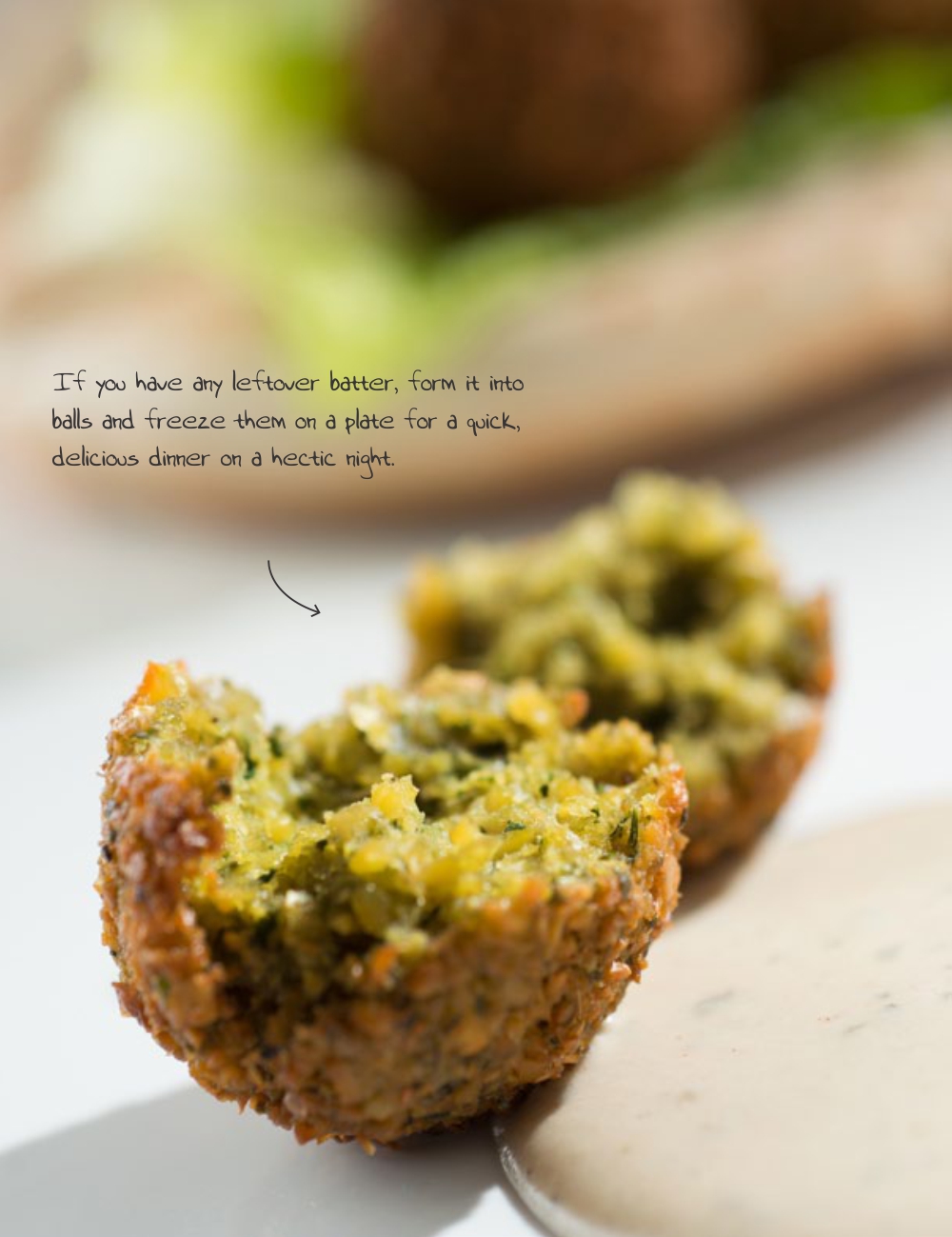 These Falafel Balls Are Way Better Than Anything You've Made from the Box
Green Falafel Balls Serves: 35 falafel balls
Ingredients
1 pound (about 2 cups) dry chickpeas (aka garbanzo beans)
1 small onion, chopped
½ cup fresh parsley, tightly packed
⅓ cup fresh cilantro, tightly packed
5 garlic cloves
1½ tablespoons flour
3 teaspoons salt
2 tablespoons cumin
½ teaspoon black pepper
½ teaspoon crushed red pepper
Oil, for frying
Instructions
Place the chickpeas in a large bowl and cover with plenty of water. Let the chickpeas soak overnight, or for at least 12 hours. They will double in size as they soak. Once soaked, rinse and drain well in a colander.
Place onion, herbs, and garlic in the bowl of a food processor fitted with the knife blade. Pulse a few times until mixture starts coming together. Add the drained chickpeas and the rest of the ingredients.
Pulse together until a rough, coarse texture forms.
Scrape the sides of the food processor down from time to time. Be careful not to over-process the mixture; you are looking to achieve a consistency that's somewhere between a paste and a fine crumb. Once it holds together enough to form a ball, stop.
Place mixture inside a bowl and run your hand through it, feeling for any large pieces that the food processor might have missed, and mash them. Cover and refrigerate for a few hours, or overnight.
Place about 2 inches of oil in a saucepan over medium-low heat (the ideal temperature is 300°F to 325°F). Before frying a batch of falafel balls, you want to test one. If the oil is at the right temperature, it will take 2 to 3 minutes per side to brown.
If it browns faster than that, it means that your oil is too hot and your falafel balls won't be fully cooked in the center. Also, if your falafel ball falls apart in the oil, add some flour to the batter and make sure it is ground finely enough.
Once you have tested and achieved the right oil temperature, roll falafel mixture into balls and fry until golden, a total of about 5 to 6 minutes. Serve immediately with some techina or inside a pita with Israeli salad, chatzilim, sauerkraut, and pickles...even fries if you like.