Have them for breakfast. Or lunch. Or your side dish for dinner. They're easy enough to make anytime, all Pesach long.
Every Chol Hamoed morning our day starts with eggs, matzah, avocado, cream cheese, butter – and lots and lots of home fries.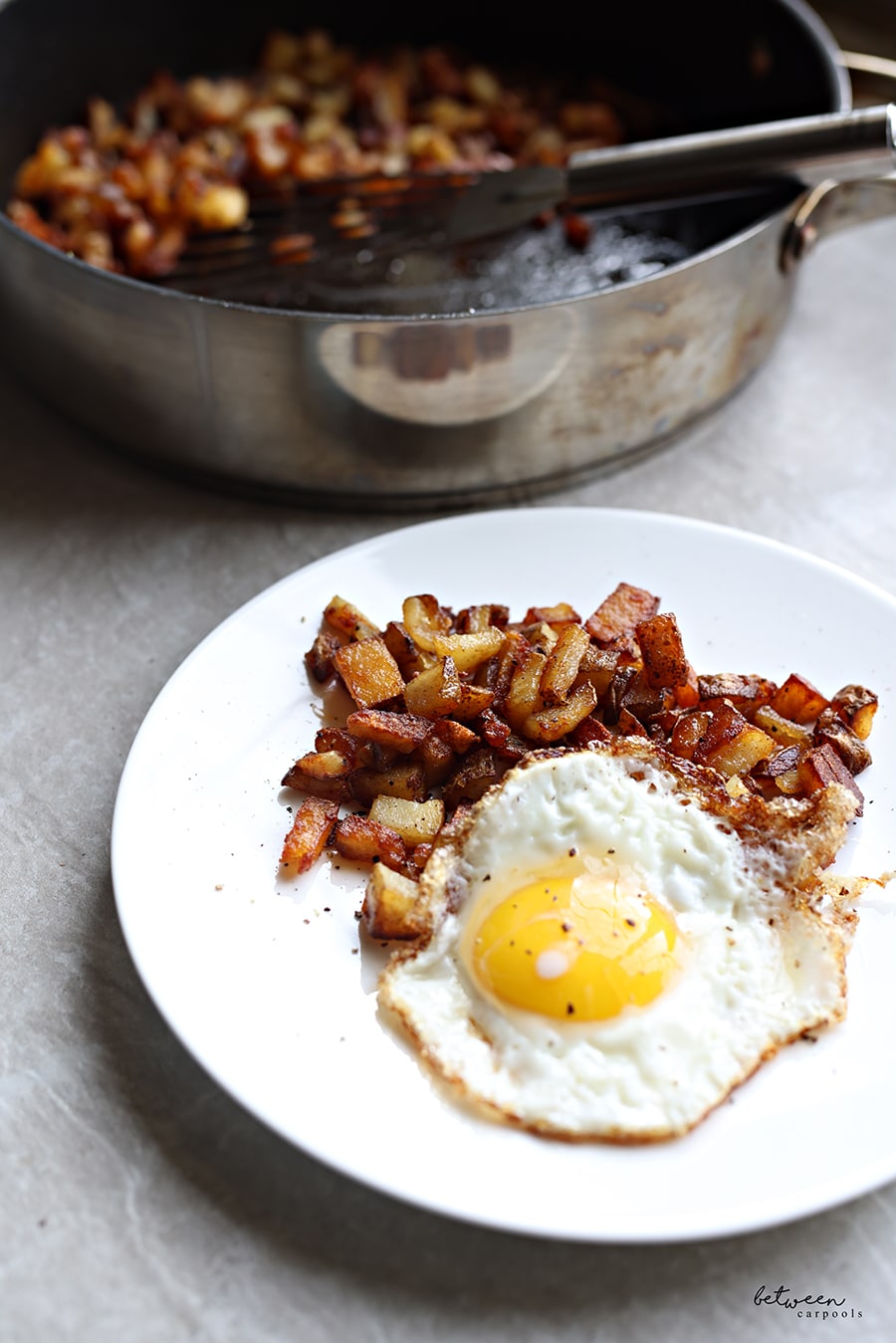 Honestly, I don't even have to make them anymore. The kids are all pros at making it themselves. They chop the potatoes, season to their likings and man the stove. Last year we got a Betty Crocker pizza oven for Pesach and we made lots and lots of hash browns directly in there. (Note: the Betty Crocker was perfect for quick salmon, eggs, and pancakes!) 

Hungry at night? Home fries.
Looking for a midday snack? Home fries.
I'm not saying I loved how home fries became a snack, but I loved the fact that they were self-sufficient. I had plenty of other meals to cook and plan.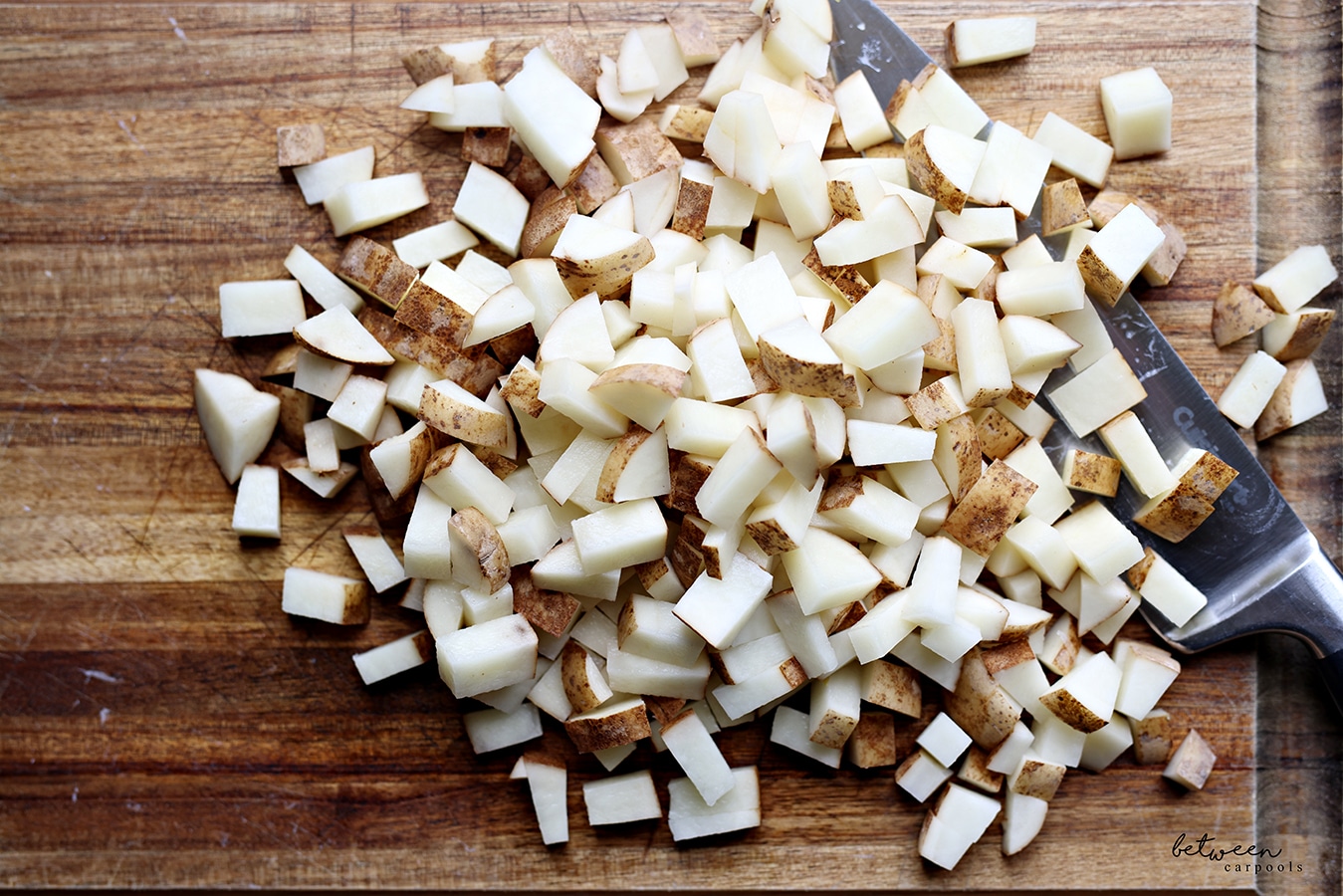 Which potatoes to use? The past few years we've been using golden potatoes exclusively at home. We prefer the smooth texture. Traditionally home fries like the ones you buy in bagel stores are made with starchier potatoes, such as Idaho or Russet. That's what we used in the photos and recipes on this page. 
This recipe is based on my recipe in Fresh and Easy Kosher Cooking. Since those days, we stopped adding onions as some kids don't like them and it's an additional step. I would say if you like onions and aren't lazy, please add it in.
You can cut the potatoes by hand like we did here, or use the french fries blade (use smaller potatoes for smaller pieces) or a vegetable chopper if you have one for Pesach. 
Yes you can peel the potatoes if you prefer. They won't be as crispy without the peel.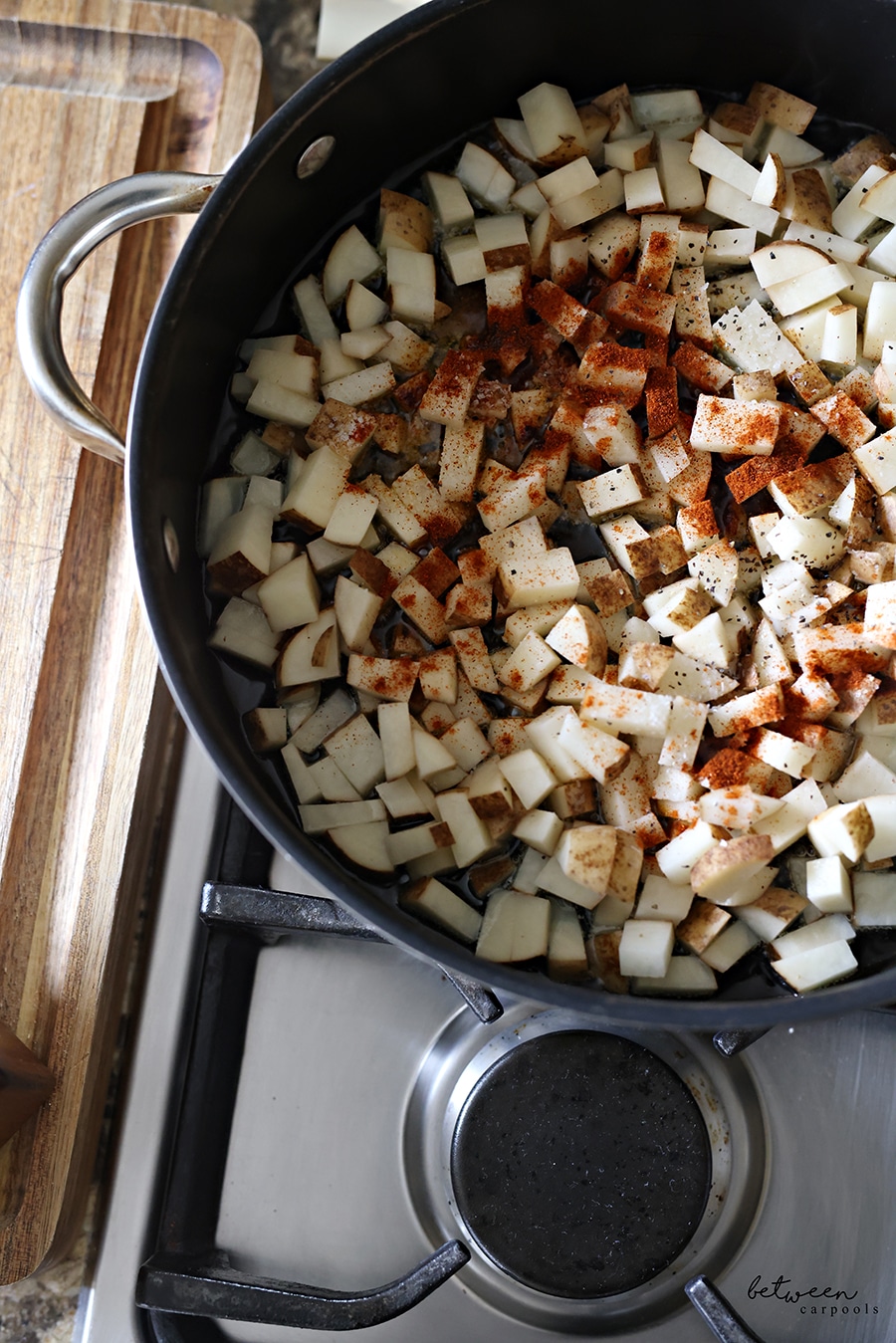 Add potatoes and seasoning.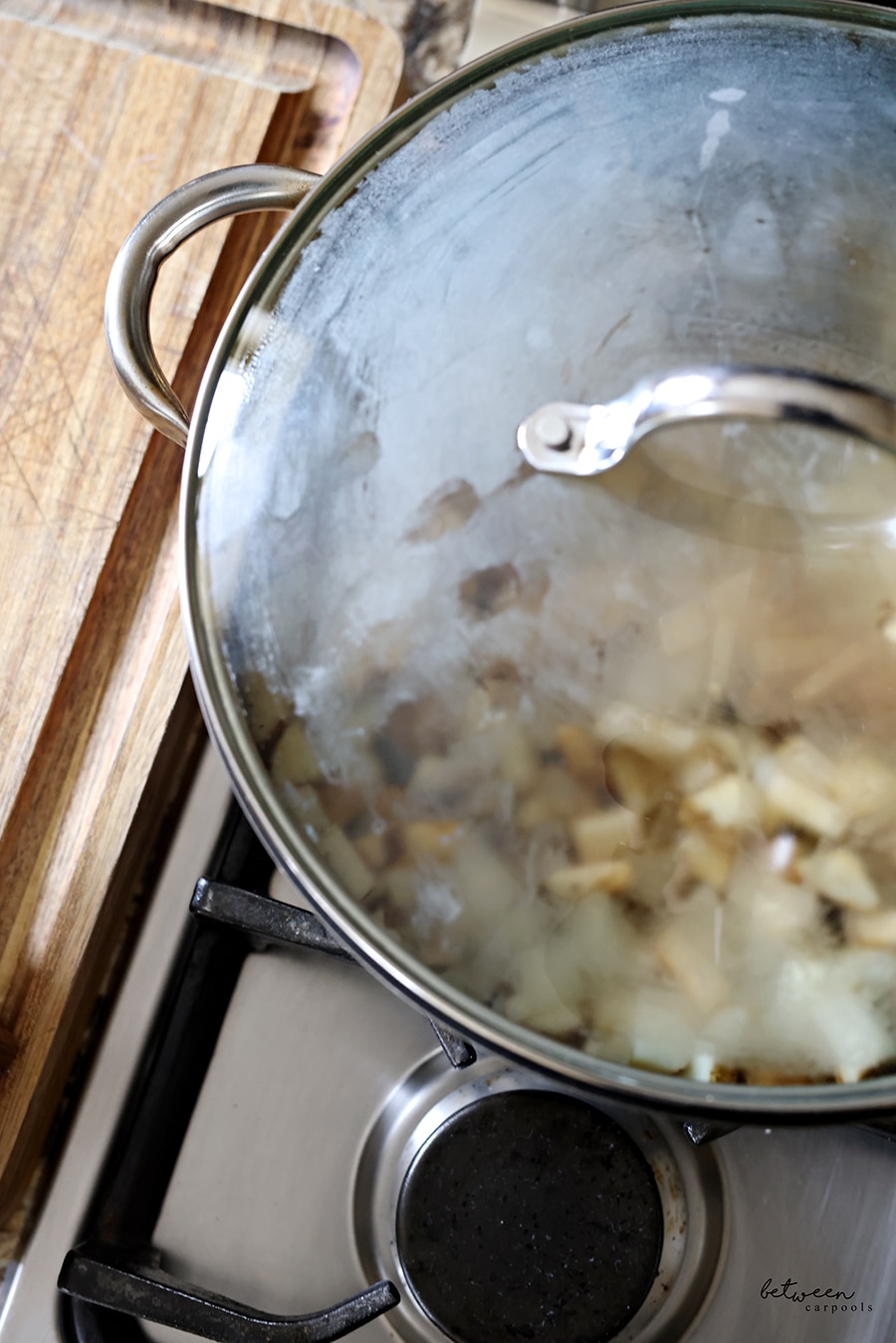 Cover and cook.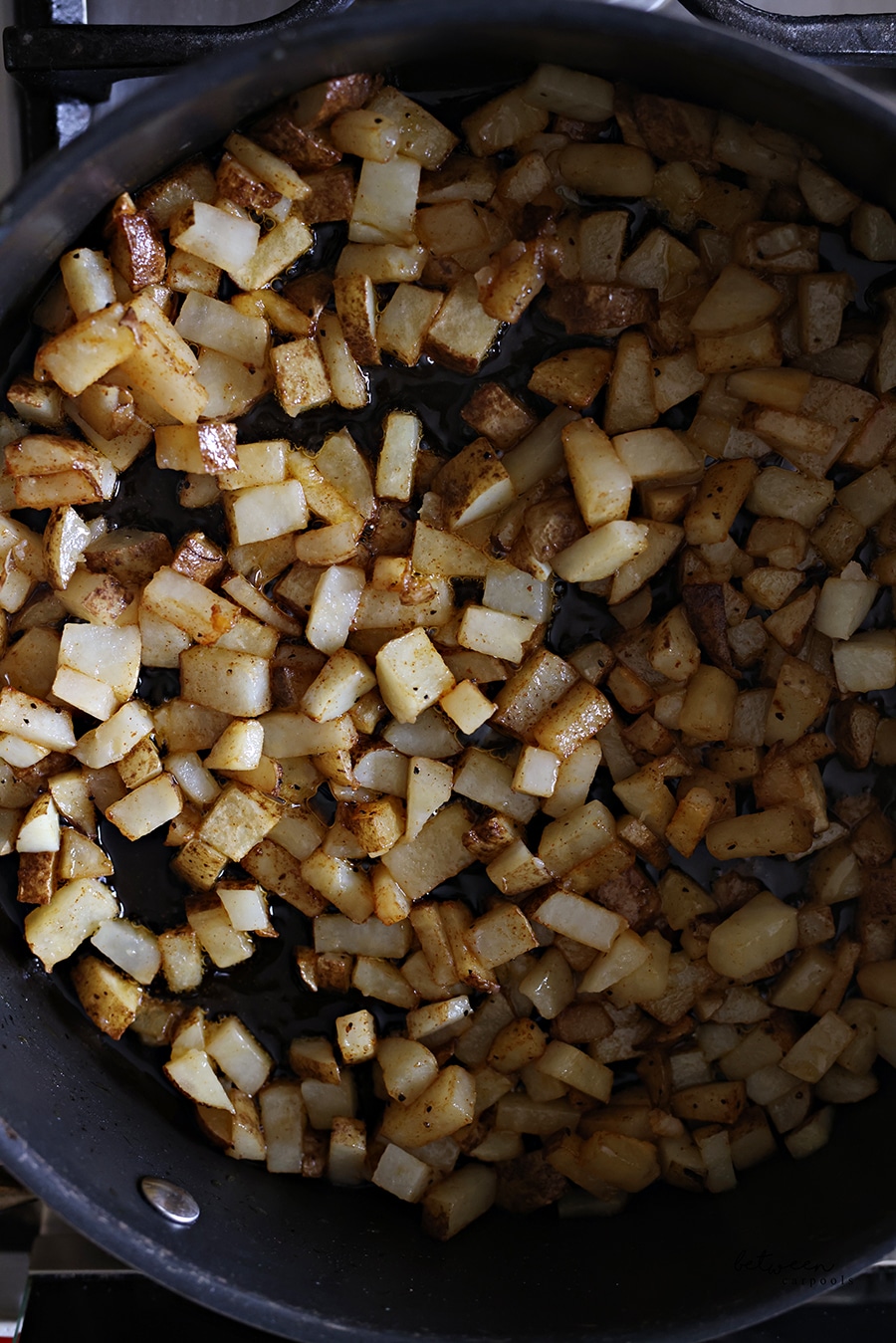 Stir frequently until potatoes are soft and crispy.

Home Fries
Serves:
Serves 2-3 or 1 hungry teen
Ingredients
3 large Idaho or Russet potatoes, cut into chunks (you can peel the potatoes; they won't be as crispy without the peel)
4 tablespoons oil
¾ teaspoon salt
Paprika, to taste
Pinch black pepper
1 onion cut into chunks (optional)
Instructions
(Start by sautéing an onion, if you like onions and have time for this step).
Heat oil in a large skillet. Add potatoes and seasoning. Cover and cook on medium-high heat for 10 minutes (you want the potatoes to soften slightly). If you want to add onions, you would add the onions halfway through. Stir midway.
Uncover, lower heat to medium, and stir frequently until potatoes are soft and crispy. Season with more salt before serving.
FOR EXCLUSIVE CONTENT AND A PEEK BEHIND THE SCENES, MAKE SURE TO JOIN OUR WHATSAPP STATUS HERE. JOIN OUR WHATSAPP GROUP AND WE'LL LET YOU KNOW WHEN A NEW POST IS UP!