Don't want to be standing over the frying pan when you should be enjoying Chanukah nights with family and guests? You can prep latkes earlier in the day or in advance and freeze. Here's how.
Years ago, if you would have told me that I was going to offer tips on "How to Freeze Potato Latkes," I would have told you, "You must be speaking to the wrong person." I would have most likely yelled, "NEVER, EVER FREEZE LATKES! Don't serve them if you can't make them fresh!"
They say, though, age makes you wiser. People are getting busier and busier and we simply can't do it all—and that includes frying fresh. So here I am, giving tips on how to freeze lakes. Note that this isn't my first choice, but even my favorite latke eater didn't notice that these weren't freshly fried. They taste like latkes that have been sitting on the counter for an hour. Not fresh, fresh—but fresh out of the pan.
For a basic potato latke recipe click here.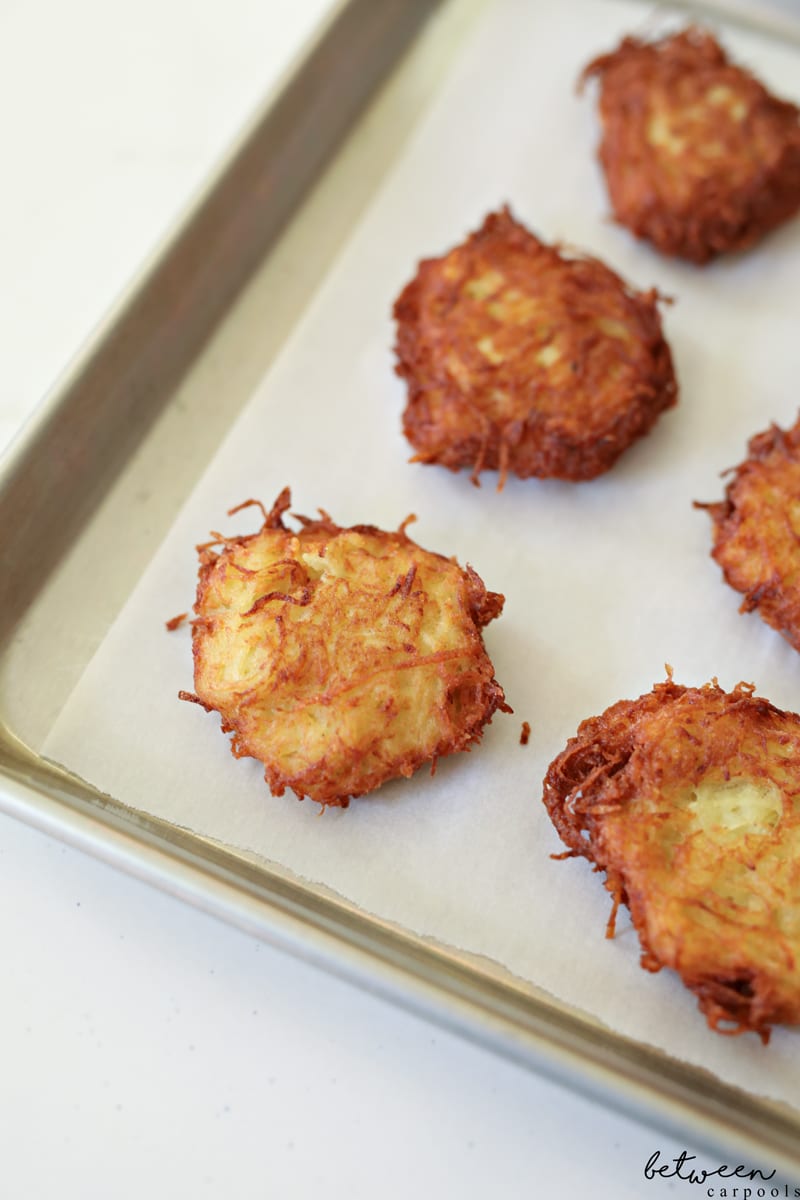 Rule # 1. Don't refrigerate latkes. You'll end up with gummy-tasting latkes.
If you want to prepare lakes ahead of time but not freeze them, you can fry them (about 2-3 hours before) and leave them at room temperature. Then place in a single layer on a baking sheet and bake in a hot preheated oven at 400ºF until warm.
How to Freeze Latkes
Freeze as soon as possible after you fry them. After draining on a paper towel, place them on a parchment-lined baking sheet in a single layer. Cover with Saran Wrap and place directly in the freezer.

You can also layer them with parchment paper between layers, but then you'll have to lay them out on separate baking sheets before baking.

Place directly from freezer into a hot preheated oven at 400ºF and bake for 10-14 minutes until hot and crispy. Occasionally (if I have time and remember), I'll flip them over halfway through. Serve immediately.