And Yes, It Is Possible.
Flowers are so beautiful. They add color and life to a room or a set table. But, they are not always cheap. And even more so, sometimes, they can be a source of real disappointment. You go all out and spend more than you intended to…only to find yourself, three days later, with a limp arrangement that is anything but pretty.
So, what do you need to do, or know, to avoid that?
To answer that question, I spoke to Tali, owner of Tali's Global Flower Shop in Lakewood, a flower shop that I have been frequenting for years now. Tali is super knowledgeable and always helpful.
Making sure that your bouquet lasts is a two step process.
You need to know how to treat your flowers.
If you really want your flowers to last long, you will want to know which ones to choose at the store.
So let's get into that.
Here are some fundamental rules about flower shopping and arranging. 
1- When you are shopping for flowers, make sure that you do so on your way home. You can't leave flowers in your car for a long time. Even if it's not hot out. Cold is a problem too. You simply need to get your stems into water as soon as possible.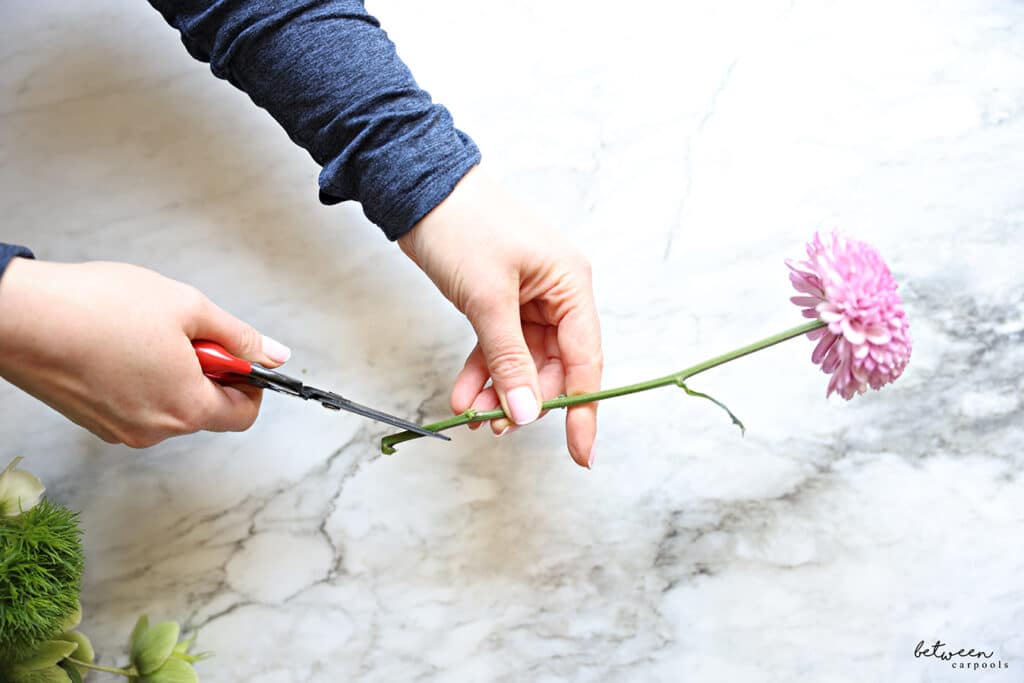 2- Flowers drink. A lot. As soon as you get home, cut the bottom of your stems diagonally, using scissor shears or even a sharp knife, even if you are not arranging them immediately. The flowers need to drink. You want to make sure to open the stems to allow the water to come in. Hydrangeas need to be cut even more, like an x incision. See more here on that. Branches, like cherry blossoms, need to be broken down with force. Use a rock to literally smash the branch down so that it will be able to drink. 
Some flowers drink more than others. Tulips for example, drink a lot. You will need to change the water often. 
3- Once you are ready to arrange your bouquet, make sure that the vase is clean. A dirty vase will turn into breeding grounds for bacteria to form. Bacteria can kill your flowers. Bleach your vases from time to time to kill any eventual bacteria.
4- Check your bouquet to prolong its life. Change the water every two days. Remove all the flowers, spill the water out, clean the vase, place the flowers into fresh clean water. This will ensure that your bouquet lasts. Remove blooms that wilted (this will ensure that the other flowers last). 
5- Temperature. If you want your flowers to last, place them in a cool spot. Say you want them to last for Yom Tov, find the coldest spot in your house (by me, it's my powder room!) and place them there between meals. It really makes a difference.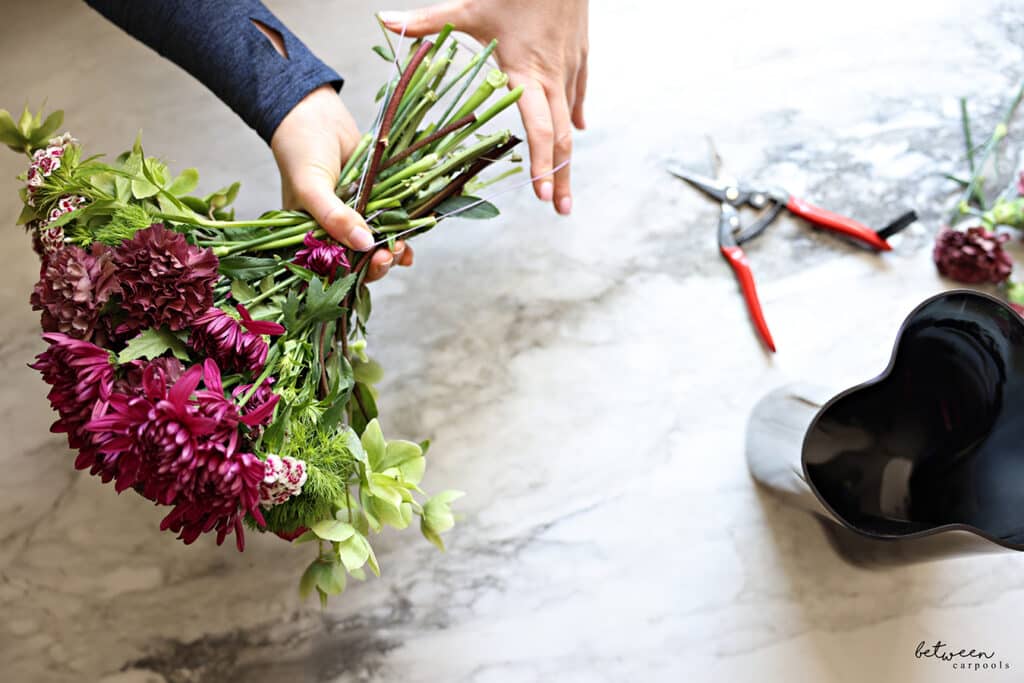 6- Sometimes you will come across a vase that has a wide mouth, or is simply really tall. In that case, rubber bands are really useful. Create a bouquet and then tie it together with a rubber band. The bouquet will hold together nicely and sit in the vase easily. This will allow for some support to the heads of the blooms, improving the way they drink.
Now, as far as picking flowers that last: 
I went to the shop, and literally walked around with Tali, picking out the flowers that I found, in my experience, to last. Of course, Tali helped me with that as well.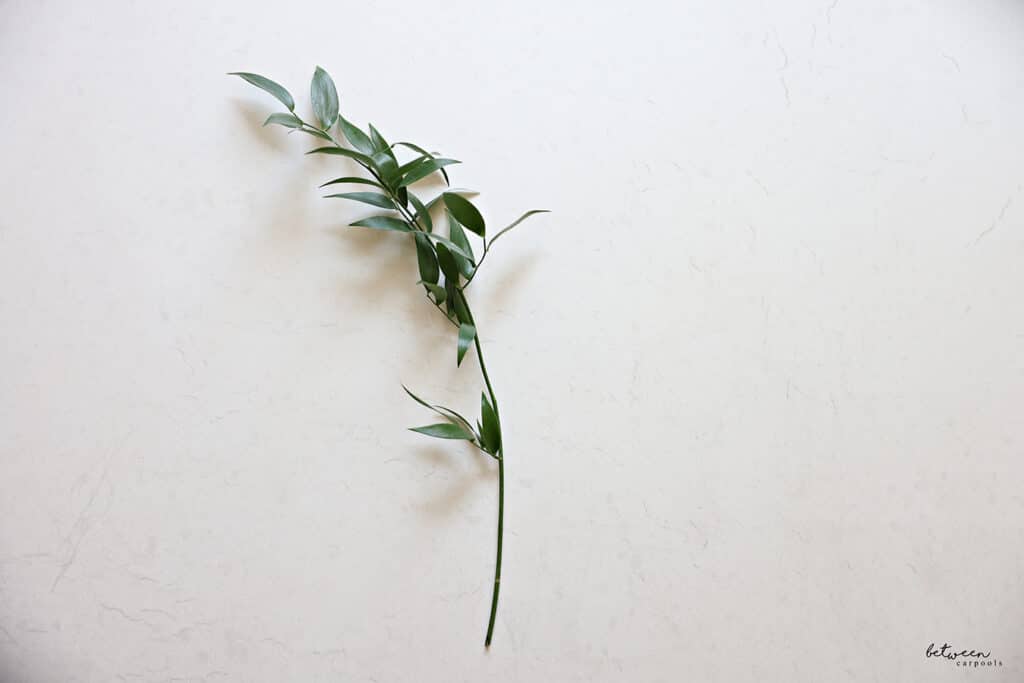 Greens: I will never tire of eucalyptus. Eucalyptus lasts so well. Some varieties dry up nicely too. Same with Italian Ruscus.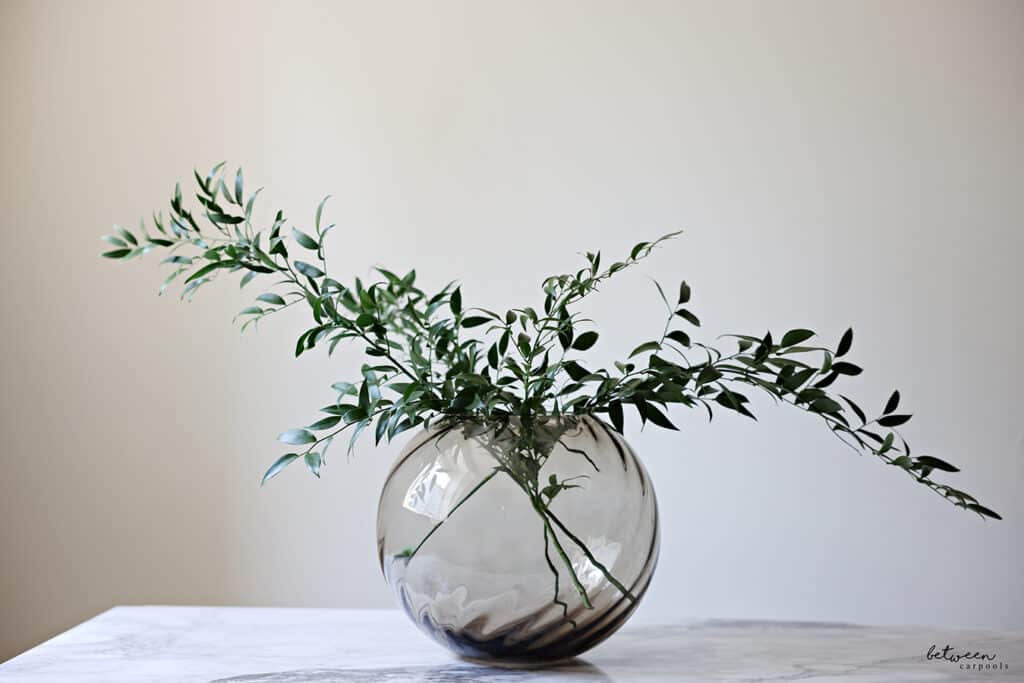 This variety here is my favorite. It adds so much flair to any vase and is so easy to use.
See how gorgeous it looks in this vase, and it lasted in my house for 4 weeks. Eventually the leaves turned brown/yellow, but it took a long while.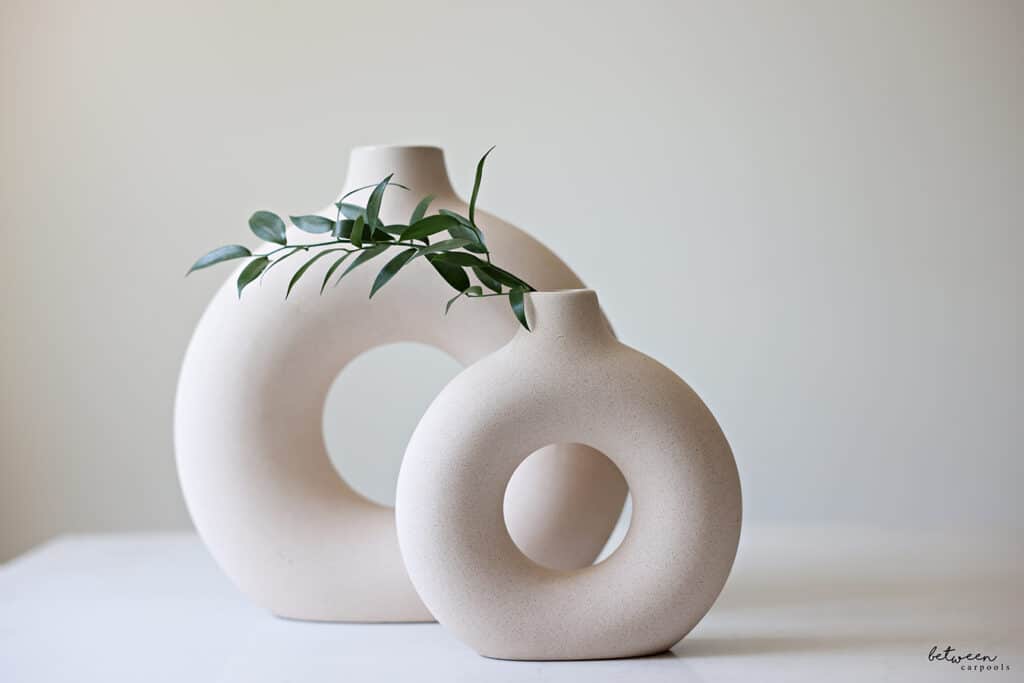 Sometimes, you have a vase like this one, which is pretty but not so easy to fill. Eucalyptus works well here as well.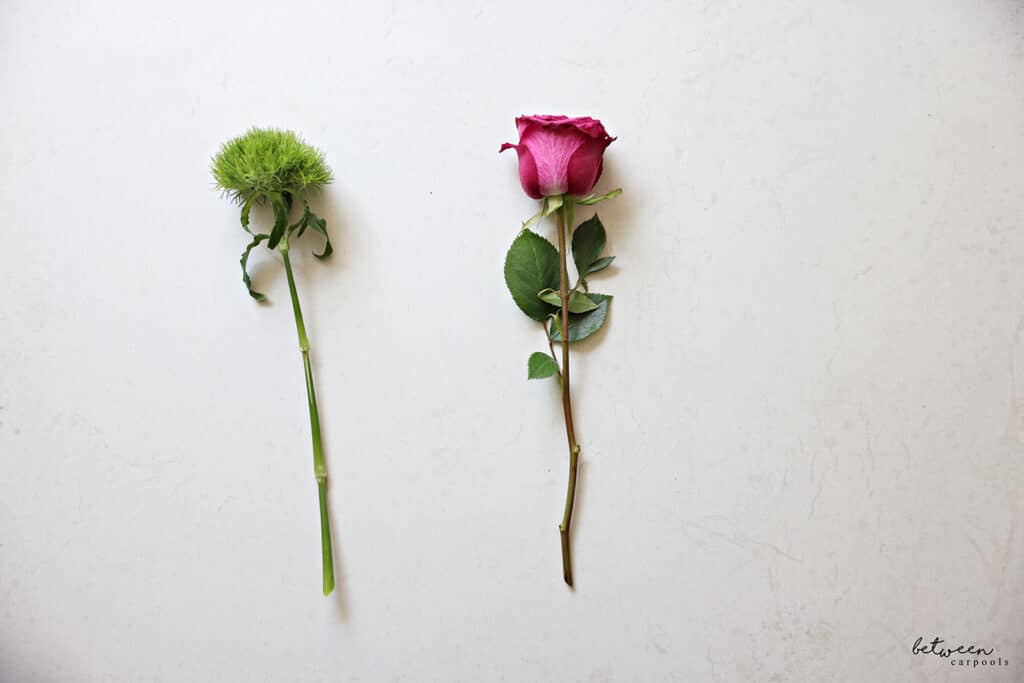 As far as greens go, nothing lasts like Green Trix. Or as my kids call them, the green pom poms. They actually grow in the vase. And can last 3 weeks easily. You do need to change the water, clean them, and trim them. That will optimize their life span by a lot.
Roses, are too, long lasting florals. Make sure to cut the stems in a diagonal because roses especially need to drink well once they come home from the flower shop. (See here what we once did with roses, so cool.)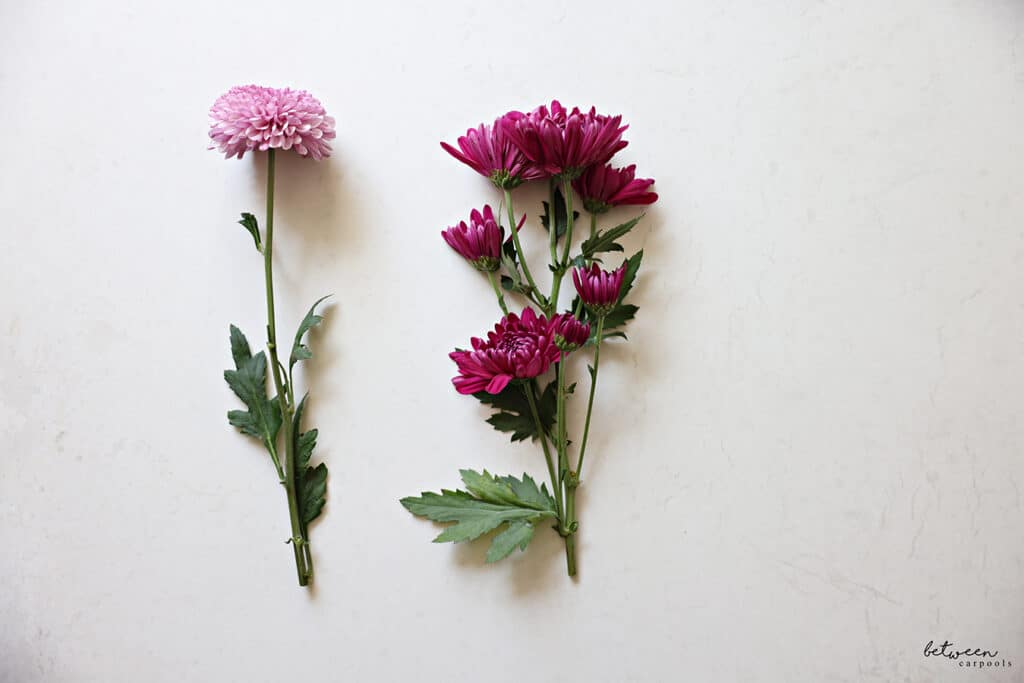 Mums (seen here are pom pom mums, on the right) last really well too. They are hardy and will keep well for a while.
On the left you have Button Mums, which are so pretty and work nicely with roses.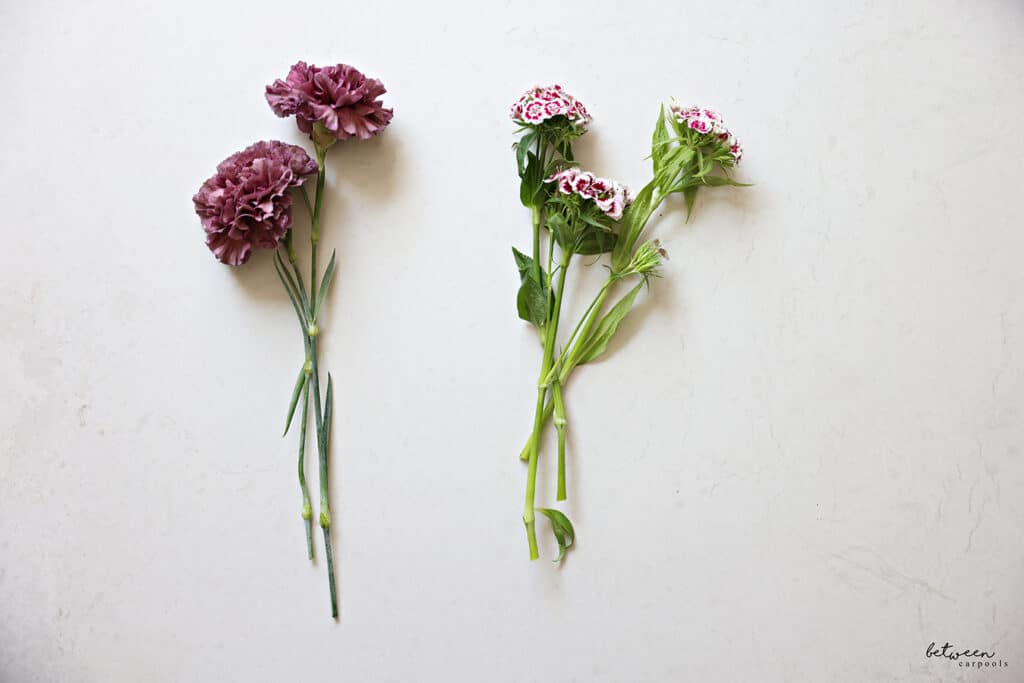 Carnations (on the left) are super sturdy and last forever, or almost. 
Sweet William (on the right) is seasonal, and when you do see it, grab it. It lasts long and is so soft and pretty.
Winter bells are not as sturdy, but I find that the green variety lasts longer than the others. Winter bells add a lot to any arrangement, they are the perfect way to edge the sides of a vase.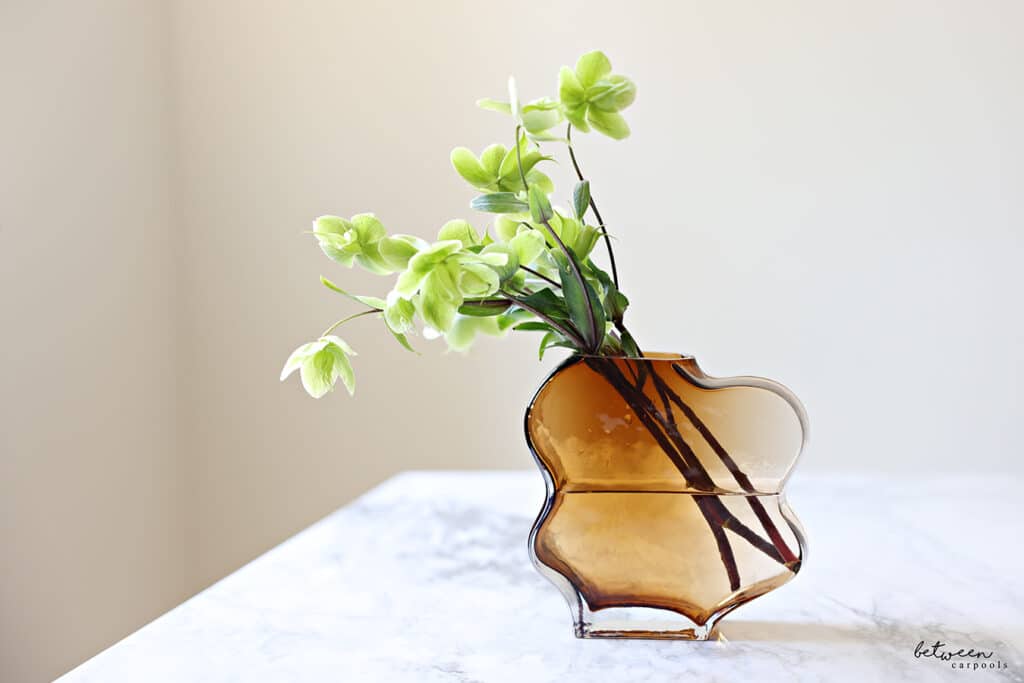 They also look perfect, simply on their own in an artsy vase. 
Also, in general, tropical flowers will last long. Orchids, Anthurium, Bird of Paradise will all last over 2 weeks.
I'm sure I missed a bunch! Please write in comments which flowers you found to last well in your experience.