Sweet and salty, quick and easy, and simply a great chicken.
Whenever I catch myself walking past the rotisserie chicken stand in ShopRite or other big box stores of the like, I can't help but lay my eyes on it for an extra couple of seconds thinking, "this cooking style makes chicken so good." Was it the glaring heat lamp keeping it warm that made it look so photogenic and delicious? Or was rotisserie chicken actually better? I was convinced it was good!
I assumed it couldn't be that hard to create my own version of "ShopRite style Rotisserie chicken" and when I got to creating it, it was actually really easy! The only downside for me is that rotisserie style chicken is usually cooked with a whole chicken, and cooking chicken breast for a long time doesn't work for me (I find it too dry). So, I decided to forgo the whole chicken and go with just chicken thighs and the results were beautiful!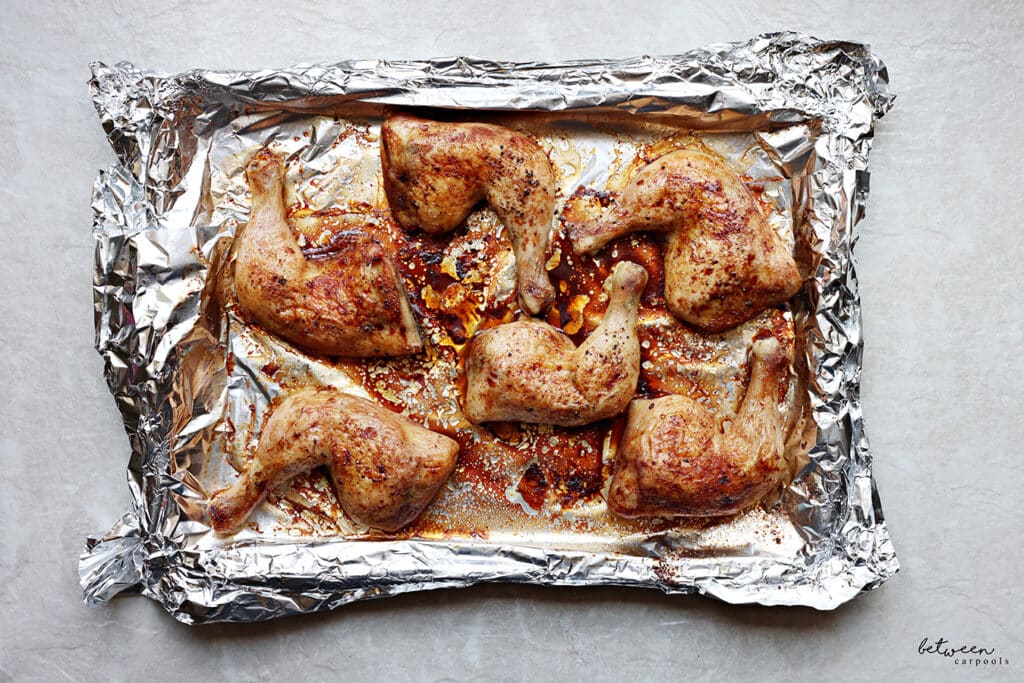 When I was deciding on seasoning for the chicken, I wanted to go with simple go-to flavors that you can make time and time again without getting bored of! Pairing soy sauce with maple syrup was the perfect sweet/salty balance and finishing off with salt and pepper to help it shine was all it needed! This recipe is so quick to put together and hands off with cooking time not a usual for me as a chef! But we all need an easy go-to from time to time, even me as a chef!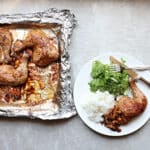 Print Recipe
Maple Soy Rotisserie Style Chicken Thighs
Ingredients
 6 –8

chicken thighs 

3

tbsp

soy sauce 

2

tbsp

maple syrup 

1

tbsp

kosher salt 

1

tsp

black pepper,

or adjust to heat preference

olive oil cooking spray
Instructions
Preheat the oven to 300℉.

Lay a sheet pan with foil (for easy cleanup). Lay chicken thighs spread out across a sheet pan with a little room between them to cook evenly. Sprinkle the tops of the chicken with kosher salt Set aside.

In a small bowl mix soy sauce, and maple syrup, mix to combine. Using a pastry brush, brush the maple soy mixture over the chicken making sure to cover the sides. Freshly crack pepper over the top of all the thighs to your heat preference. Finish off by spraying the chicken lightly with oil spray.

Transfer chicken to the middle rack of the oven and cook for 2 ½ hours. You can serve it like that or finish off the roasted chicken with some color by raising the temperature of the oven to 375°F and baking an additional 20 minutes.
Notes
**Feel free to double sauce to baste the chicken every hour for a more concentrated flavor (and extra chicken drippings) I'm trying to keep this as easy as possible for you! If you're either way busy in the kitchen it's easy to do!
Bookmark this recipe because you're about to make it on repeat… like a lot!
FOR EXCLUSIVE CONTENT AND A PEEK BEHIND THE SCENES, MAKE SURE TO JOIN OUR WHATSAPP STATUS HERE. JOIN OUR WHATSAPP GROUP AND WE'LL LET YOU KNOW WHEN A NEW POST IS UP!