Did you know you could prepare most (maybe all) grains in a 9×13 and freeze some for later use?
Do you like adding grains to your salads like we do? For a while now, I've been preparing a batch of farro or quinoa once a week and keeping it in the fridge to add to salads. I make sure to use parve cooking utensils and then it can go in any type of salad we're in the mood of.
Recently, I had a thought. Maybe these grains could be prepared in the oven. And maybe in larger quantities. And then stored in the freezer for future weeks. It was time to give it a try. And while I was at it, how about some rice to be used in side dishes at a later date?
The experiment was a success. We now have measurements and cooking times for the following: farro, quinoa, white rice, wild rice and green lentils (not a grain, but also excellent to bulk up a salad.) You can prepare them all at the same time and simply remove them from the oven when their time is up.
All were prepared with the following in common:
Rinsed

Disposable 9×13 pans
Boiling water
Oven at 350 degrees
Tightly covered
Keep in mind that every oven is different and you also may have a different preference for texture. Use this timing as a guide and tweak to your liking.
Farro: 2 cups farro to 4 cups water. Add a tsp of salt (optional). Bake for 25-30 minutes. Strain extra liquid.
Quinoa: 2 cups quinoa to 4 cups water. Add 1 tsp of salt and about 1 tsp of oil. Bake for 25 minutes. Remove from the oven, strain any extra liquid and place a paper towel in the pan. Cover and let sit. The paper towel will absorb the extra moisture.
Basmati rice: 3 cups to 4.5 cups water. Add 1.5 tsp salt and 1.5 tsp oil. Bake for 30-35 minutes.
Wild rice: 3 cups to 6 cups water. Add 1.5 tsp salt and 1.5 tsp oil. Bake for 60 minutes. Remove and fluff the rice with a fork.
Lentils: 2 cups to 3 cups water. Add a tsp of salt. Bake for 30-35 minutes. Strain any extra liquid.
Now what happens with all this? It's time to freeze it all.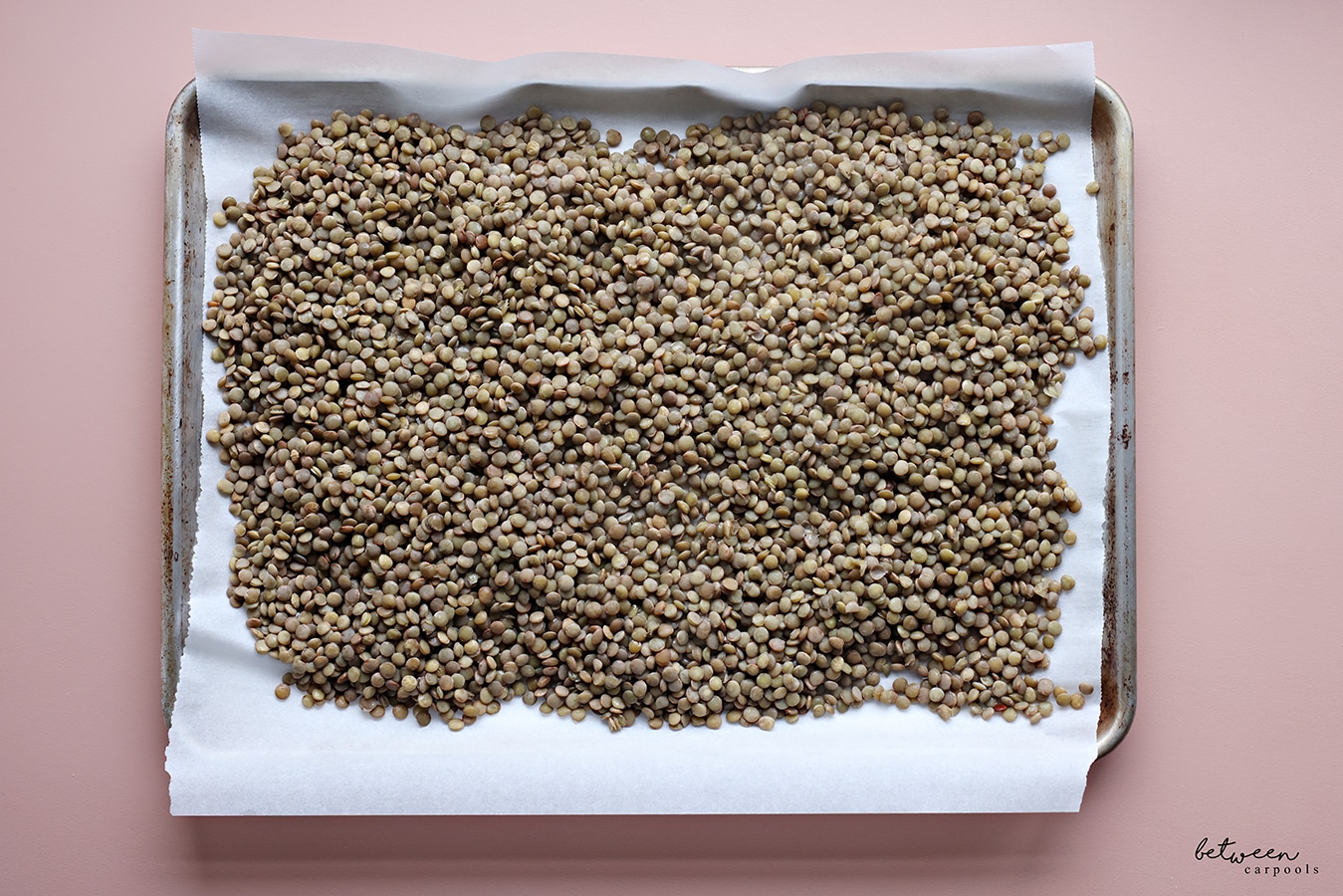 For the ideal texture, spread each grain on a baking sheet (line with parchment paper for minimal cleanup) and flash freeze for about half an hour. This will keep the grains separated and less mushy.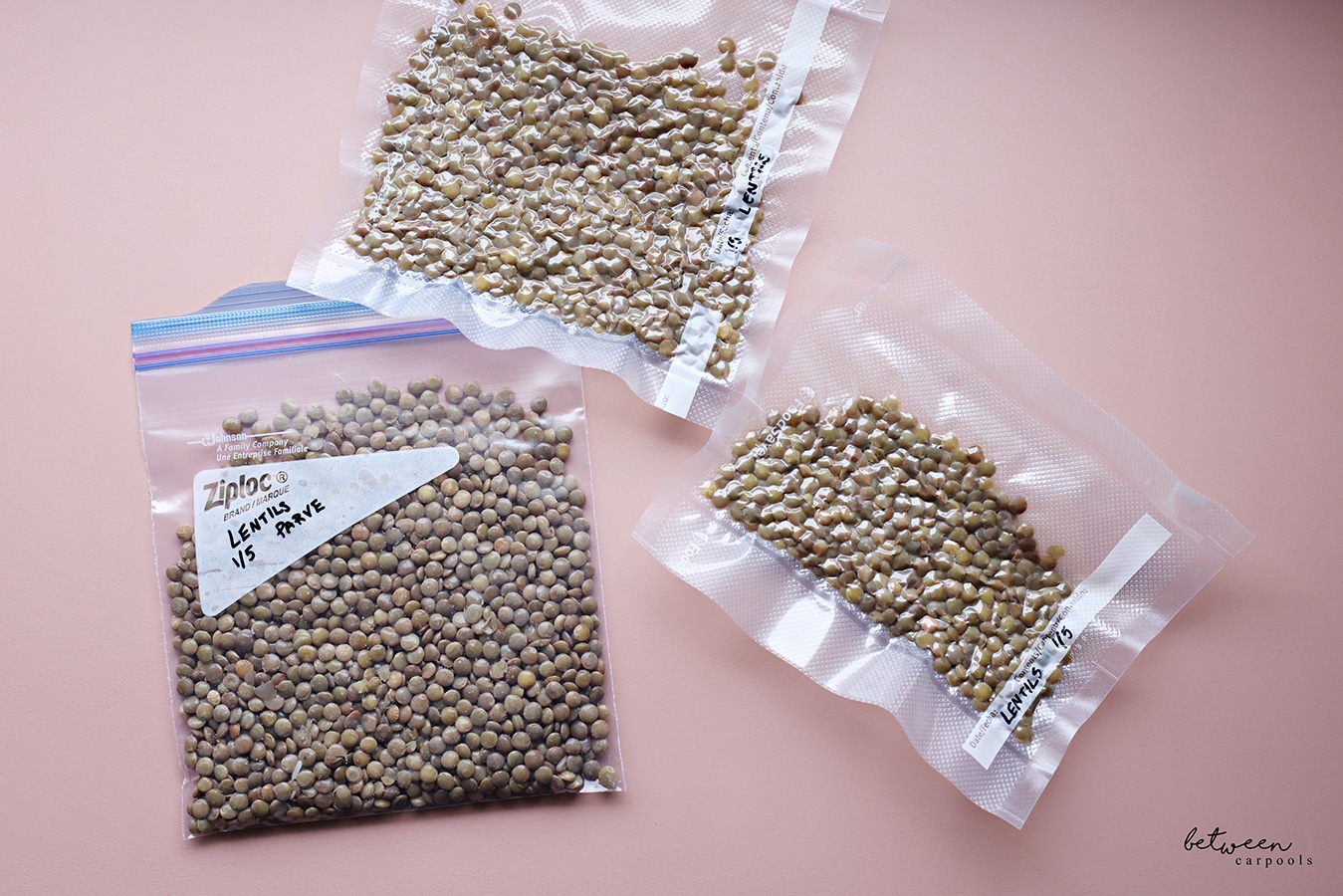 You can then simply freeze portions in ziploc bags (freeze flat so they'll defrost quickly and evenly) or take it to the next level by vacuum sealing before freezing. This will ensure maximum freshness and also makes the packets perfect for travel. It also takes up less space in the freezer. You can defrost these portions in the fridge, on the counter (if using sooner) or if you want to use it immediately, simply immerse the sealed packet in a bowl of hot water. It will be ready for use in minutes!
Oh, and while we haven't tried pasta in the oven, you can definitely freeze in portions! Just add a bit of oil to the pasta and vacuum seal. It will taste fresh when it's defrosted!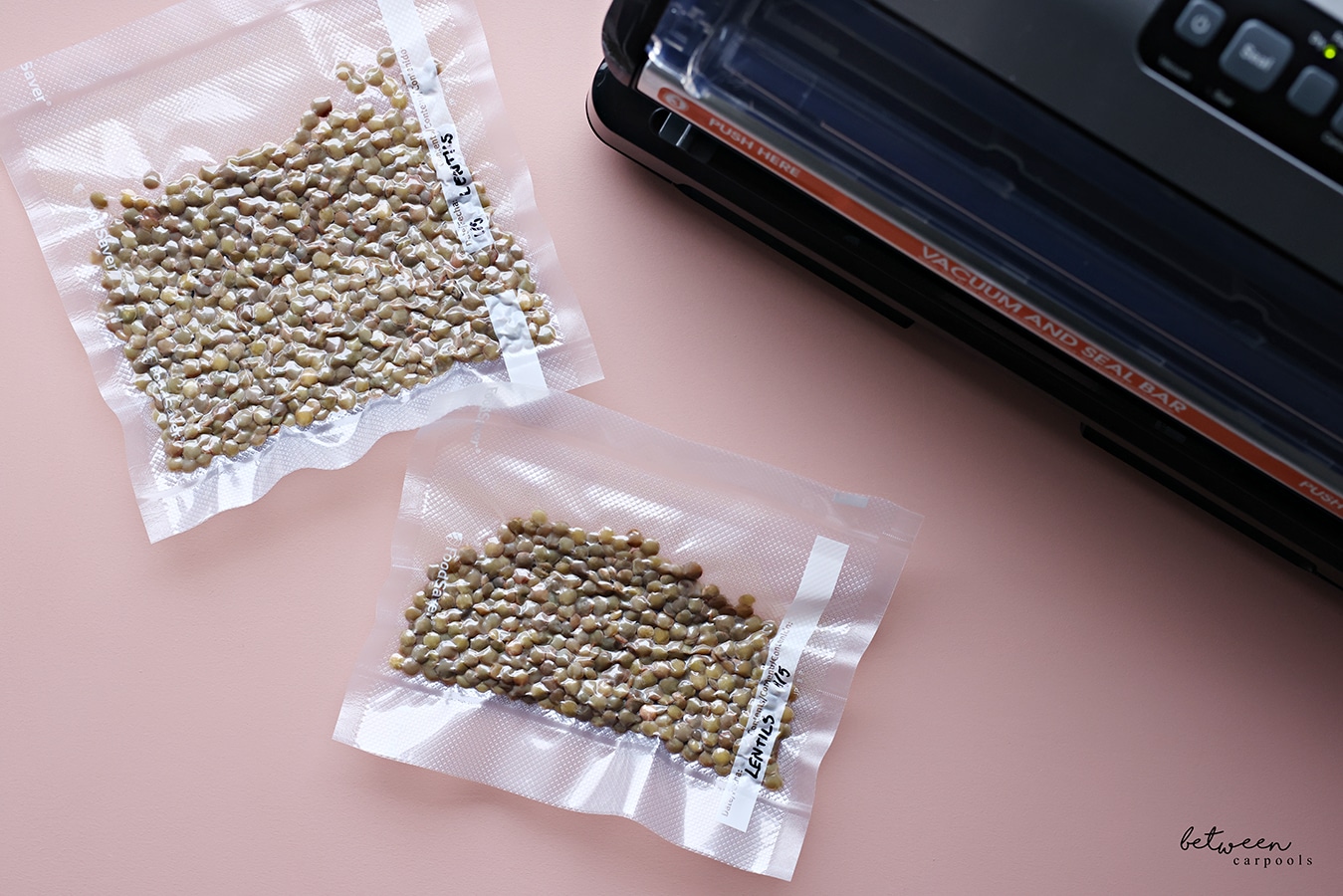 (Side note: The machine I used for this is a Food Savers vacuum sealer. If you'll be freezing lots of items at a time, it makes the job so much easier than a small portable sealer like we've featured in other posts. It's absolutely not necessary to use this more expensive machine, but it does make it easier and faster.)
FOR EXCLUSIVE CONTENT AND A PEEK BEHIND THE SCENES, MAKE SURE TO JOIN OUR WHATSAPP STATUS HERE.