Note from BCP: This recipe launches a new series of KopyKat Kosher Recipes, which are recipes inspired by restaurant experiences! We're sure you'll enjoy these new, fun recipes which we'll be posting every so often. Here's the first!
This "Soho Salad" has tasty marinated grilled chicken and lots of crunch.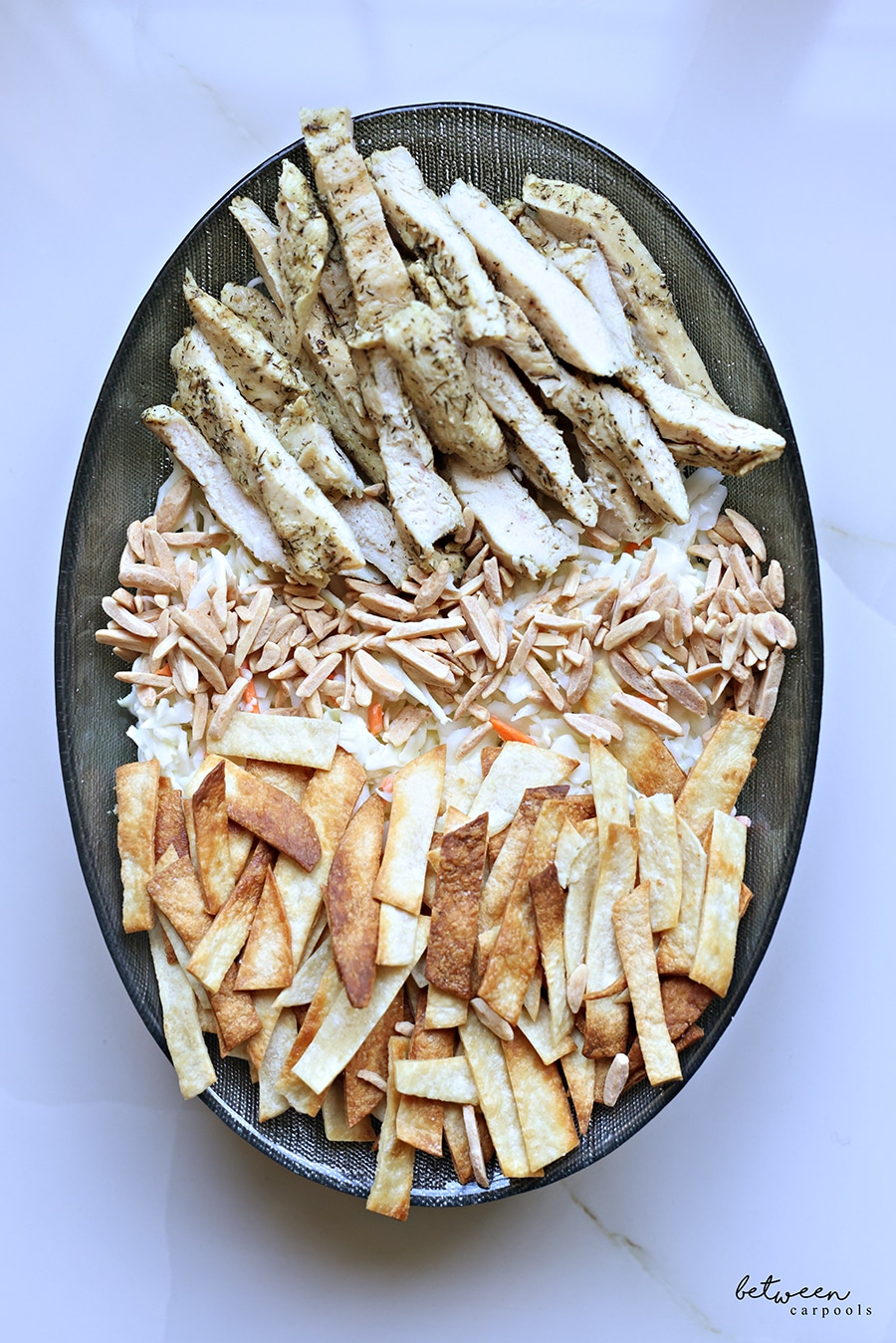 On a recent trip with friends, my favorite take away from dinner one night was this salad that we shared. When I returned home, I rushed to recreate it for Shabbos. It was a nice change from our usual grilled chicken salad and for those who love slaw, this is a big upgrade too! I would be remiss not to say thank you to the best trip coordinator…you know who you are!
Start with a basic cole slaw for the bottom layer.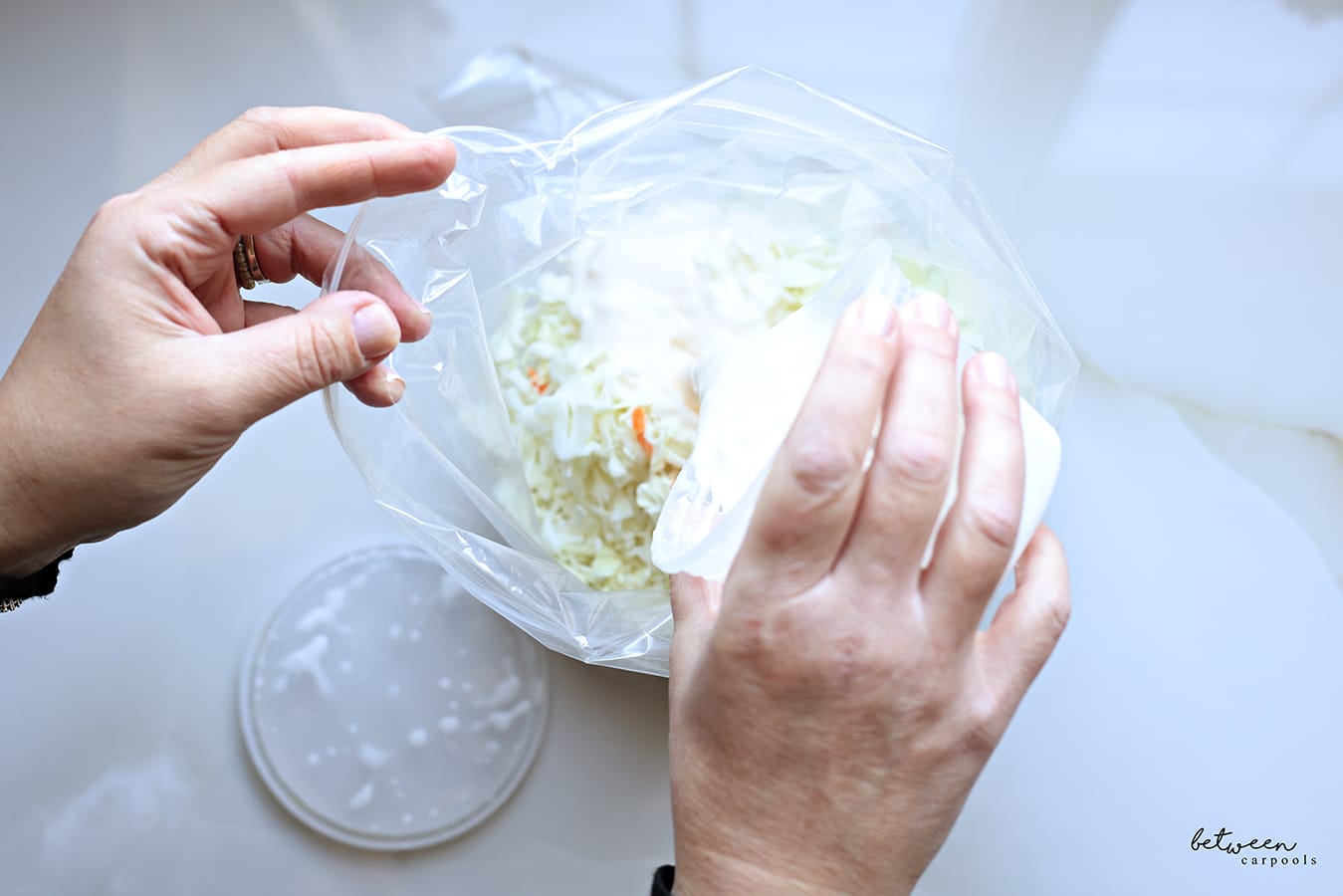 Mix the coleslaw dressing ingredients and toss with the cabbage.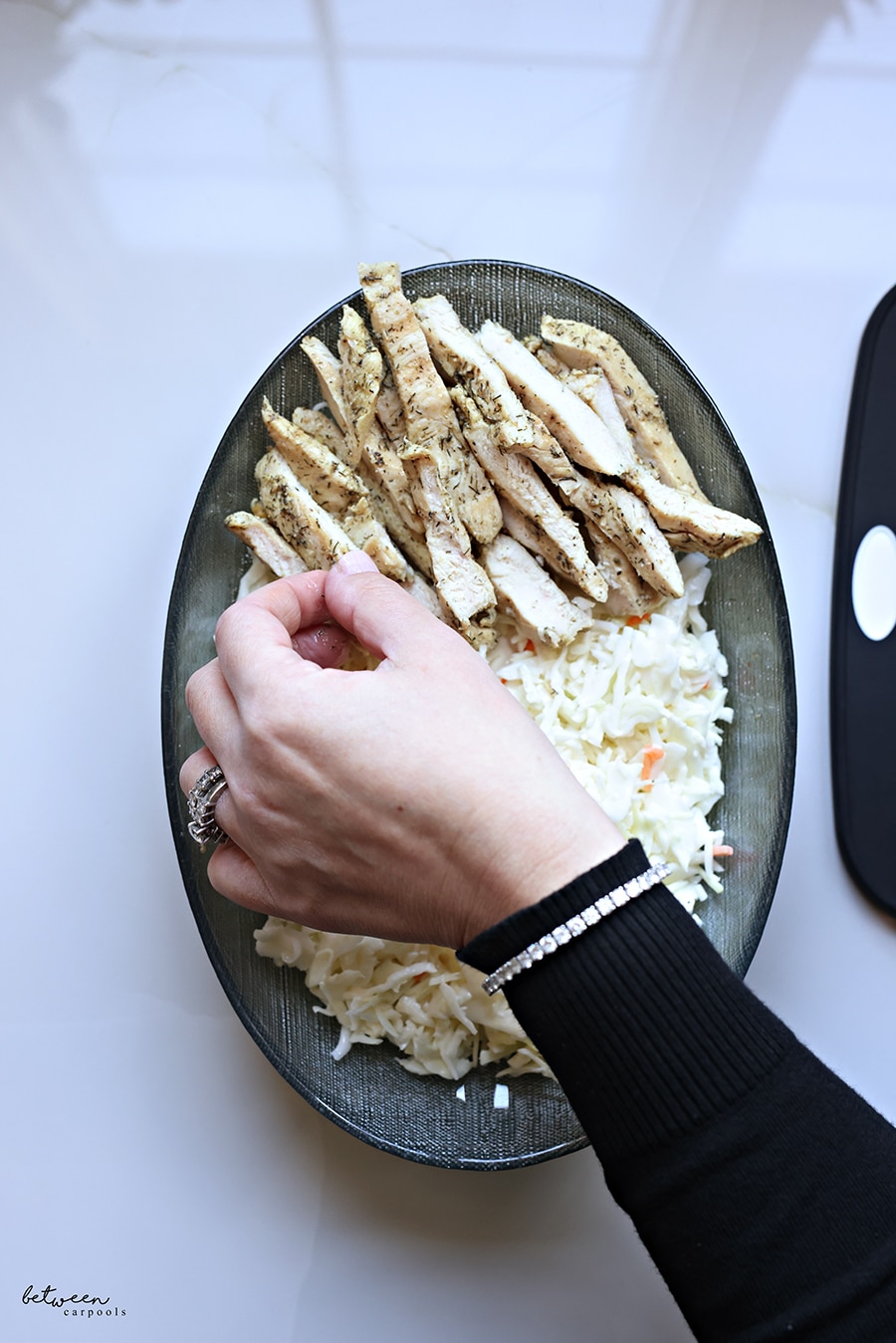 Then add strips of grilled chicken….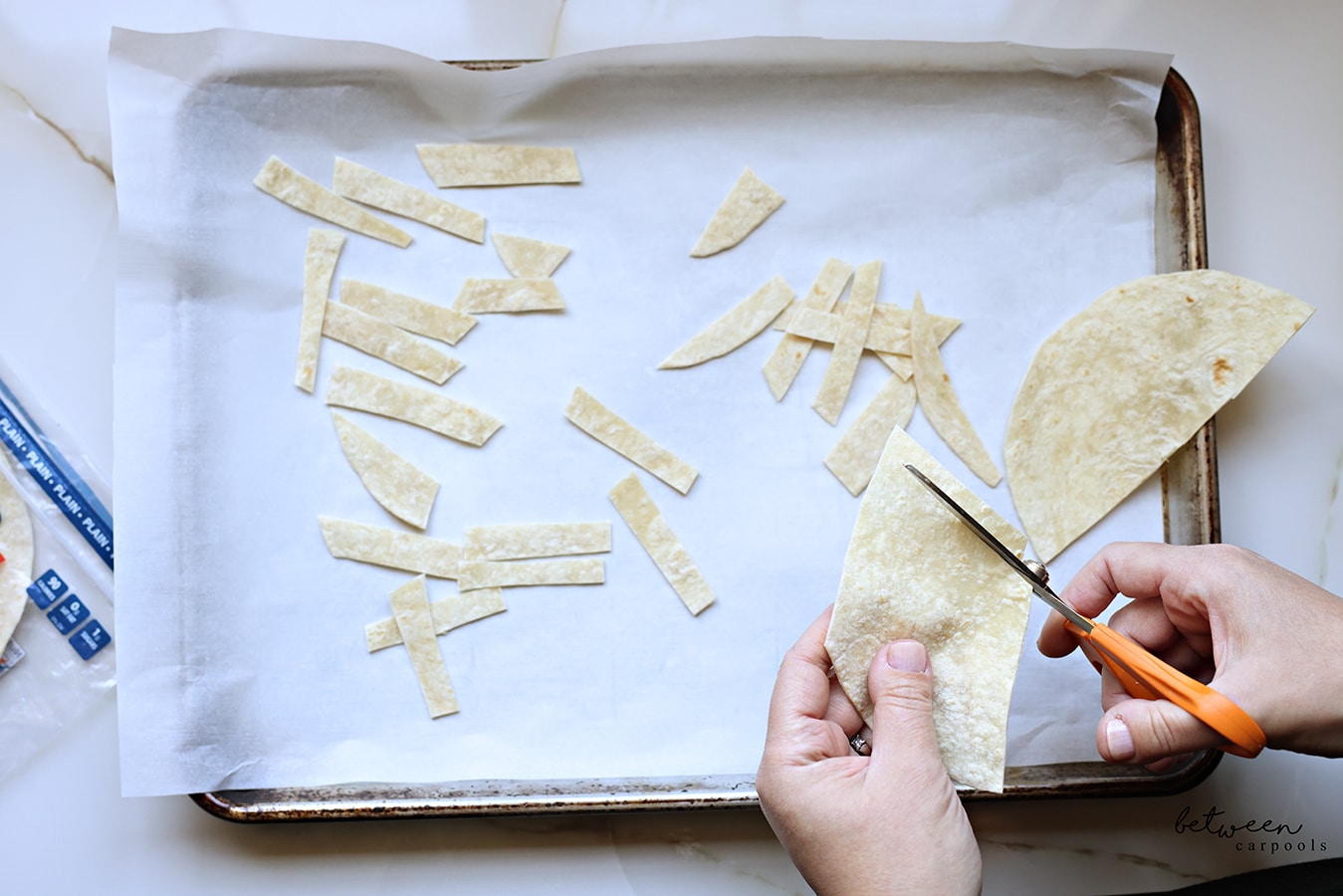 Now let's make our "chips." We cut up a wrap into thin strips and toasted them.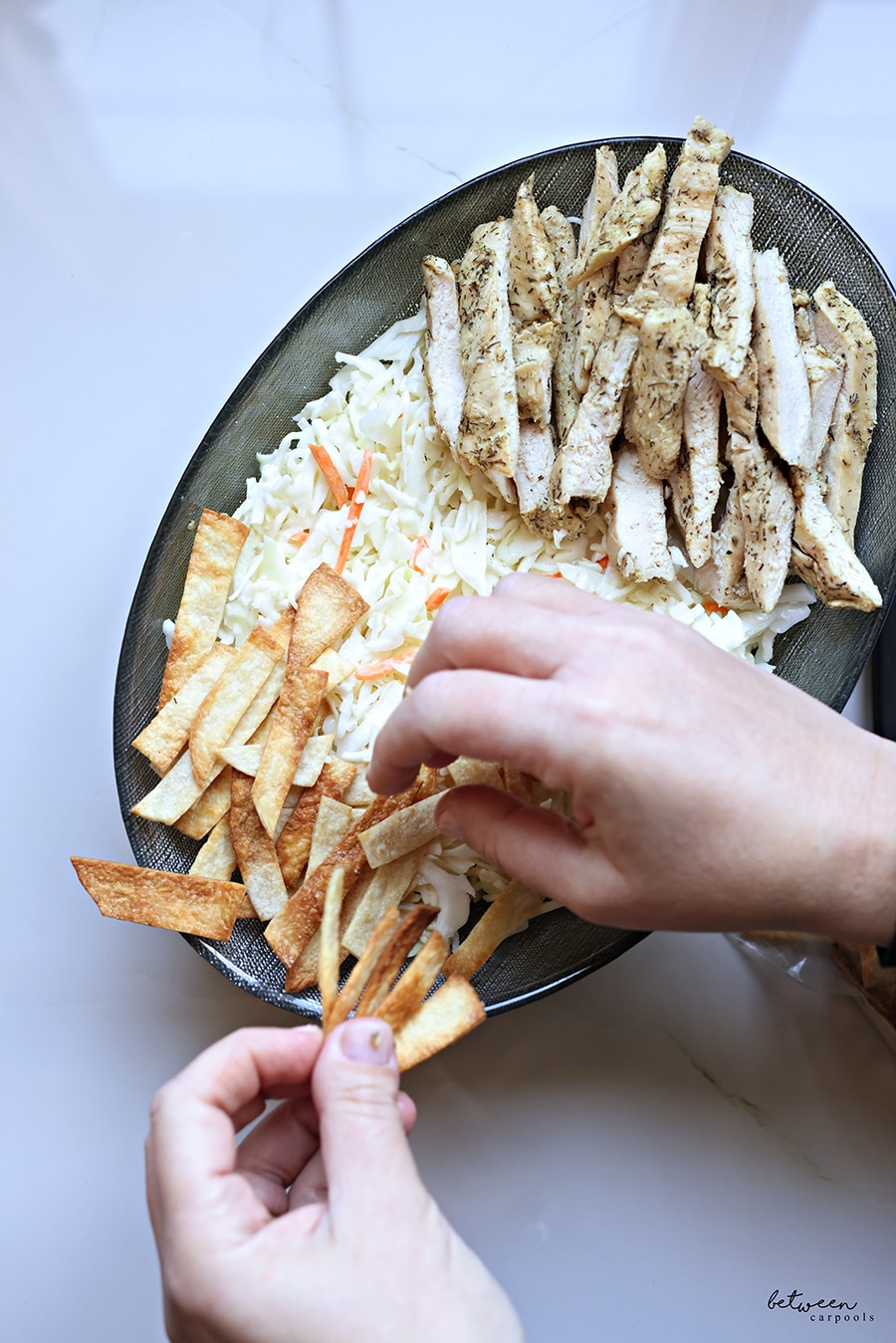 Add those to the salad,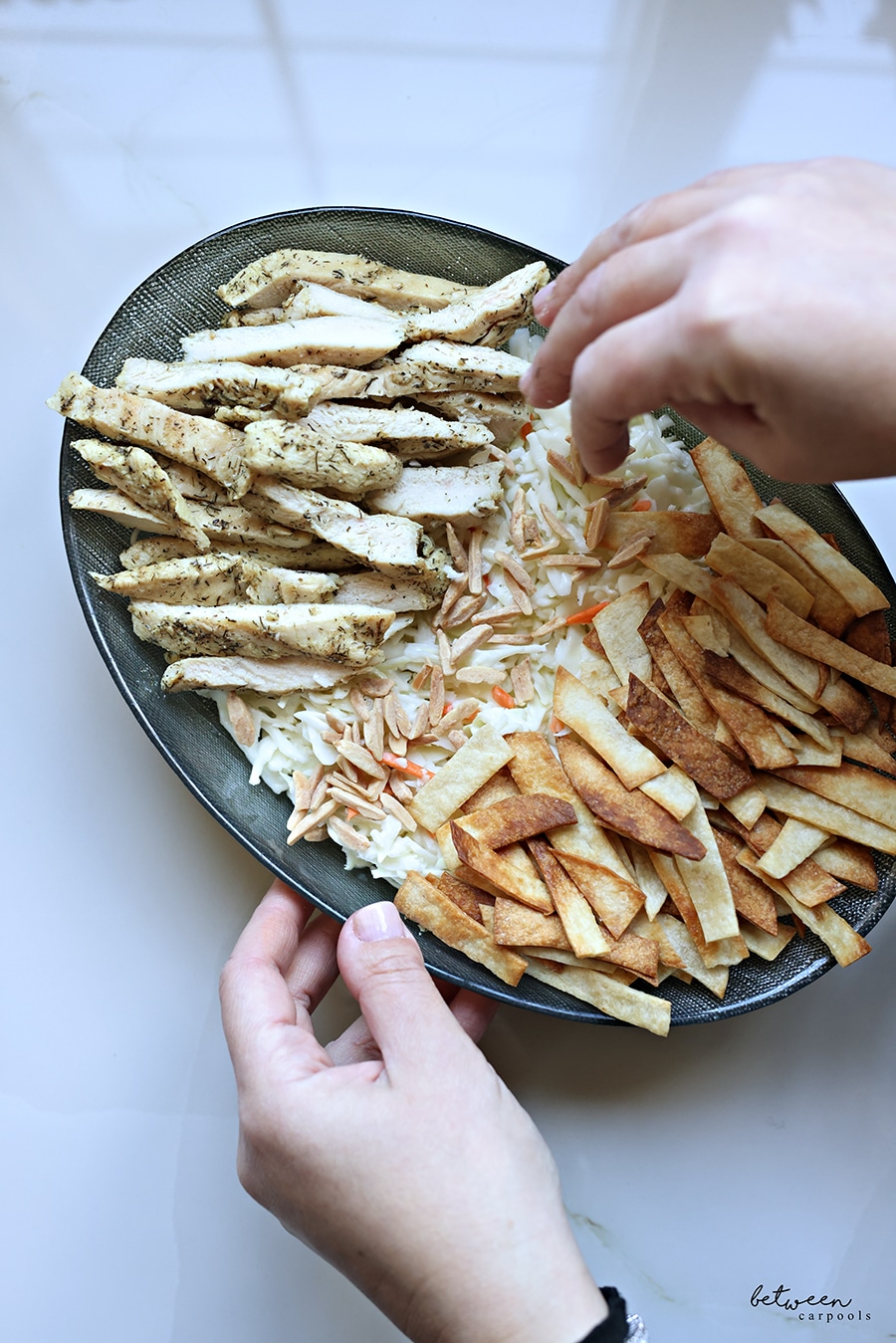 along with the almonds. Yum! Ready to serve.
If you're short on time, you can use a store-bought Caesar for the slaw dressing and store-bought chips. Some good options include "Dip Dip Crackers" or The Rebbe's Choice Whole Wheat Kichels.

The Soho Salad
Ingredients
Coleslaw:
1 bag coleslaw mix
½ cup mayonnaise
¼ cup boiling water
3 Tbsp vinegar or 2 Tbsp lemon juice
1 scant tsp salt
¼ heaping cup sugar
Grilled Chicken:
1 pound thin chicken cutlets, cut into thirds
½ cup extra light olive oil
½ tsp sea salt
½ tsp onion powder
½ tsp Pereg za'atar seasoning
½ tsp dry dill
A light squirt of mustard
¼ tsp ground black pepper
Chips:
3 (6-inch) wraps
Sea salt, for sprinkling
For finishing:
Honey glazed slivered almonds
Instructions
Prepare the chicken. Add chicken strips and all marinade ingredients to a bowl or Ziploc bag and marinate for a few minutes. Heat a grill pan over medium-high heat. Once hot, add chicken and cook for approximately 3 minutes on each side. Drizzle extra marinade into the pan while cooking. Remove chicken from pan and set aside until ready to assemble salad. Cut intro strips before assembling.
Prepare the chips. Preheat oven to 375F. Line a baking sheet with parchment paper. Cut the wraps into thin strips and place on baking sheet. Spray with nonstick cooking spray. Sprinkle with sea salt. Bake for 10 minutes. Let cool; they'll continue to crisp on the hot tray.
Prepare the coleslaw. Add cabbage to a bowl or Ziploc bag. Combine all dressing ingredients and toss with cabbage.
Assemble the salad. Top slaw with chicken, chips (add close to serving so they don't get soggy), and almonds. Enjoy!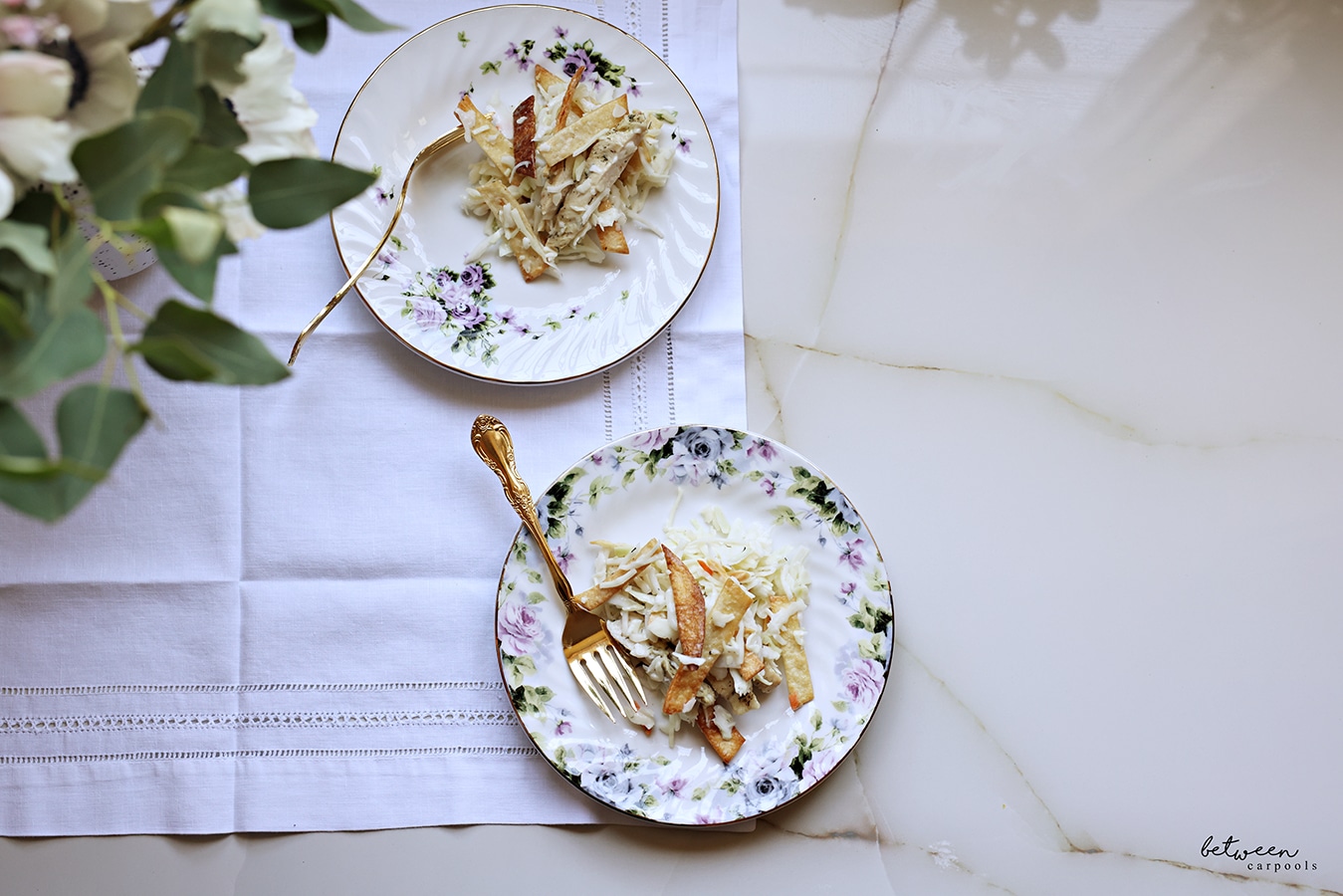 FOR EXCLUSIVE CONTENT AND A PEEK BEHIND THE SCENES, MAKE SURE TO JOIN OUR WHATSAPP STATUS HERE.