Looking for a great grilled chicken marinade? This one hits all the flavor points.
My younger sister is one of those cooks who cooks and bakes as if she's performing a science experiment. When baking, she measures her ingredients on a scale, and while cooking she's always thinking of balancing flavors. One day she came by and prepared this grilled chicken for dinner in my house. My daughter watched and wrote down the recipe as she made it.
And, true to her style, this is not your boring grilled chicken marinade. It's sweet, sour, tangy, and spicy, with a burst of flavor from the ingredient combination. It's great as a main with grilled vegetables or roasted sweet potatoes, and delicious as a sandwich between two thick slices of sourdough bread. The leftovers work perfectly in a hearty grilled chicken salad (and we won't tell anyone if you plan this recipe specifically for the salad).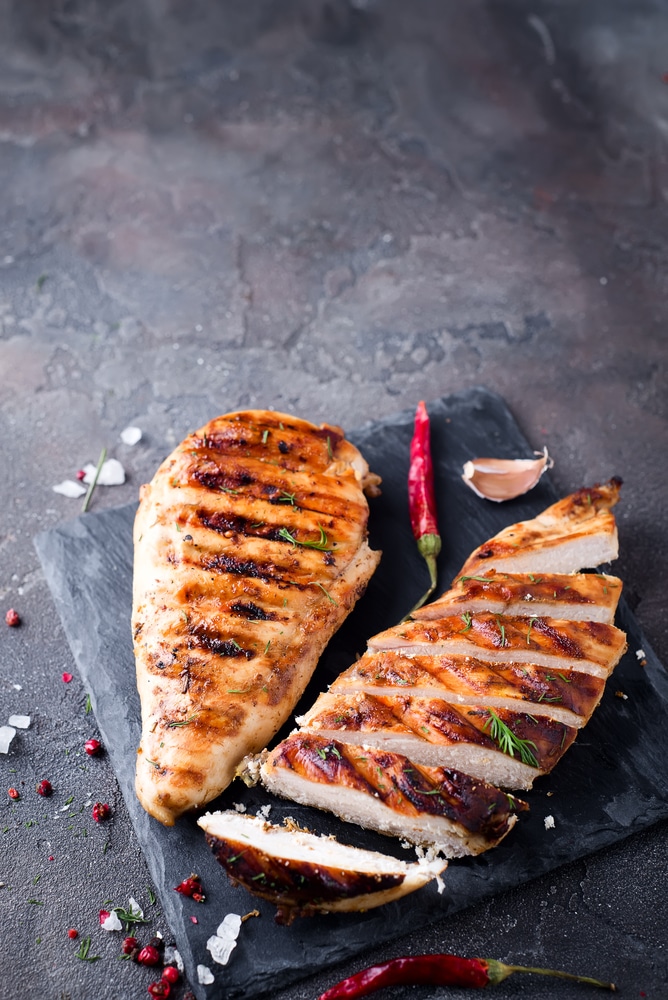 There's one little caveat. Since the marinade has sugar, if you cook multiple batches using a grill pan, it will burn easily. Either grill outdoors, or clean out your grill pan between every 1-2 batches. It's well worth the trouble since the kids will love the flavor of this (and anything that pleases everyone is worth the trouble!)

Tangy Grilled Chicken
Ingredients
1 - 1 ½ pounds boneless skinless chicken breast
Marinade:
¼ cup brown sugar
¼ cup vinegar
3 tablespoons BBQ sauce (any)
1 tablespoon olive oil
¼ teaspoon chili powder
½ teaspoon oregano
¼ teaspoon garlic powder
½ teaspoon paprika
Coarse black pepper
Instructions
Combine all marinade ingredients. Add chicken and marinate for a minimum 30 minutes. If you want to prepare ahead, combine marinade with the chicken and lay it flat in a container and freeze. Thaw when ready to use.
Grill in a grill pan or an outdoor grill for 3-4 minutes per side.