If you are bored of preparing lunch, chances are that your child is bored too. Interesting lunches don't have to be more work. Here are some ideas!
I still remember having a conversation with Esti Waldman about our toddlers' lunch, years ago. 
Those toddlers are turning 10 this winter. 
Those lunch boxes we used back then are discontinued. (We still have them; they were good!! Why do the good things always get discontinued? Like, you finally find the shade of lipstick you love, and bam! It's over.)
But never mind, we found new ones we love.
Esti was the one to introduce me to the lunchbox concept. Before then I used to do the cream-cheese-sandwich-in-a-bag-lunch-every-single-day (which is perfectly fine). I wrote an article about lunches back in December of 2013 that was published in Whisk (Ami Magazine) and prepared those same lunches in lunch boxes for many years and for different children too. Lunch in a lunch box helped opened up my toddlers to trying new foods, and they learned to love those different foods too. But read more about that here. 
Whether your child goes to school at the moment, or not, anyone can benefit from a few new ideas. Also, eating from a lunchbox is fun, even if at home. One of my children used to request his Shabbos party (cut up fruit and bamba) inside a lunchbox.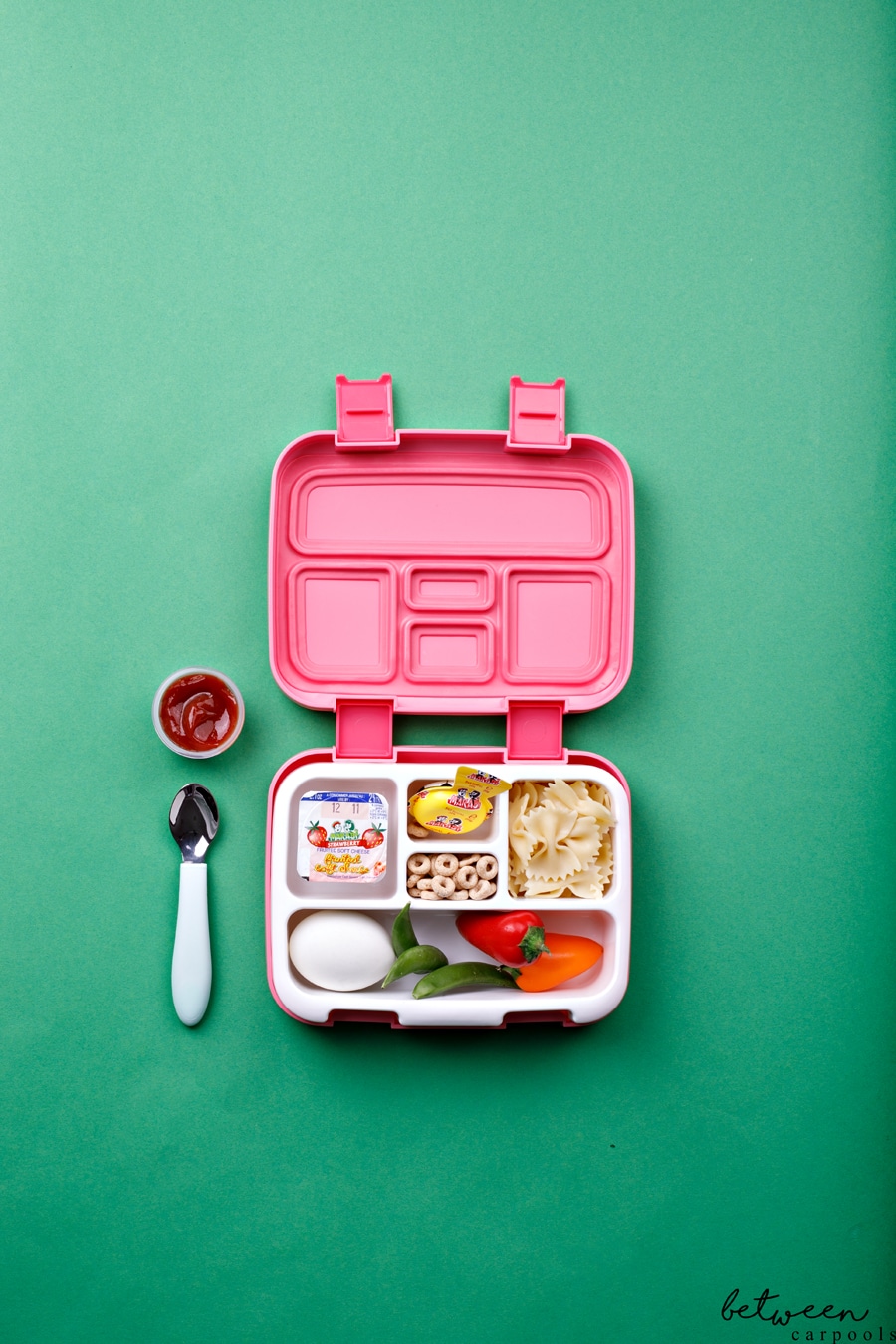 This lunchbox is great for a young child. It has many different compartments and all are small. Think of different bite-sized foods to suit different textures and moods. Here I filled it with a small yogurt, a cheese ball, Cheerios, cooked pasta (with ketchup on the side, for dipping), veggies, and a hard-boiled egg. You can peel the egg or send it unpeeled. Some kids love peeling eggs. They might even eat it if they peel it themselves! The spoon is from Target and you can find it here and the small container for the ketchup is here.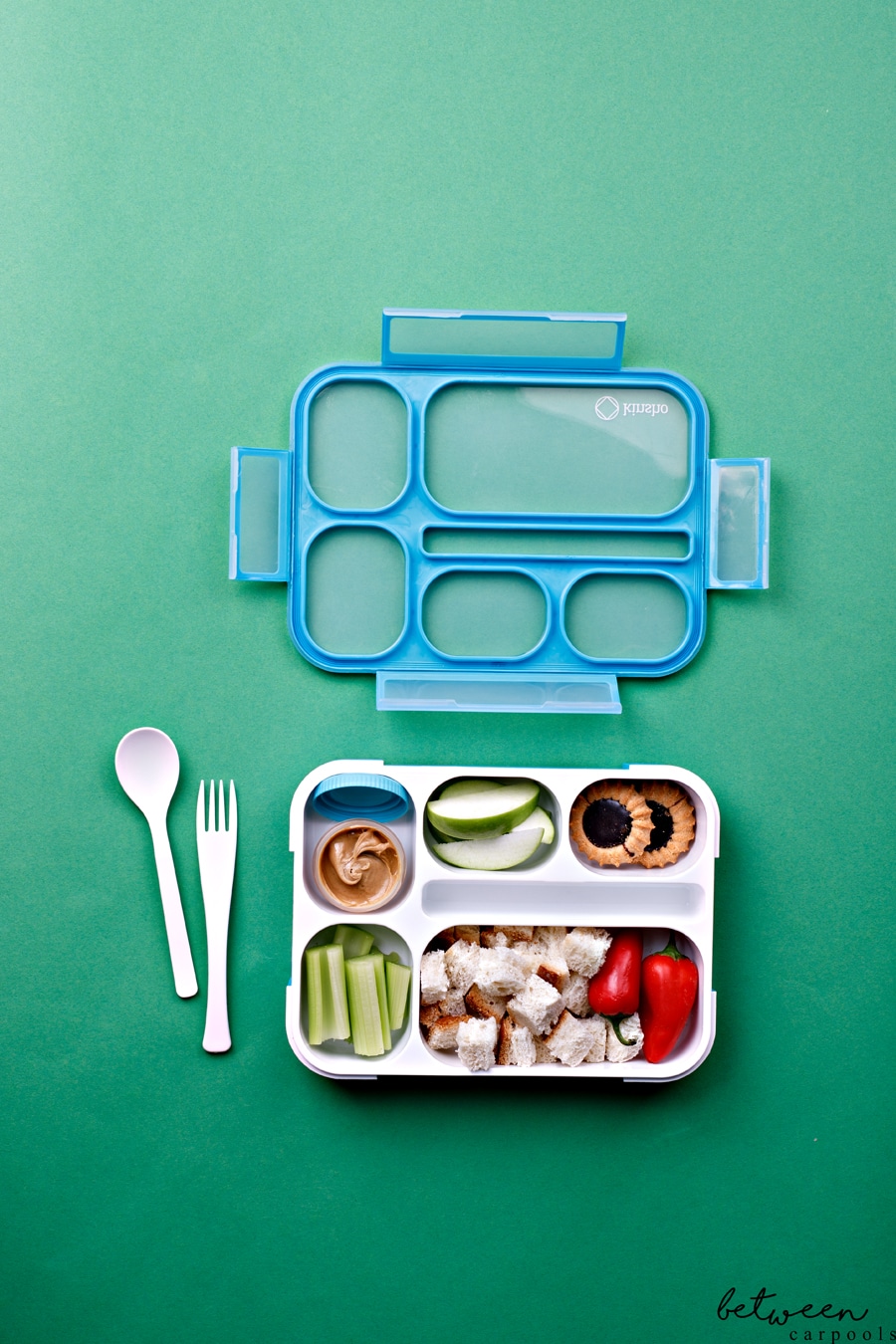 Here is another lunchbox we liked. It's also quite small but the main area is bigger than the first one (you can put a cut-up sandwich in there). 
I like to use this gadget to cut up a sandwich into perfect bite-size cuts. See here how it's done, in this cute video we did ages ago. It's one of those tools that I use again and again (even 8 years later!)
Back to the lunchbox above: Sliced apple, 2 cookies (dessert!), a cream cheese sandwich cut up as we said with some mini peppers, some celery sticks, and a little container of nut butter, to dip the apples or the celery in. 
This lunchbox comes with a spoon and a fork too. It comes in many different colors.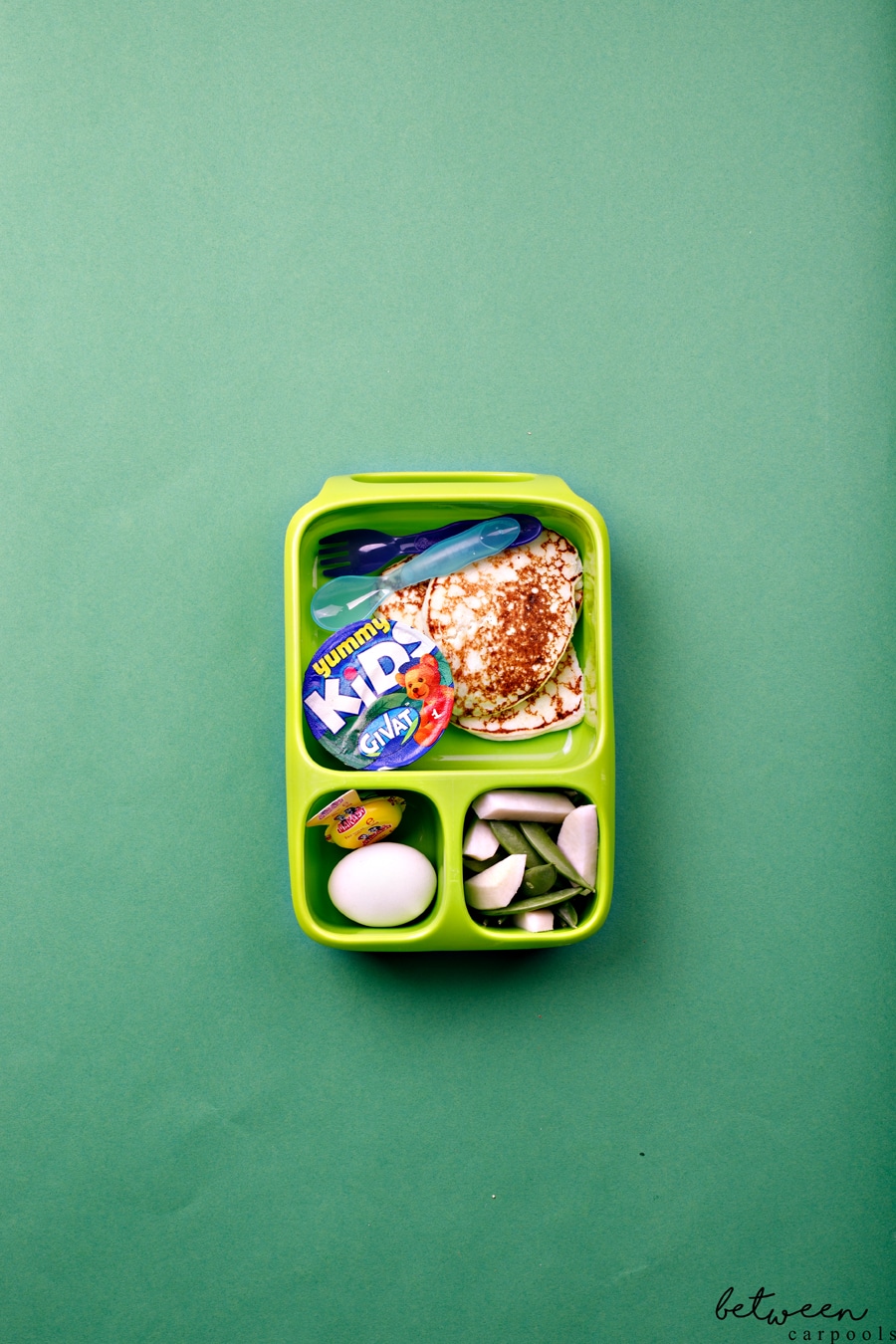 Sadly, this lunchbox is discontinued, but you can get this one here that we find to be comparable. 
To change it up a bit, I like to send cheese latkes for lunch, either store-bought or homemade (this recipe is great, make a batch and freeze them for later use). Here I added a yogurt, some cut up kohlrabi, sugar snap peas, a hard-boiled egg, and cheese.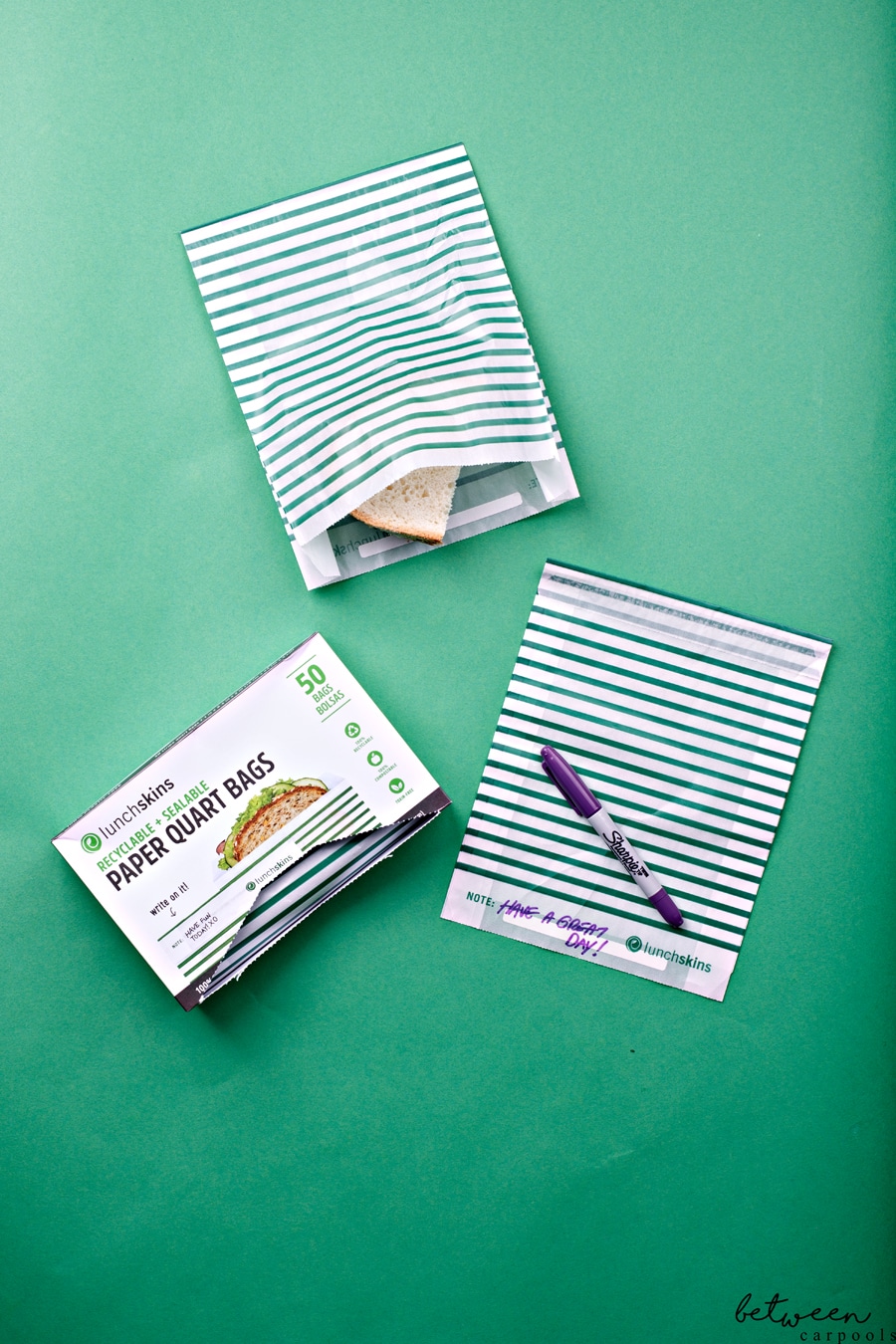 For an older child, you might like these cute paper bags to wrap up those sandwiches. Write a little note right on top of it to make it personal.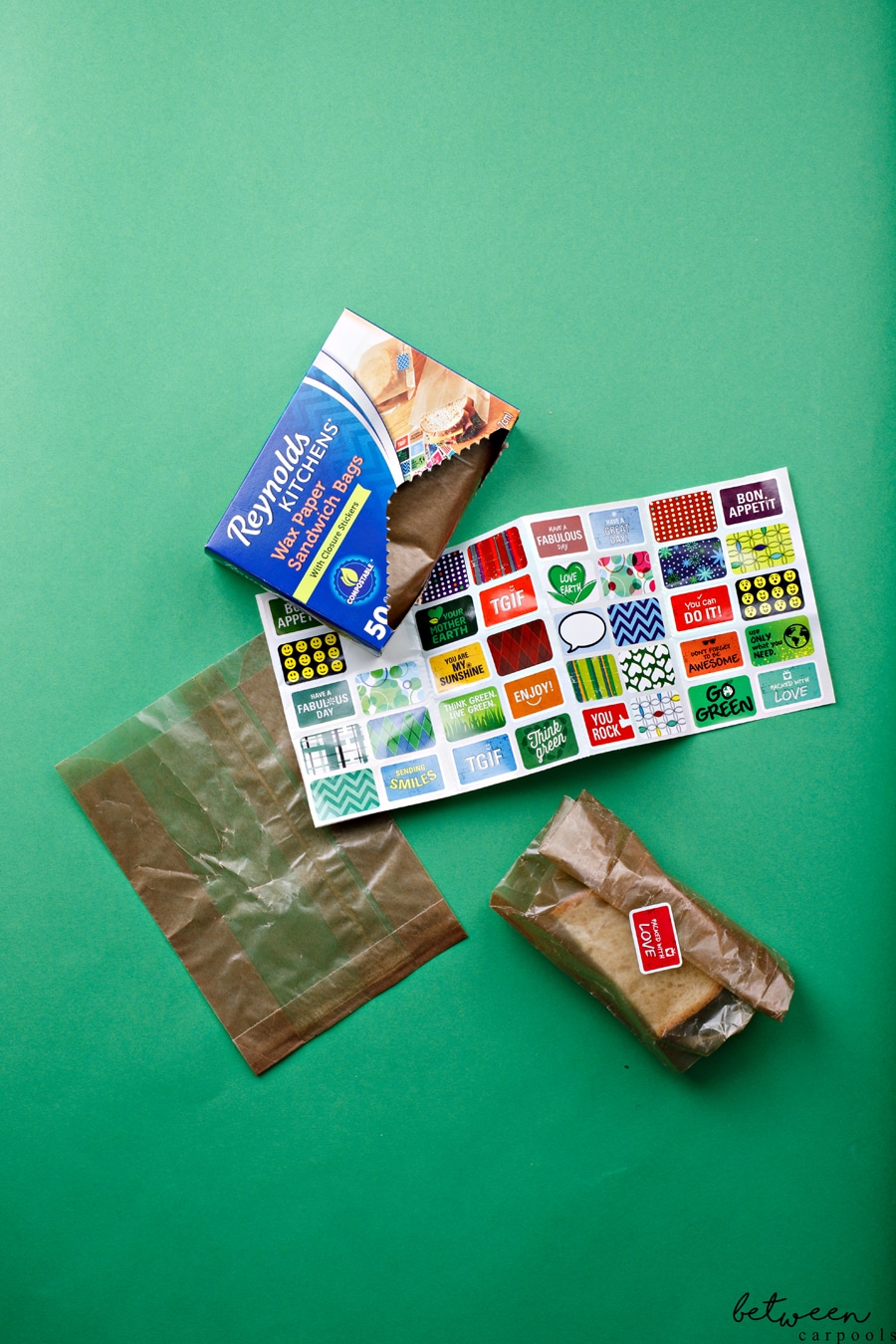 And these sandwich bags here come with adorable stickers to seal!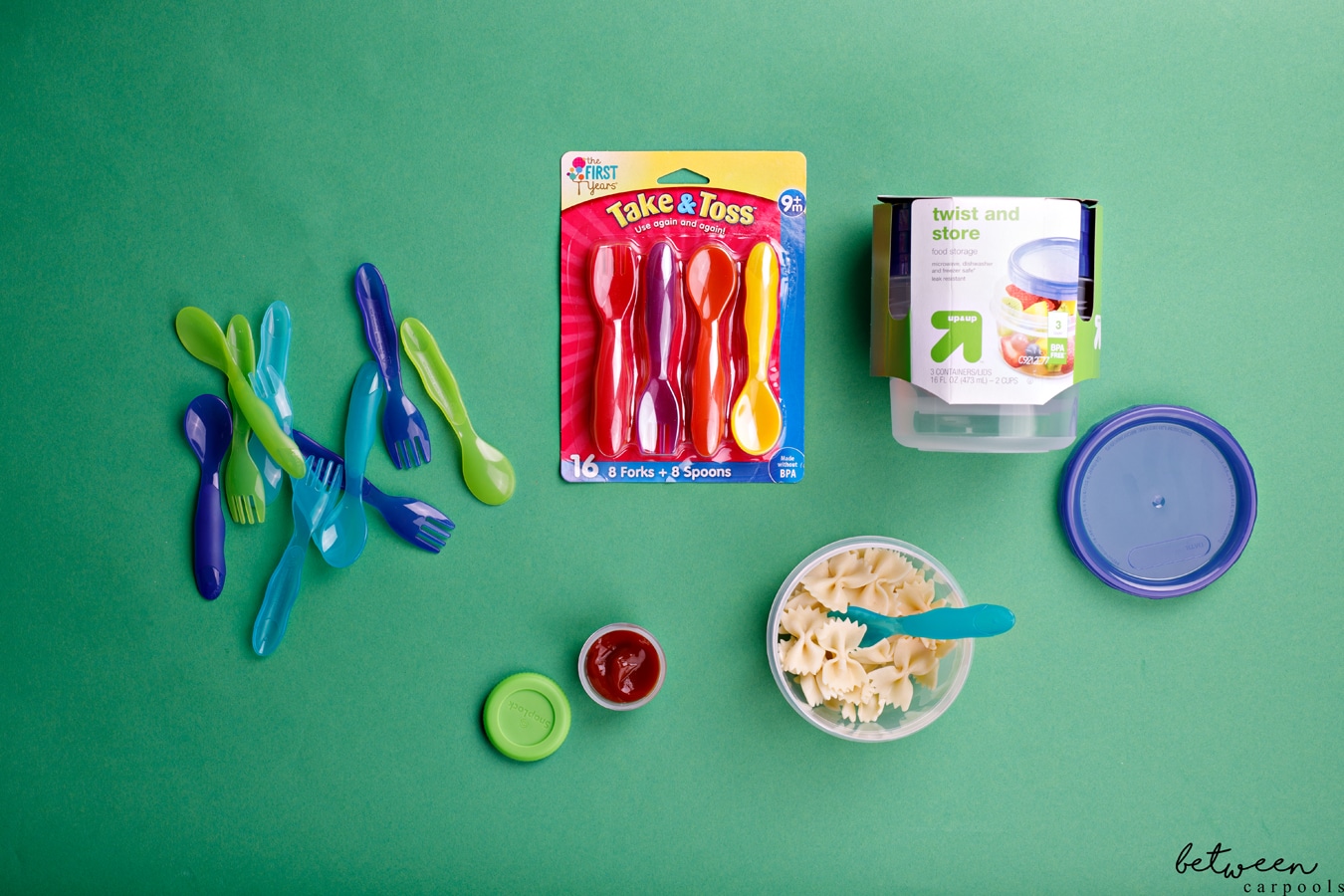 These are great to have on hand when packing lunches to go: 
Take & Toss forks and spoons whether they remember to bring them home or not, it's all good.
Twist and Store Bowls (think cooked noodles, cut up veggies, salads…)
Dip containers (ketchup, nut butter, maple syrup)