Fleshigs Magazine Editor-in-Chief Shifra Klein gives popular arayes an American twist
Use code BCP to get 25% off newsstand rates (only $49.50 for the year) of Fleishigs Magazine at fleishigs.com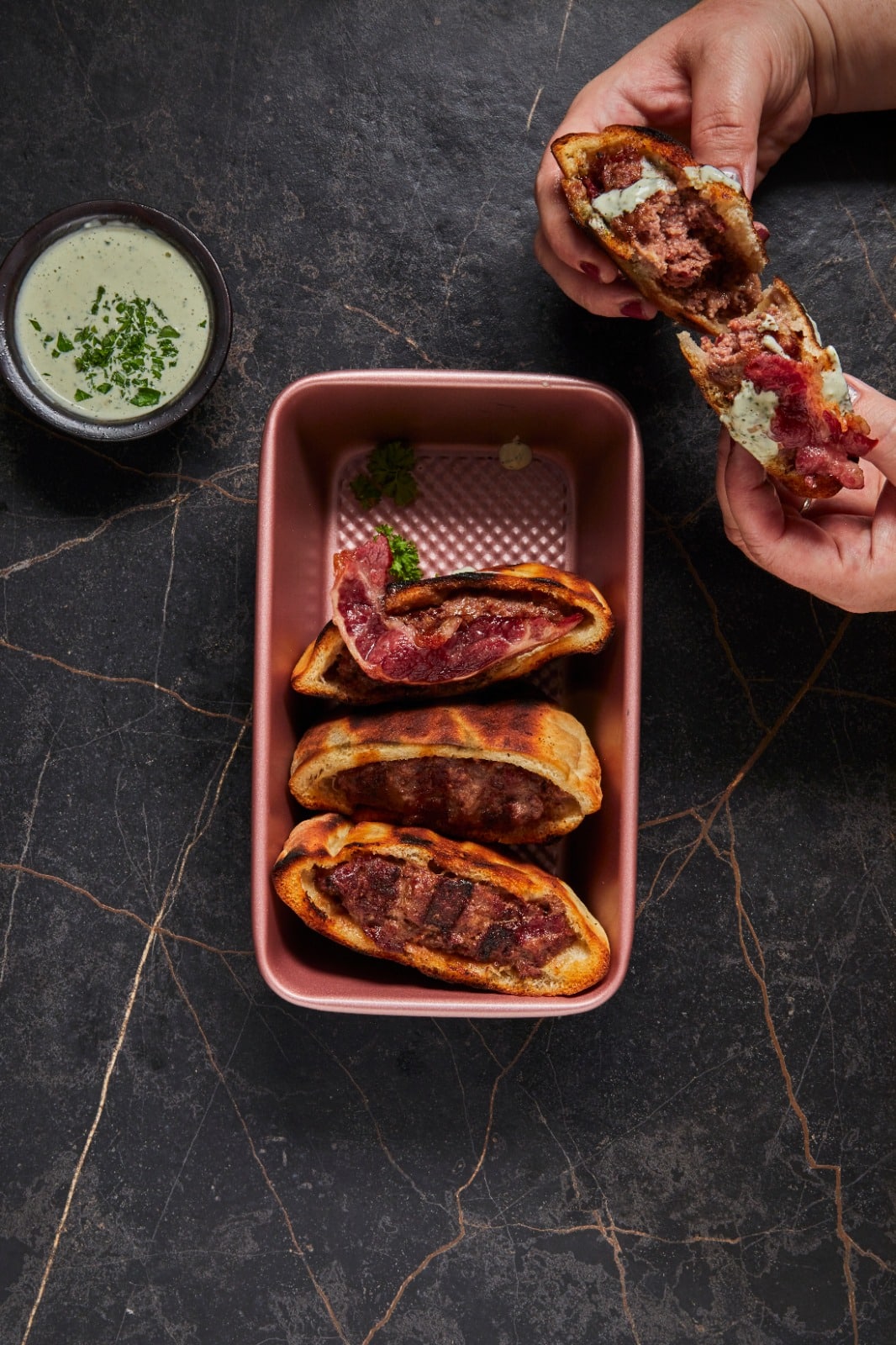 This is my American spin on arayes, Middle Eastern stuffed meat pitas. I replaced the Middle Eastern flavors of herbs and cumin with beef fry and barbecue sauce to create a fantastic grilled treat that will impress family and friends.

American Arayes
Ingredients
2 (4-ounce) packages of beef fry
1 pound ground beef
1 egg, lightly beaten
¼ cup bread crumbs
½ cup barbecue sauce
1 teaspoon garlic powder
½ teaspoon ground black pepper
1 teaspoon kosher salt
2-4 pitas
Green goddess dressing for serving
Instructions
Set a large frying pan over medium-high heat and immediately add the beef fry. Let cook 5 minutes per side, until fat is rendered and the beef fry gets crisp. Remove from pan, let cool and then finely chop. Reserve remaining fat.
Combine the chopped beef fry, ground beef, egg, bread crumbs, barbecue sauce, garlic powder, black pepper and salt together.
Slice pitas in half and gently stuff meat mixture inside, making sure not to rip the pita bread.
Brush reserved beef fry fat (or oil) over the pita and exposed beef and grill over medium heat for 5 minutes per side, until golden brown.
Serve hot with green goddess dressing.
Green Goddess Dressing
Ingredients
1 cup real mayonnaise
1 cup fresh parsley
2 scallions, roughly chopped
1 cup baby spinach (or watercress)
¼ cup fresh dill
2 cloves garlic
½ teaspoon kosher salt
Up to 1 tablespoon hot sauce
1 teaspoon honey
Instructions
Blend ingredients together until smooth, about 3-5 minutes. Store, covered in the refrigerator for up to a week.
FOR EXCLUSIVE CONTENT AND A PEEK BEHIND THE SCENES, MAKE SURE TO JOIN OUR WHATSAPP STATUS HERE. JOIN OUR WHATSAPP GROUP AND WE'LL LET YOU KNOW WHEN A NEW POST IS UP!