You read the title, and 90 percent of you thought, "What is Grandma Pizza?"
Growing up in New York, my choices at the pizza store were always a slice of pizza or a slice of Sicilian pie. A regular slice of pizza was and is triangle-shaped, with a thinner crust and Sicilian is a square thick crust pizza. Grandma is what I imagine to be a hybrid of those two. Square slices, but thinner, with the emphasis on a crispier bottom (brushed with oil) and usually heavy with tomato sauce over the cheese.

Italian American grandmothers would make a sauce for hours over the stove (one that would make Renee Muller's Nona proud) but when it came to baking the pizza, it was a quick rise in the pan and dinner had to be served. No stretching the dough into a beautiful round circle (aka classical NY style pizza) or letting the dough proof in the sheet pan for hours (aka Sicilian pizza).
For those that read until here, you may be thinking, "Really Leah? What's the major difference, pizza is pizza. It's all basically some dough, sauce and cheese, don't get so melodramatic on us."
So why should you make Grandma Pizza? Simple. I think this is the only homemade pizza that tastes amazing without a pizza stone or steel. There's no fancy equipment needed, you can make it ahead (see instructions), and your tastebuds will thank you when you bite into that sauce over the cheese instead of the usual cheese over the sauce.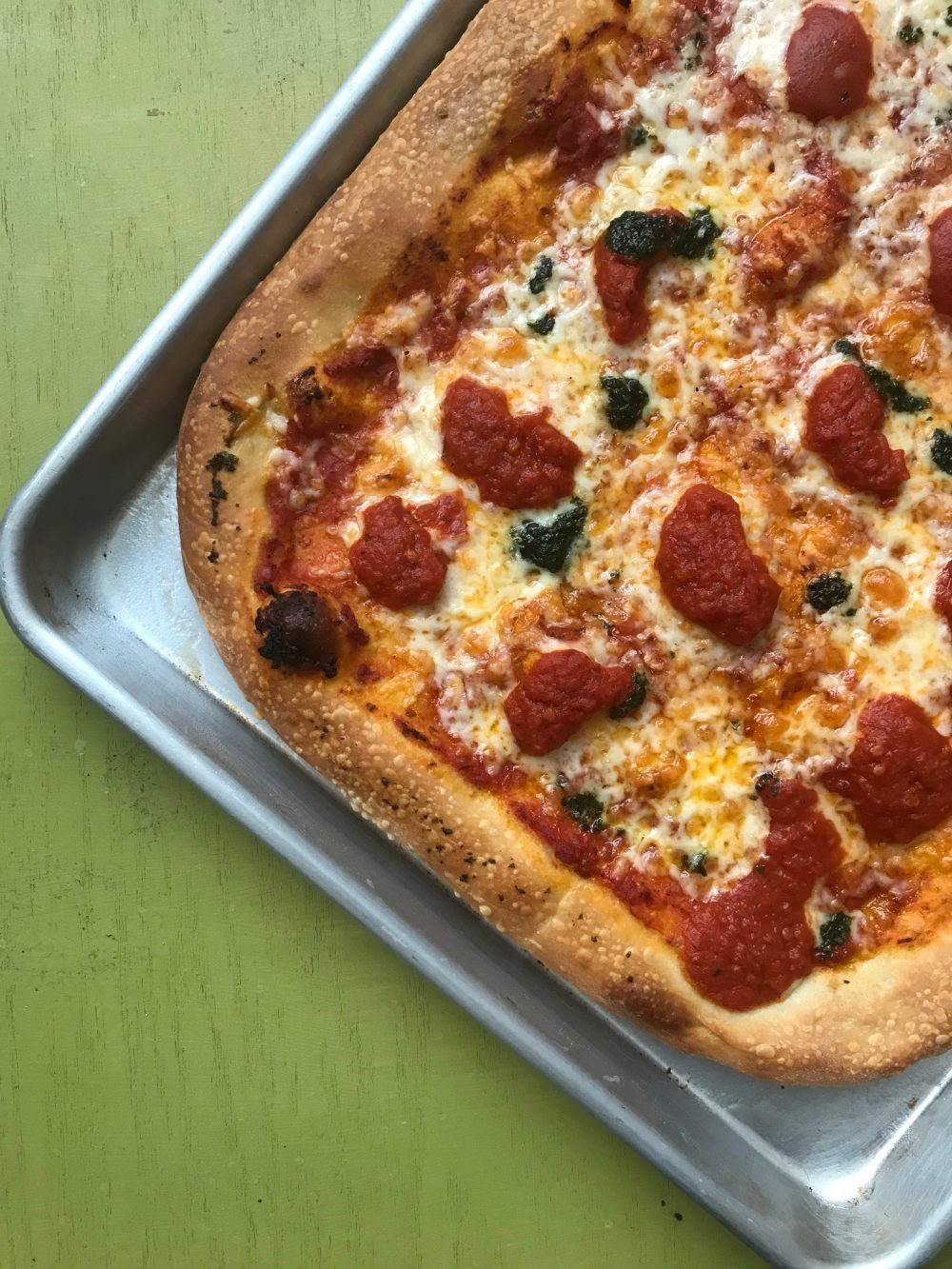 One more thing—you do need a hard non-disposable baking sheet pan.
Use store-bought pizza, frozen pizza dough, or Dairy Made Easy's Thin Crust 30 minute Pizza Dough recipe.
---
Need a quick, easy, "cheat" way to make pesto? Combine 8-12 frozen cubes of basil, 2 frozen cubes garlic,  ¼ cup of olive oil, and dash of salt.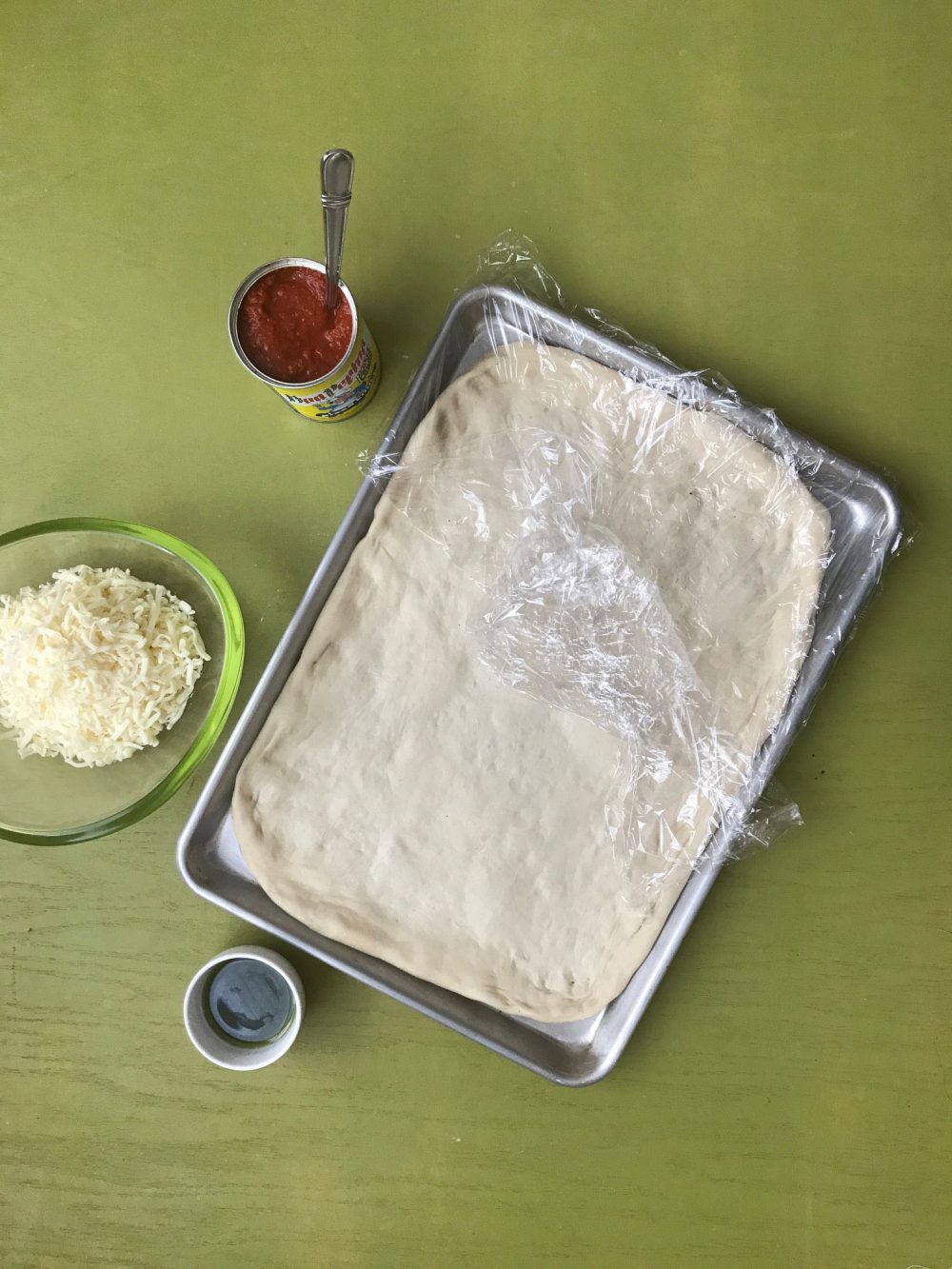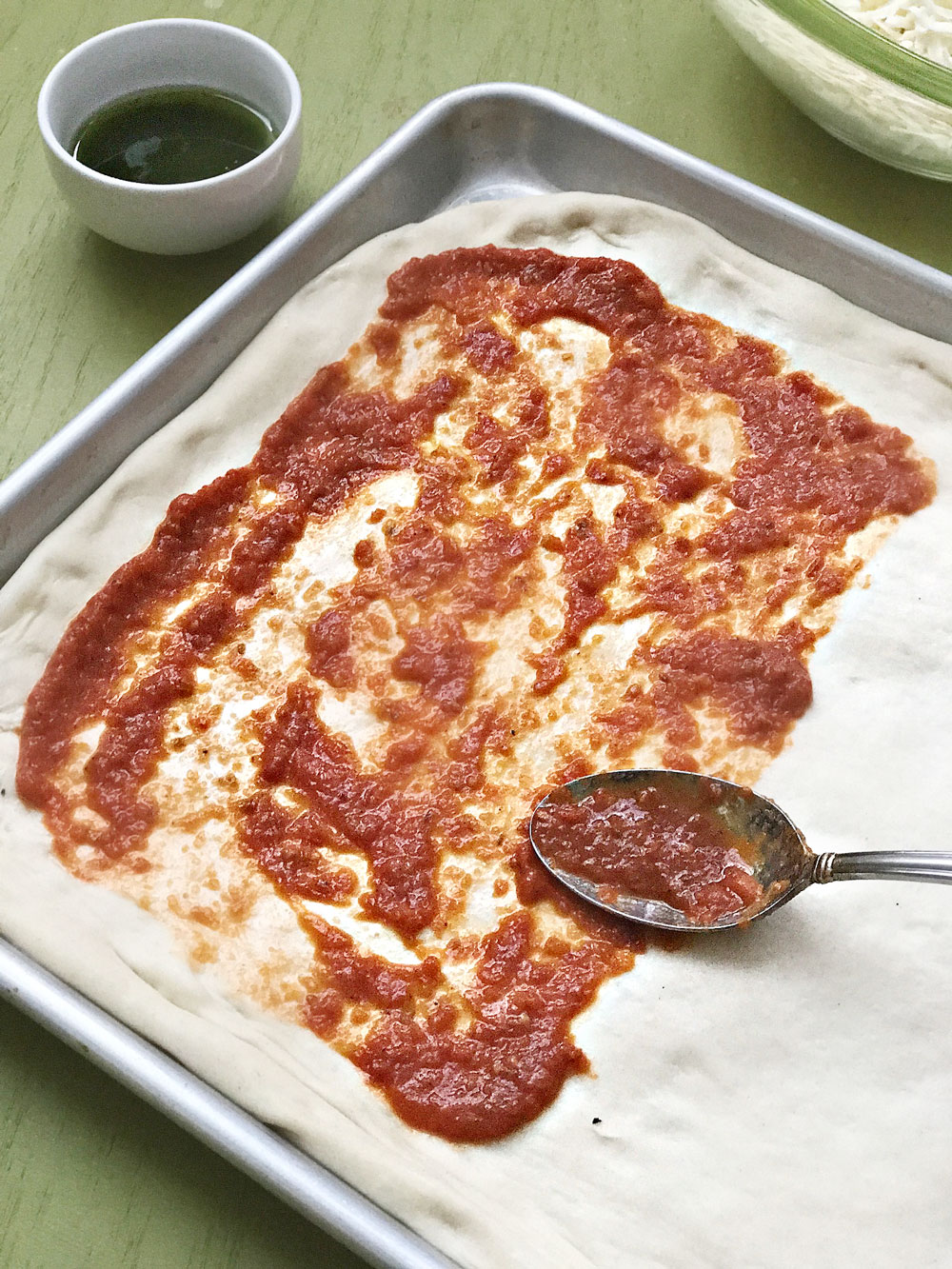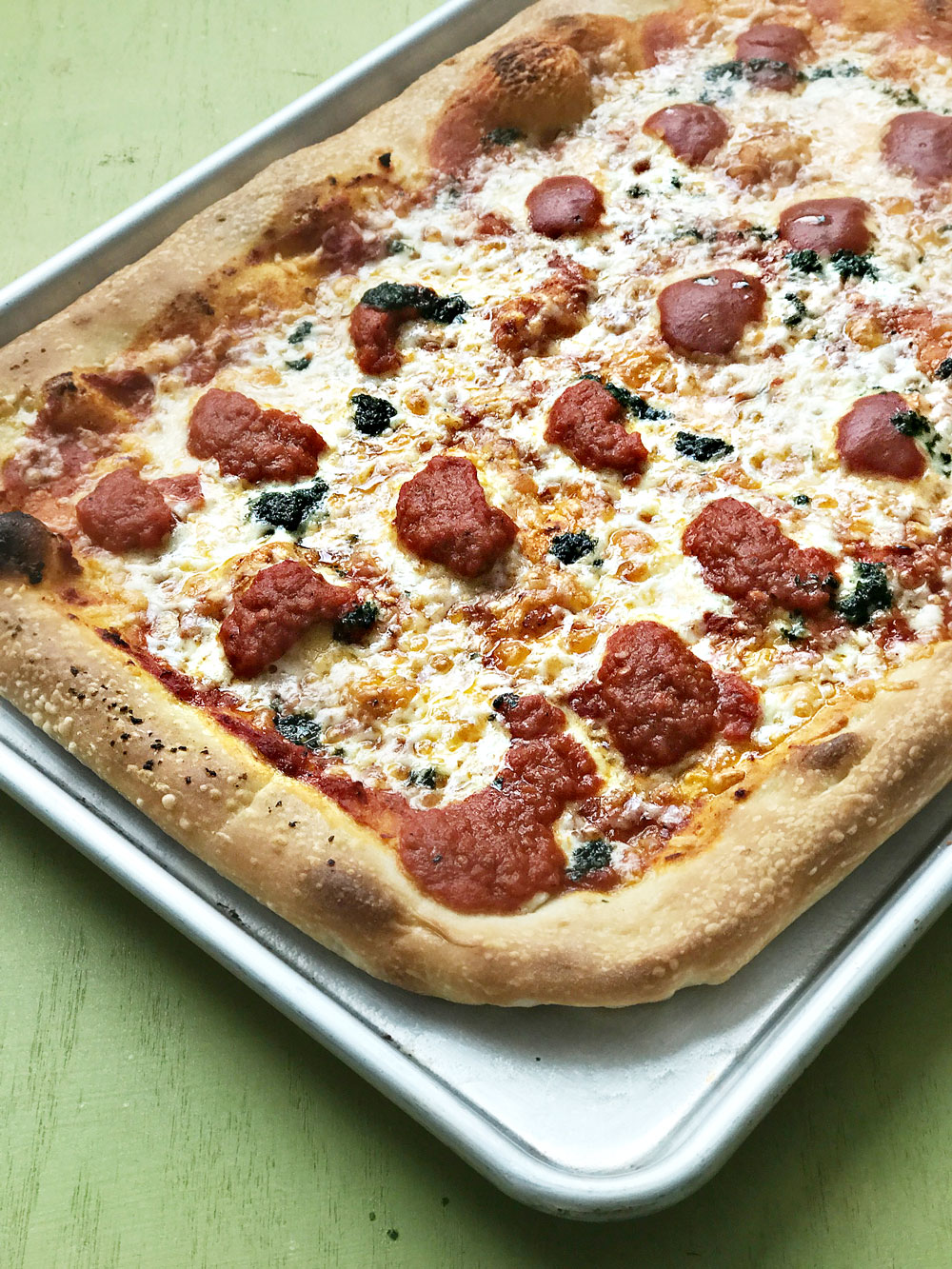 Grandma Pizza
Ingredients
You'll Need:
1 heavy sheet pan
Saran Wrap
For Pizza Assembly:
1 pound pizza dough
2 tablespoons oil
1 cup pizza sauce (or as needed)
1 ½ cup shredded cheese
¼ cup pesto
Instructions
Brush 2 tablespoons oil on the sheet pan. Stretch dough out with your hands over the sheet pan. Cover with Saran Wrap. Let rise 30-40 minutes.
Preheat oven to 500ºF.
Remove Saran Wrap and stretch out dough again to the edges of the pan. Spread a thin layer of tomato sauce. Bake for 10 minutes on the lowest rack in the oven.  (At this point you can set the pizza aside and finish it right before serving).
Remove from oven. Sprinkle cheese over the dough. Using a spoon, "dot" tomato sauce over the pizza. Drizzle with pesto.
Place back on lowest rack of oven. Lower temperature to 475ºF and bake for 9-10 minutes. Cut into squares and enjoy.