We tend to default to the more expensive cut of meat, but is it necessary when it's going to be shredded?
In one of our recent chats, we were discussing which cuts of meat we use for pulled beef. We were wondering why we tend to use a second cut brisket, which is significantly more pricey than other cuts. So, we decided to put it to the test.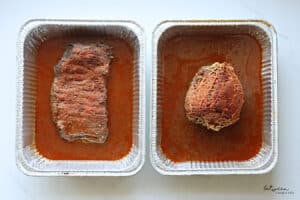 Using the recipe for Victoria's maple bourbon ribs, I prepared both roasts at the same time. I used the same spice rub and added the broth halfway up each of the meats. After about 3 hours in the oven at 325⁰F, the brisket was ready for shredding. The chuck roast was still too tough, but about 2 more hours in the oven and the chuck roast was soft and shredded easily.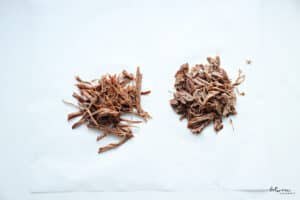 After combining both piles of beef separately with the bourbon sauce, I had my family taste and then determine if they had any preference between the two. Most actually preferred the texture of the chuck roast over the more expensive brisket! 
So it really comes down to timing. If you want a batch of pulled beef that will be ready more quickly, use a brisket. But if you have the hours for low and slow cooking, the chuck roast is the more affordable, and arguably more delicious, choice. 
For more pulled beef recipes, check out this kosher for Pesach version, this slow cooker party version or the ultimate pulled beef tacos.
FOR EXCLUSIVE CONTENT AND A PEEK BEHIND THE SCENES, MAKE SURE TO JOIN OUR WHATSAPP STATUS HERE.