We've been enjoying this taco-and-mango salsa combo all summer. But now you're in on the secret too.
Leah: This is the story of when you share a recipe with a friend and she makes it so much better.
Renee: One Yom Tov, I wined and dined my in-laws for 3 days. I slaved over all kinds of desserts and appetizers, yet the one thing they still talk about today is the mango salsa that I plated with the Reserve Cut Tacos from Secret Restaurant Recipes.
Leah: It's always been everyone's favorite. There hasn't been a person who wasn't excited when we got that "Secret" recipe from Reserve Cut, one of the top kosher restaurants in Manhattan.
Renee: I always felt that this recipe is awesome but the presentation a bit blah. On erev Yom Tov, my friend Rivki S. sent this salsa and nonchalantly suggested I serve it with anything that needs some oomph. Well, making a long story short, the salsa was a hit and my mother-in-law raved about it while I had to pretend I knew exactly how I made it.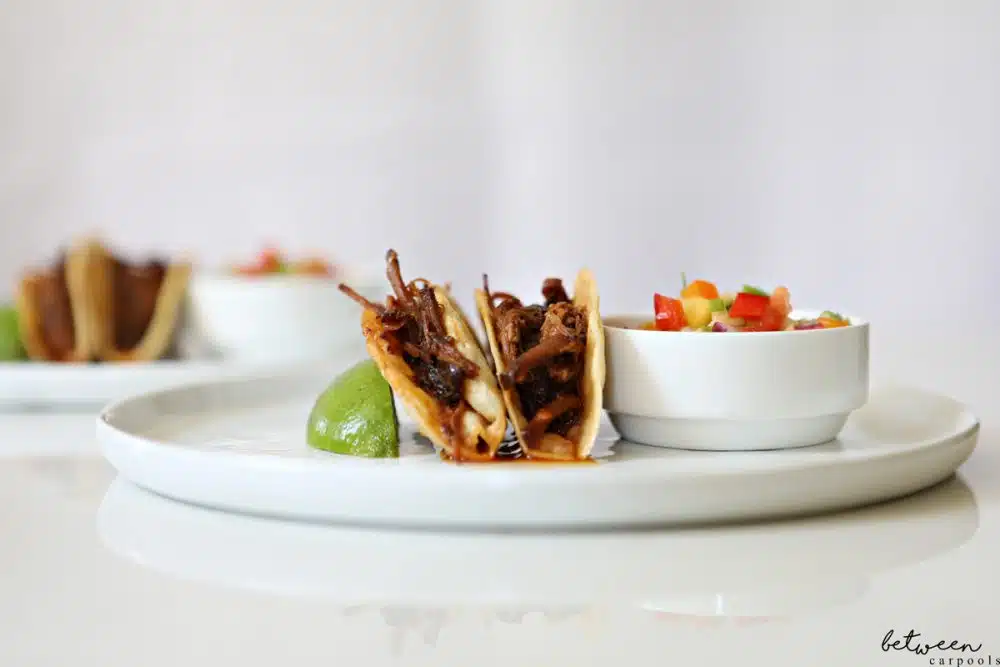 Leah: And since the meat freezes so well, it's really the perfect appetizer to prep ahead. When Renee said, 'Let's share it on Between Carpools,' I said sure. More people should know the secret. And then the day of the shoot came and she pulled this salsa out of nowhere. Reserve Cut should take note. This is the salsa that's made to go together with these tacos. We sat down during the shoot and ate it on the spot. We didn't leave one cube behind.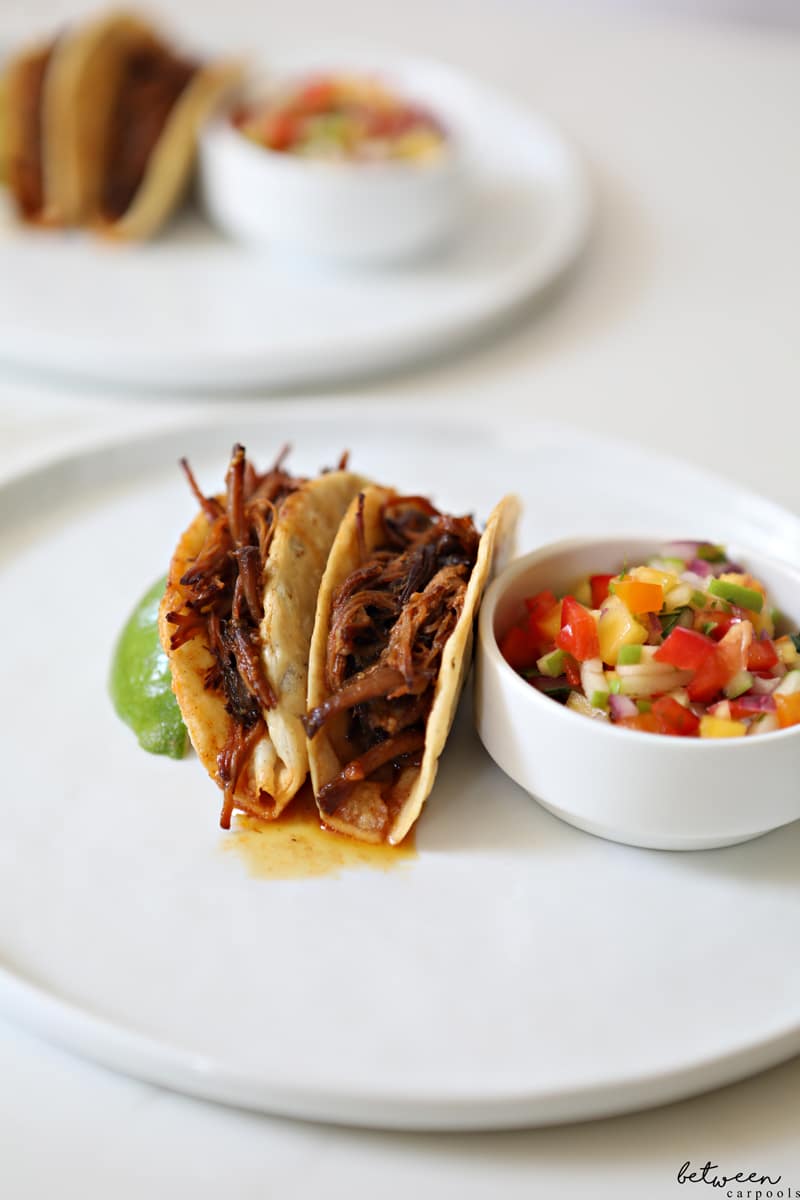 So here you go.  That perfect addition to any meal. And the perfect appetizer this Yom Tov.

Disclaimer: We have been eating this over and over all summer long, feeling kind of guilty every time, that we couldn't yet share the recipe with you. Well, here it is.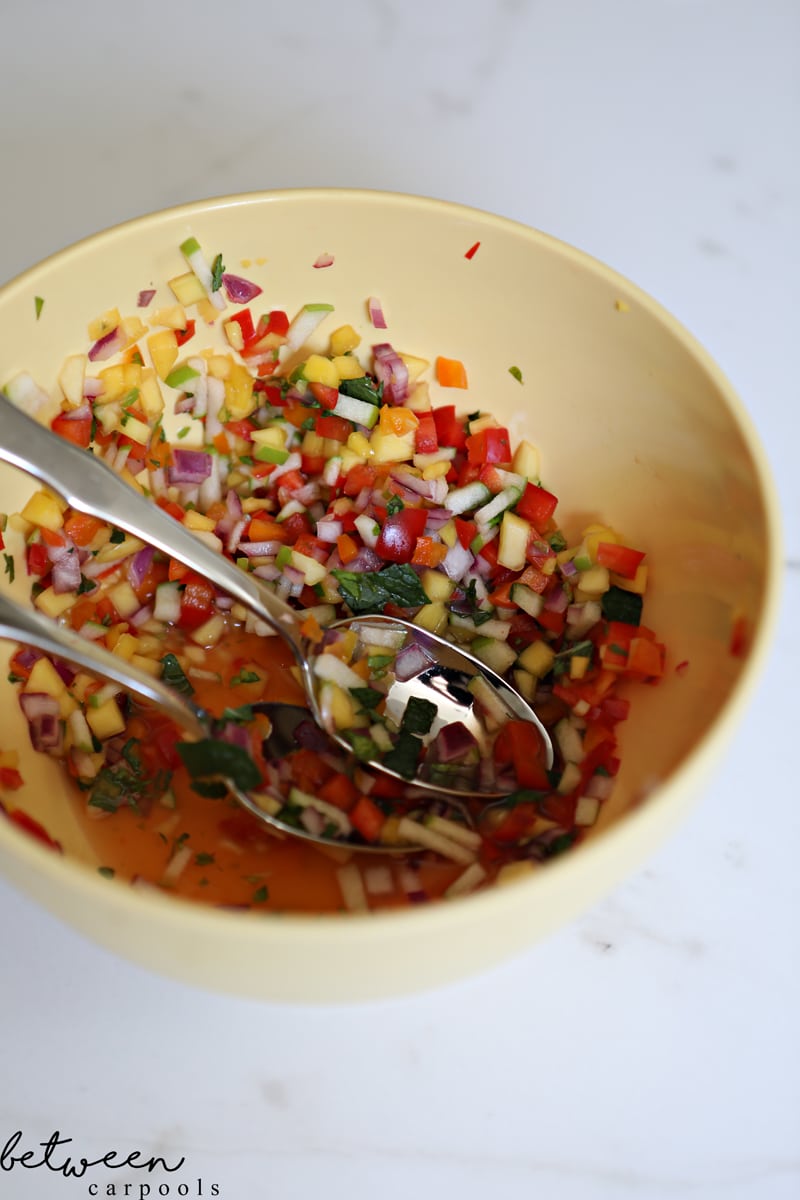 Don't Try Any Other Pulled Beef Taco Recipe. This is *the* Winner.
Mango Salsa
Ingredients
1 firm mango, diced small
1 red pepper, diced small
1 orange pepper, diced small
1 Granny Smith Apple, diced small (don't peel)
1 small red onion, diced small
Bunch of parsley, chopped finely
Mint, chopped finely (optional but highly recommended)
Juice of 1 lemon
1 teaspoon honey
Pinch of hot pepper flakes
Dash of salt
Instructions
The trick here is the small dice. Be patient and put your best knife skills forward. Dont skimp or rush, the size makes all of the difference, for presentation and taste.
Notes
This salad is great served with any meat or fish. Because of the tiny dice it will keep well for up to 2 days in the refrigerator. Some hold that tiny diced salad shouldn't be cut on Shabbos. Please ask your LOR.
Short Rib Tacos
Serves:
24 mini taco shells
Ingredients
You can use a cut of meat that's cheaper, but cook it longer (always make sure there's plenty of liquid in the pan) so it gets super soft.
2 tablespoons vegetable oil
5 pounds lean beef short ribs, cut into 3-inch pieces
1 teaspoon kosher salt
½ teaspoon fresh ground black pepper
4 garlic cloves, coarsely chopped
1 (16-ounce) can tomato sauce
1 cup house made barbeque sauce
1 cup beef stock
¼ cup apple cider vinegar
½ teaspoon ground mustard
Instructions
Preheat oven to 325ºF.
Heat oil over medium heat in a large, heavy, oven-safe pot or Dutch oven, and brown the ribs on all sides, about 5 minutes, working in batches if necessary. Sprinkle ribs with salt and black pepper as they brown. Transfer cooked ribs to paper towels to blot up extra oil.
Stir in the garlic, and cook until fragrant, about 1 more minute. Mix in tomato sauce, barbeque sauce, beef stock, apple cider, and mustard; bring the sauce to a boil, and simmer for 1 minute to blend flavors. Stir in the browned ribs.
Cover the pot, and bake in the preheated oven until the rib meat is very tender, about 2½ hours. Turn the ribs occasionally while cooking.
Hand shred beef. Season with salt and pepper. Return to a pan with some of the cooking sauce and cook until warm. Stuff into taco shells.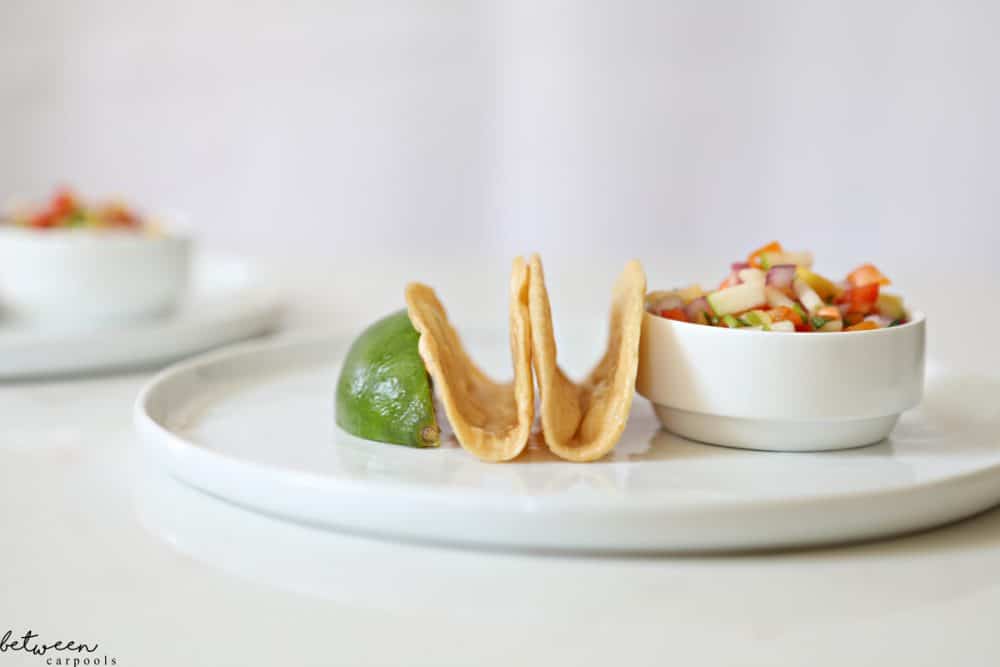 How to Make Your Own Mini Taco Shells from Wonton Wrappers:
There are two ways to fry wonton wrappers so they take the shape of a taco. To get them perfectly shaped like the restaurant, you'll need to use a taco shell deep fryer basket. A taco shell maker/taco press, which looks like tongs,  will also mold a taco into shape as it fries, but you'll have to fry one by one. You can still make a mini taco shell without any gadgets at all. Heat oil in a saute pan or skillet. Fold the wonton wrapper in half at dip one side into the hot oil. Use a fork to press it down at the bottom. Use tongs to hold the top half in place. Once the bottom becomes stiff and crisp, flip and fry the opposite side.
A Note on What Cut of Meat to Use:
You don't have to use short ribs to get great pulled beef. To get a greater supply of pulled beef that you can keep in the freezer and pull out anytime, get the best roast you can, i.e. a Brick or French Roast, depending on what your butcher calls their best roast. Cut it into short rib-sized cubes and prepare as instructed above. Your Brick/French roast will shred finely and beautifully.