This side dish can be prepared in advance and frozen, and nobody will know. It's 
delicious Japanese noodles that taste just as good fresh and they do when they're rewarmed. 
Sometimes you just want to cook up one big recipe (maybe even double it), freeze it, and know that it's done. We do that often with meats, desserts and baked goods. What about side dishes? We did it with the fancy rice and now Gitty T. introduced us to these amazing noodles.
This side dish is delicious and everyone in your family will love it.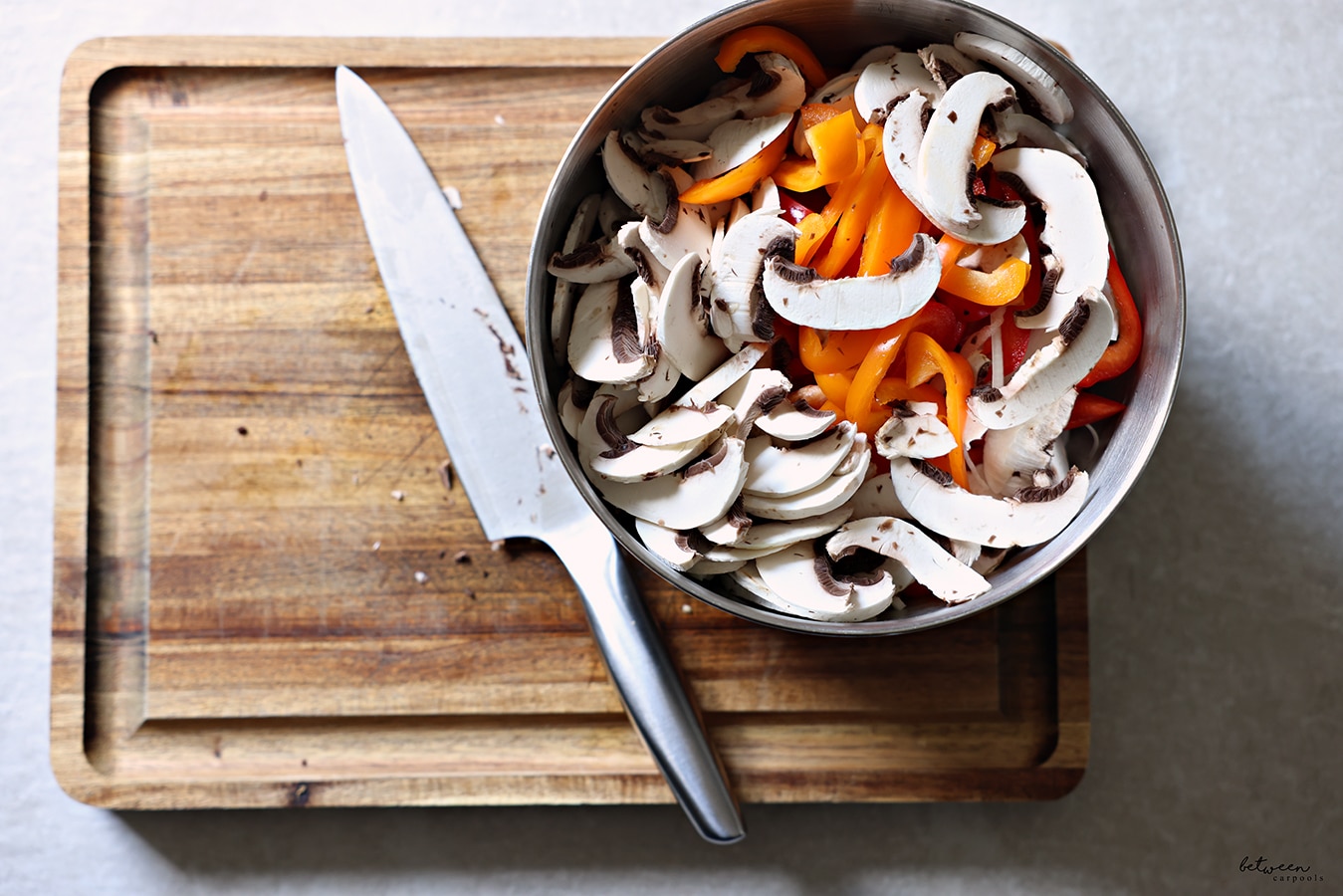 Sauté the vegetables until just softened.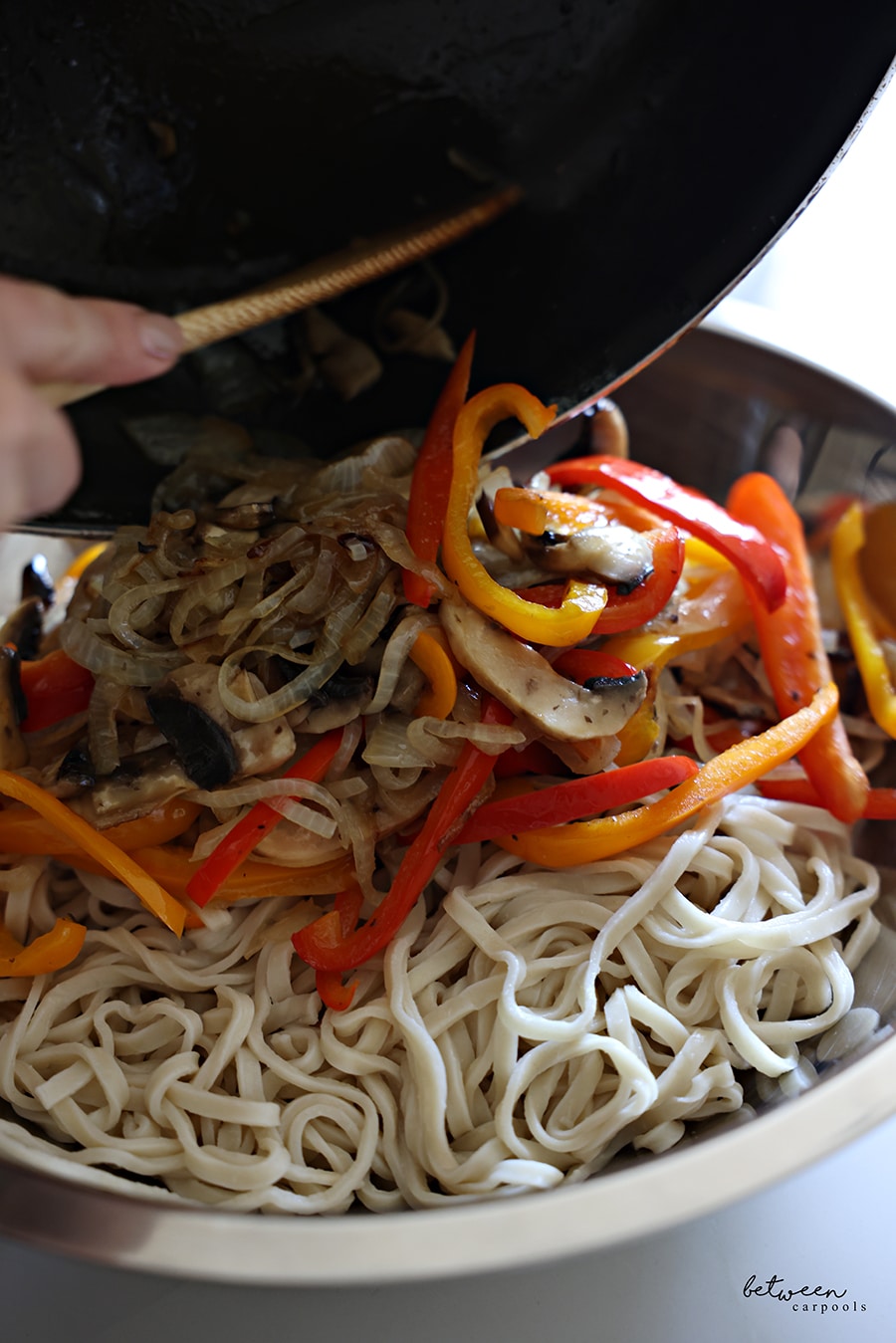 Combine noodles and vegetables.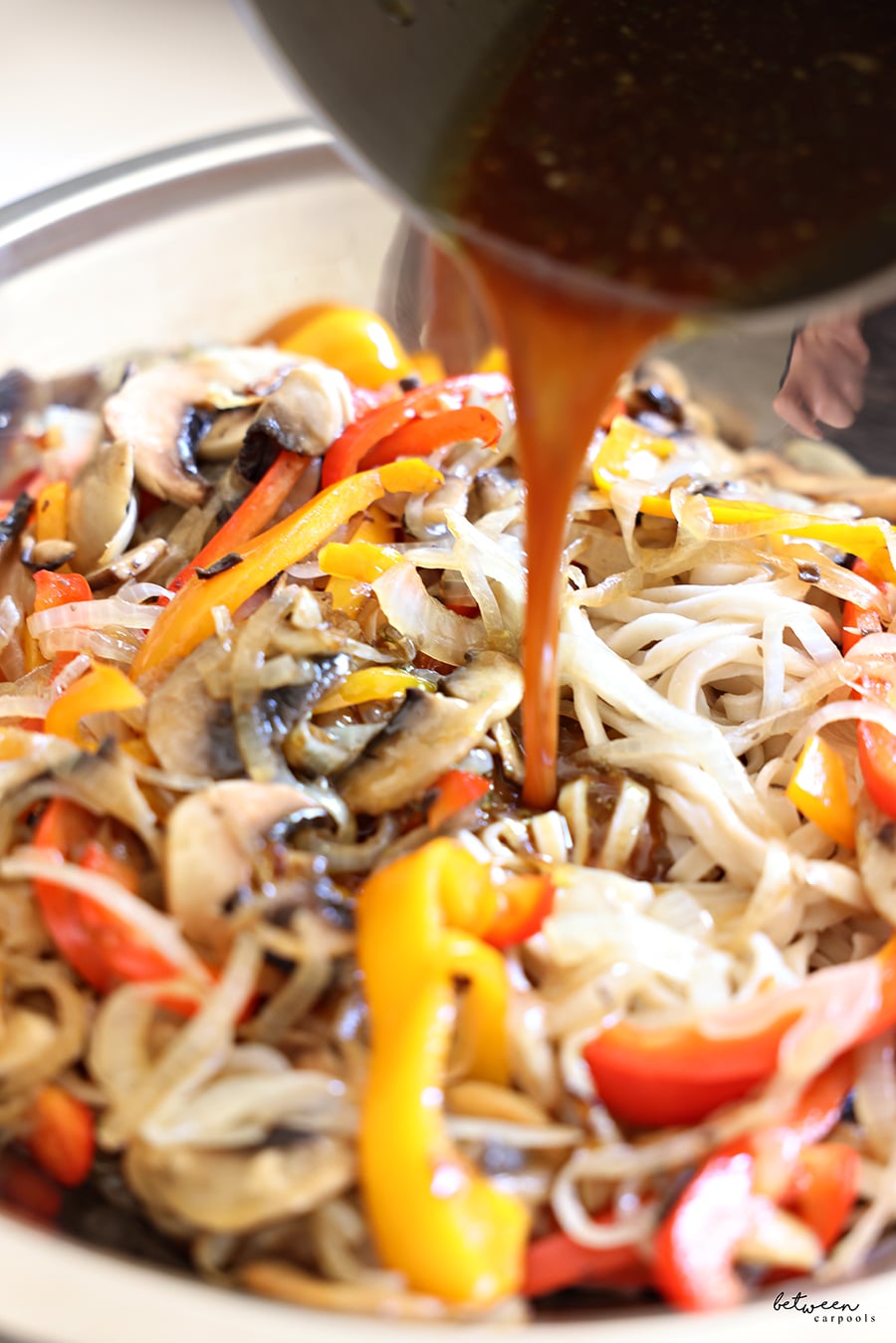 Top with the sauce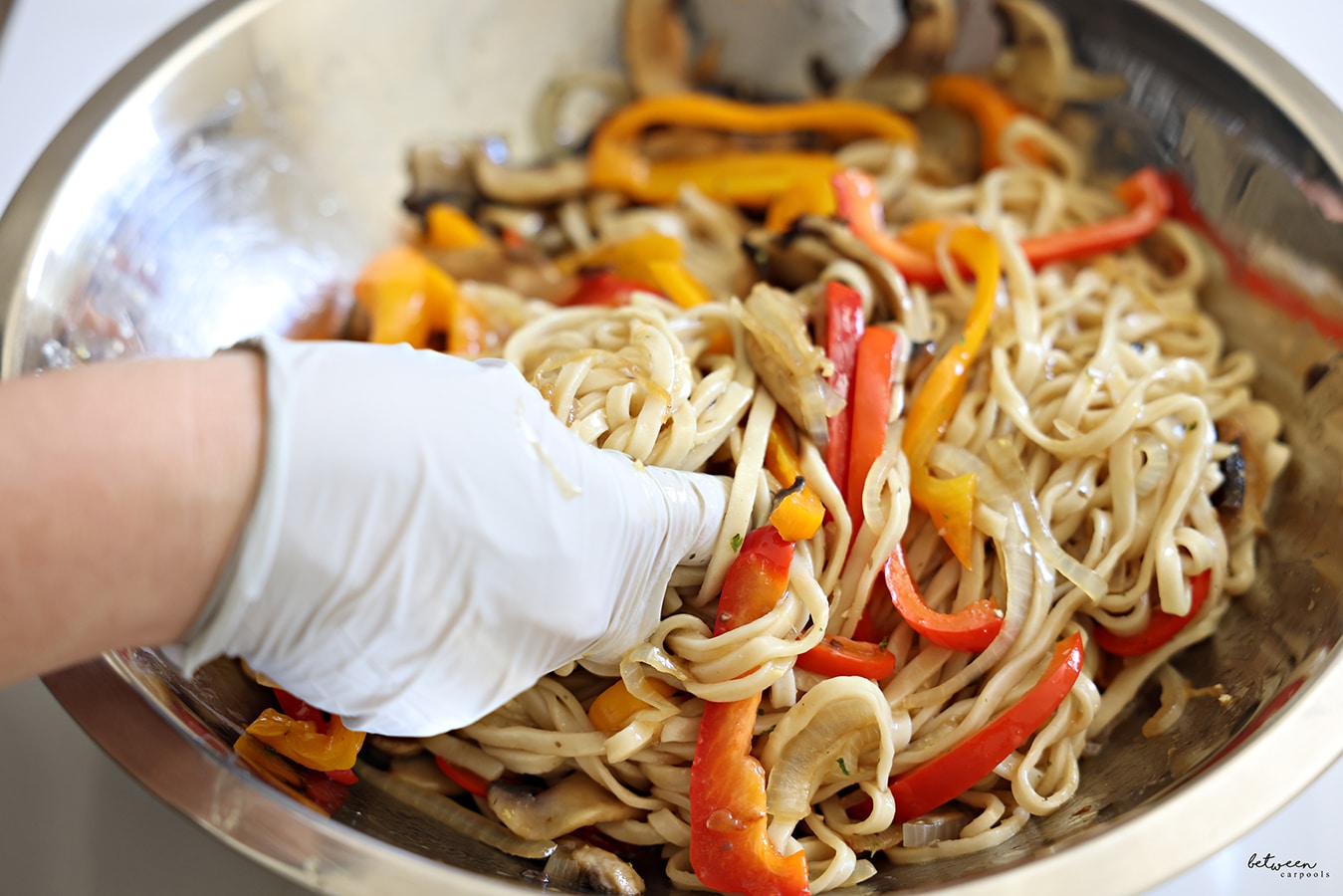 and mix well.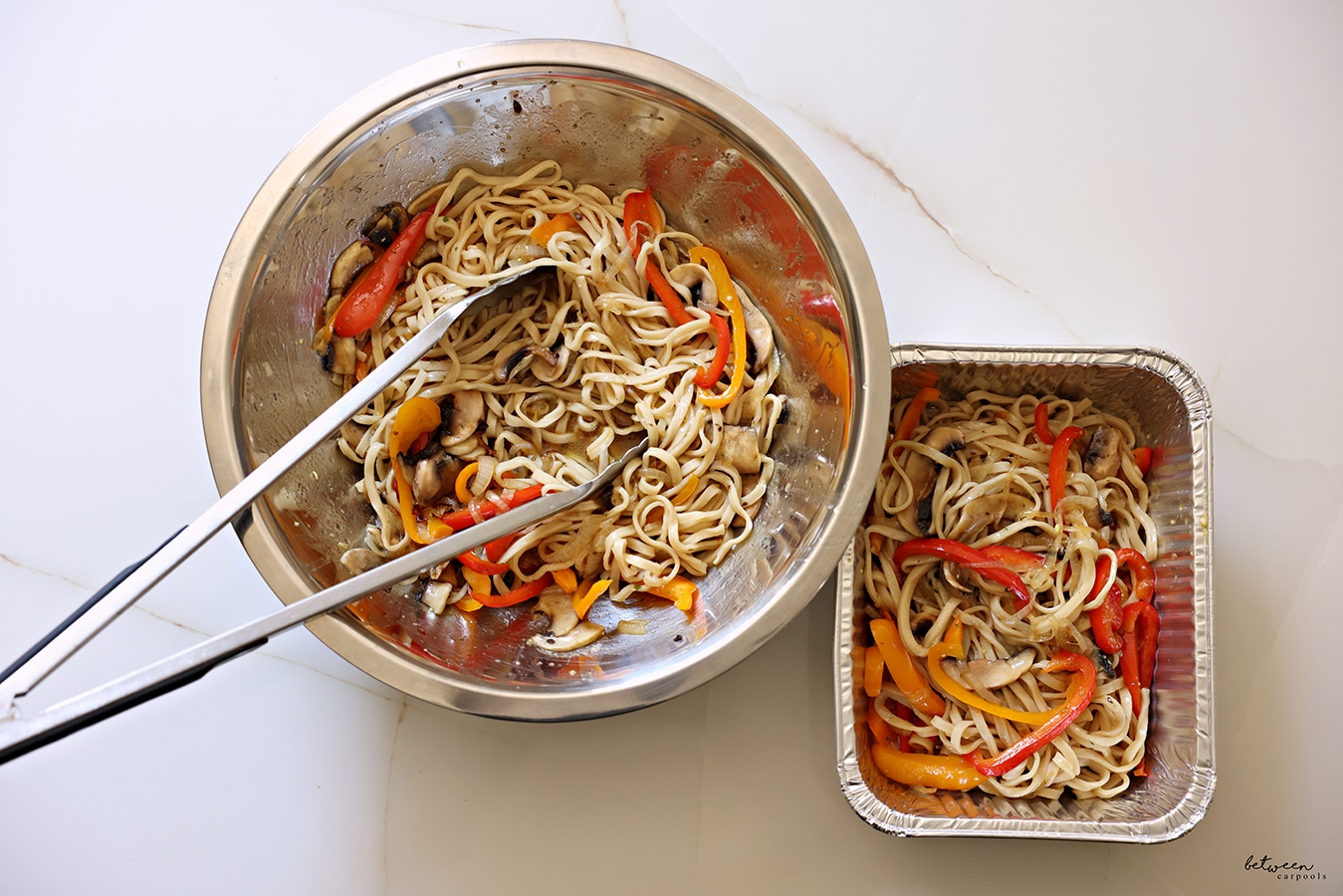 This dish freezes really well. Simply divide into tins, cover tightly, mark and freeze.

Japanese Noodles
Ingredients
2 packages Frozen Japanese Style Noodles
2 tablespoons oil
1 onion, sliced into half rings
1 red pepper, cored and sliced into strips
1 orange pepper, cored and sliced into strips
8 oz fresh white mushrooms, sliced
Sauce:
¼ cup oil
¼ cup chicken consomme dissolved in ⅛ cup water
¼ cup sugar
1 garlic clove, crushed
⅓ cup soy sauce
Instructions
Prepare noodles according to package instructions. Drain, rinse, and set aside.
Meanwhile, in a large saute pan, sauté the onion in the oil until softened. Add the peppers and sauté another 10 minutes or so, mixing from time to time. Add the sliced mushrooms and cook until just softened.
Combine sauce ingredients in a small pot and bring to a boil. In a large mixing bowl, combine noodles and vegetables. Top with the sauce and mix well. Serve warm.
Rewarming/Freezing Instructions: You can serve this right away, or refrigerate and rewarm before serving. We like rewarming in the oven. Just make sure to mix the pan well before serving since all the juices will have settled at the bottom. This dish freezes really well too. Simply divide into tins, cover tightly, mark and freeze. To defrost, simply let sit on the counter and then rewarm in the oven.
FOR EXCLUSIVE CONTENT AND A PEEK BEHIND THE SCENES, MAKE SURE TO JOIN OUR WHATSAPP STATUS HERE. JOIN OUR WHATSAPP GROUP AND WE'LL LET YOU KNOW WHEN A NEW POST IS UP!