Need a new exciting fish dish to serve, whether as an appetizer or as a main for a dairy meal? We're going "nuts" for this mango salmon.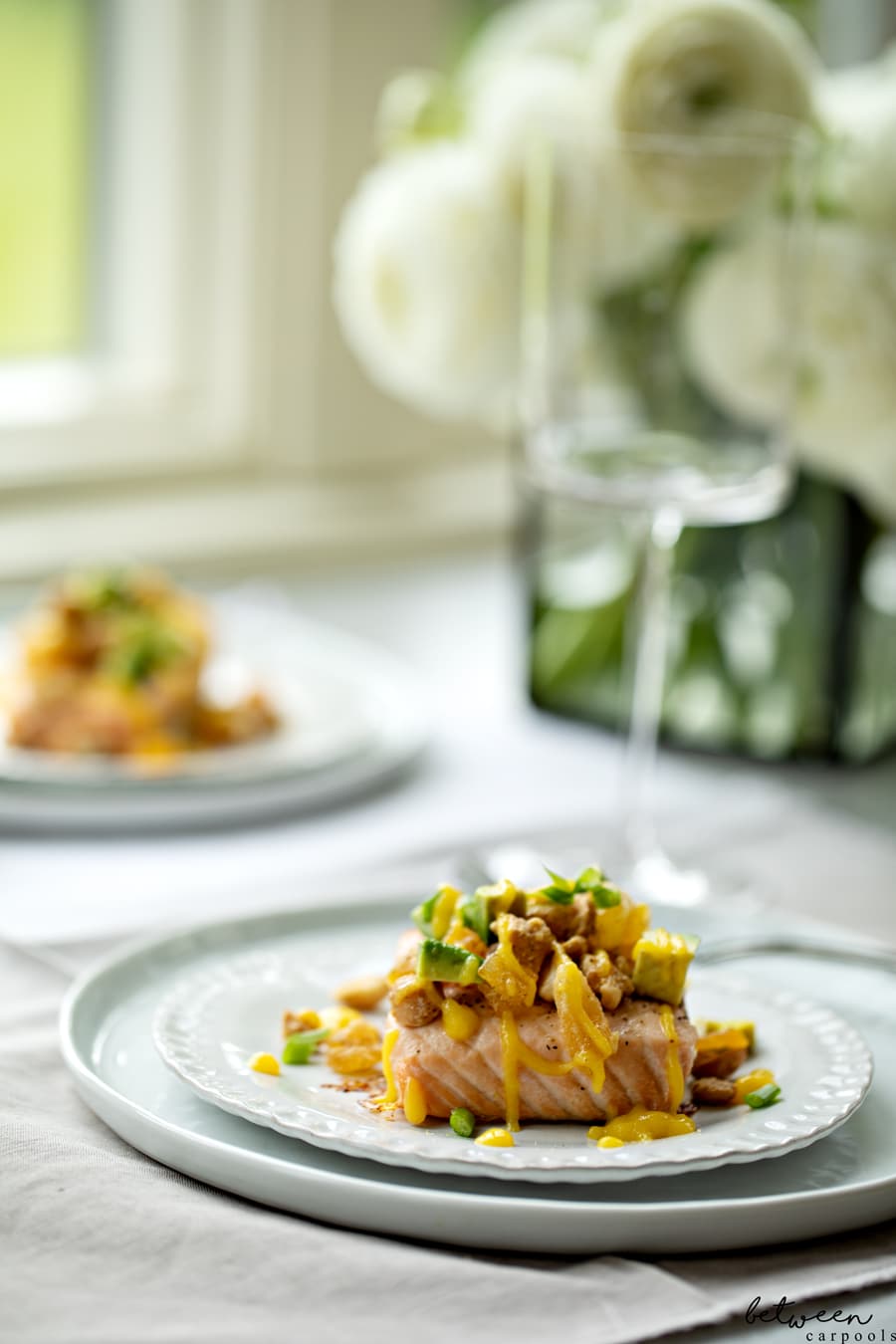 I prepare salmon often, and while my family would prefer the favorites ("Why try something else when you know what we like?), sometimes I really get rewarded when I experiment…and I did here. After serving this fish, when I came back to the table, the entire fish was wiped clean…all that was left on the plate was the skin.
"I guess it was good!" I said.
And it also couldn't be easier.
Nuts for Nuts…
A bit about the ingredients. I think the avocados and mango don't need elaboration, but I must tell you about the nuts I used. I first picked up Sahale Snacks nut mixes at Wegmans just because they looked interesting. Then I used them to sprinkle on my fish appetizer at the Friday night meal during the Shabbat of my son's bar mitzvah. And I just loved them. The company makes lots of flavors of original nut mixes, but I used the Tangerine and Vanilla Macadamia Nut and Cashew Nut Mix (here's snack-sized bags on Amazon). Having these kinds of tricks in your pantry just make it easy to present gourmet dishes with less work! (Note: They're certified Chaf K – DE). 

Mango Salmon
Ingredients
1-2 lbs salmon, cut any way you like it
Fish seasoning, for sprinkling (I used Old Bay)
1 ripe but firm avocado, diced
Glazed nuts, for sprinkling. I used Sahale Tangerine-Almond
Mango Sauce:
1 ripe mango
2 tablespoons coconut milk (any type is fine)
1-2 tablespoons lemon juice
Instructions
Preheat oven to 400F.
Spray fish with nonstick cooking spray, then sprinkle generously with fish seasoning (sprinkle with salt too if your seasoning mix does not include it). Bake for 15-20 minutes, depending on the size of your fillets.
Meanwhile, prepare mango sauce. Blend mango, coconut milk, and lemon juice.
To plate the dish, place fish on plate. Scatter diced avocado all other. Drizzle with mango sauce and sprinkle with nuts. Enjoy!