Try This Salmon Pinwheel (with a dipping sauce too, of course).
Want to start off a heavy Yom Tov meal with a light and pretty fish dish? Poached salmon pinwheels might be your perfect starter. Pair it up perfectly with the mustard cucumber dipping sauce.
Yes, it takes a little bit of fuss, but if you always wanted to try making your own stock, now is a great time to try.
Ask your fish store to prepare salmon fillets that are "ready for rolling." A salmon for rolling should be long instead of wide, cut across the length rather than the width so they can be rolled into a pinwheel shape; the strips should be approximately 8 inches long and 2 inches thick.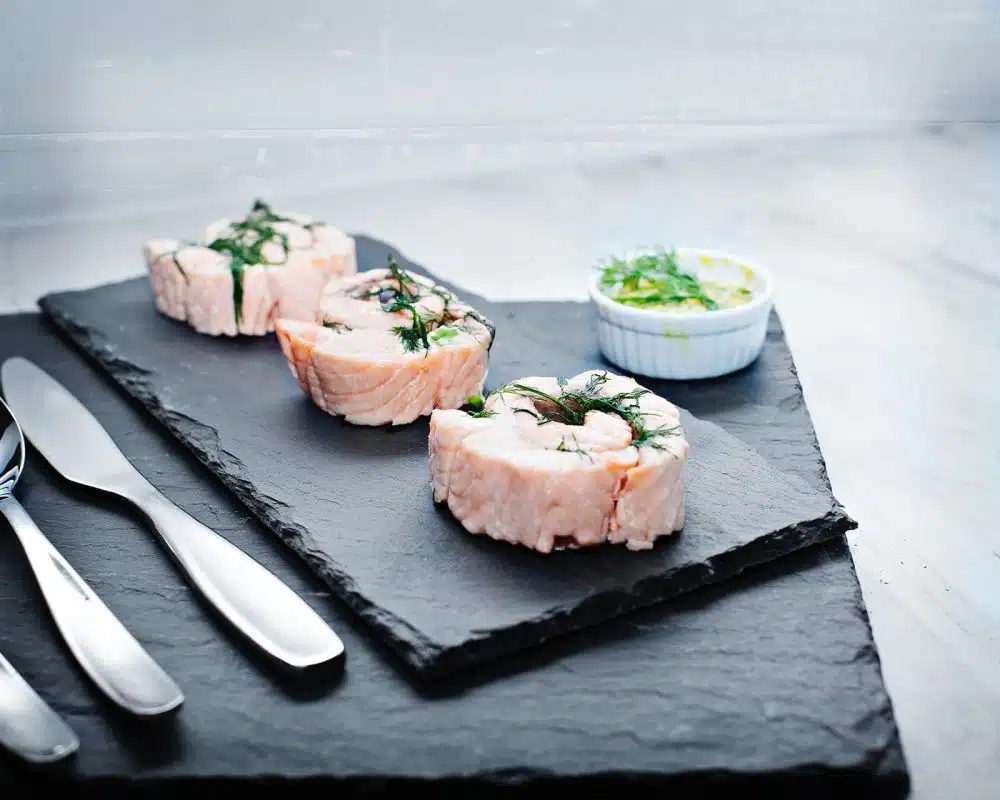 Poached Salmon Pinwheels
Ingredients
8 salmon fillets, for rolling (see note above)
Homemade Stock:
2 stalks celery
1 large onion
8 garlic cloves
4 carrots
1 leek (with green leaves)
1 lemon, sliced
8 whole peppercorns
2 bay leaves
parsley stems
2 sprigs fresh thyme
1½ cups white wine
8 cups water
Mustard Sauce:
4 tablespoons Dijon mustard
2 tablespoons minced shallots
2 tablespoons chopped fresh dill
2 teaspoons white wine vinegar
¼ cup olive oil
1 cucumber, finely diced
Instructions
Prepare the stock. In a large pot, combine all stock ingredients. Bring to a boil and cook for 45 minutes. Strain. Return stock to the pot and bring to a simmer.
While stock is cooking, prepare the fish. Lay each fish fillet and add some fresh dill across the center. Roll it up and tie with twine on two sides. When the broth is ready, add 4 rolled fillets and cook for 6-8 minutes (depending on how large your fillet is). Remove fish from broth and lay on plate. Add next 4 fillets in another batch. Let cool, then remove twine.
Prepare the sauce. Combine all ingredients together and serve with fish.